January 25, 2023. We met Captain Mike Arnoldy at 5:30 at the bait shop in Fellsmere, which is a hub for anglers fishing Fellsmere Reservoir and Stick Marsh, amongst other waterbodies. Many anglers go to this shop to get live shiners in the morning, and some anglers gather in the late afternoon to share their reports from the day's fishing.
Mike is a USCG Master Captain, former firefighter and seasoned angler, and after a brief introduction, Mark and I followed his airboat for almost 50 minutes to Three Forks Marsh. Mark and I had never heard of Three Forks Marsh. And Mark had never been on an airboat. We were both stoked!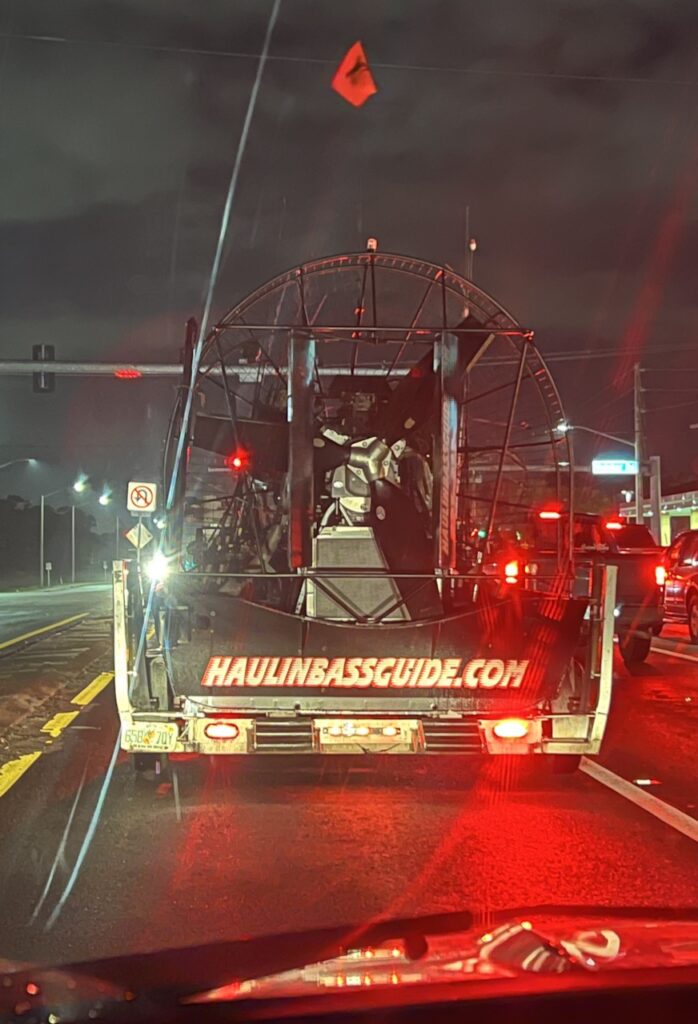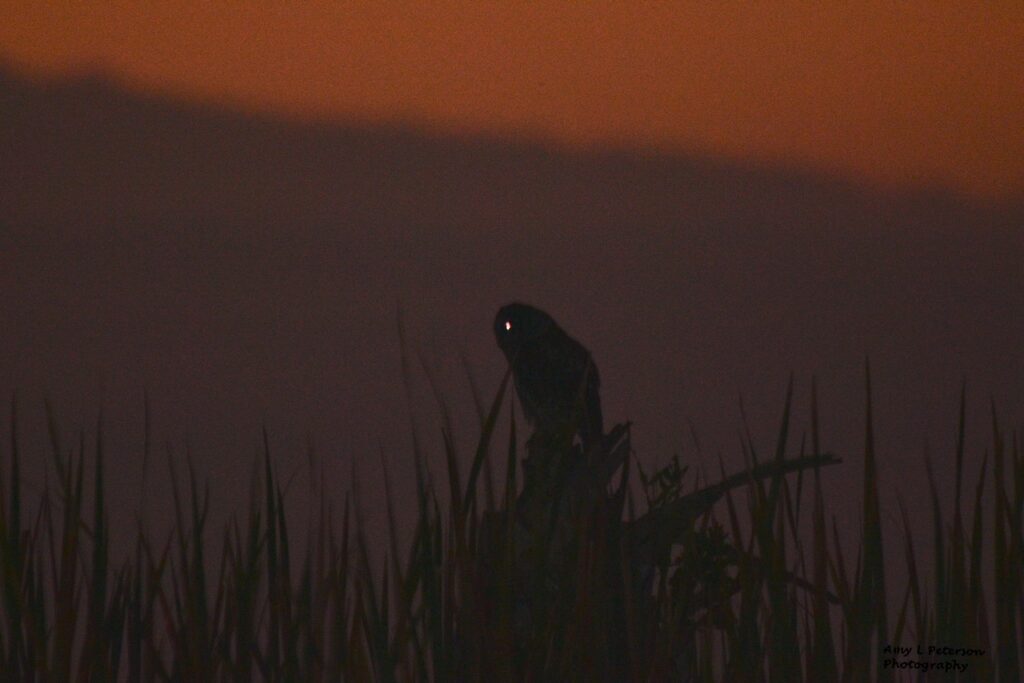 The first thing I noticed at the boat launch at Three Forks Marsh was the lack of any sound except the wind blowing and the call of a barred owl nearby. I walked up to a tree at the far end of the parking lot, kicked myself for not having a flashlight, listened to the owl's "Who Cooks for You?" call and–unable to see it in the tree–wished it a good day. As I turned, it flew across the boat launch and landed on the top of a palm tree stump. This is not a great photo by any means, but I like the way its eye lit up.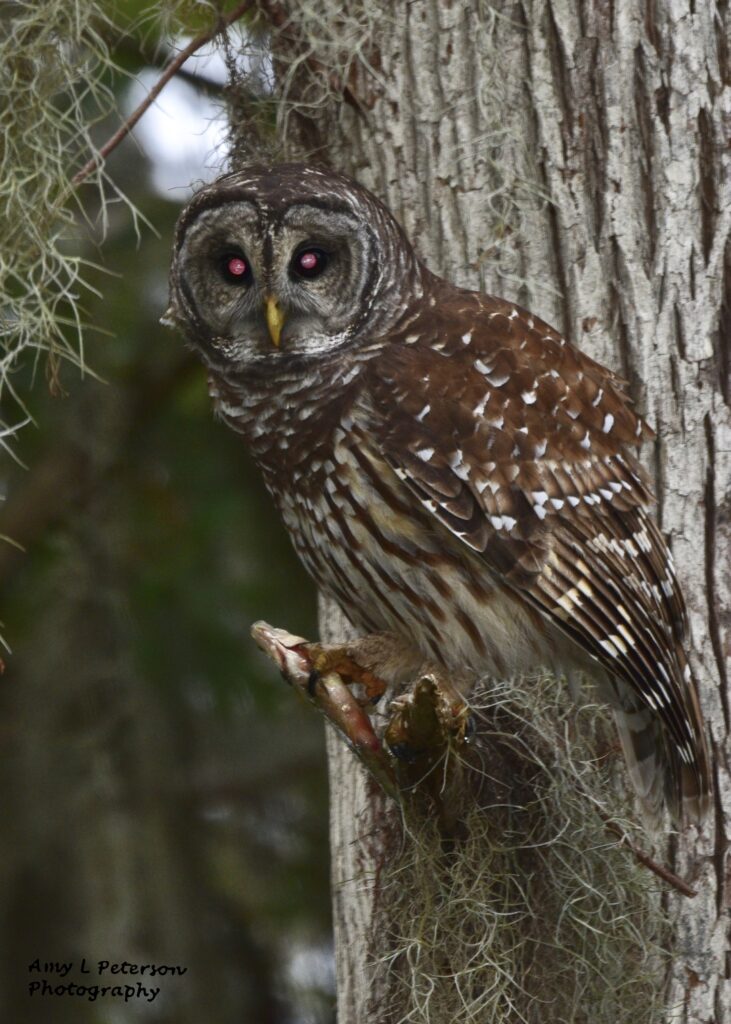 This is what a barred owl looks like. I photographed this barred owl at a boat launch on the St. John's River in 2018. The fish in its talon is a shiner that was leftover from a previous day's fishing trip; the guide tossed it into the shallows and within seconds, the barred owl swooped in a nabbed it.
The Three Forks barred owl was not nearly as friendly, perhaps because I did not offer it a shiner.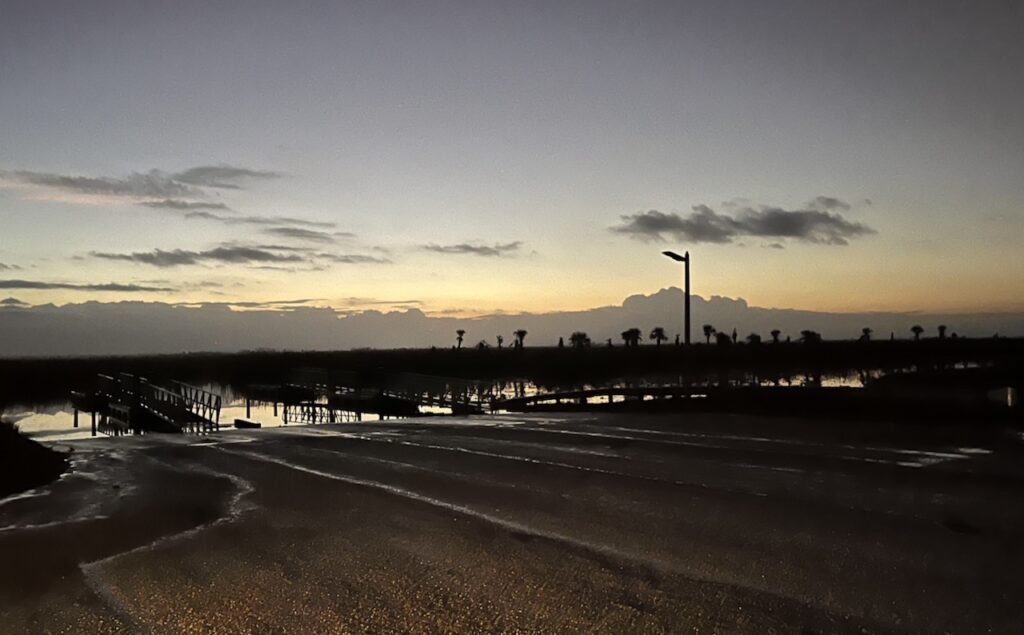 There were no other cars in the parking lot at Three Forks Marsh and no other boats at the ramp. We had the entire place to ourselves. This marsh is 52,000 acres in size and near the headwaters of the St. John's River.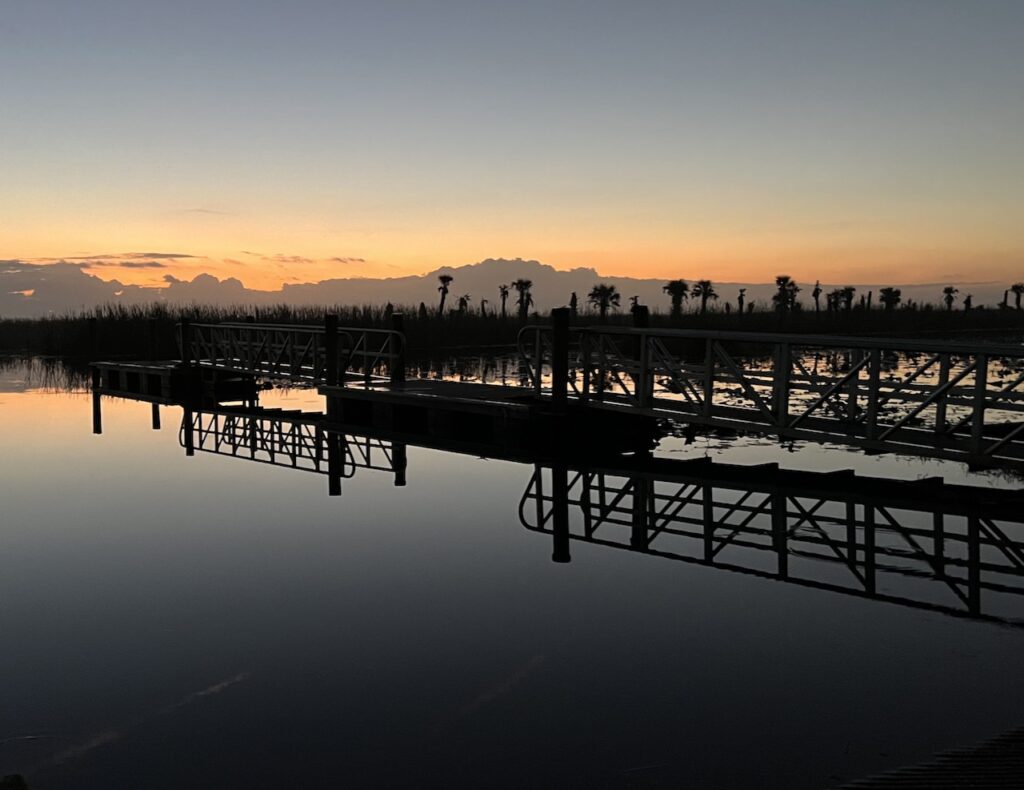 I love boat launches early in the morning, especially ones with palm trees in the background.
We put on headphones to dampen the noise of the airboat, belted ourselves into a very comfy seat, sat back and took in the rising sun. Captain Mike headed to the left of the berm in the photo above, then turned the airboat so that we glided alongside the line of palm trees, rumbling along at a good clip and seemingly floating across water and veggies alike. Click on this video to see what the ride was like. Mark and I have spent a lot of time in boats, so it was quite a strange thing to fly over veggies without worrying about gumming up a boat motor.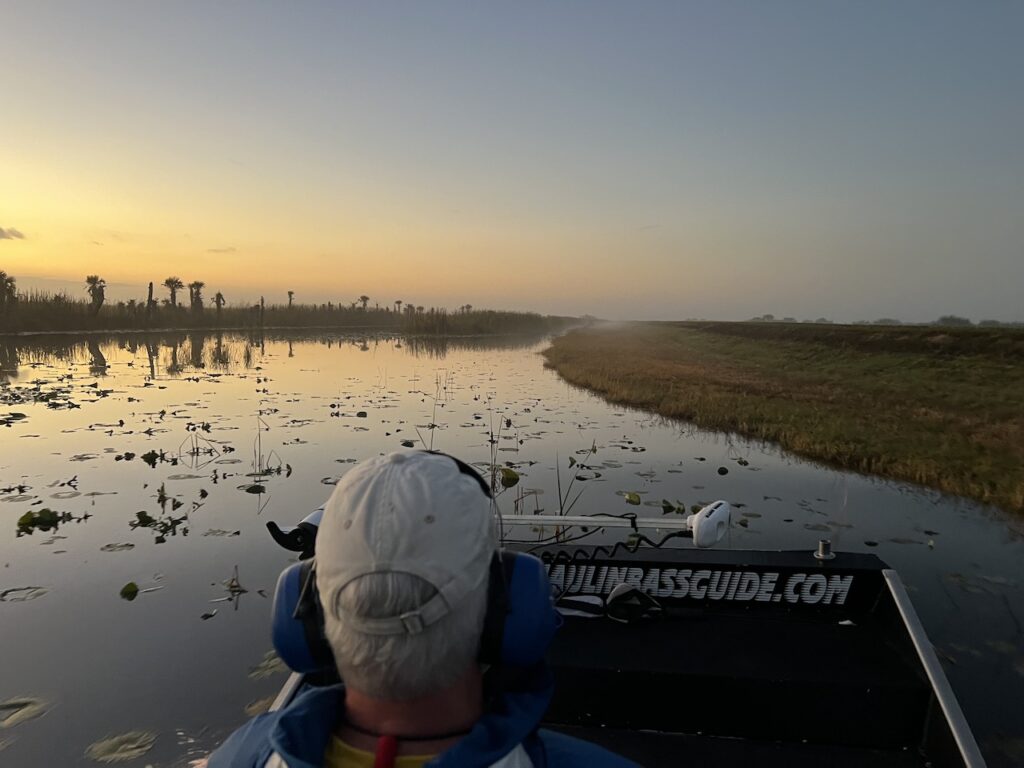 This photo provides a closer look at the berm. As we turned down the line of palm trees I realized two things: 1) that the palms had probably been subject to at least one hurricane because many were topless, and 2) that Captain Mike could have taken us deep into this marsh, told us to get out, and we would have been dead in hours. We passed numerous gators throughout the day and were in such a maze of palm trees, weeds, and pools of water, we were completely at Captain Mike's mercy. Captain Mike had guided here for many years, though, and knew exactly where to go to try to catch bass. And he even promised to get us back to the launch safely.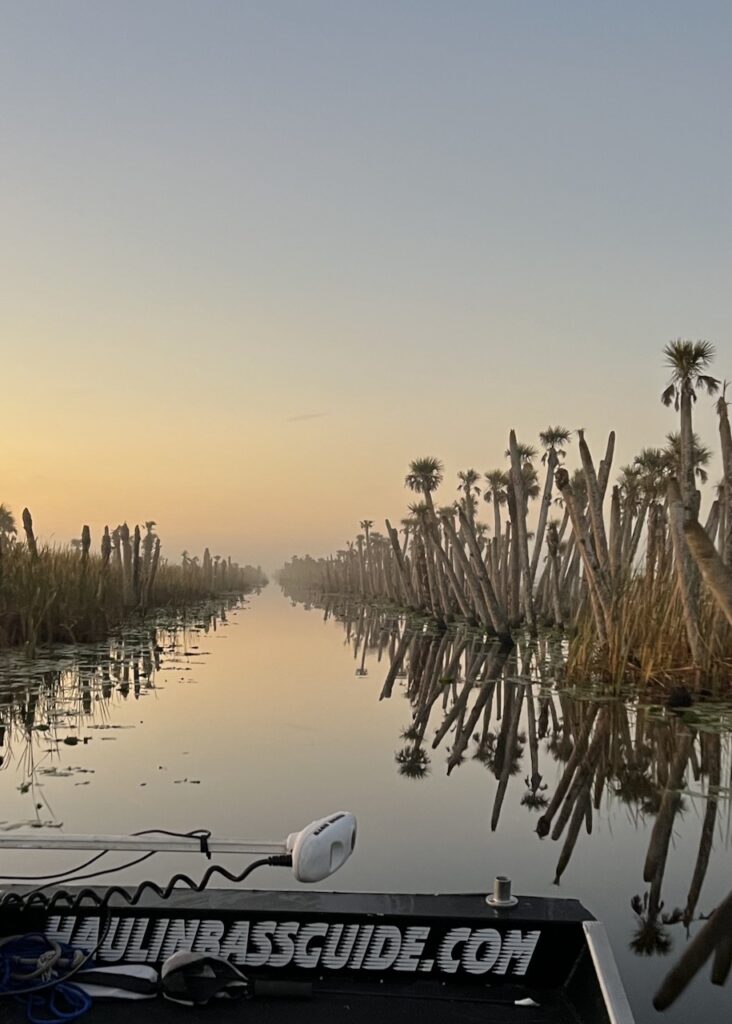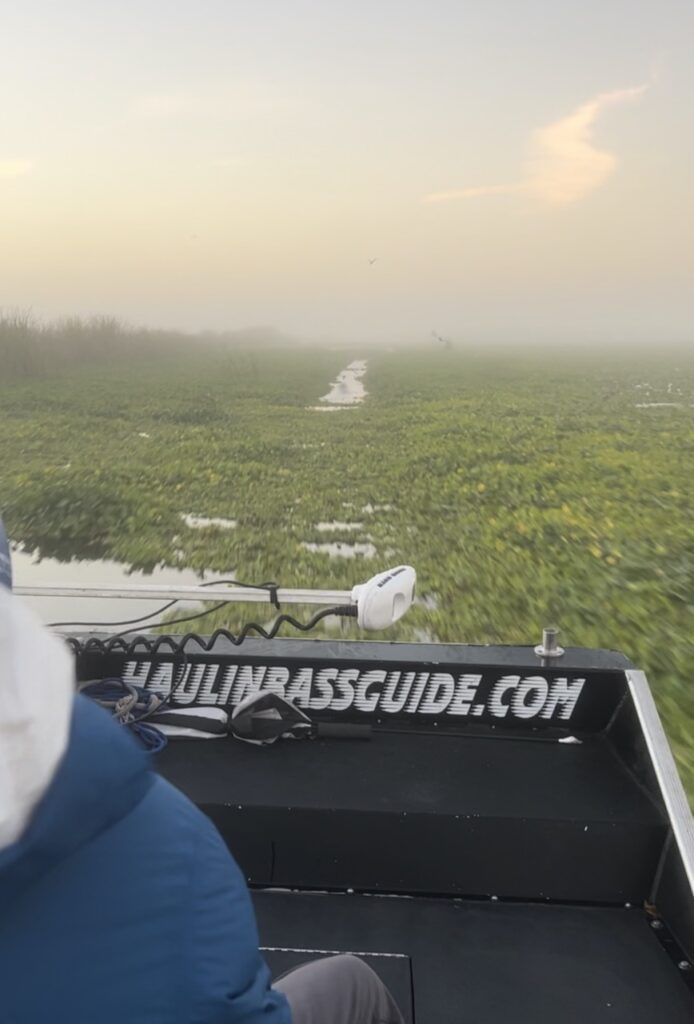 As we got deeper into the marsh, it seemed to get foggier. And the vegetation was so dense in some places that it seemed impassible. I couldn't imagine coming out in a boat except maybe a canoe. We did see a middle- aged couple in a small boat doing well in open water and–later in the day–getting mired in muck in the dense vegetation.
Captain Mike said he's helped more than one person who'd set out in this marsh, got stuck or turned around, or lost in the fog.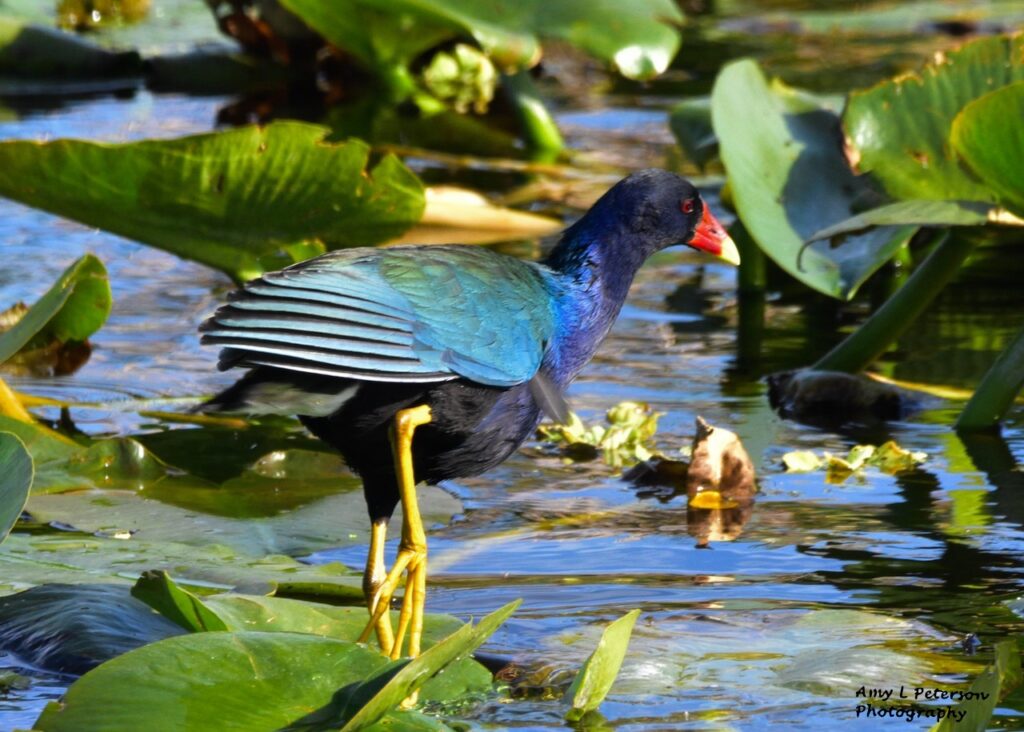 Captain Mike stopped the airboat in lily pads so dense this purple gallinule could walk across on top with its big, yellow feet. We tossed out a rubbery bait and after a while, I hooked a small bass. Weeds moved now and again to suggest larger fish hung out beneath, but we couldn't get any large ones to bite. Captain Mike suggested we flip for a while, but Mark and don't do a lot of flipping. We are reasonably decent at using bait casting reels with braided line (which seldom gets tangled on itself) and struggled to use Captain Mike's spin casting reels with fluorocarbon line. In spite of ourselves and a slow bite, we did catch a few small fish.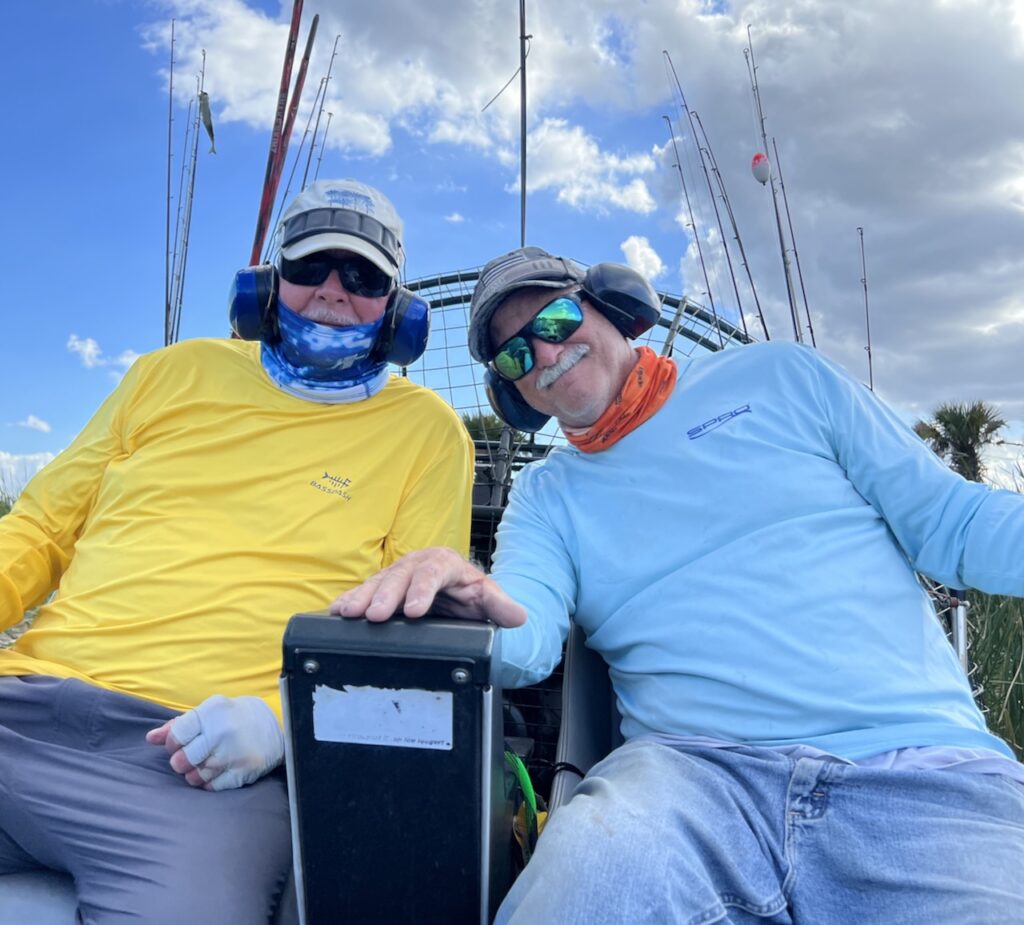 After Mark and I had thrown out artificial bait for an hour or so with not a lot to show for ourselves, Captain Mike moved us to another spot with more open water. He handed us different rods, added a live shiner to the end and Mark pulled in a small bass.
Above, Mark is on the left, Captain Mike is on the right.
It was late morning when I hooked and landed this fish, which was the biggest one of the day.
I'll also note it was a very windy day and therefore hard to keep the airboat in one spot, and also a bit more of a chore to move it to a new location than a boat. But getting around in the airboat was awesome because it got us into areas no boat would go. And the scenery was awesome. And Captain Mike is a great guy to spend a day with.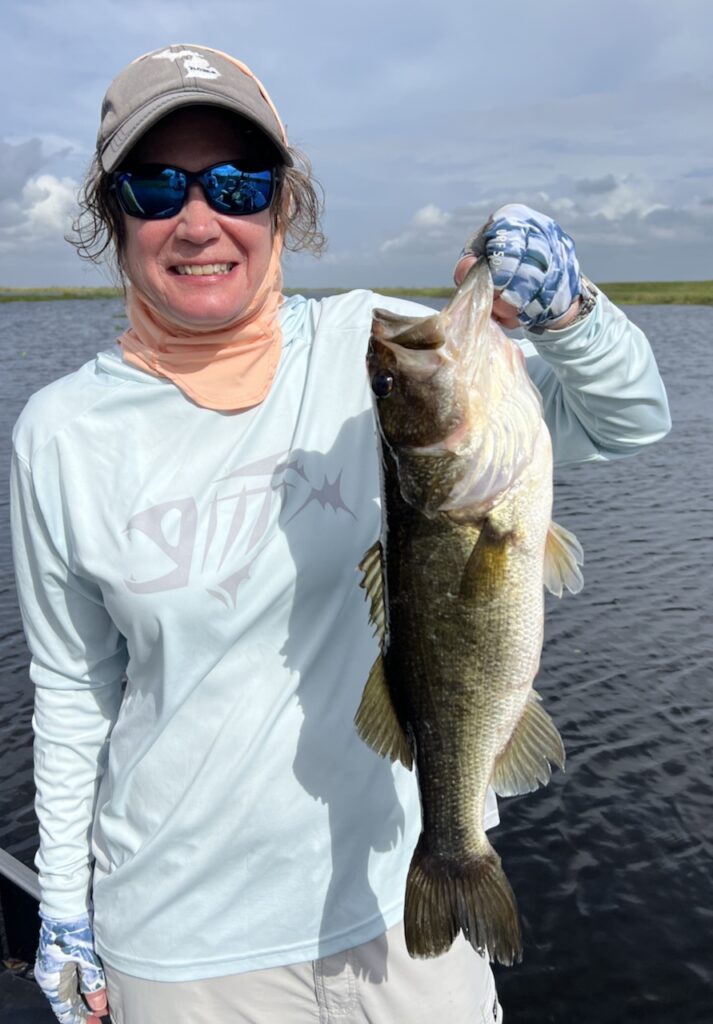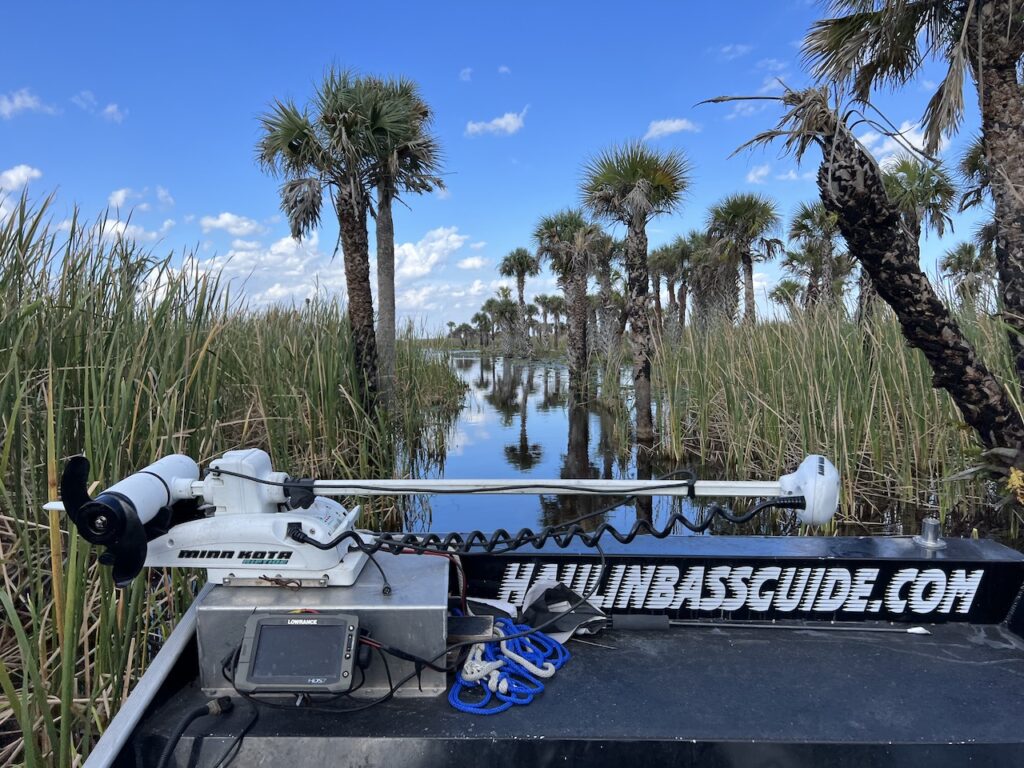 Later in the afternoon, I took these shots. This photo shows who to call to go deep into a giant marsh after largemouth bass.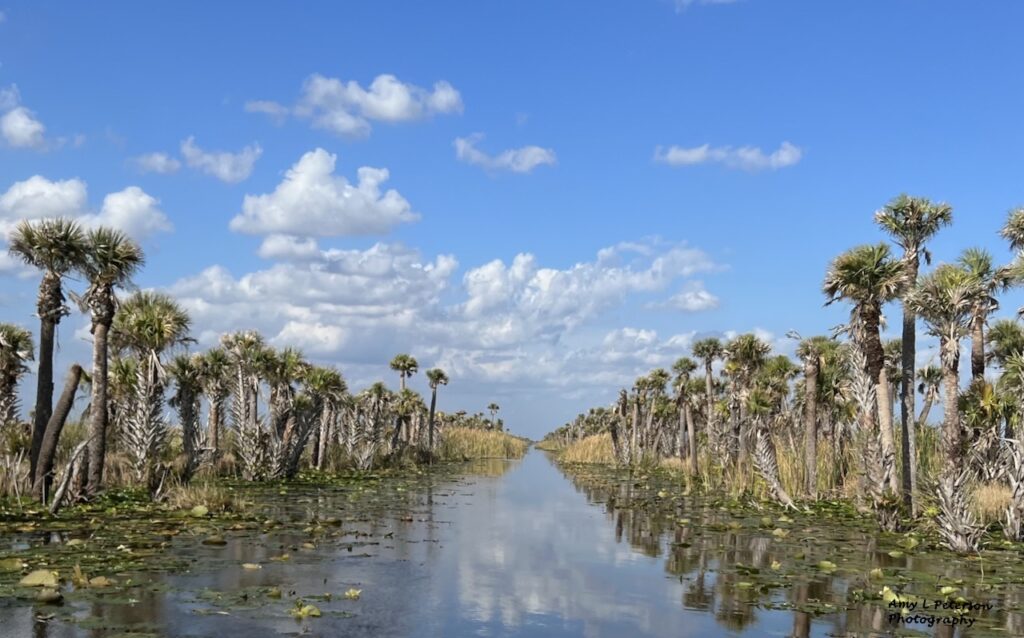 All in all, it was an amazing day on the water–the blue sky, clouds, scenery we'd not seen before, and photos I was lucky enough to get after finally getting smart on the way back and sitting in the front seat. Shout out to Captain Steve Spatafora for hooking us up with Captain Mike, and to Captain Mike to taking us to a special place we'd never seen before, let alone heard of. (And he even took us back to the parking lot).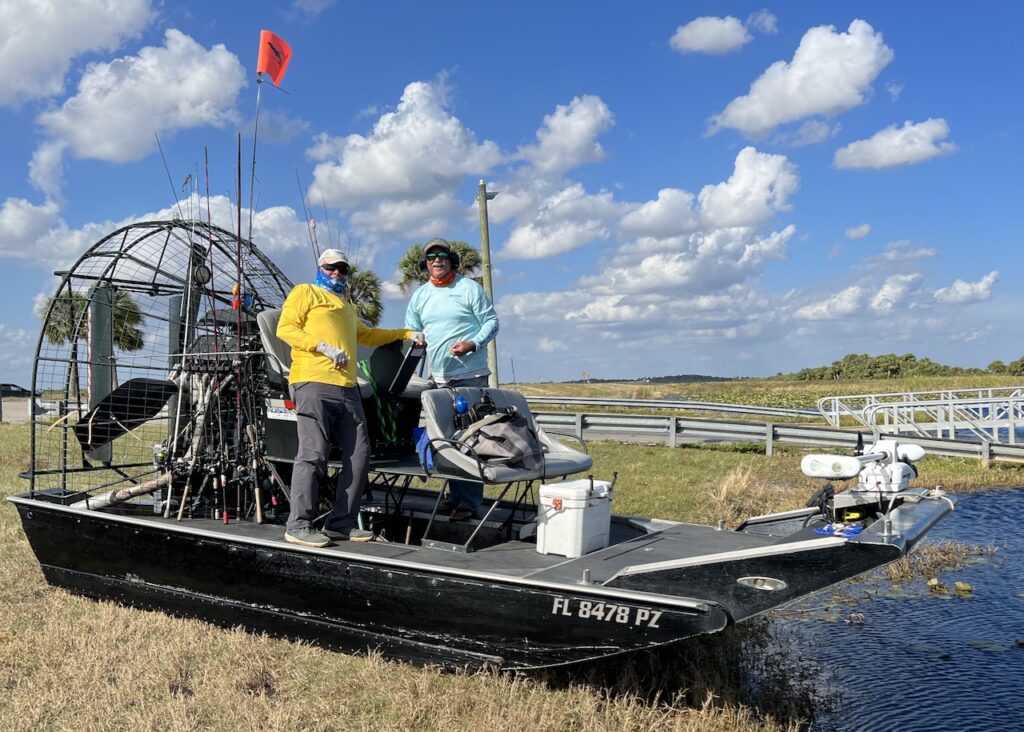 Tips for airboat trips: 1) if you shoot photos, ask to sit in the front row; 2) bring your own gear if you're as finicky (or stuck in your own ways) as Mark and me; and 3) don't expect Captain Mike to find a bathroom for you. Oh, he might have pulled over onto a berm for me and looked the other way. He might have looked the other way as I took a leak in the water, hanging onto the side of the boat. Instead, we hit solid ground, I snapped this photo, and ran to the outhouse near where I'd seen the barred owl in the dark of morning.
And like most normal people, I called, "Who cooks for you!?"