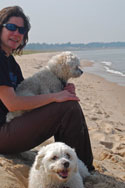 Amy L. Peterson is the wife of an obsessed fisherman, stepmother, author, photographer, outdoorswoman, and lover of critters. Her writing is diverse, her photography of animals and wildlife unique, and her pets have trained her how to get what they want. She is a member of the Michigan PFAS response team and works in a basement office surrounded by storage containers, while her retired husband, Mark, maintains a steady flow of new fishing tackle for their competitive fishing weekends at their cabin.
Amy met Mark at the Michigan Department of Natural Resources (now EGLE) in the early 1990s and married him after they survived getting "disoriented" in Montana while backpacking together. He won her over by carrying a rubber raft, oars, foot pump, camping gear, and fishing gear to 10,000 feet…so they could fish what turned out to be a fishless lake. In addition to his prowess, Amy was attracted to Mark's interest in every kind of critter and the way he loved his four kids.
To capture what she learned about becoming a stepmom, Amy wrote From Zero to Four Kids in Thirty Seconds, a humorous, entertaining book that includes over 70 tips for stepmothers. Her book Something Furry Underfoot tells of her haplessly raising all sorts of animals Mark always wanted, including frogs, iguanas, African pygmy hedgehogs, hamsters, gerbils, mice, dogs, a stray cat, a rescued rabbit, and a domestic duck. Amy also wrote four photo books about some of these animals. Amy's books can all be found on Amazon.com.
Amy's writing and photos have appeared in Grit, Moxie, Montana, Travel Impulse, Women's World, Bonaire Nights, and Pacific Coast Sportfishing. Her article about Nunavut wildlife was featured on the Nueltin Lodge web page, along with a photo of a 52" pike she claims to have caught. Her article about peacock bass fishing in the Amazon was published on a local travel website. Amy has also co-authored some technical documents for the State of Michigan, all of which will put readers to sleep in a matter of minutes.
Her blog combines writing and photography to tell stories of adventures, encounters with critters and people, and the simple things we don't always take time to enjoy or find humor in.
Live, Love, Laugh, my friends. Contact Amy at [email protected]