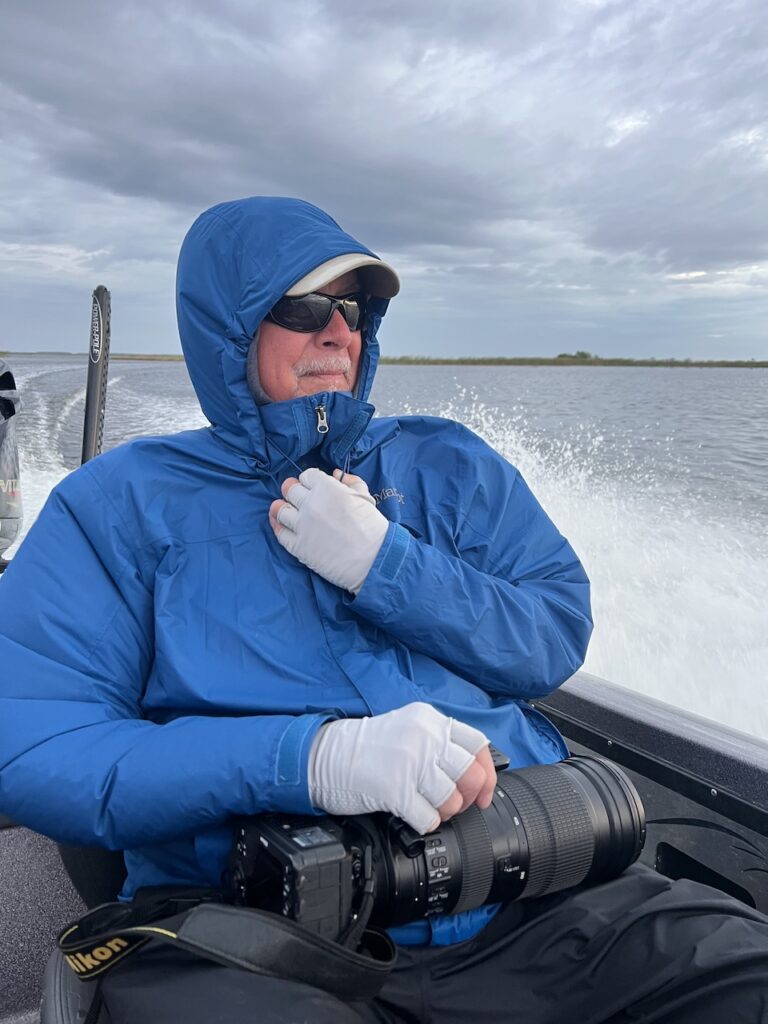 January 26 and 27, 2023.
If you've never gone to Florida, you may think the weather in Florida is always warm because it's in like, in "the south." Guess–or dress–again. Because while it got to 85 the day before we started fishing, by the second to last day of our trip, it was 56 degrees in the morning. Some call this "brisk." Coming from 30 degrees in Michigan, we called it "balmy."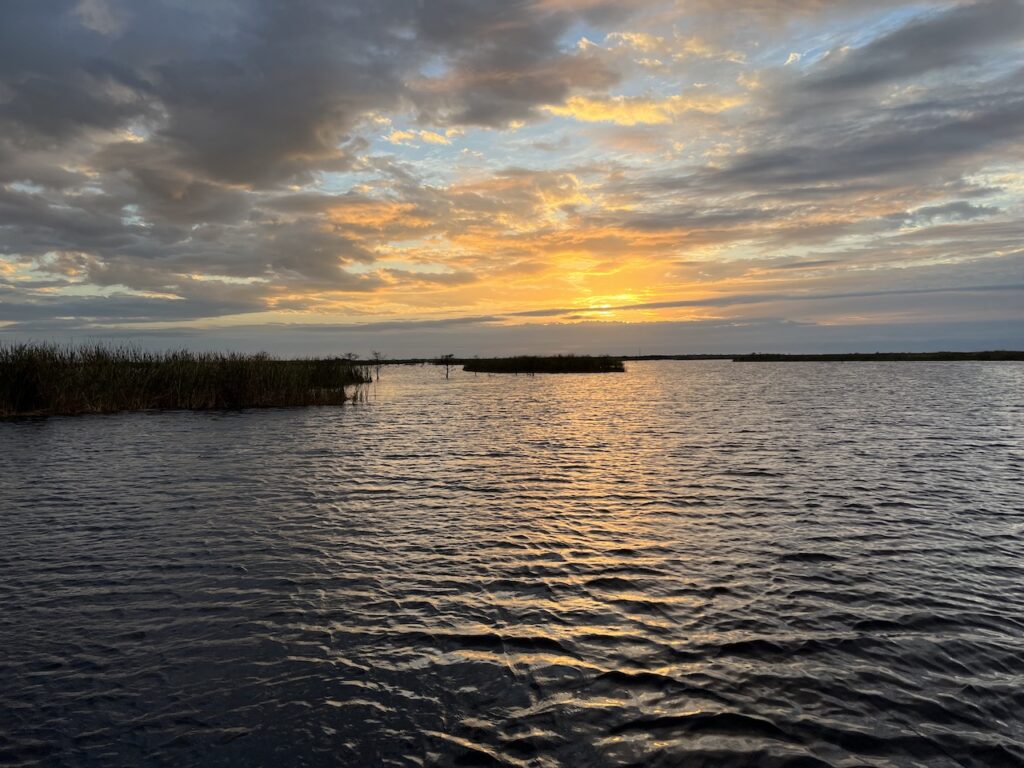 We started the day with an awesome sunrise, which is wonderful to see no matter how many layers of clothing I have on.
Mark, to the right, is watching his float, waiting for the action to start.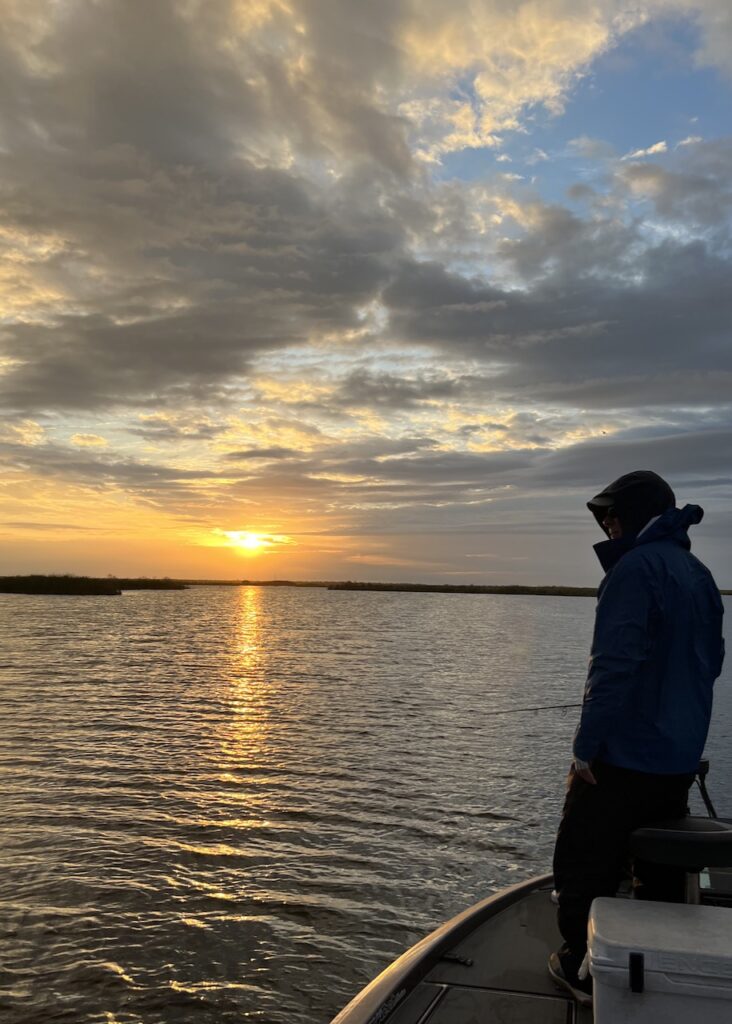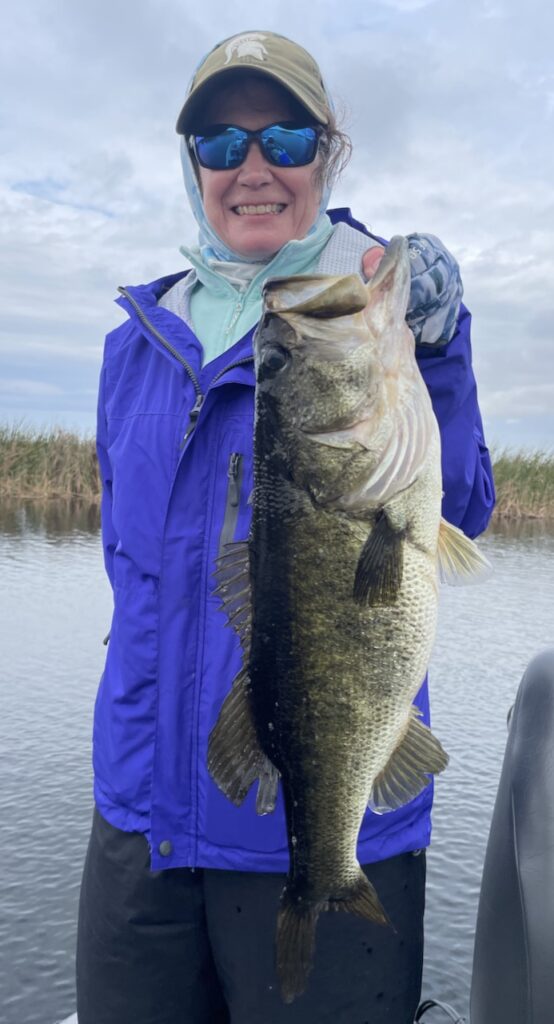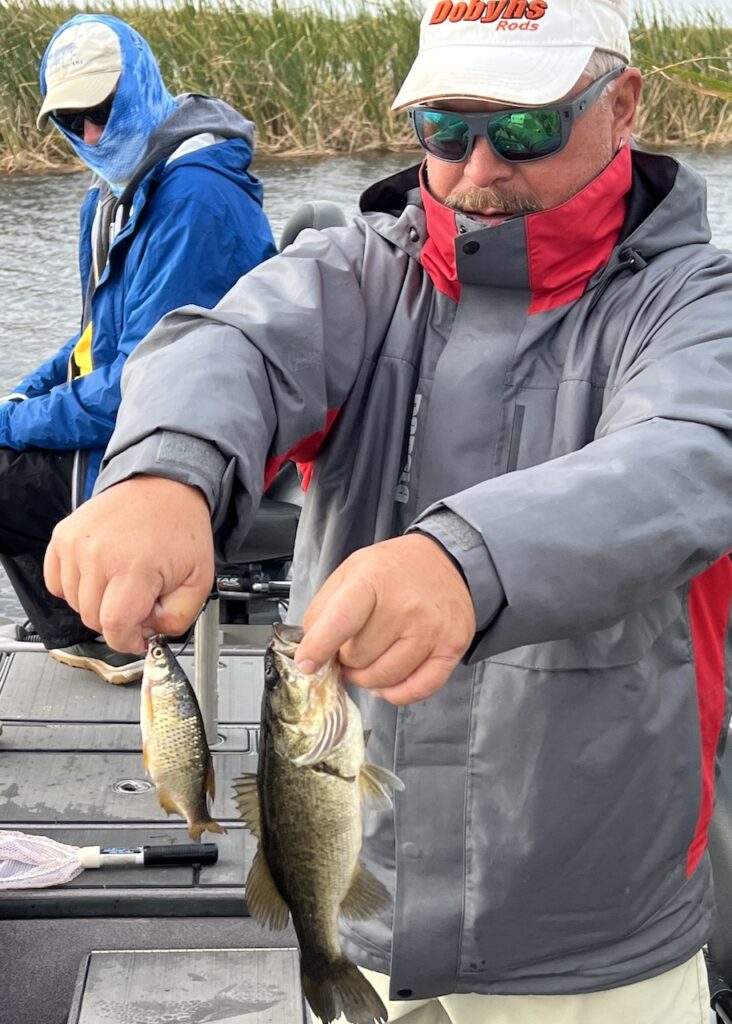 The thing about catching a lot of fish the first two days is when we don't catch as many on a subsequent day at the same location, the fishing seems less than stellar, if not slow. Indeed on January 26, it took until 7:25 to get our first fish and it maybe weighed a pound. It took until 7:44 for Mark to get his first fish, then not again until 8:06. Then 8:27 (Mark), 8:42 (me); 8:49 (me); 9:28 (me); 11:16 (me, and that fish is in the photo); 11:35 (me); 11:45 (Mark); 12:08 (me); 12:58 (me); 1:08 (Mark); 1:43 (me). After that it got really slow. Given that many people will never catch a bass the size of the one to the left, it's hard to feel sorry for us, though, isn't it?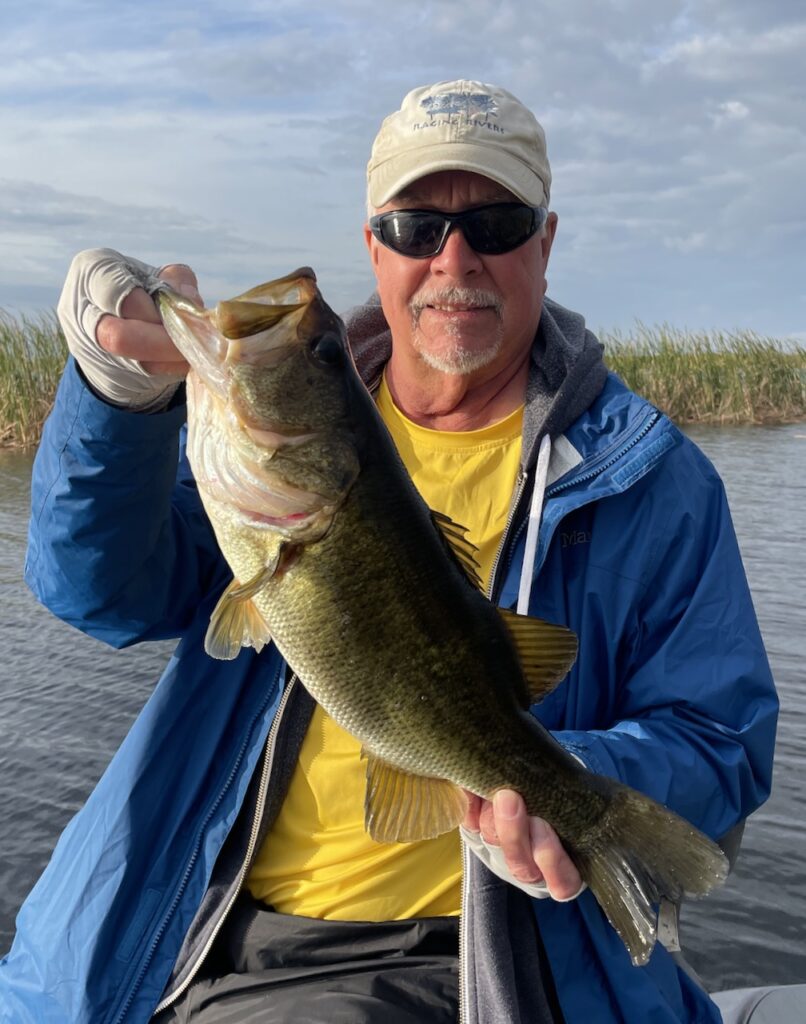 To the left, Captain Steve shows that once again, even small largemouth bass were willing to go after shiners.
And while not as awesome as the first two days, this was still an amazing day on the water.
Now, I'm not a foodie, a food expert, or a food connoisseur. But now and again I stumble upon a place that is very memorable, and on this trip we stumbled upon Squid Lips in Sebastian (for atmosphere, dolphins, open-air style, and food); Casa Amigos in the Indian River Mall, Vero Beach (best bar, upbeat atmosphere; decent food, but in a large mall); and best of all, the Italian Grill, which is also in a strip mall, but quaint, quiet, and offering amazing food. Mark had his first ever veal veneto and I had eggplant rollatini. Amazing.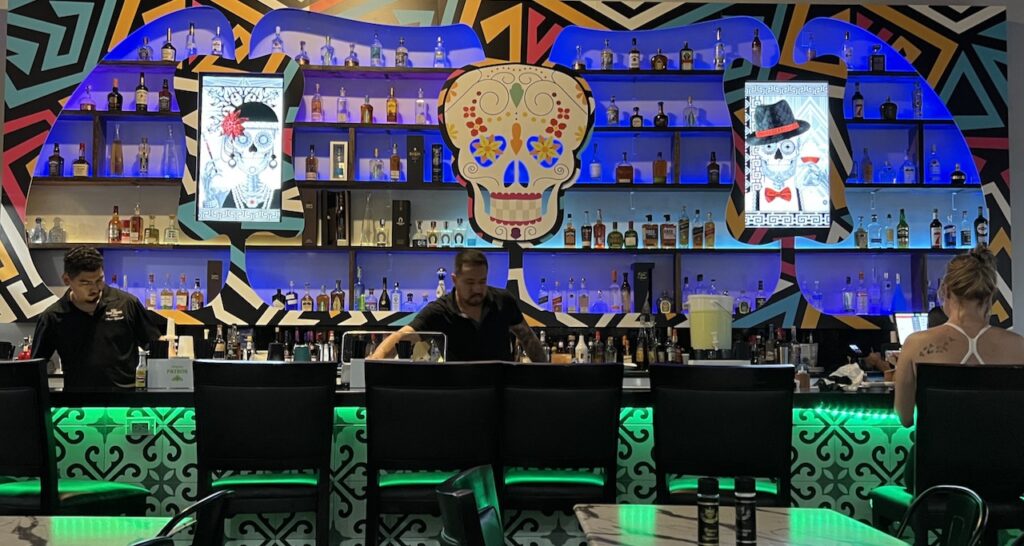 Bar at Casa Amigos.
January 27, 2023.
Our last morning on the water required a few additional layers of clothing. In fact, I wore seven layers. Wearing seven layers of clothing reminded me of the colder weather at home, which reminded me of home, which reminded me of work, and hence, I was distracted. Thoughts of snow and work–especially skipping out on work and not reading a single email in over a week–occupied my mind as we fished our last day. It left the door open for Mark to kick some fish butt, which he did.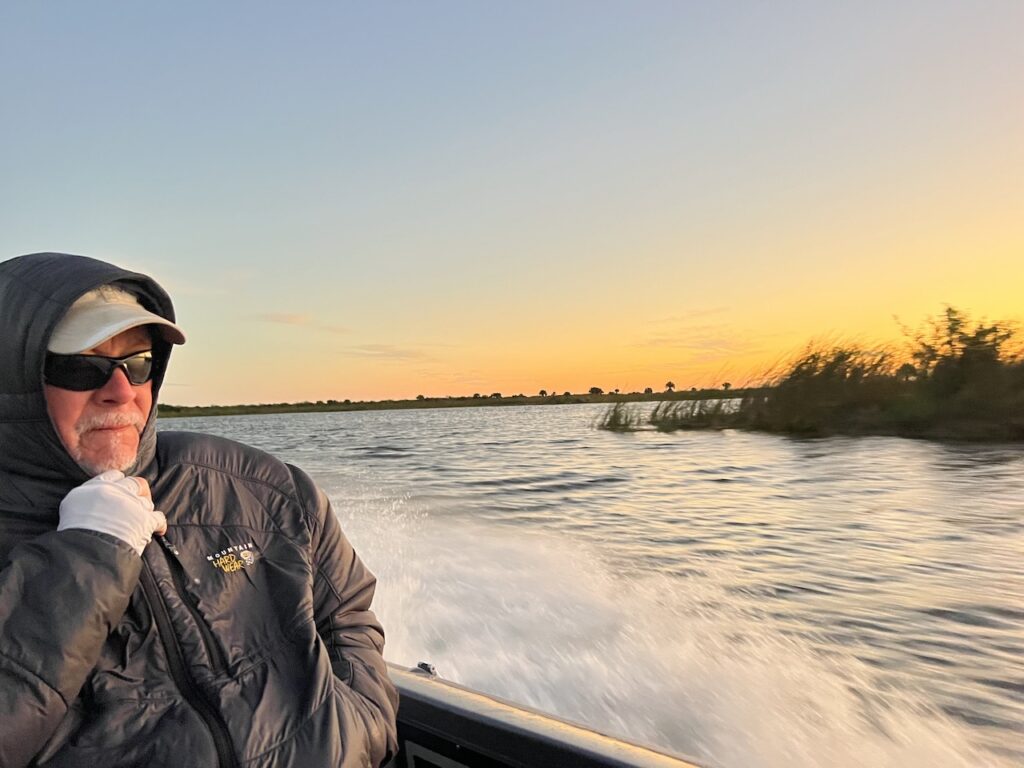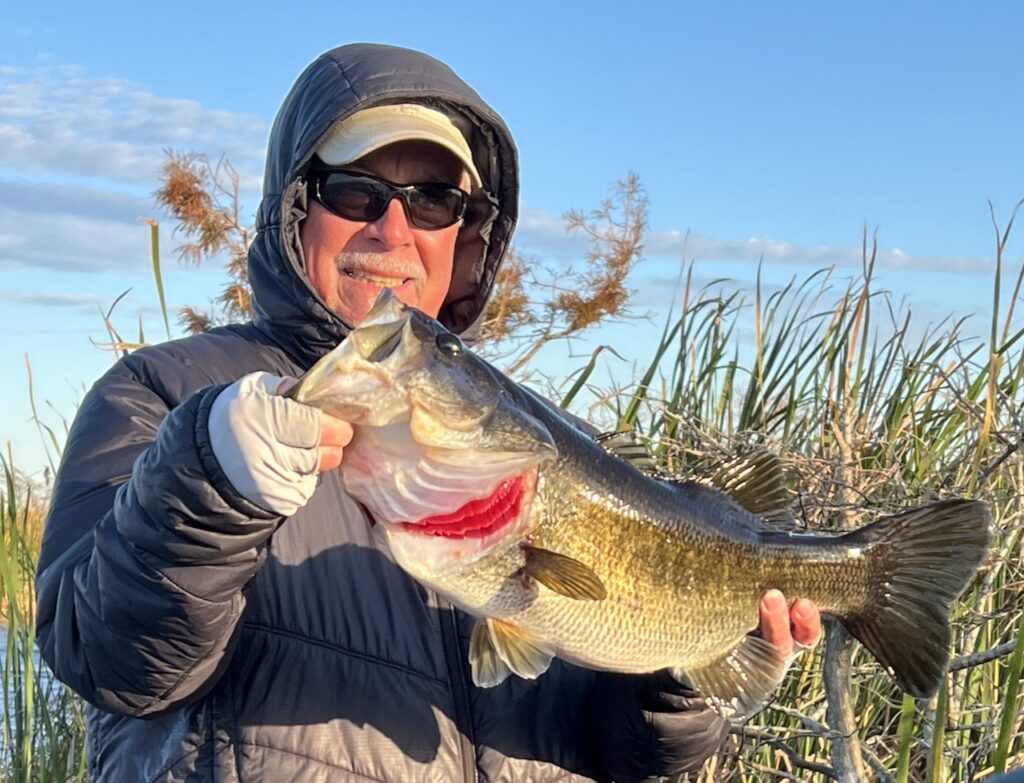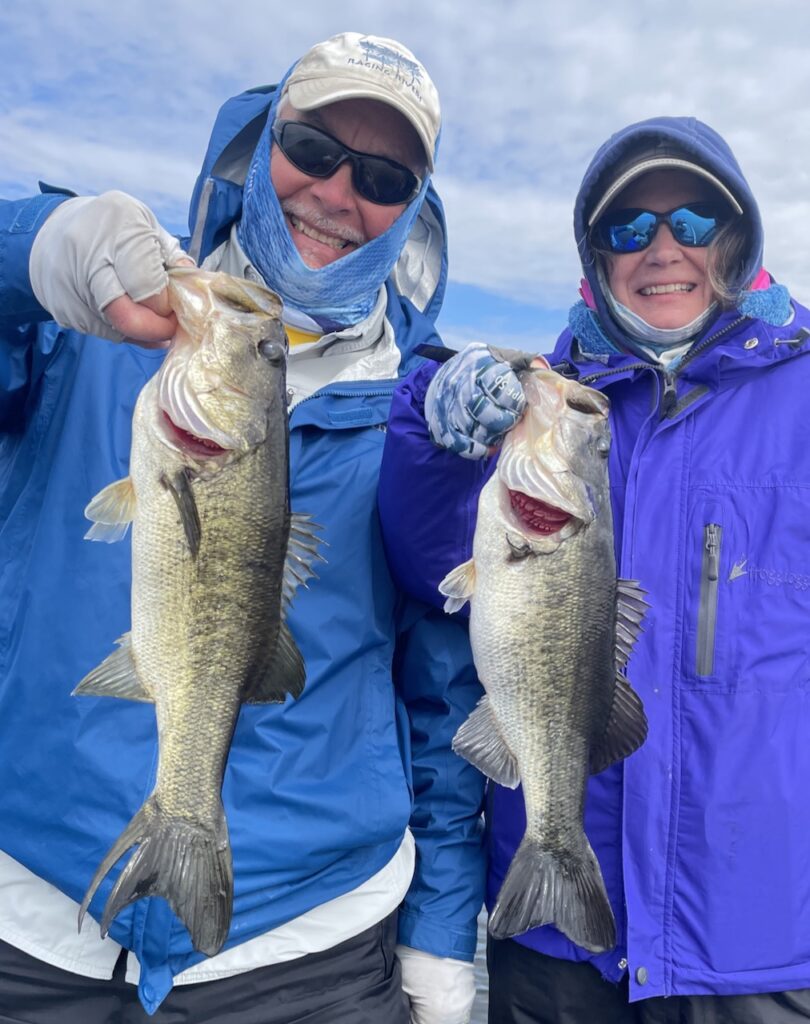 On our last day, Captain Steve took photos of fish we caught at 7:34 (me); 8:02 (Mark): 8:18 (Mark); 8:23 (Mark); 8:33 (me); 8:38 (me); 9:24 (me); 10:20 (me); 10:22 (Mark); 10:40 (Mark); 10:43 (me); 11:36 (double); 11:49 (Mark); 1:07 (Mark); 1:22 (me). Mark's fish was 5 pounds, 8 ounces. We didn't weigh mine. But I think at this point, I'd rather made my point.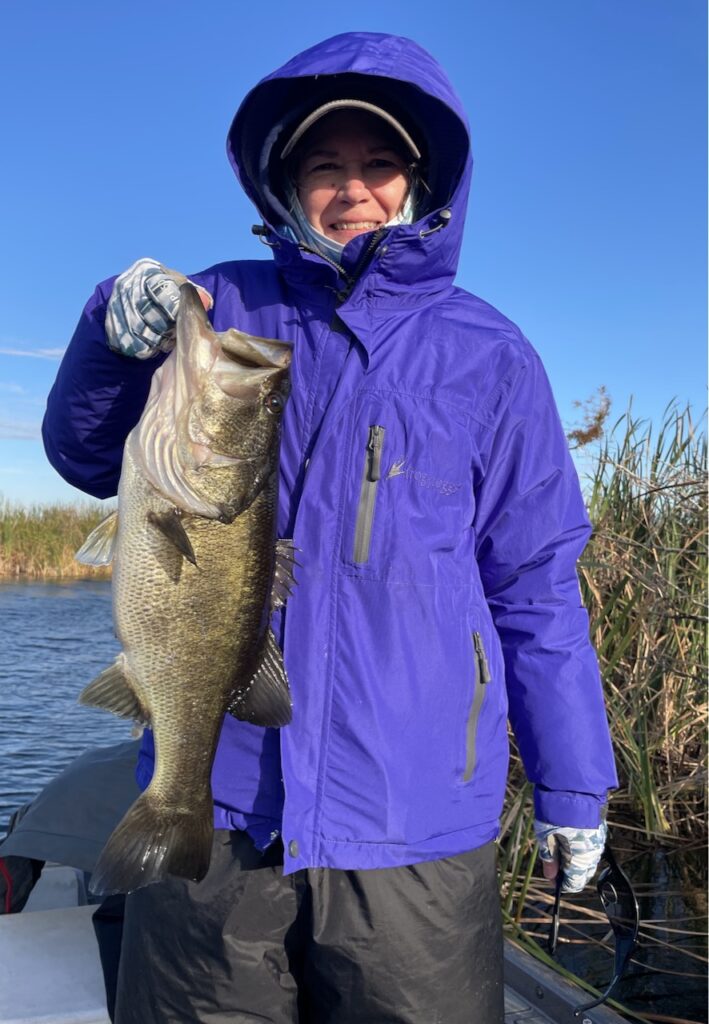 To the left is our last double. I should have held mine out away from my body more, so it looked larger.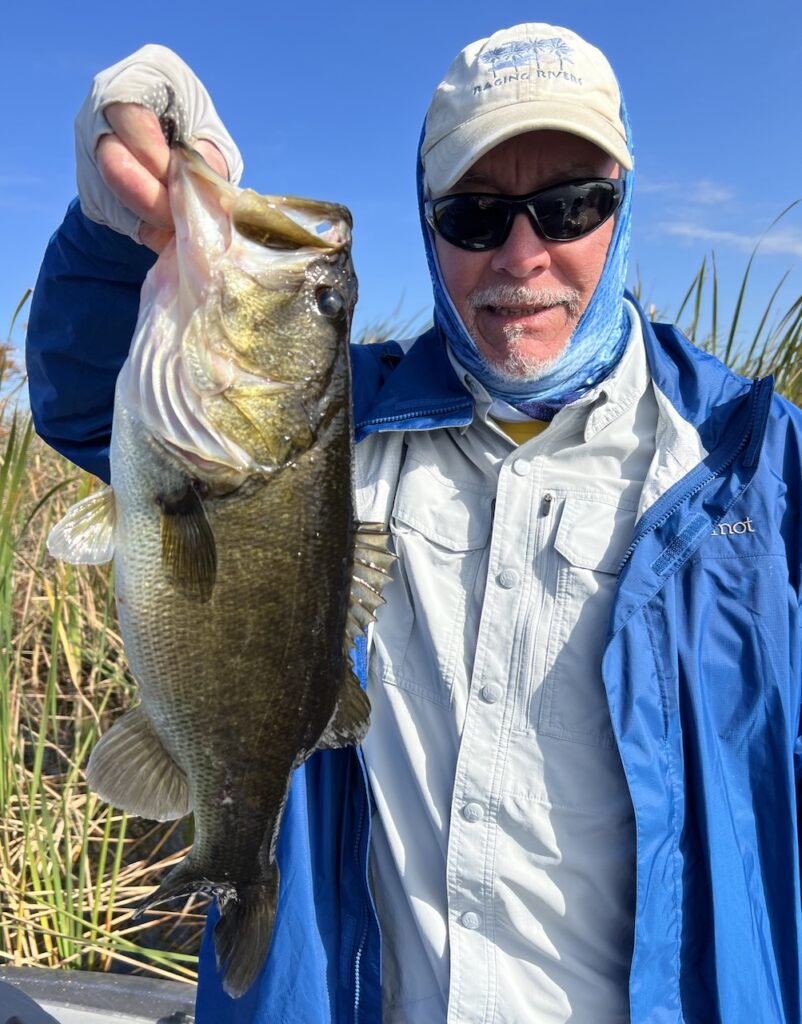 Because fishing was rather slow after lunch, it gave me a chance to photograph this little blue heron, which seemed not too distressed by us fishing nearby. This birds eats just about anything that wiggles. Young little blues are actually white their entire first year (below, from 2018). Little blue herons have "teeth" in their middle toes, which they use to preen themselves.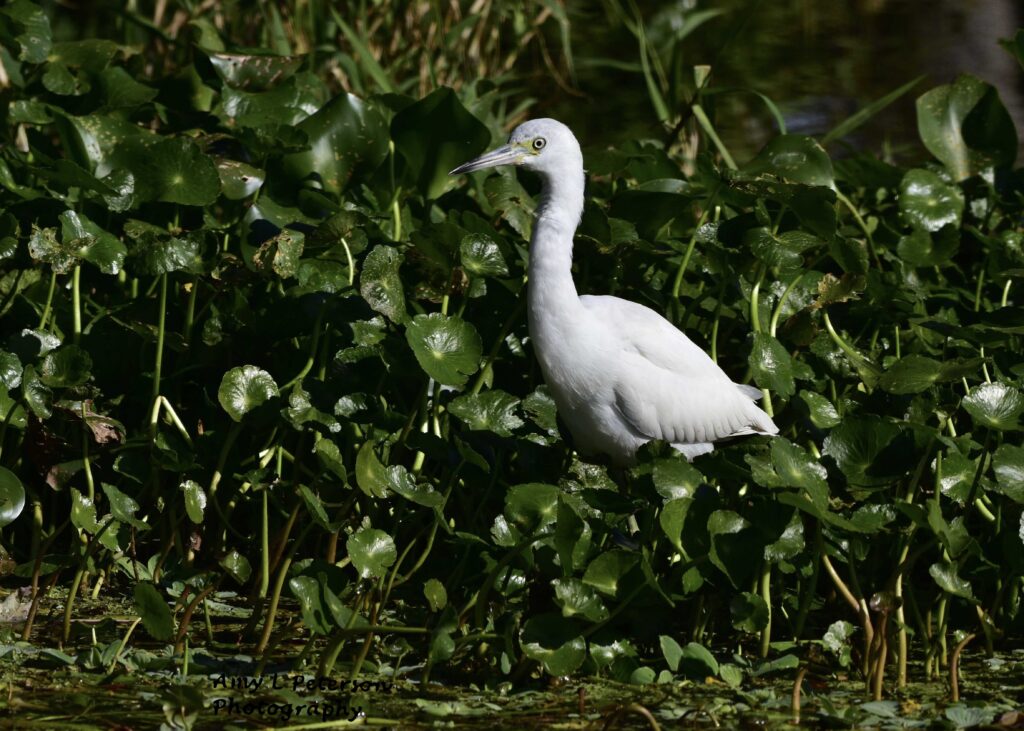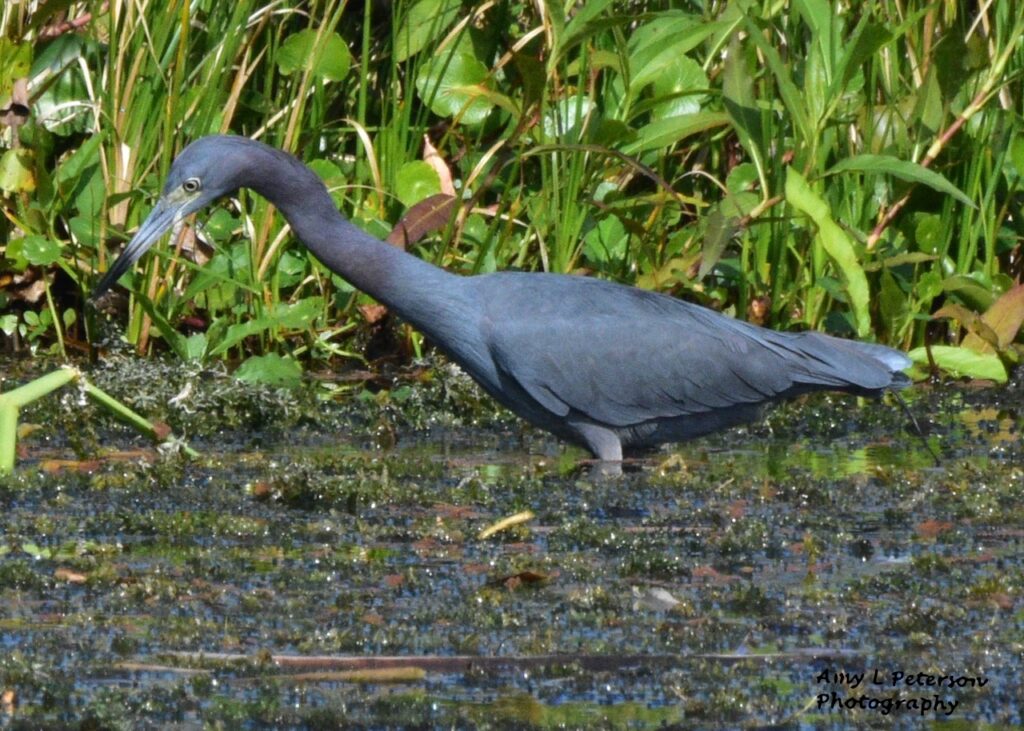 On the way back to the boat launch we went passed this snowy egret (to the right), which is one of several white birds you might see in Florida. This bird is smaller than the great egret, below). The snowy egret has a black bill, whereas the great egret has yellow bill.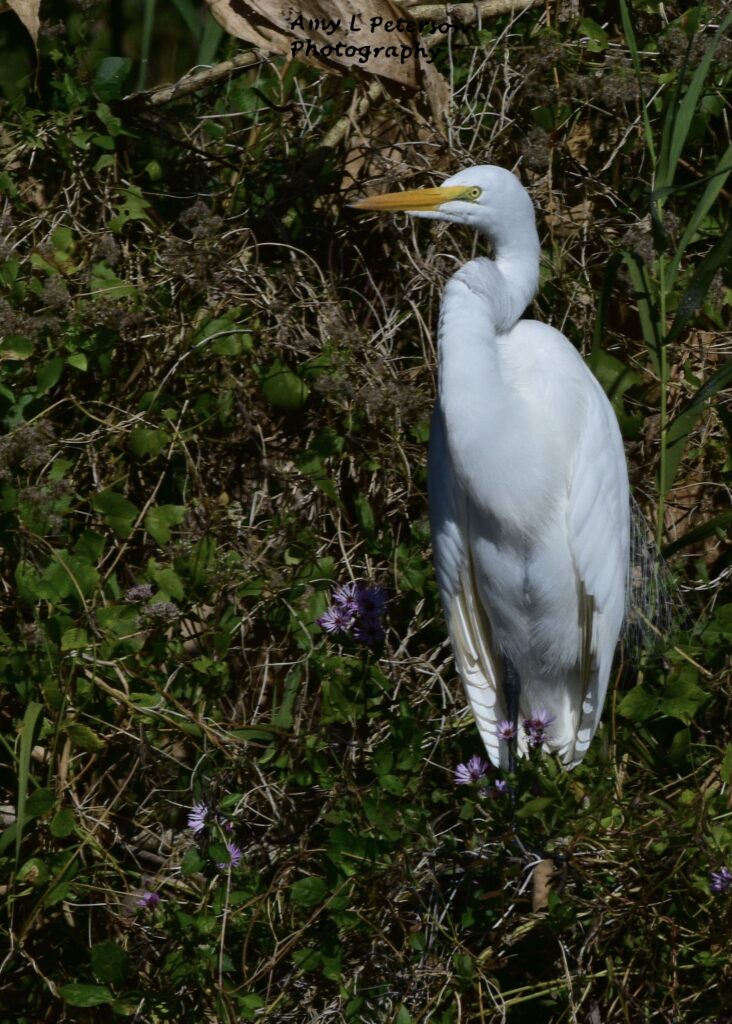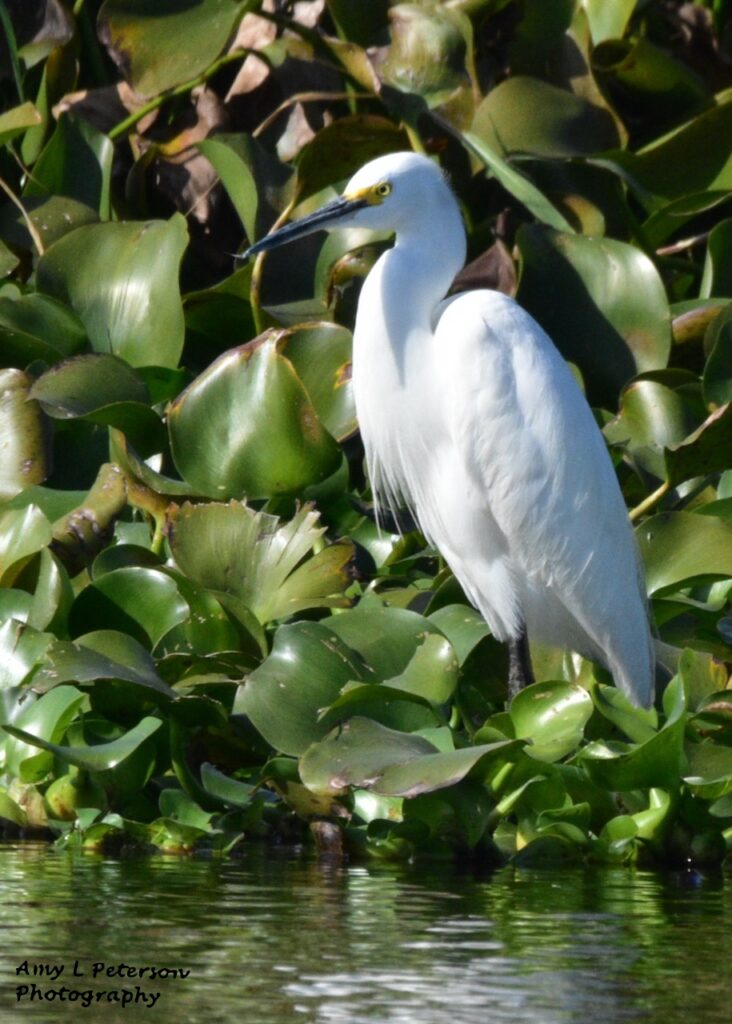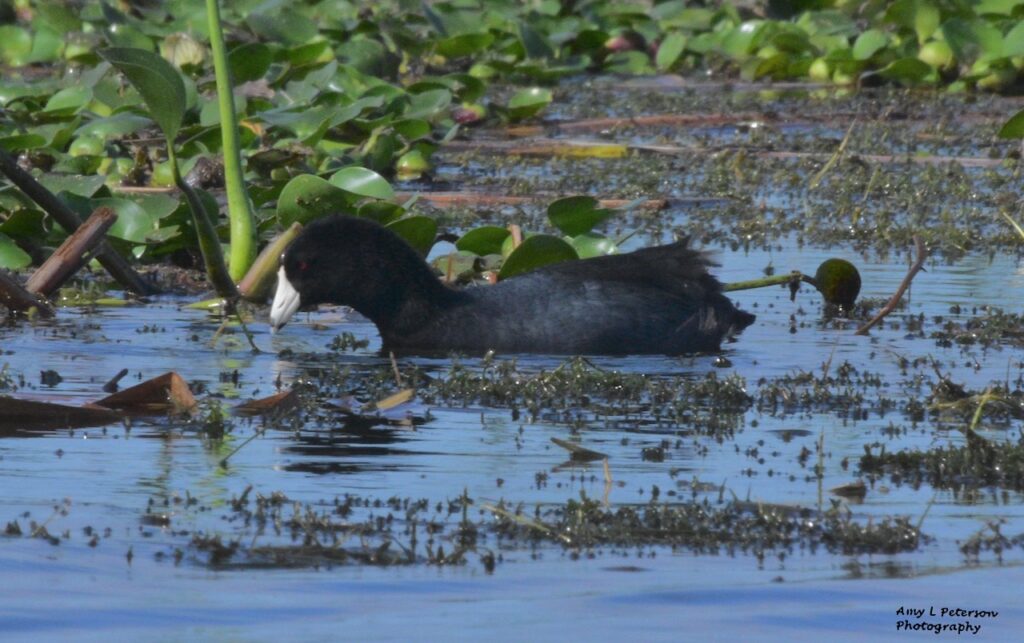 On the way back we also saw an American coot, which is not a duck, rather, per Cornel University's All About Birds web page, more a relative of the sandhill crane than mallard ducks. It doesn't even have webbed feet, rather, broad lobes of skin that fold back when they lift their feet. You may see dozens–if not hundreds–of coots in marshes hanging out together.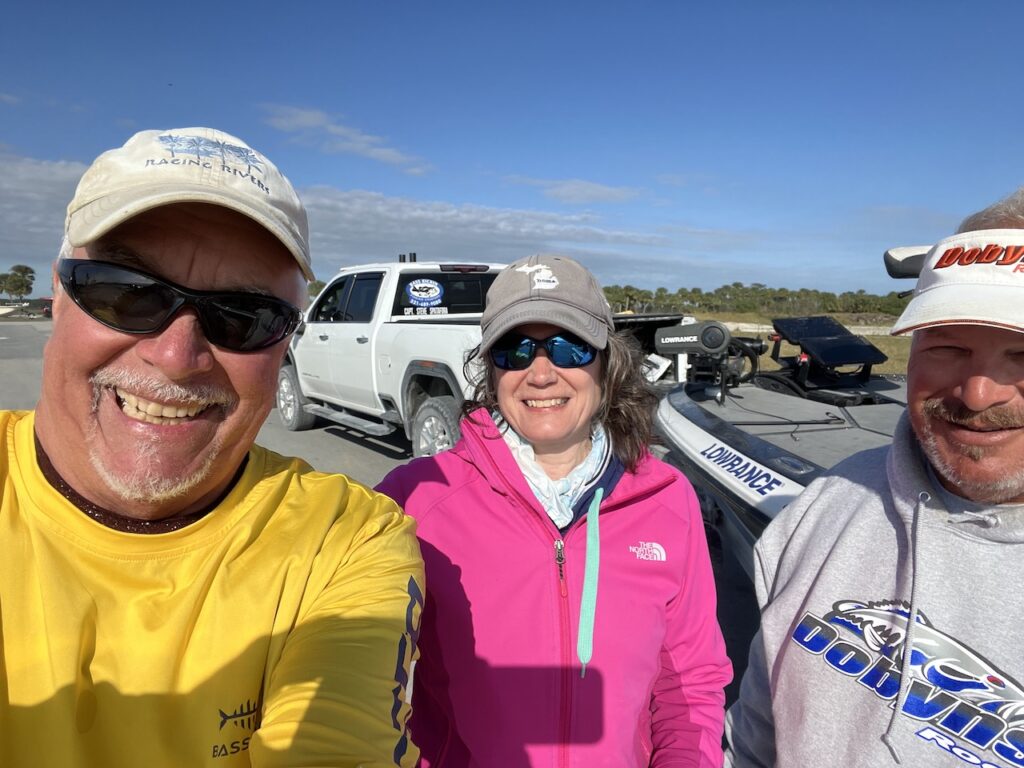 Before we left Fellsmere Reservoir we took this selfie with Steve Spatafora. I also shot the photo below in case you want to go fishing with a great guide who will hook you up with some nice largemouth bass and help y'all have a good time doing it.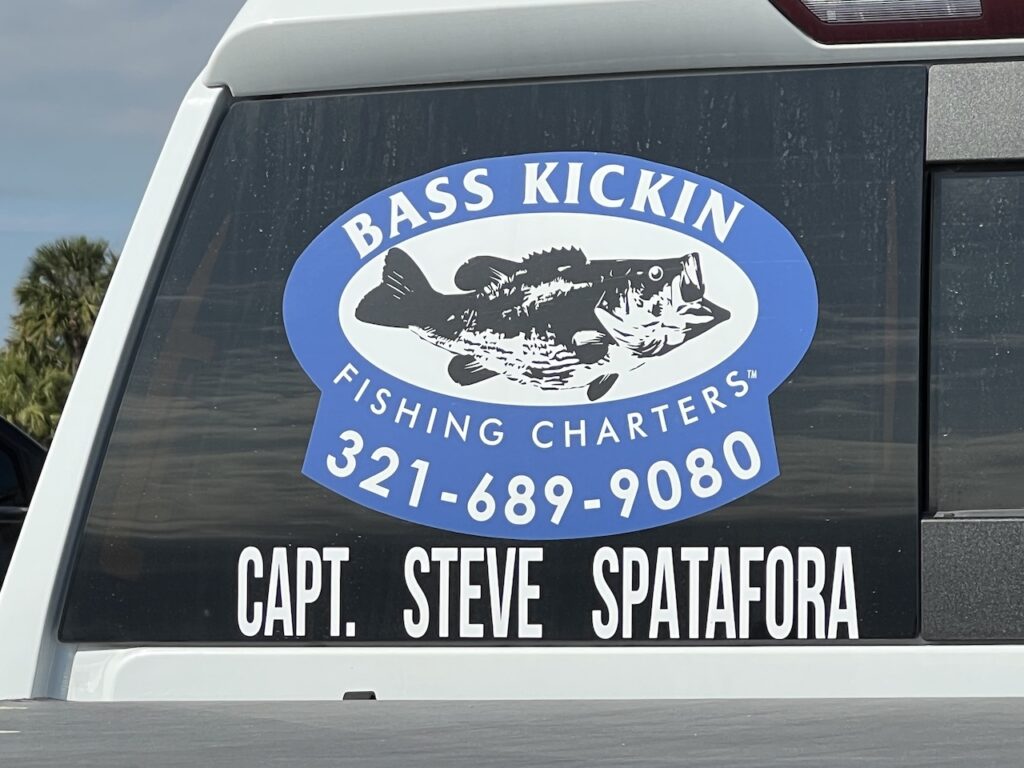 I will wrap up this blog with a photo of a red-shouldered hawk, which Mark took on our way back from Fellsmere Reservoir, hanging out the window of my car while I pulled over with the flashers on. These hawks eat small mammals, large insects, reptiles, and other birds.
With that, we headed back to our motel and packed up for the long ride home the next day, filled with good memories of a great fishing trip to Florida.