January 23 and 24, 2023. In the wee hours of a cool, dark Florida morning, Mark and I drove to the sleepy town of Fellsmere and onto a dirt road for several miles before reaching the boat ramp at Fellsmere Reservoir. The map of this massive, 10,000-acre lake is to the left. The boat launch is in the top right.
Being at the Fellsmere Reservoir boat launch early in the morning was like watching a secret community of fishermen go about their daily routine–readying their boats in the parking lot, chatting with each other in low voices, getting their lunch and gear in order. Their trucks and boats formed a long line, and at some point–around 6:30 or so–the first guy backed his boat down one of two narrow, concrete-rimmed ramps, jumped in his boat if alone, motored his boat to shore, jumped out, ran up the ramp and pulled his truck and trailer up the ramp and to the parking lot. The next guy backed his boat in expertly and repeated the process. In a matter of minutes a dozen boats were on the water, and anglers with guides or guests were ready to head out into the most amazing man-made reservoir Mark and I have ever seen.
We had hoped to fish Fellsmere ever since we had seen a Major League Fishing Tournament on TV held here. The pros had pulled out many nice fish.
We met our Captain, Steve Spatafora, at the boat launch, put our sandwiches and Gatorade in his cooler, sat down in his bass boat and headed out into the lake. Now, I never remember to take a photo of our fishing guides until the end of the trip, so this photo is out of sequence. Captain Steve is on the left, Mark to the right. Below is part of Captain Steve's bass boat. We'd never met Captain Steve and only knew it was really him because he had his name on his boat.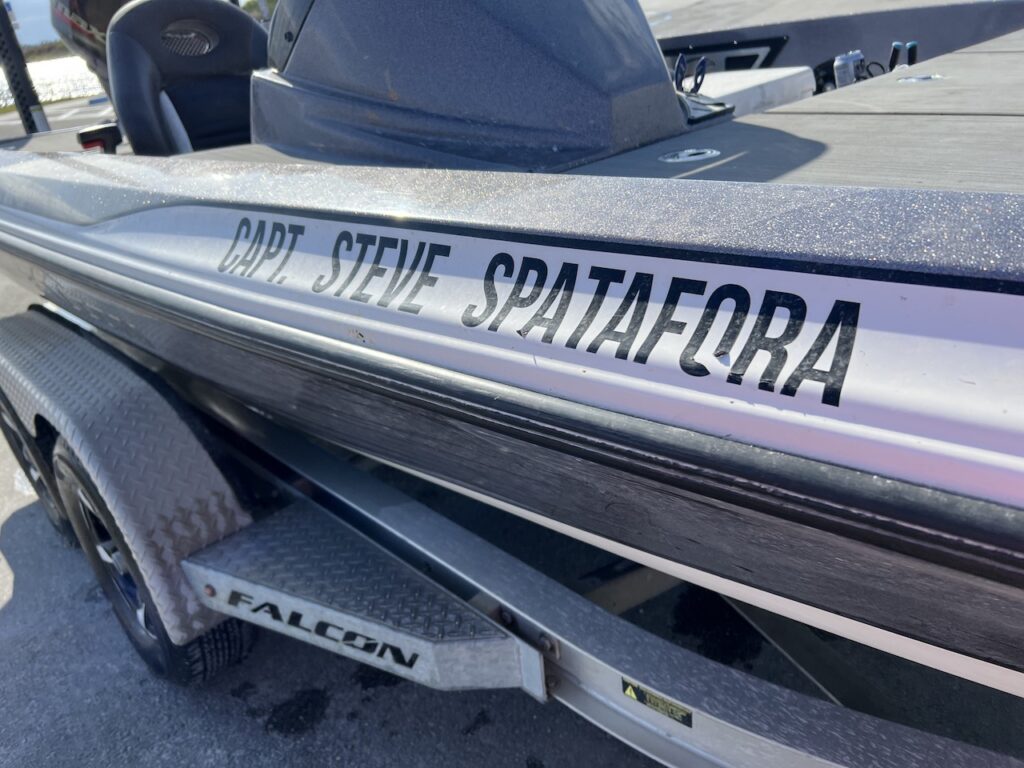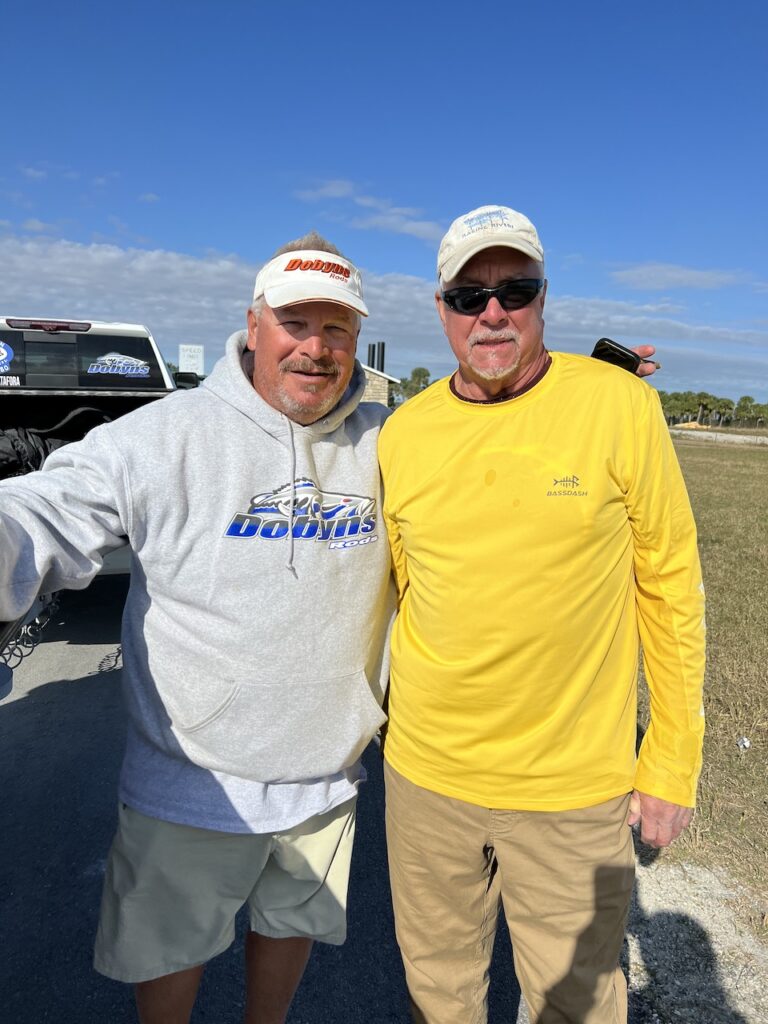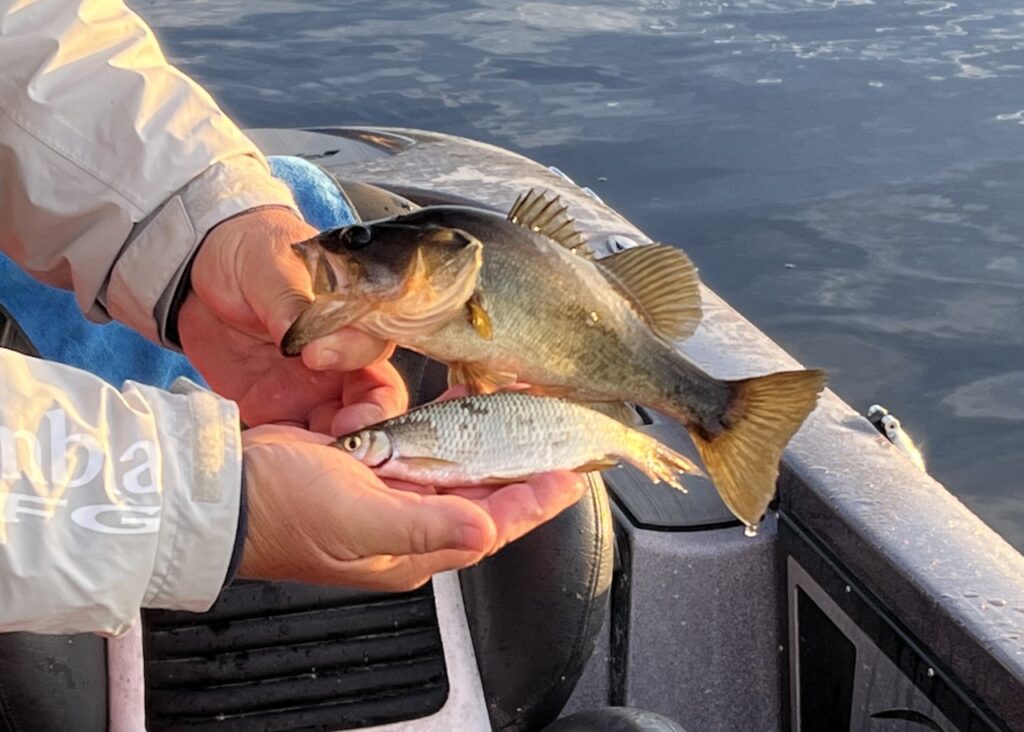 When you hire a bass fishing guide in Florida, you can either use their gear or your own, and you can either use live bait or artificial. We chose to use Steve's gear and live bait, the former because we didn't feel like assembling rods (especially on the first day), and the latter because we have caught more bass ,and larger bass, with live bait.
This photo shows the size of the bait we used and the smallest bass we caught. You can see that even small bass were willing to go after a decent size shiner.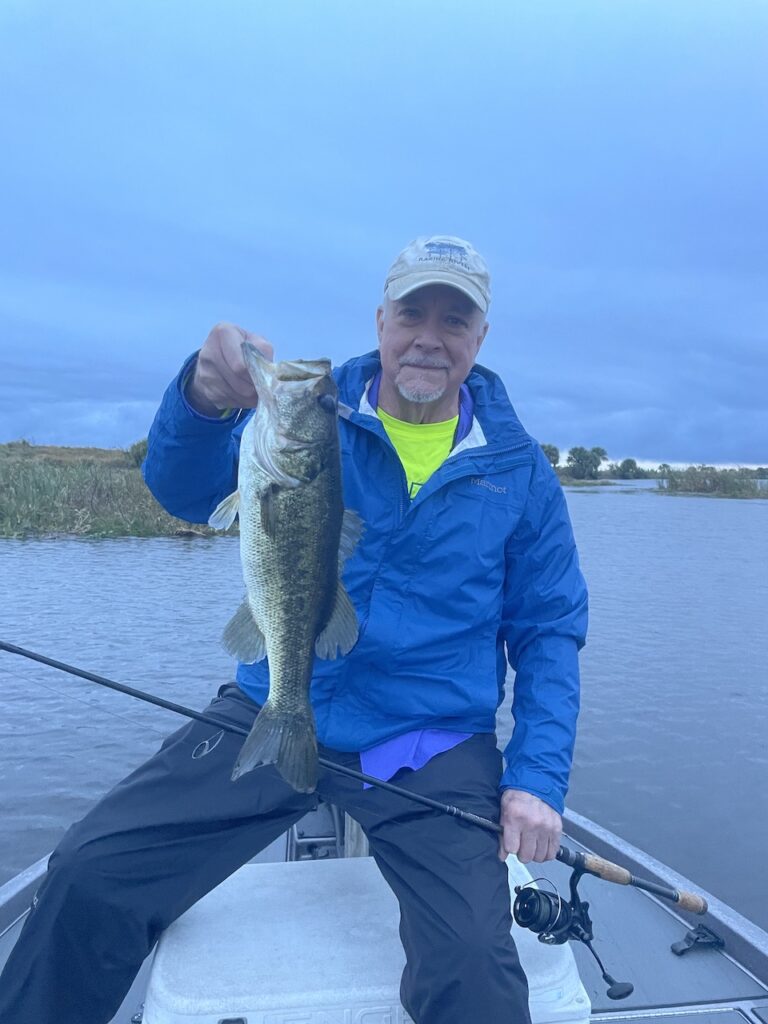 By 7:22 on our first morning on Fellsemere Reservoir, Mark and I had both nabbed largemouth bass worthy of a photo.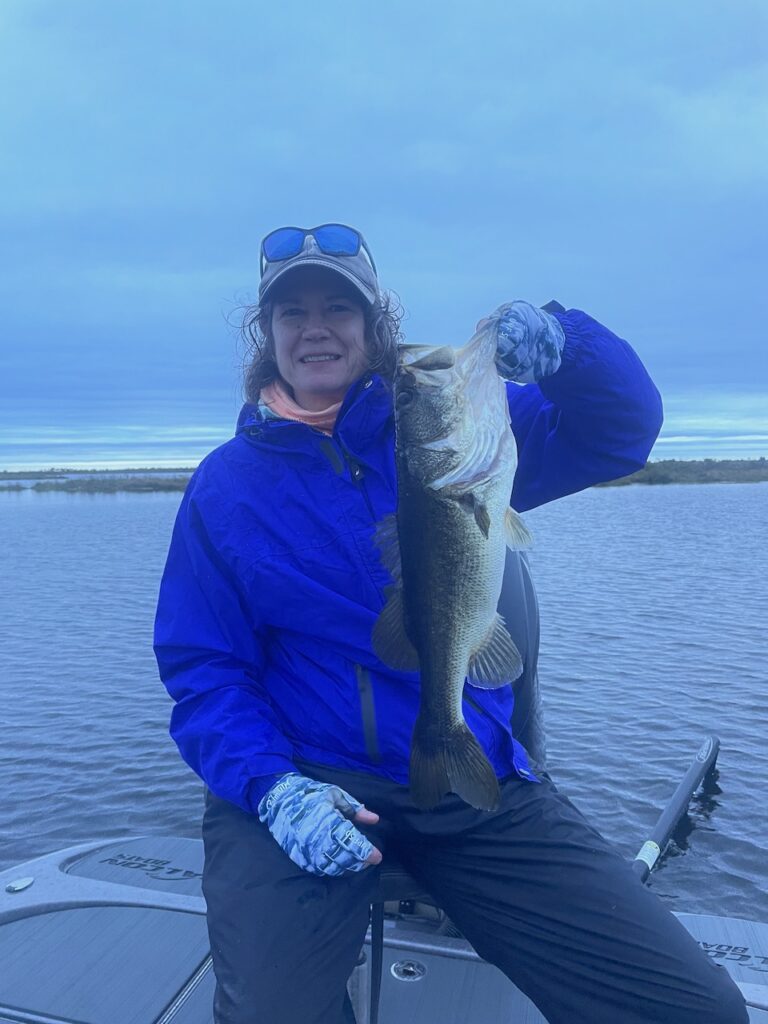 These fish were caught at 7:22 a.m. (Mark) and 7:28 a.m. (me). Photos of most of the fish in this blog are courtesy of Captain Steve Spatafora.
In addition to the above fish, we caught fish at the following times: 8:39 (Mark), 8:39 (me); 8:44 (me); 8:48 (Mark); 9:01 (me), 9:06 (me); 9:22 (me) and 9:56 (Mark).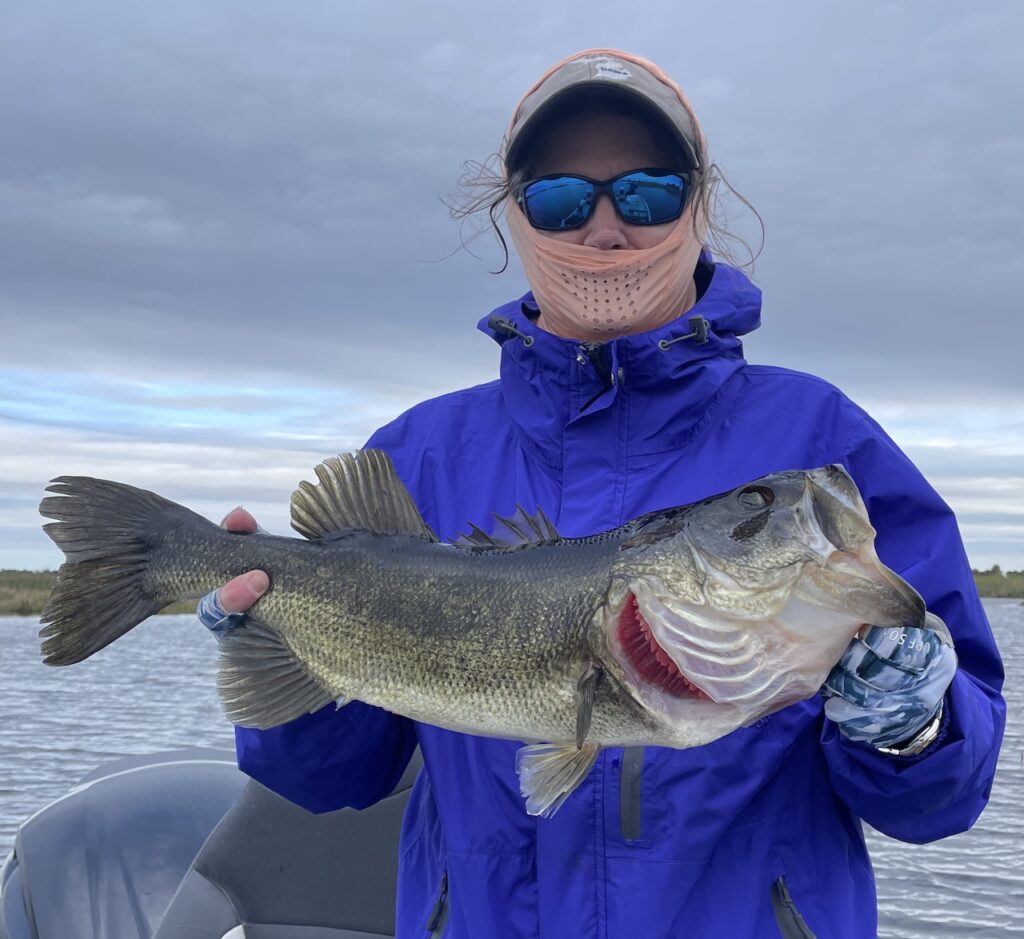 And it was about to get more amazing.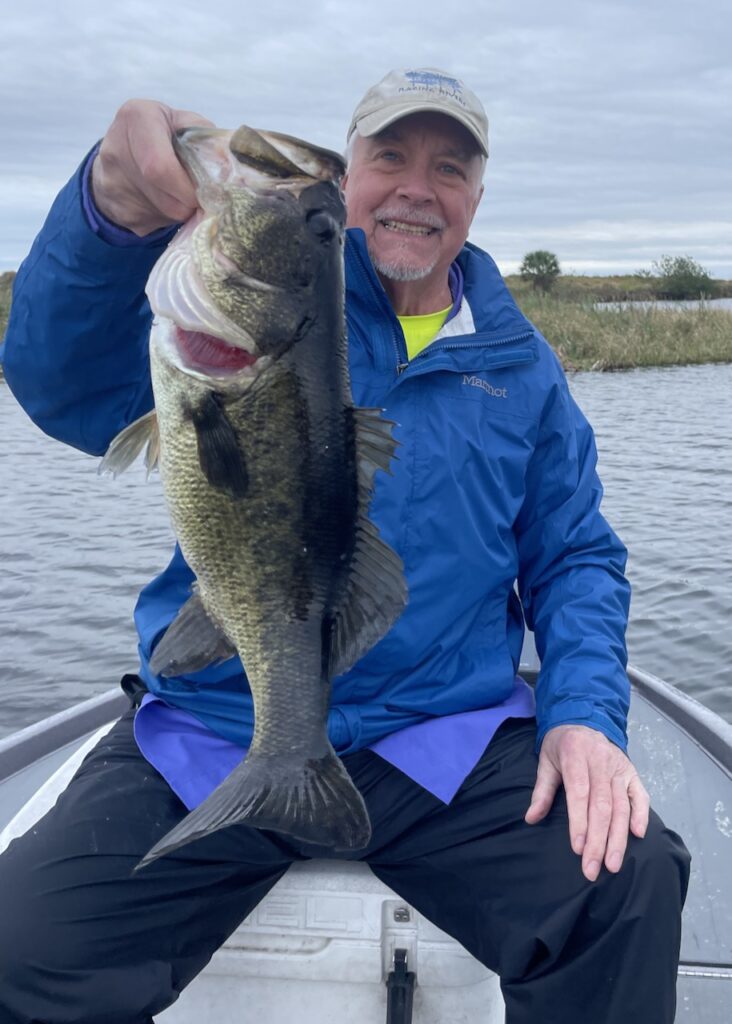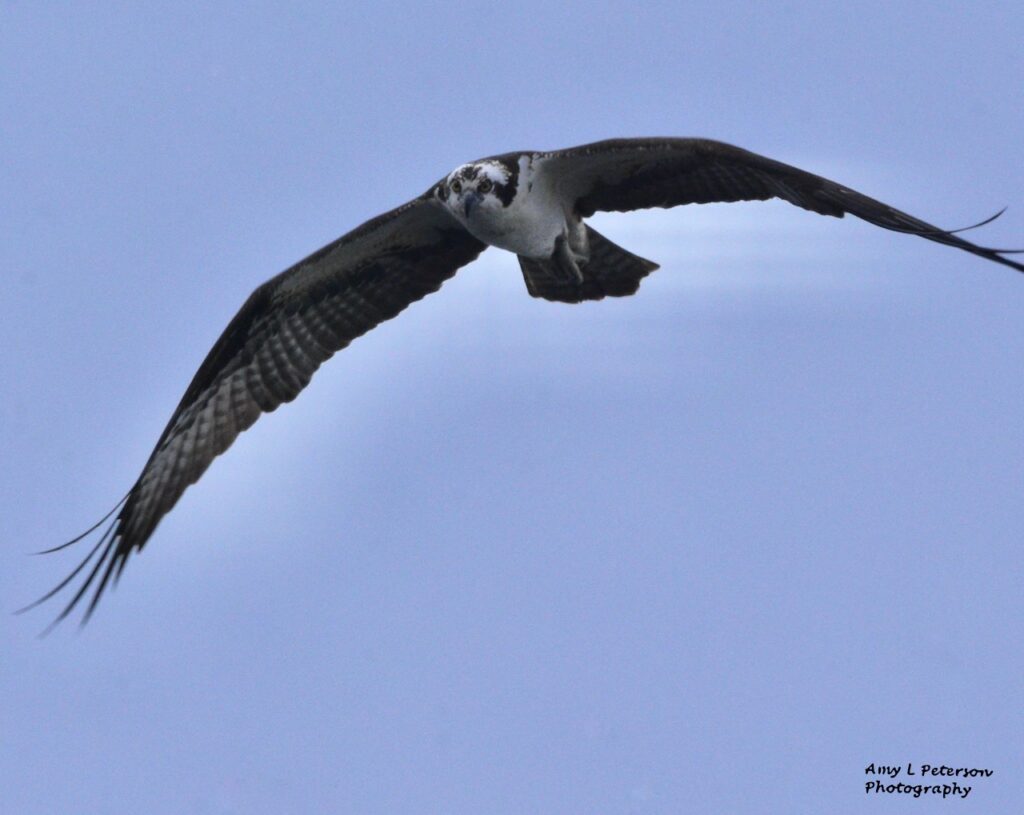 Even when fishing is good I am easily distracted by birds…and I'm distracted from birding when the fishing is good. This, of course, means that I'm not awesome at either fishing or photography. In this case, I got a photo of an osprey missing its bait and only photographed the osprey after it made a second pass and nabbed a largemouth bass in its talons. I missed the actual nab.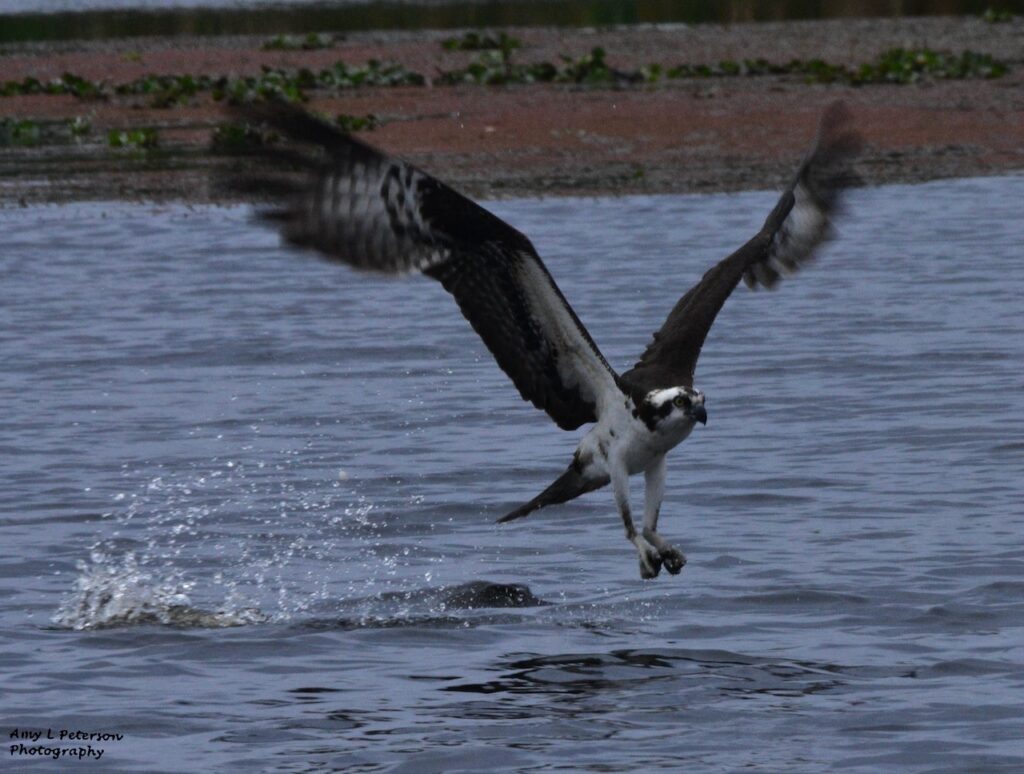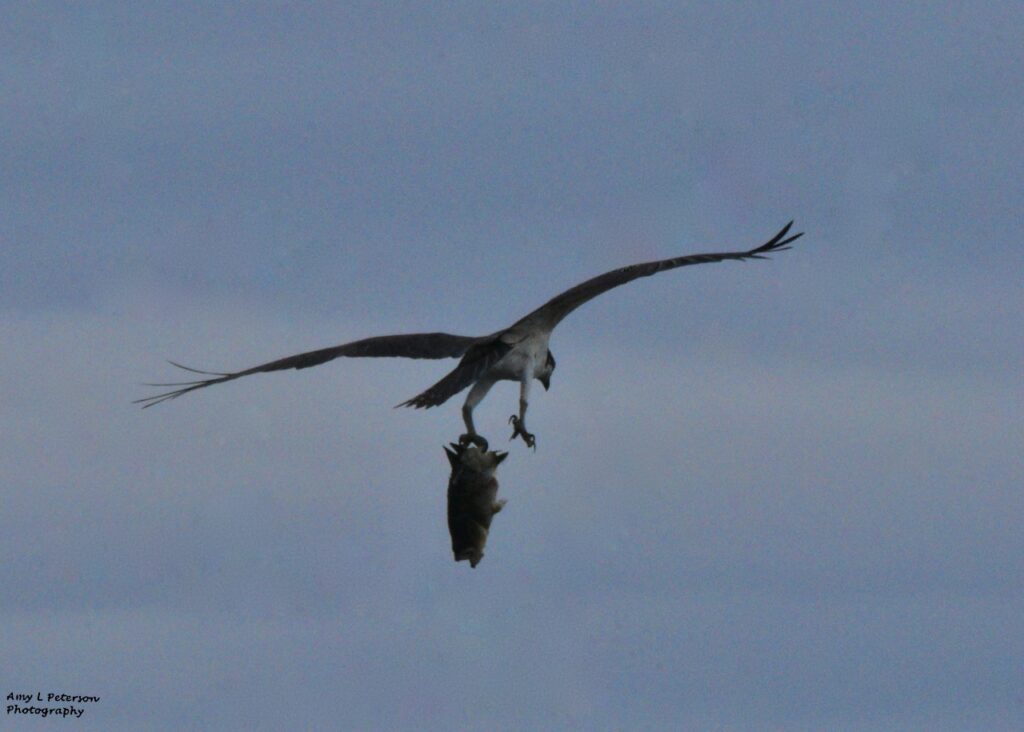 Since none of the largemouth bass Mark and I had caught were any less than a pound and a half, it took a bit of effort for the osprey to get the bass into the air.
But back to our fishing.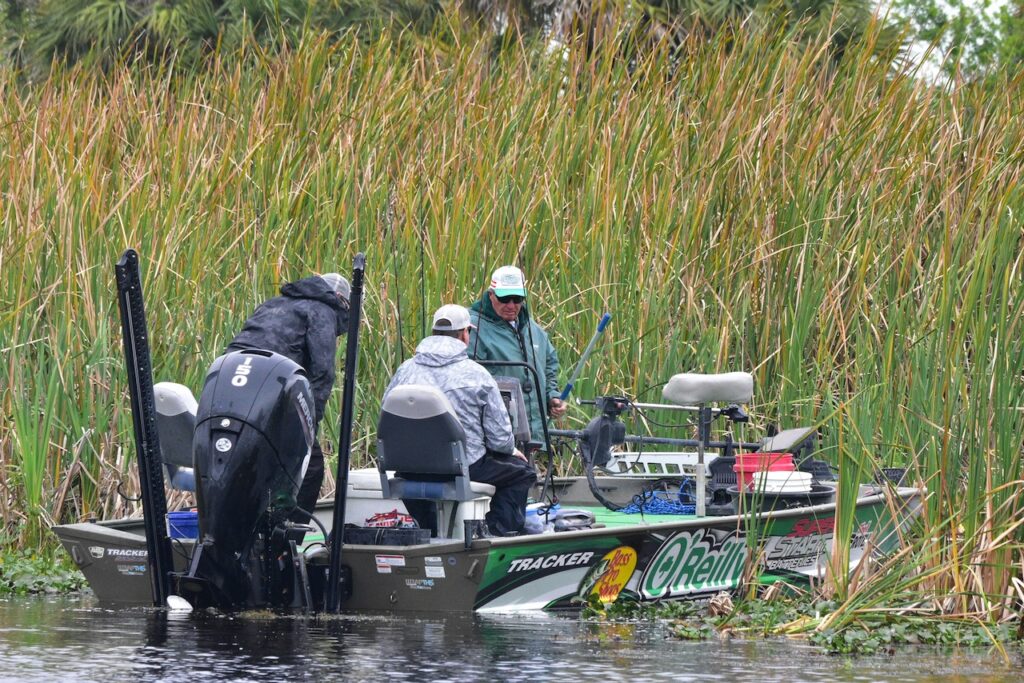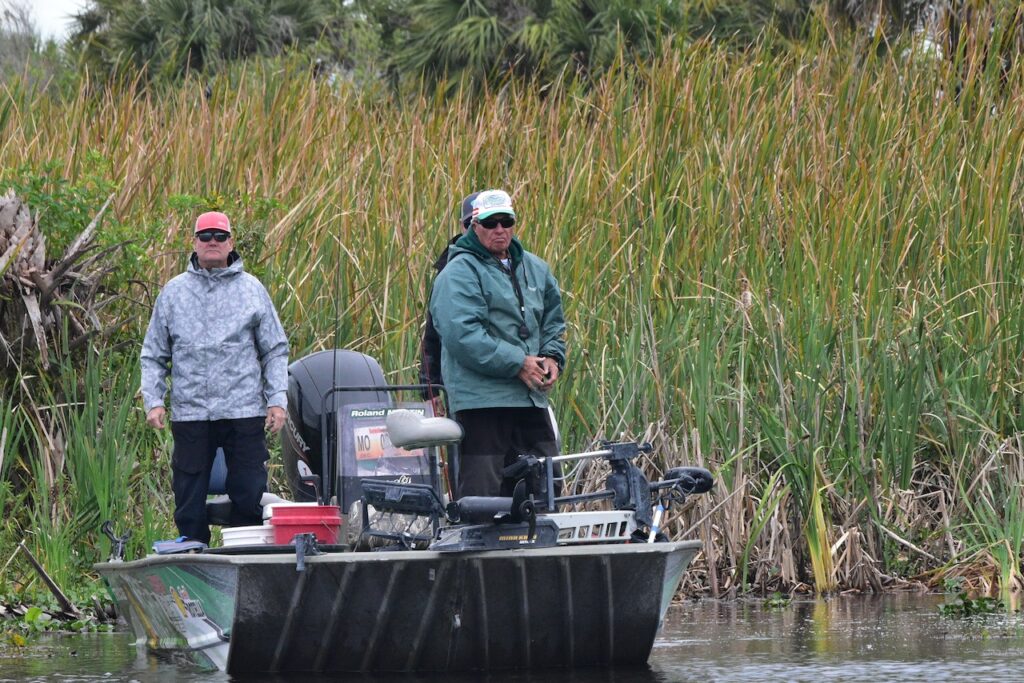 Mark grew up watching Roland Martin on TV and found it quite fun to be fishing near such a legend. Mr. Martin has qualified for 25 Bassmaster Classic tournaments, won 19 pro tour events, earned second place 19 times and placed in the top 10 on tour 94 times. The fact that he appeared within earshot in a 10,000- acre lake was pretty remarkable. And it also made it fun for us.
After failing to get through the dense veggies with his boat, Mr. Martin turned around, and motored in front of us. Captain Steve yelled out, "Hey Big Daddy!" and let him know we'd pulled in 18 fish from our honey hole on this video. While it was hard to hear in the wind, it sounded like Mr. Marin hadn't done as well, which kind made us snicker.
I took another video after Roland Martin had gone by, which captures Captain Steve explaining how the area holding deep water was blocked by vegetation. It ends with Mark "fishing with Roland Martin."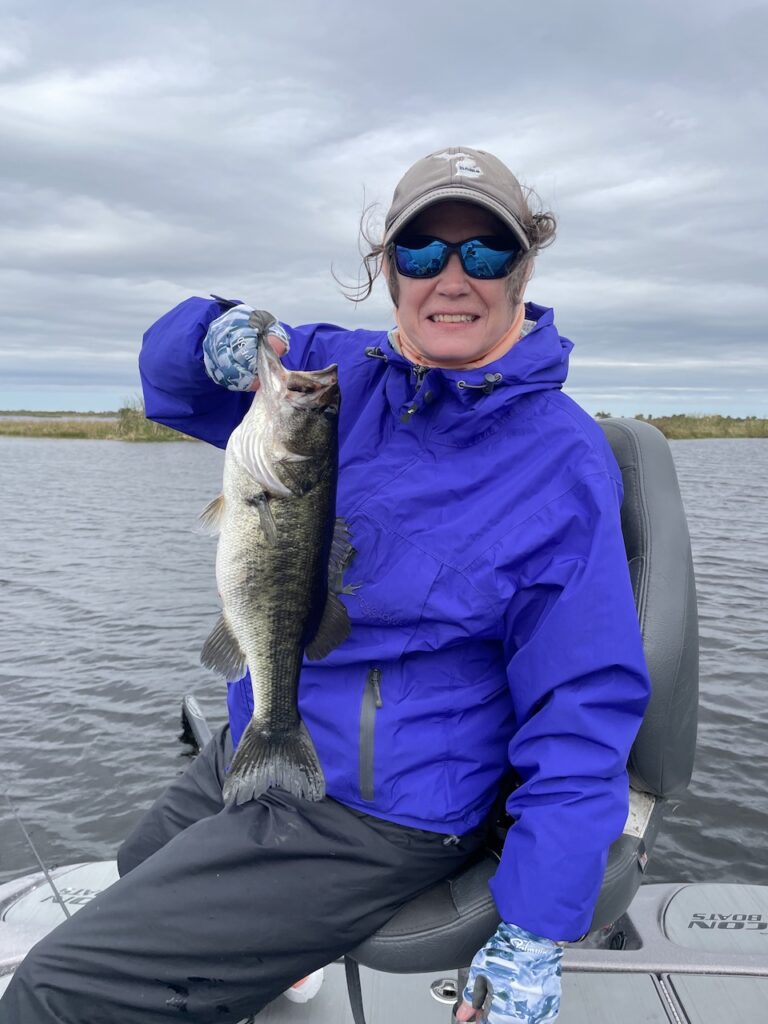 As the legendary fisherman went by, I pulled this fish out of the water. It was 11:22.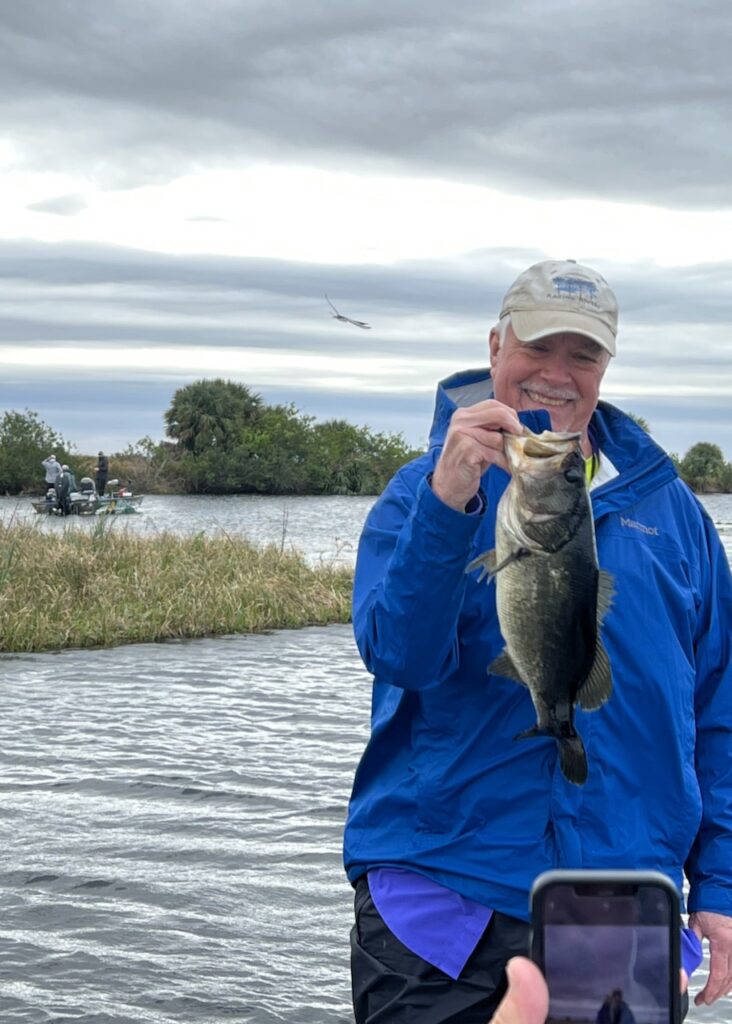 After Mr. Martin went by, Mark and I caught several other bass in quick succession: at 11:25 (Mark), 11:28 (me); 11:29 (both of us, also known as a double); 11:31 (Mark); and at 11:39 (me).
One of the things we loved about Captain Steve is that he has a knack for taking good photos, including ones that had a legendary bass fisherman, Roland Martin, in the background. This photo will go down as one of my favorites, as Captain Steve photographs Mark posing with his fish, with Mr. Martin in the background.
This photo will also go down as one of my favorites. Prior to taking this photo, Steve took a photo so that Mark and I stood right next to each other. Then he suggested we step away and shot this photo with Mr. Martin in the background. Then he grabbed both of our big bass, held them up in the air and yelled, "Hey Big Daddy, get you some of this!" before lowering both fish into the water.
So, it is not only the size of the fish that matters, it's who you're out-fishing. Because while we were sitting on a honey hole pulling out fish, we didn't see a lot of activity in the boat behind us.
In fact, after a half hour, Mr. Martin cranked up his motor and left. Captain Steve said Mr. Martin was very likely to fish our spot the next day.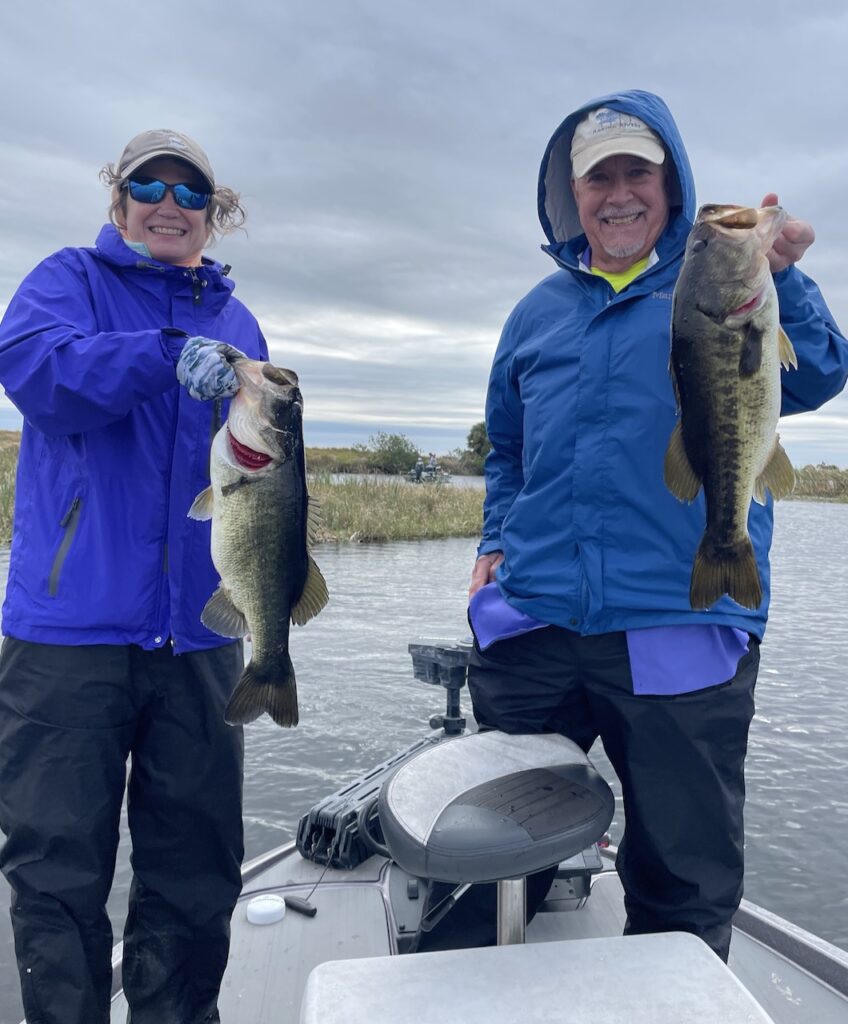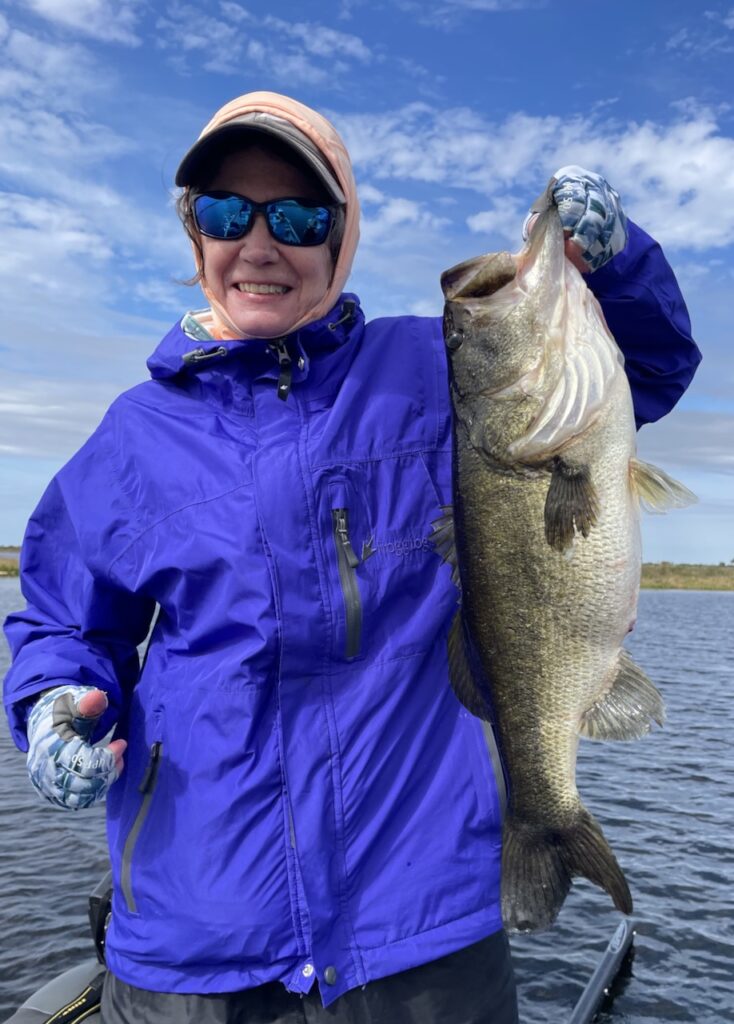 Shortly after Roland Martin left the arm, I got my biggest fish of the day–and likely the trip–this 6 pound 12 ounce stud. It, like all the others we caught, was released back into the water.
After weighing this fish, Steve shared another piece of insight into the world of fishing: he called my fish a Roland Martin eight. I asked him to clarify, and he said that Mr. Martin might have occasionally exaggerated the size of his fish. So, any fish over six pounds Mr. Martin might claim is an eight-pounder. Now, if you know anglers, this rumor/fact about Mr. Martin makes him no different than any other angler. Well, except me. I've never stretched the truth about fishing. :}
It would come to pass that I would catch several "Roland Martin eight-pounders" on the trip.
Before our first day ended, we had netted and released over 30 fish. It was an amazing day.
The next day, January 24, 2023, I photographed this awesome sunrise. In fact, every morning we fished, we witnessed amazing sunrises. I see an occasional nice sunset at my house in Michigan, but there are condominiums in the distant background. The sunrises on Fellsmere/Headwaters were amazing.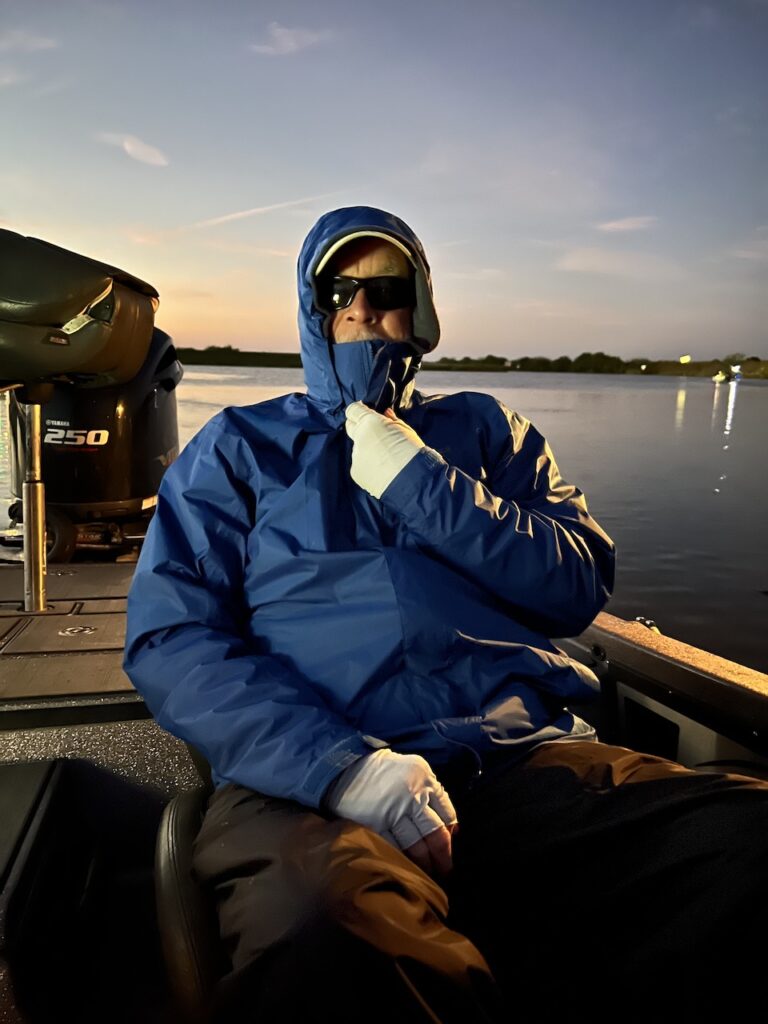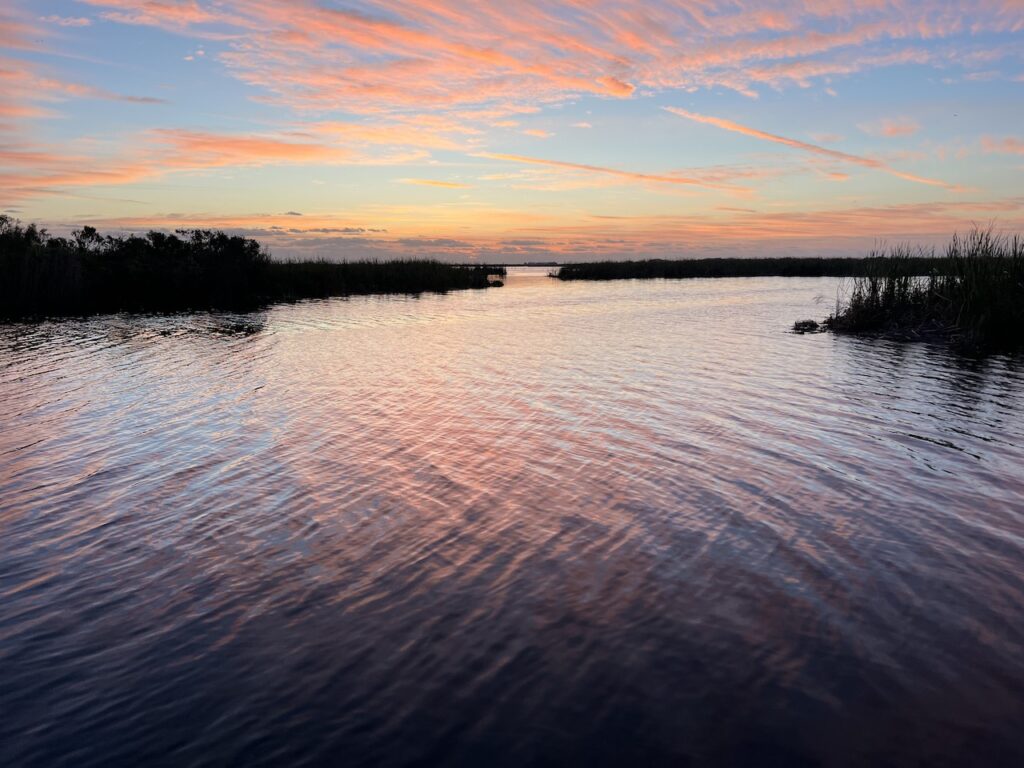 I also noted that it wasn't particularly warm the second morning. It was fifty degrees, and in a boat moving at top speed, the windchill felt much colder. Still, it was much warmer than in Michigan.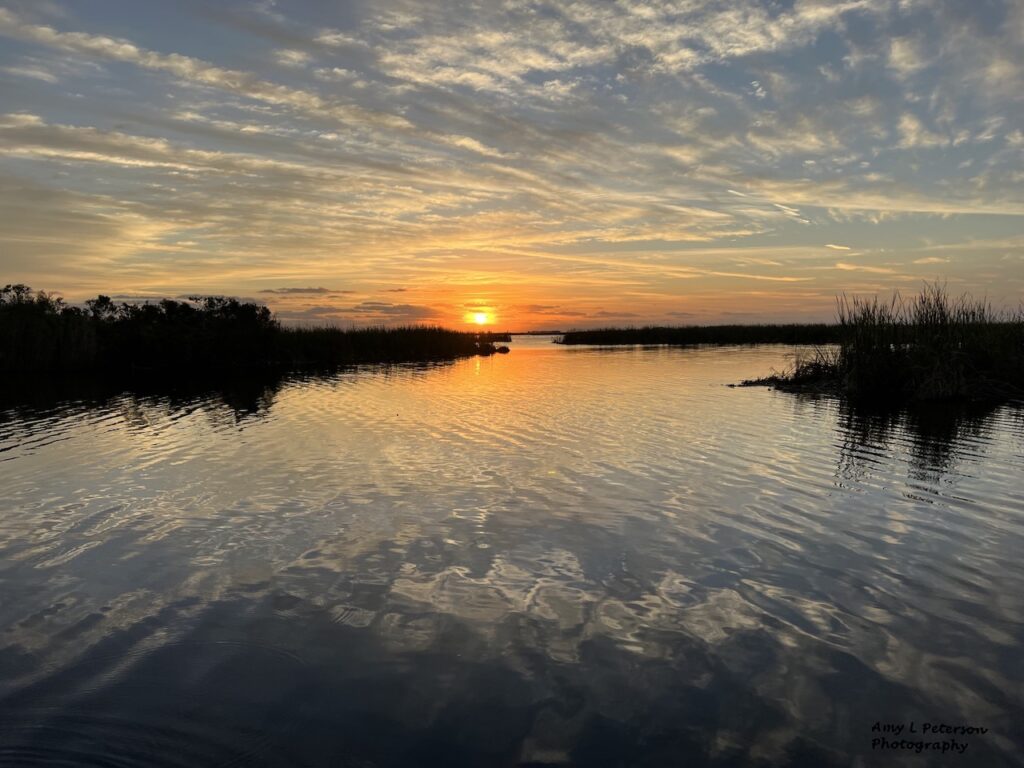 Having out-fished Mark on the first day, we paused on this, the second day, to take a friendly selfie before putting on our game faces and trying once again to out fish each other. It's a thing.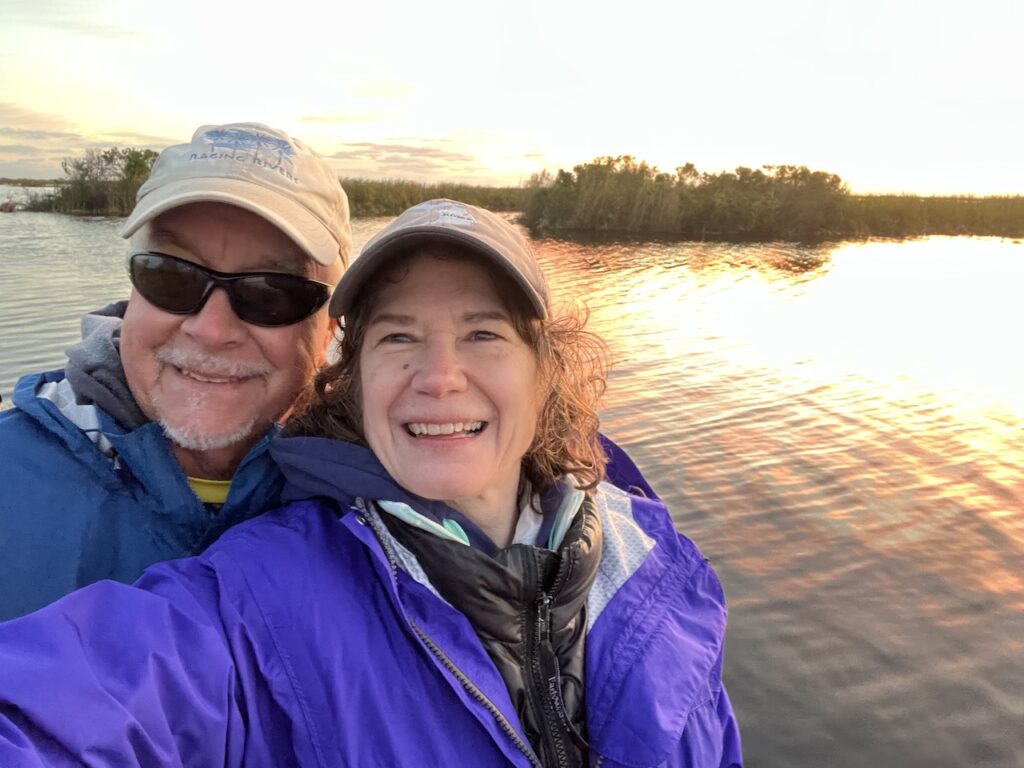 The second day was as amazing as the first day on Fellsmere Reservoir, because we caught fish consistently throughout the day, starting at 7:14, all the way through 3:09 when we wrapped up for the day. In total, we brought 28 fish into the boat for a photo before being released. Most were in the 3-5 pound range.
At 7:42 Mark had one of his biggest fish of the day. We didn't weigh it, and when Mark and I compete, a fish only "counts" as the biggest fish if it's weighed. Hah!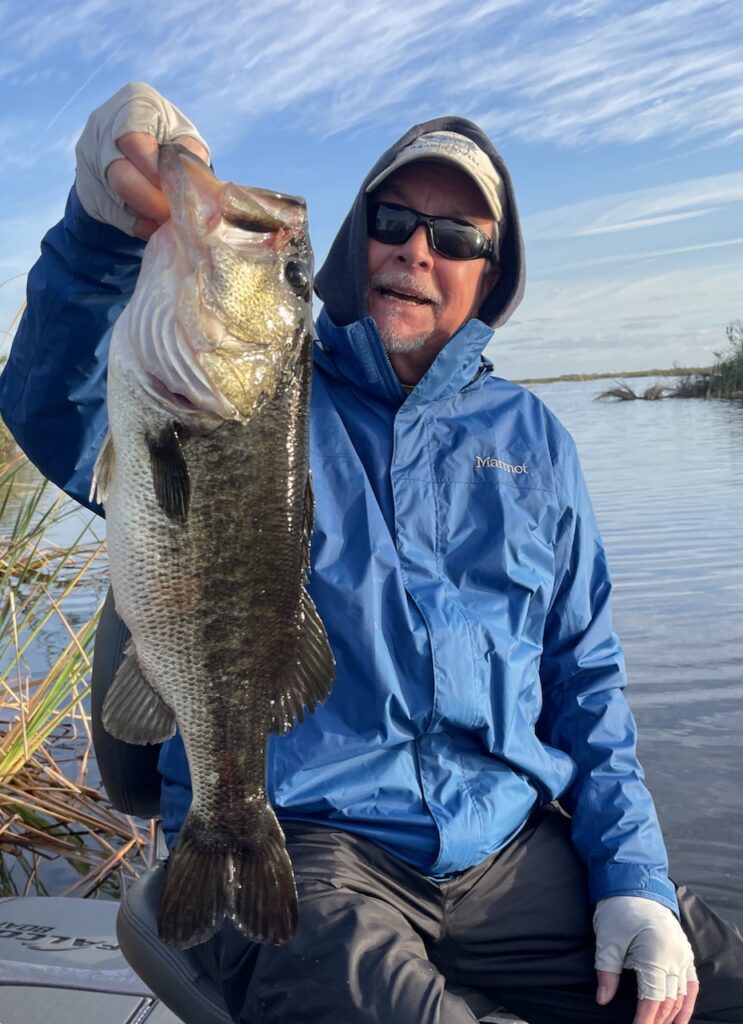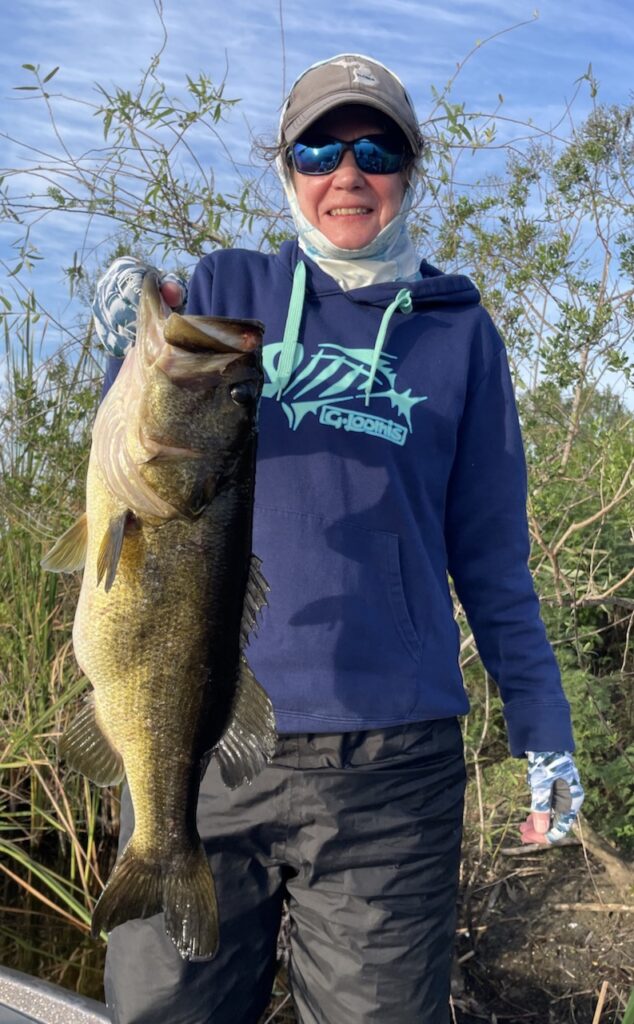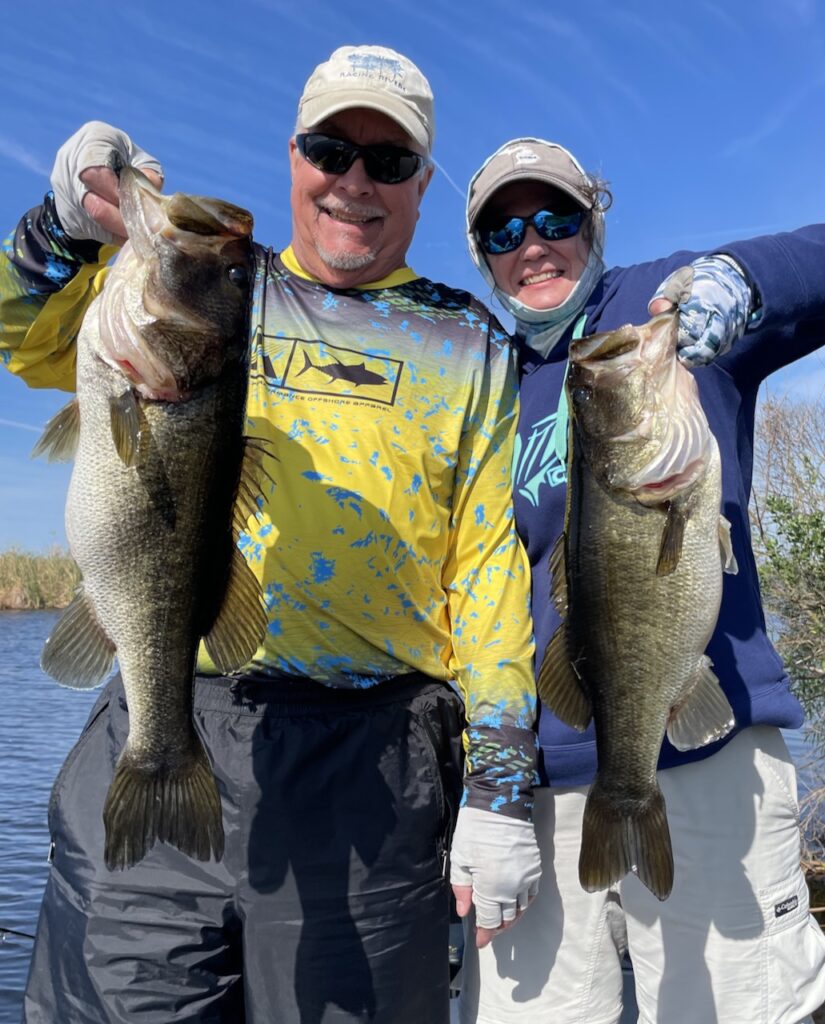 In the morning I got a brute, and before the morning wrapped up, we got double brutes.
Even though the fishing was good, I was distracted by this little gray and white bird in the bushes nearby, and took several shots of it until I got this photo. It's a blue-gray gnatcatcher, which likely catches gnats based on its name. There were a few gnats around, I noticed, but not enough to be annoying to obsessed anglers.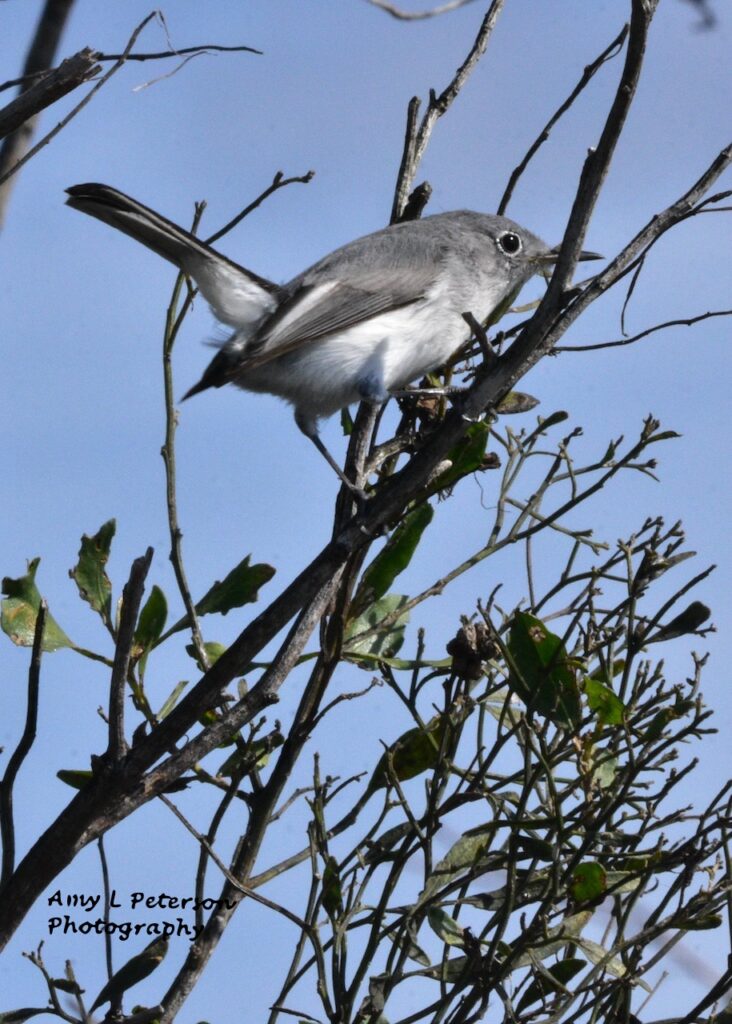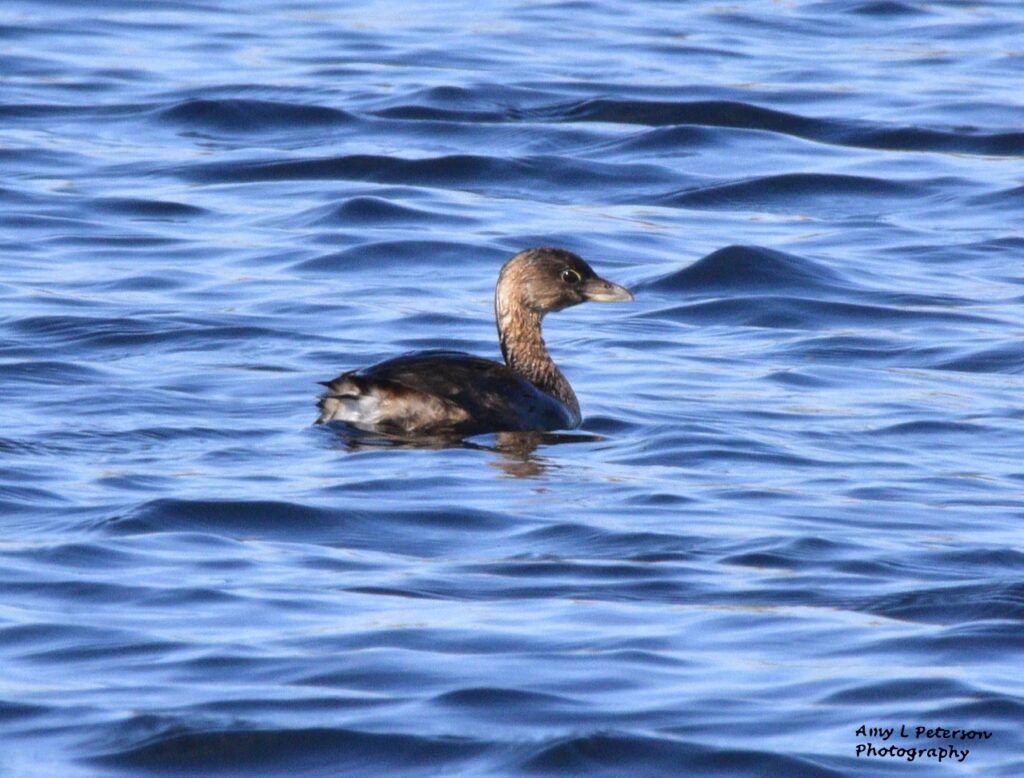 I was also distracted by this pied-billed grebe, which apparently is also called a dabchick or water-witch, once again supporting the notion that ornithologists are heavy drinkers. These birds can adjust their buoyancy so that only the upper half of their body comes out of the water.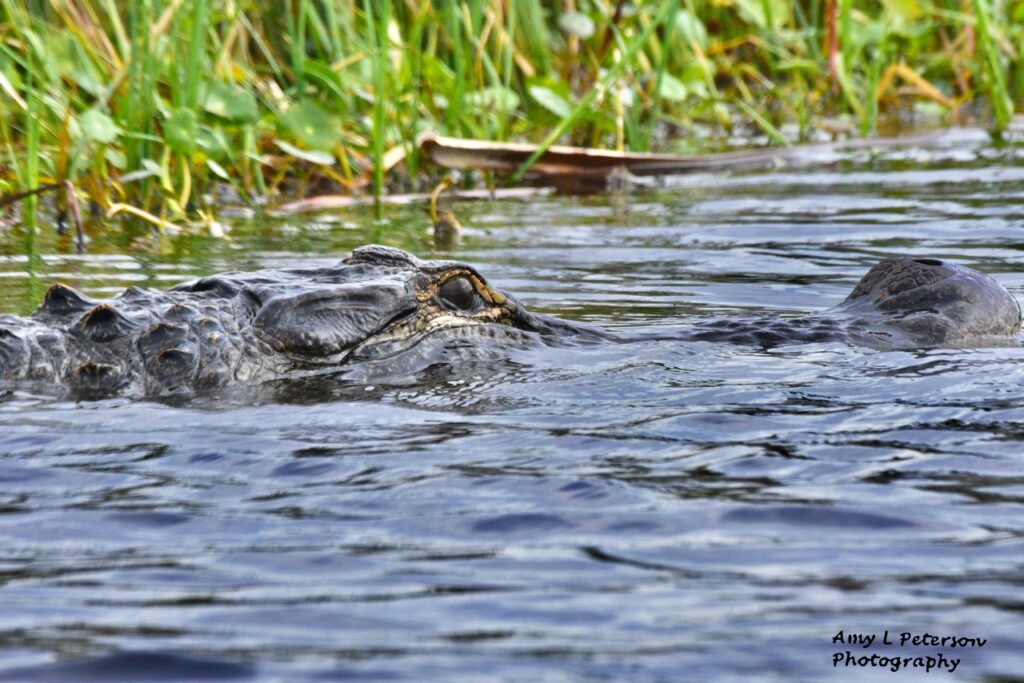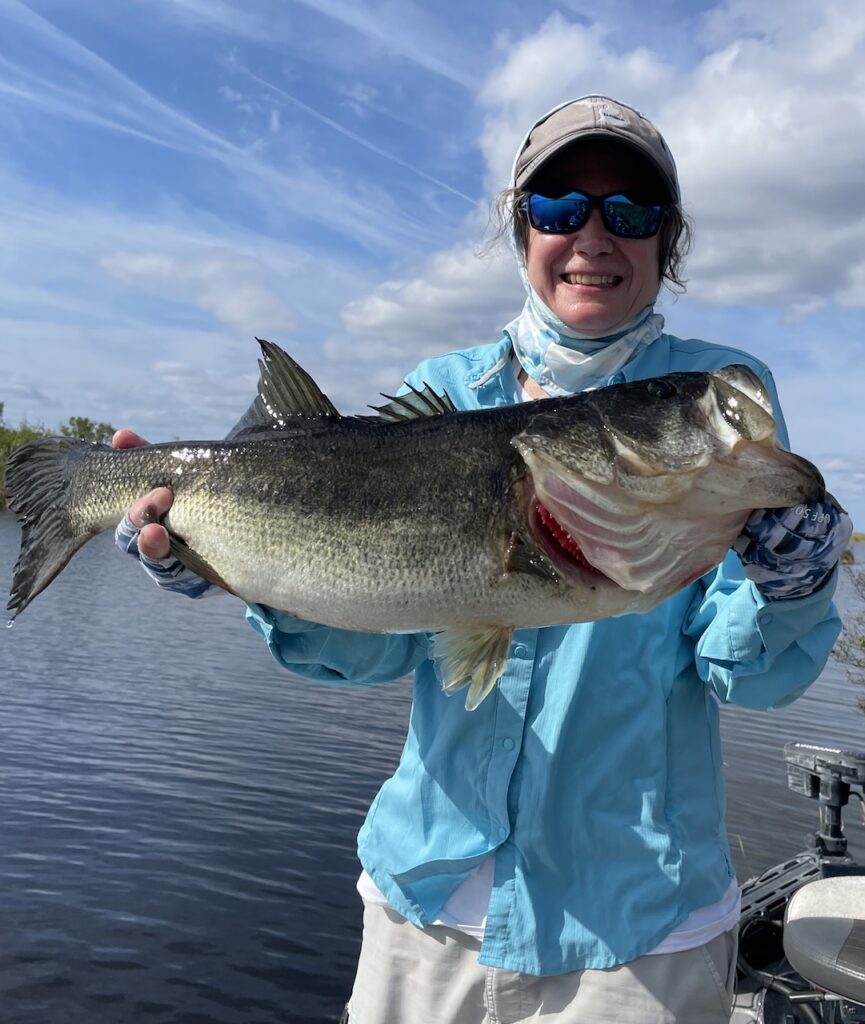 We wrapped up the day with these two fish. While we didn't weigh or measure them, I'm pretty sure mine was bigger. They kind look like Roland Martin eights, don't they?