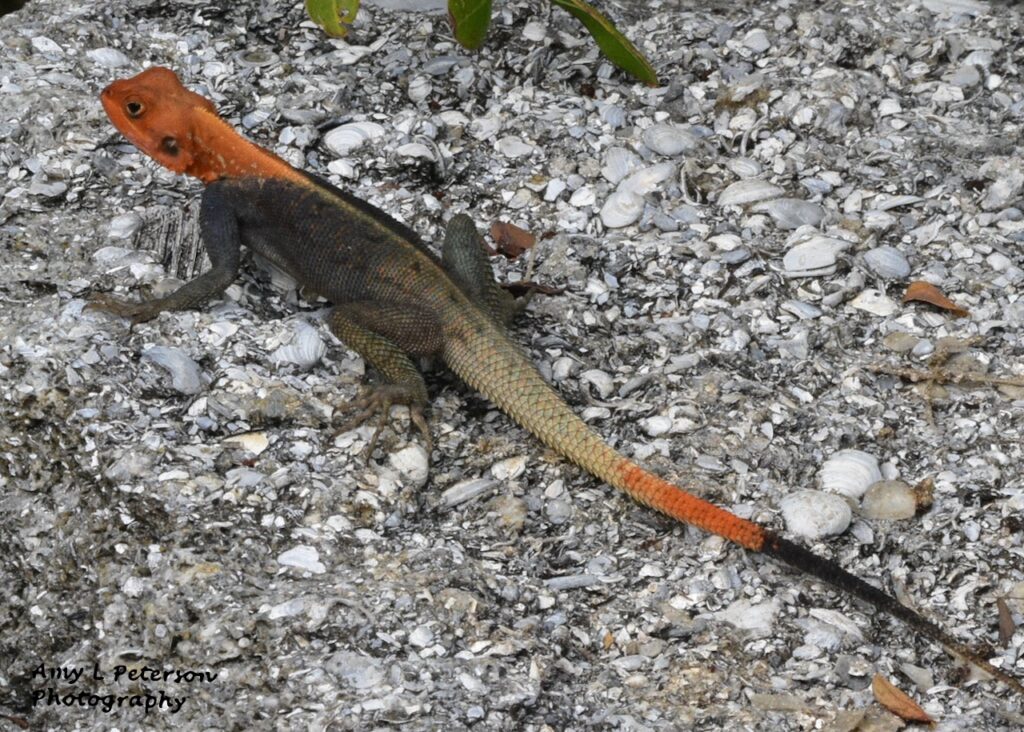 January 21 and 22, 2023. As a life-long Michigan resident, every year at some point I get sick of the wintery mix of snow, hail, sleet, freezing rain, snow, and piles of blackish, melting snow, and try to head south to get warm, see sun for more than one day in a row, and fish.
On our first day in Florida 2023 we went to North Hutchinson Island where we walked around looking for manatees, crabs and birds, and stumbled upon this agama. This reptile is non-native and first discovered in Florida in 1976. This is a male and he primarily eats insects.
This mockingbird was on a sign at the park. Mockingbirds sing some of the most exquisite and complicated songs I have ever heard. We heard one singing most mornings outside our motel in Vero Beach.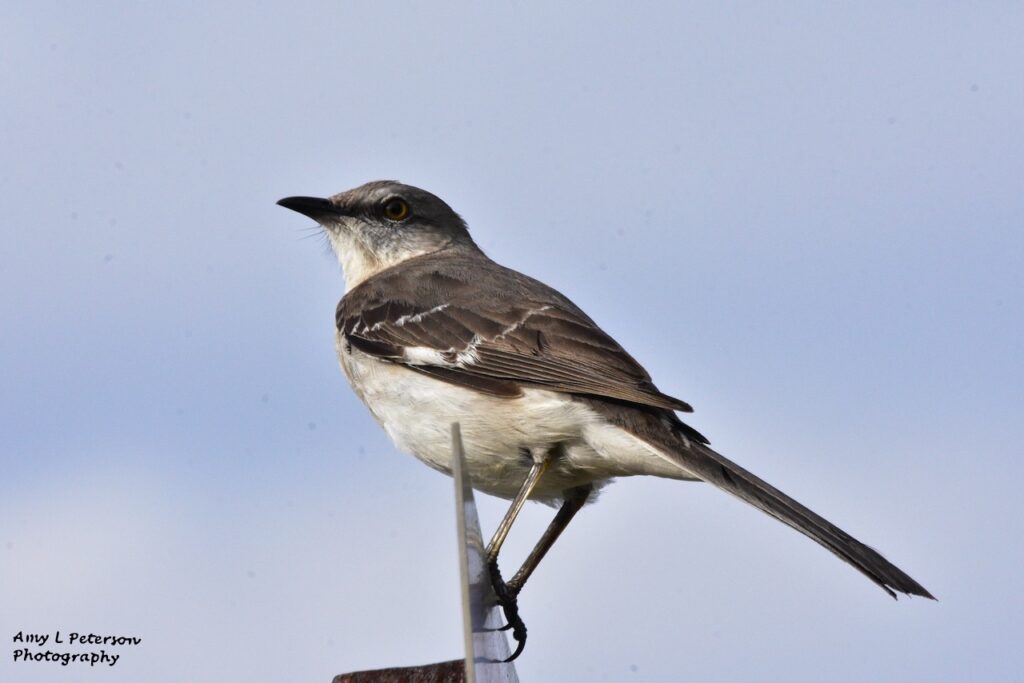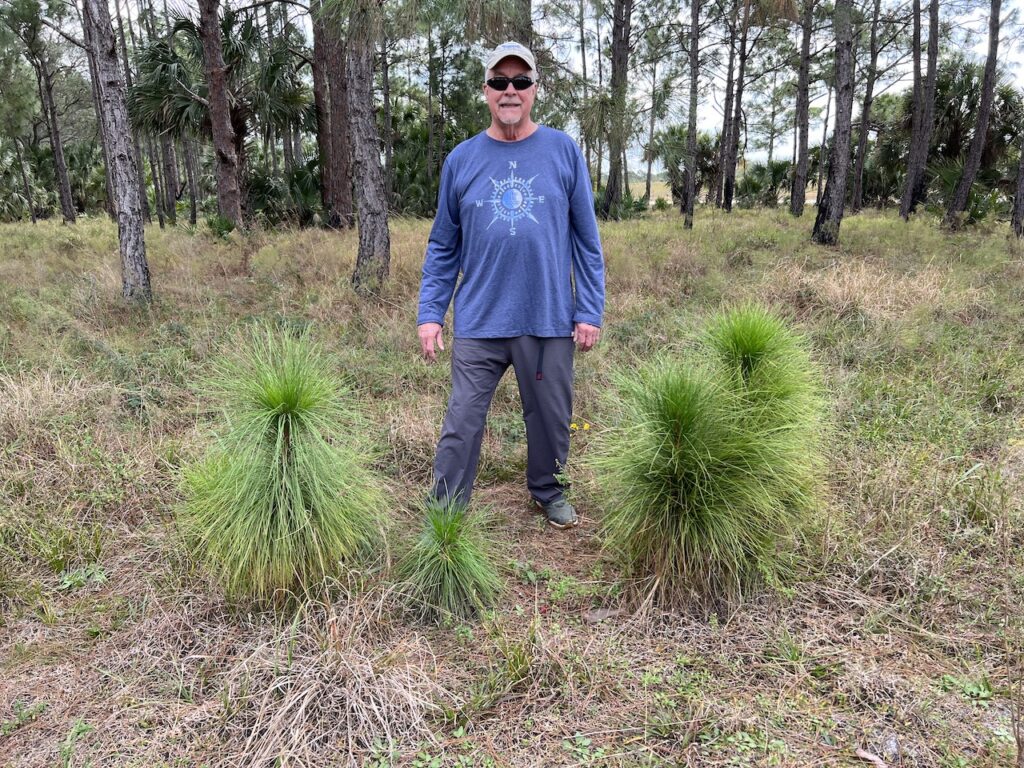 The manatees that are sometimes seen at North Hutchinson Park were hiding, so we drove to St. Sebastian River Preserve State Park, where a park ranger informed us that the little plants shown here are long-leaf pines and that they grow into the pines shown in the background and below. We think the lil fuzzy ones are very cute and Mark liked posing with what kind of appears to be a lil family of long-leaf pines.
This is an adult human with an adult long-leaf pine.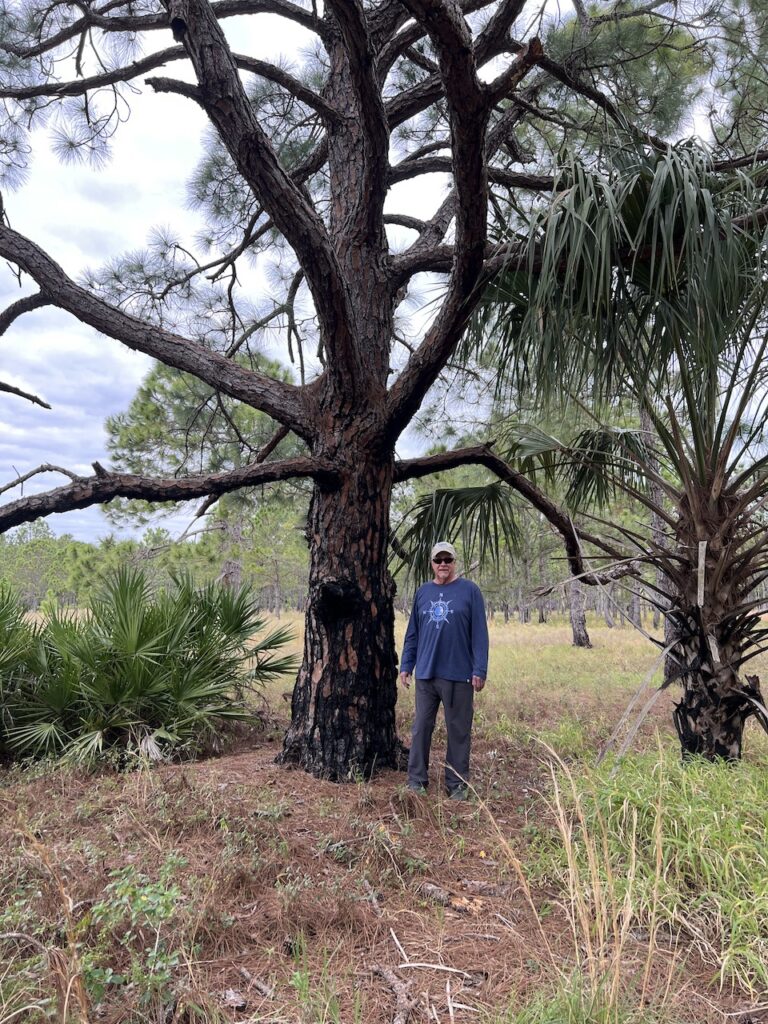 Since Michigan was blanketed in snow when we left, any colors in a landscape were a welcome sight, especially the splash of yellow flowers against green grass.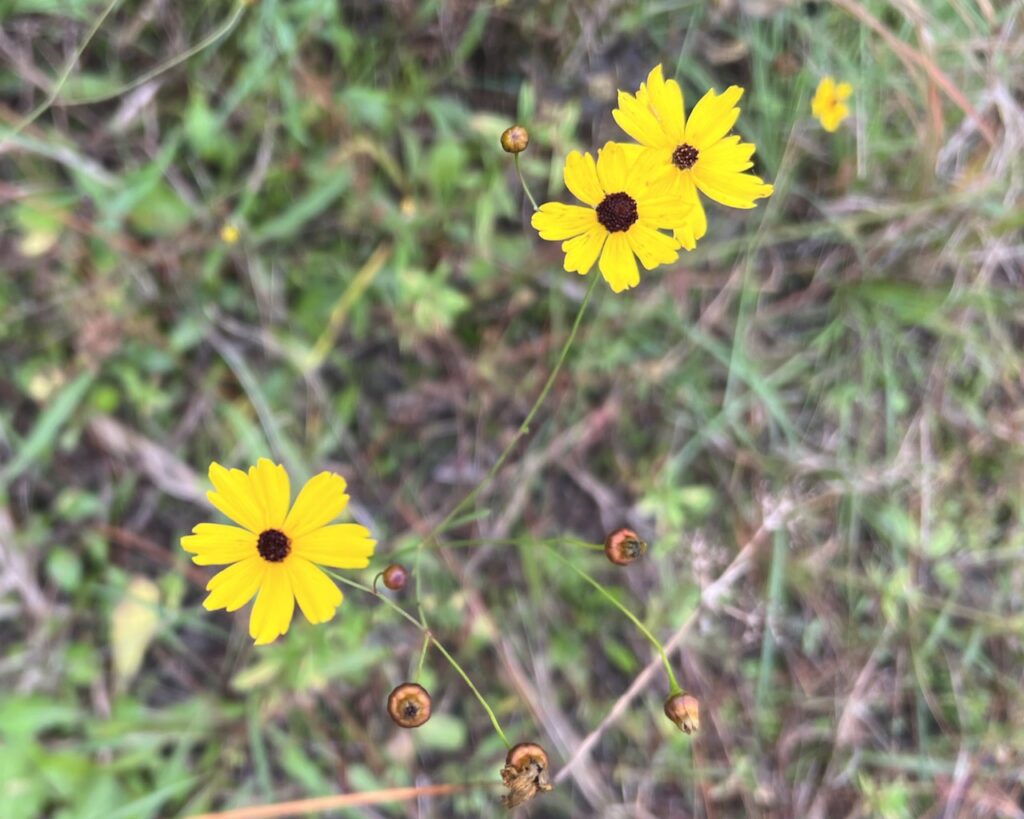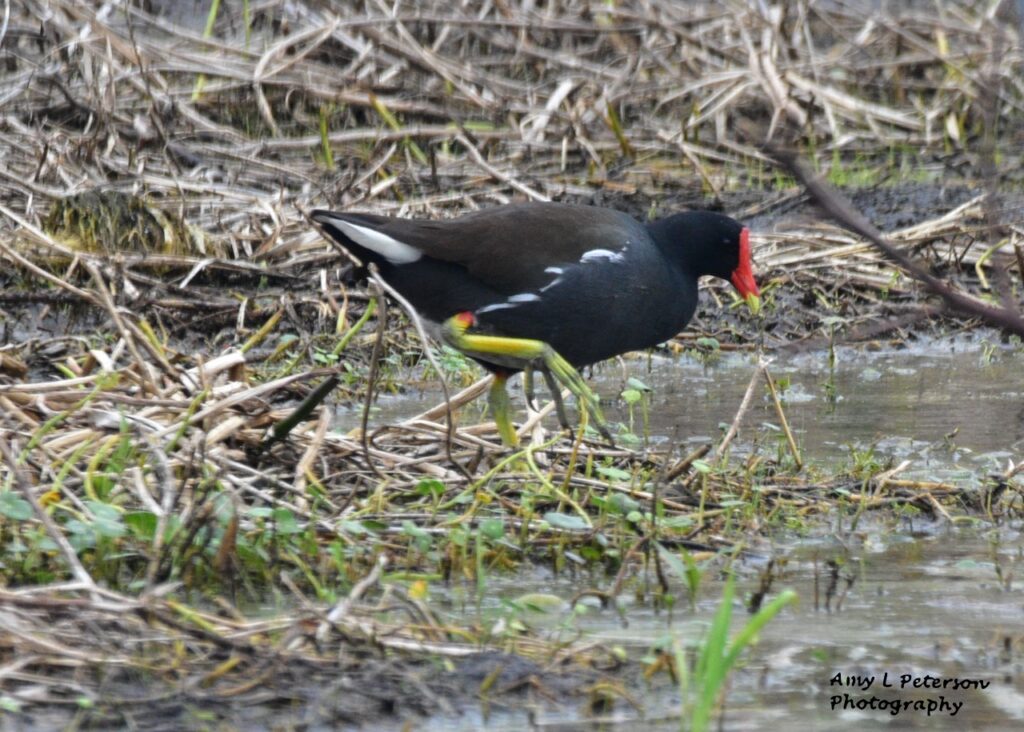 Near the state park is Stick Marsh, which at one time was knows for good bass fishing. We walked along the waters edge for less than half a mile and saw this bird, which, when I first saw one like it in the 1980s, was told was the common moorhen. But this is where the bird namers intrigue me: This bird was originally called–by the American Ornithologist's Association– the Florida gallinule, but was later switched to the common gallinule, then the common moorhen in 1982, then renamed the common gallinule in July 2011. Clearly, American Ornithologists drink a lot and argue when they get together. Given another ten years, I'll bet the bird namers will change this one again.
Here are two common gallinules. Indeed, in the Stick Marsh they were pretty common.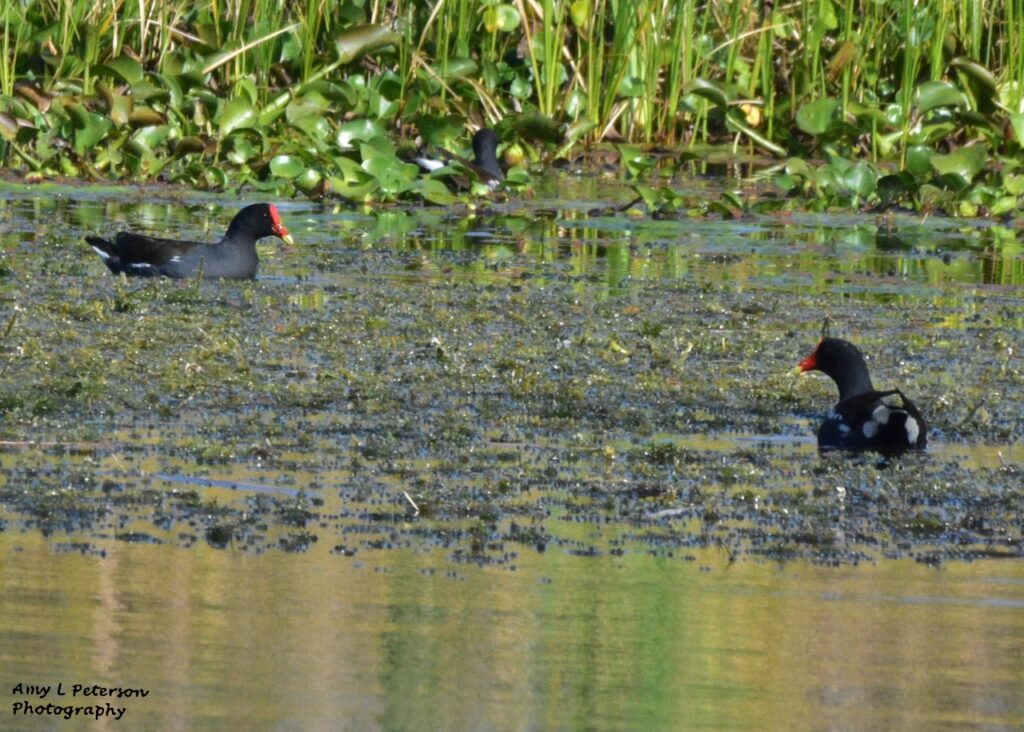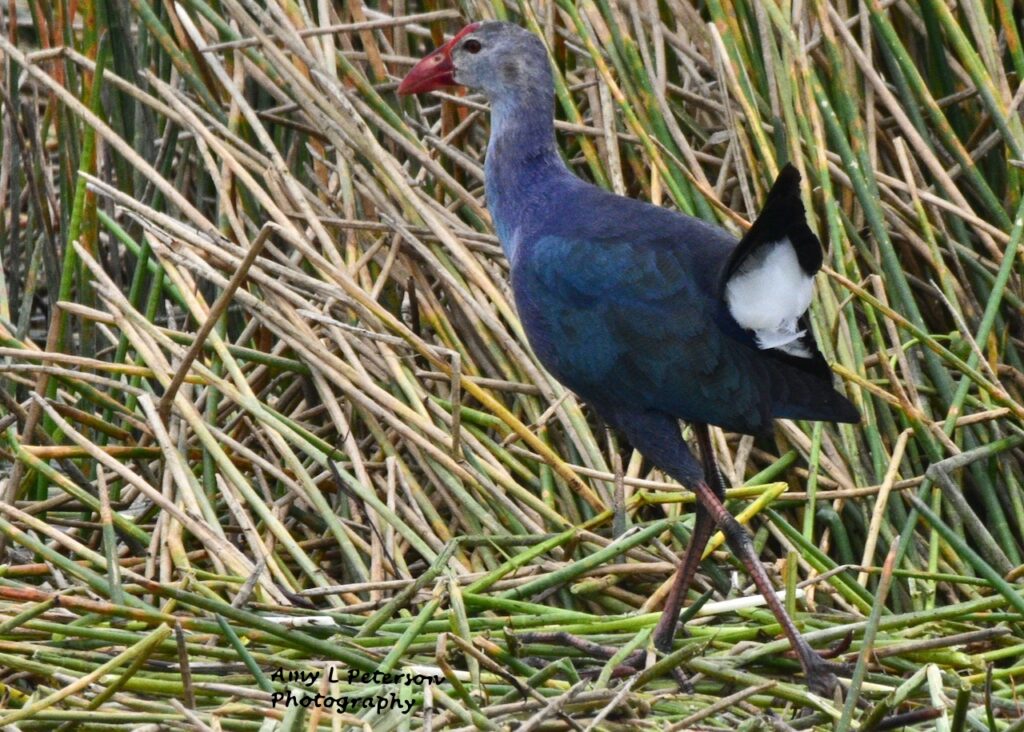 Gray-headed swamp hens are 5-19.7 inches in height and weigh 17.8 – 30 ounces. The purple gallinule, below, is only 10-15 inches and weights up to 10.8 ounces. By size alone, one can see how the gray headed swamp hen could be taking over.
This bird is a gray-headed swamp hen, and was a new bird to me. It's native to southern Asia, but not to Florida. One theory is that these birds originated in Florida when birds escaped from captivity after Hurricane Andrew in 1992. These birds are now widespread in Florida. They eat plants (stalks, roots, leaves, and seeds), as well as frogs, snails and other bites of protein.
Some people don't like these birds because they are bigger than purple gallinules and may out compete them. One web site I found said the state of Florida tried to eradicate these birds due to them competing with the gallinules, but those efforts failed.
This is the purple gallinule. This bird eats the same variety pack as the gray-headed swamp hen. This is one of my favorite birds due to its colors. Purple gallinules like warm climates, like South Carolina to Texas, and are also found in Central and South America and the West Indies.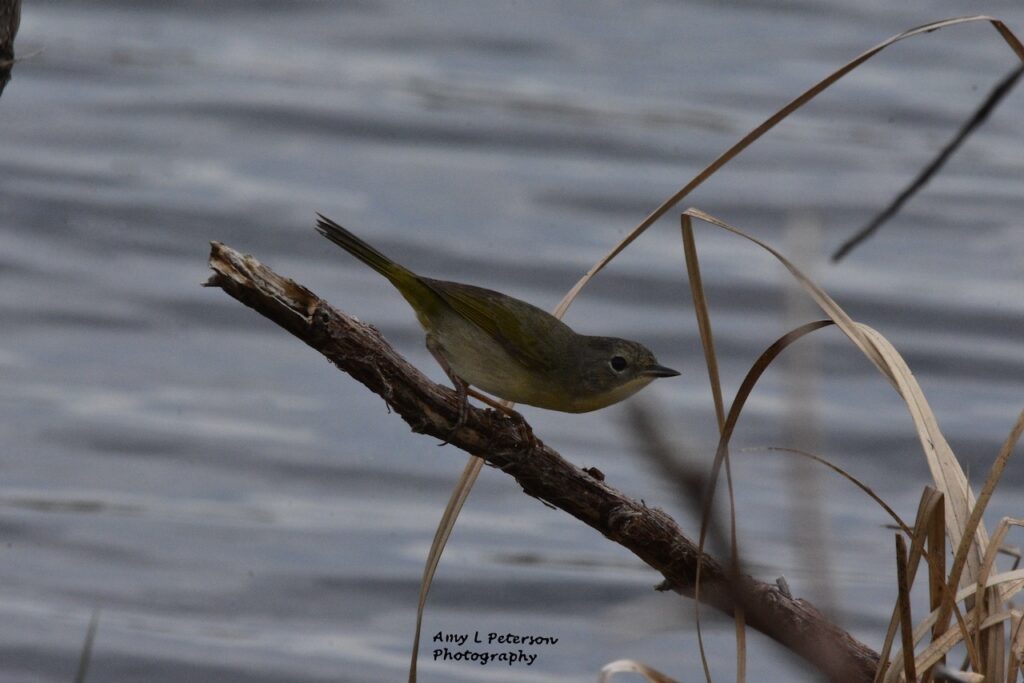 This bird was hunkering down in the Stick Marsh and I got two shots before it flew away. It's a common yellowthroat, which is a warbler. These birds eat insects and their breeding range is across much of the US, including Michigan.
This is a Wilson's snipe. I wasn't hunting for snipe, but got lucky enough to find one and…after approaching slowly and taking lots of photos, got this photo.
Snipe use their long beak to probe for insect larvae, worms, and other invertebrate prey in the soil. Their eyes are so far in the back of their head they are apparently hard to sneak up on.
According to allboutbirds.org, the word "sniper" originated in the 1770s among British soldiers in India who hunted snipe as game.
I've seen single snipe occasionally in Michigan and wrote about a flock-or wisp–of snipe in another posting. They measure 15-18 inches high.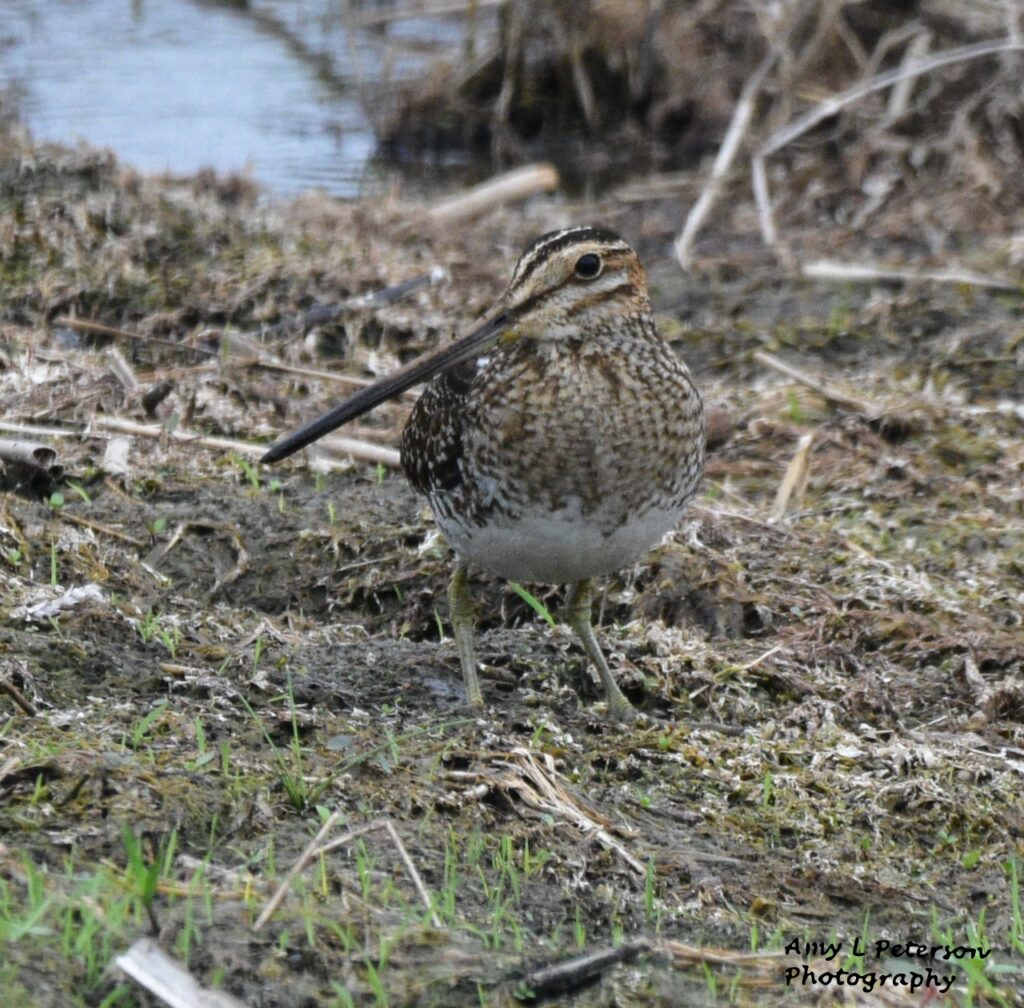 After photographing the snipe, I walked along the waters edge and spooked a green ibis. This bird measures 18-24 inches and eats frogs, fish and insects. I have only seen these birds in warm climates like Florida, Costa Rica, Brazil and Bolivia.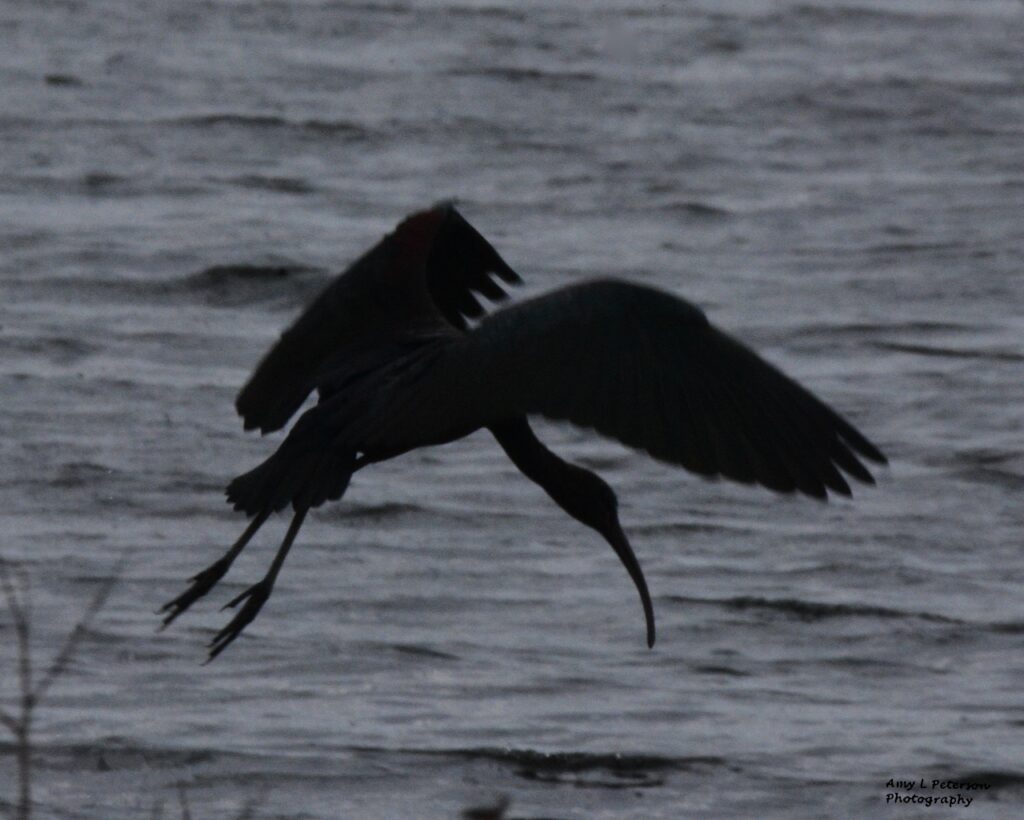 This is the green ibis coming in for a landing. The lighting was not good for this photos but I thought the silhouette was pretty nifty.
The green ibis (right) landed right next to an anhinga, which, by its squawking, didn't appreciate the sudden arrival of the ibis.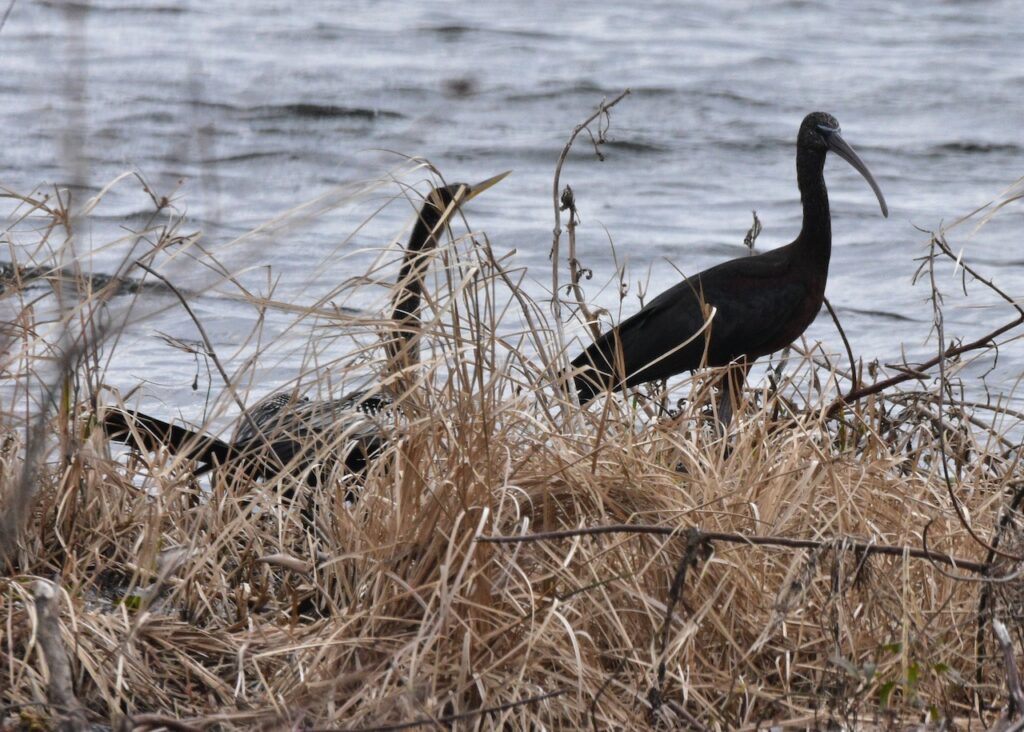 This is another anhinga, and at the full extent of my zoom lens, shot from a fishing boat days later. So not my best.
Anhingas are called "water turkeys" because of their turkey-shaped tail. They are also called "snake birds" because of the snake-like way they slither through the water like snakes, with only their heads showing…then they disappear back into the water. When not in the water hunting prey, they can be found on trees, drying out their wings. This is a male anhinga. Their max length is 34 inches.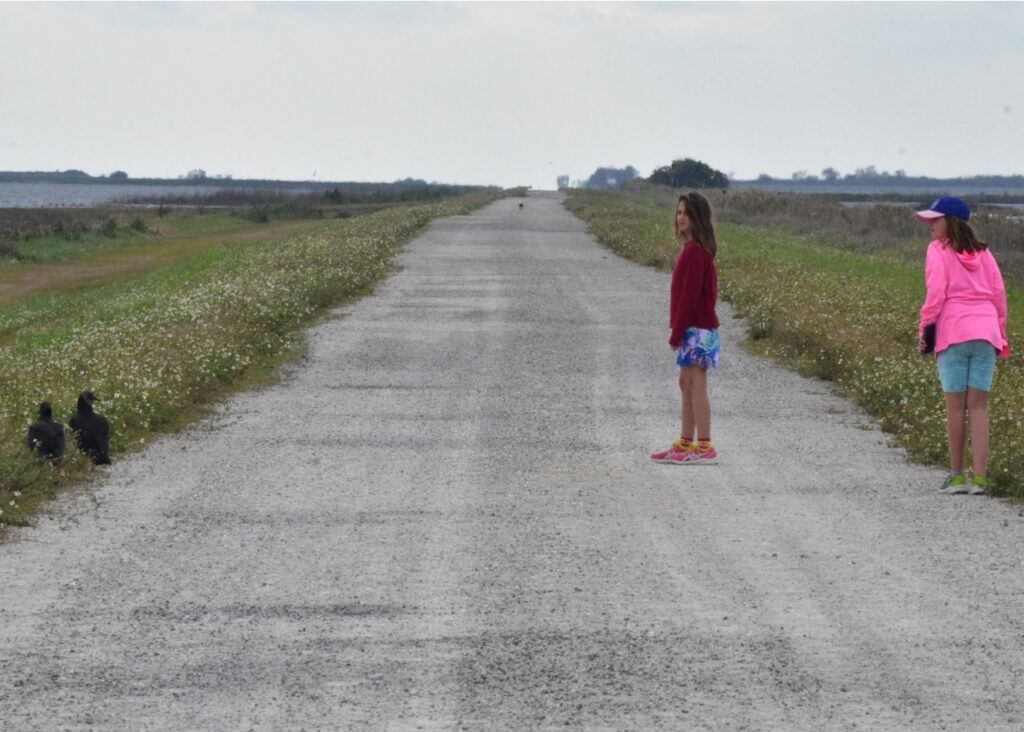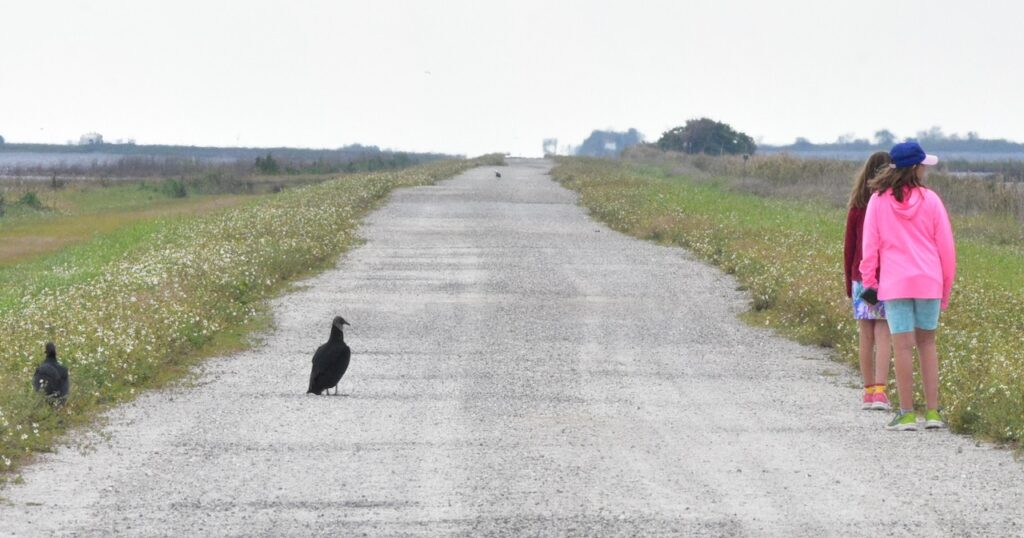 Animal behavior fascinates me. The photo to the left shows two young girls looking at two black vultures. The photo above was taken 30 seconds later–when the girls weren't looking. I found it humorous that the the one vulture ventured closer to the girls.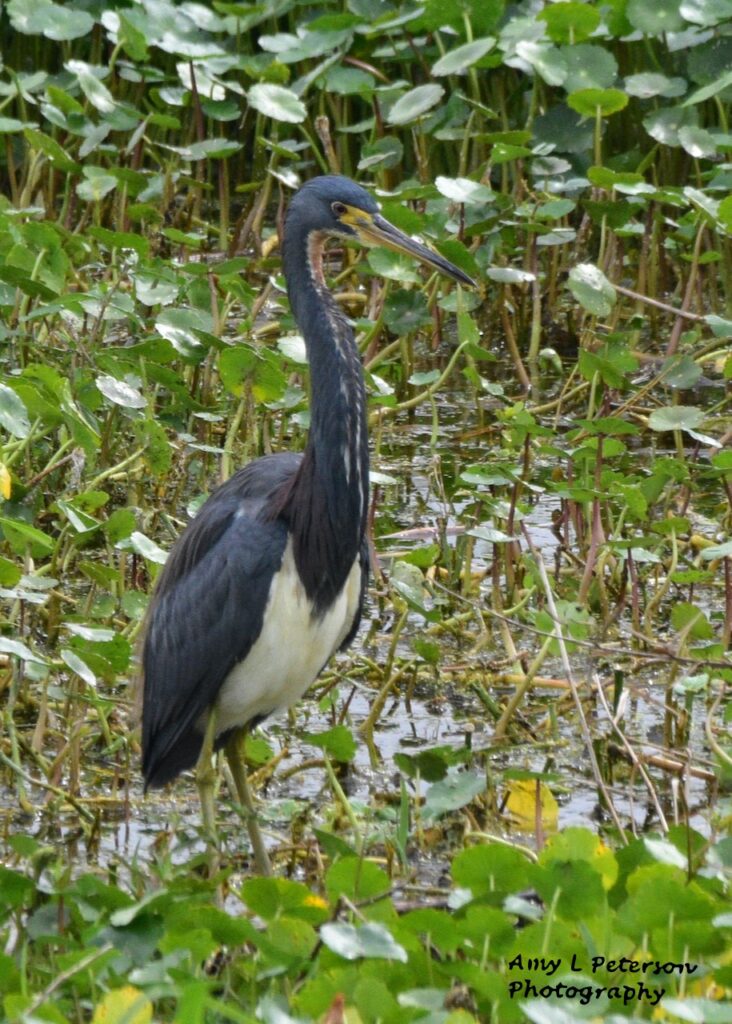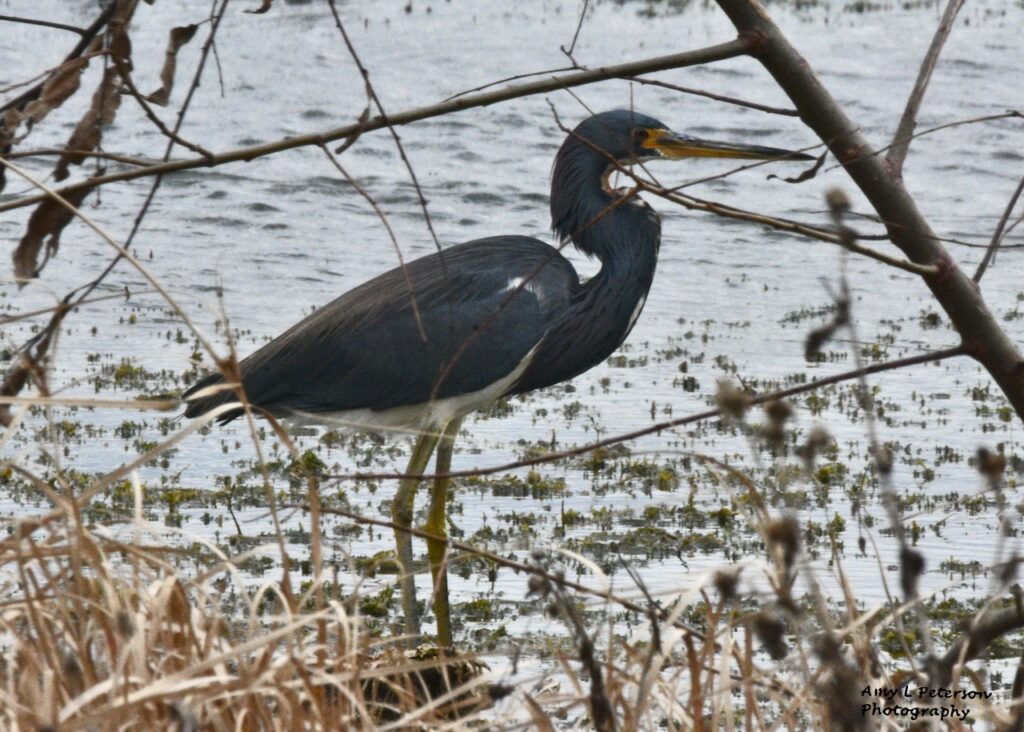 Near the anhinga and green ibis was this bird, a tri-colored heron. This bird's max size is 27.6 inches. We have great blue herons in Michigan which are similar in size. Tricolored herons are coastal birds, preferring the southern coastline in the US.
After walking along the marshy shoreline for perhaps 45 minutes, we returned to the parking lot and checked out the boat ramp. In the rocks by the boat ramp I watched this bird flit around for several minutes before I snapped this photo. It's a female palm warbler. We saw palm warblers at Florida parks, in the parking lot at the motel, and on fence posts.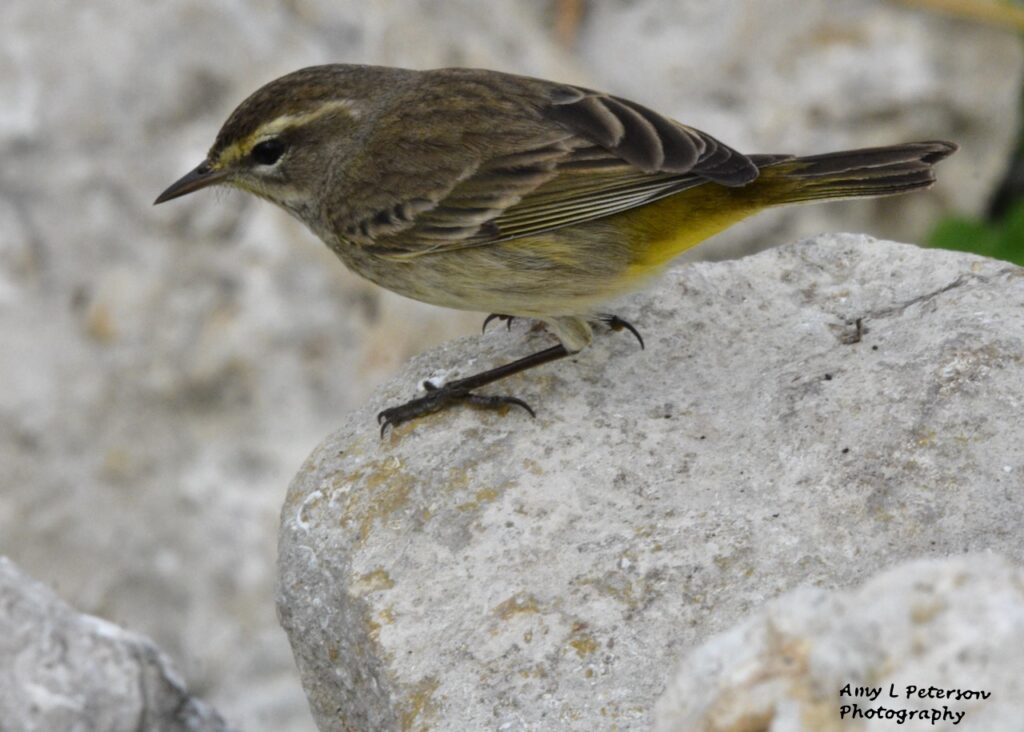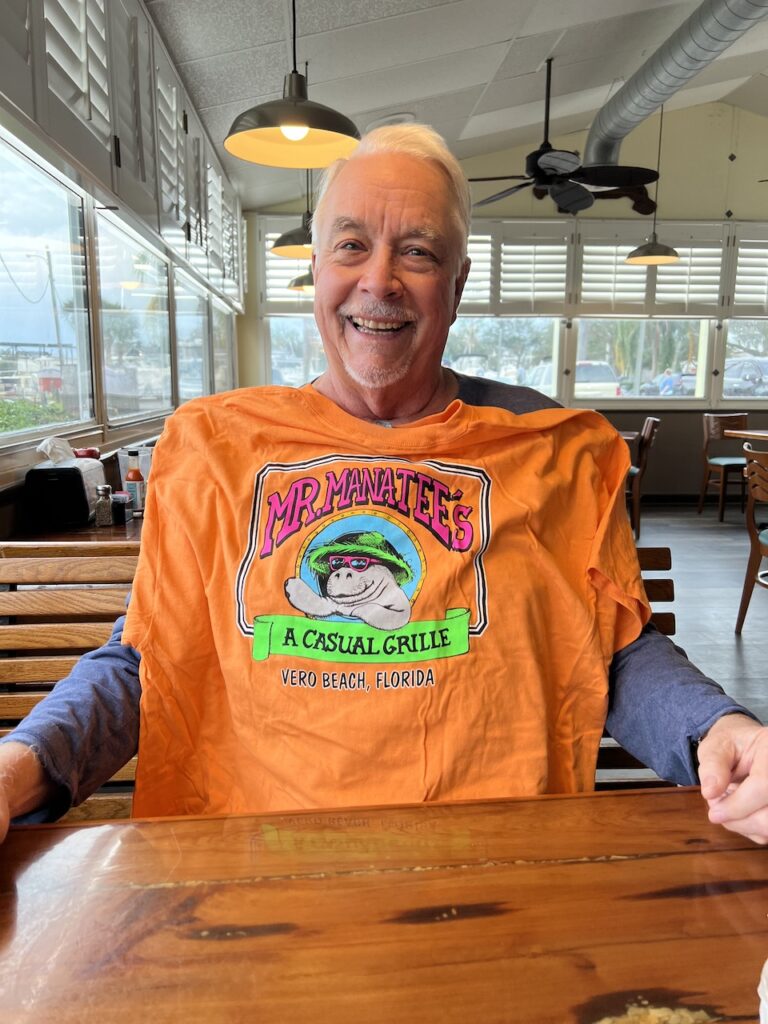 On our first day and half in the Vero Beach, Florida area we ate at a couple of restaurants, including this one. Mark is the shopper and buyer in our family, and as soon as he saw the tee shirt from Mister Manatee's he bought one. We stopped here for lunch on our first day. My fish tacos were quite tasty.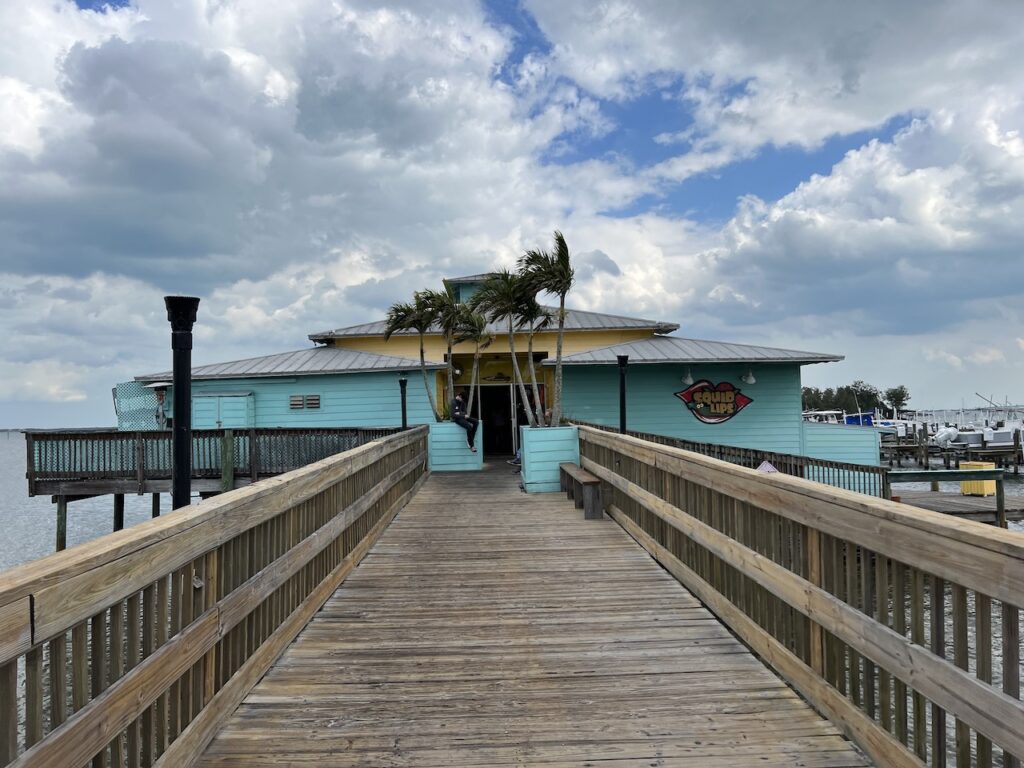 My favorite restaurant on this trip was Squid Lips, which is on the water.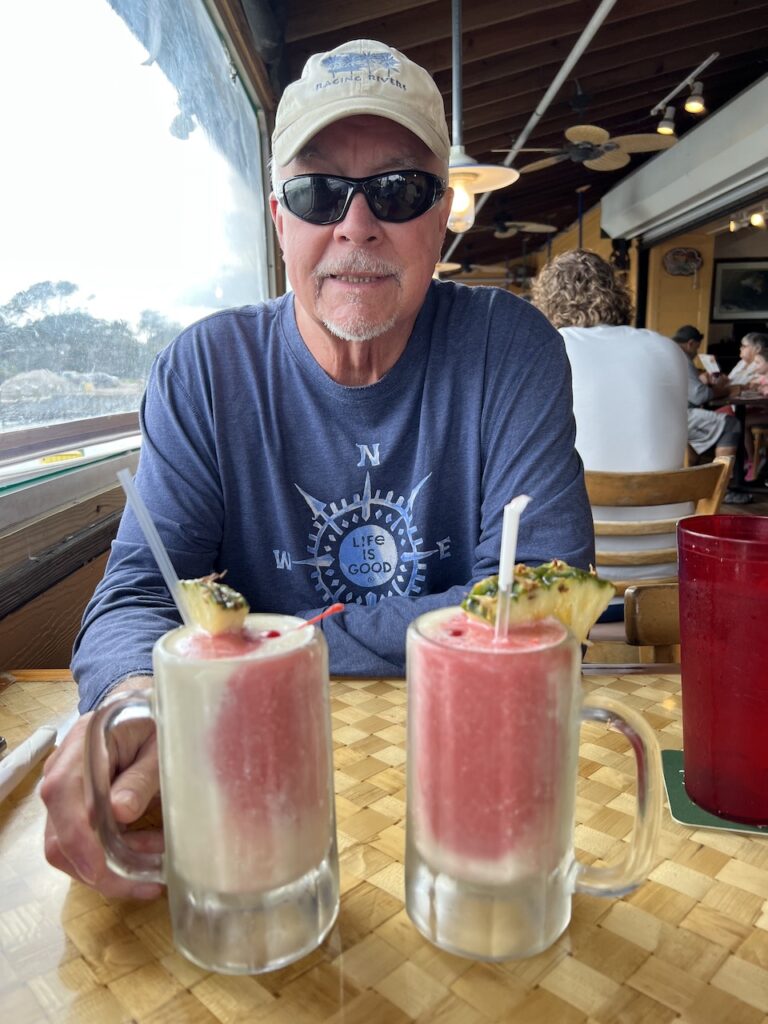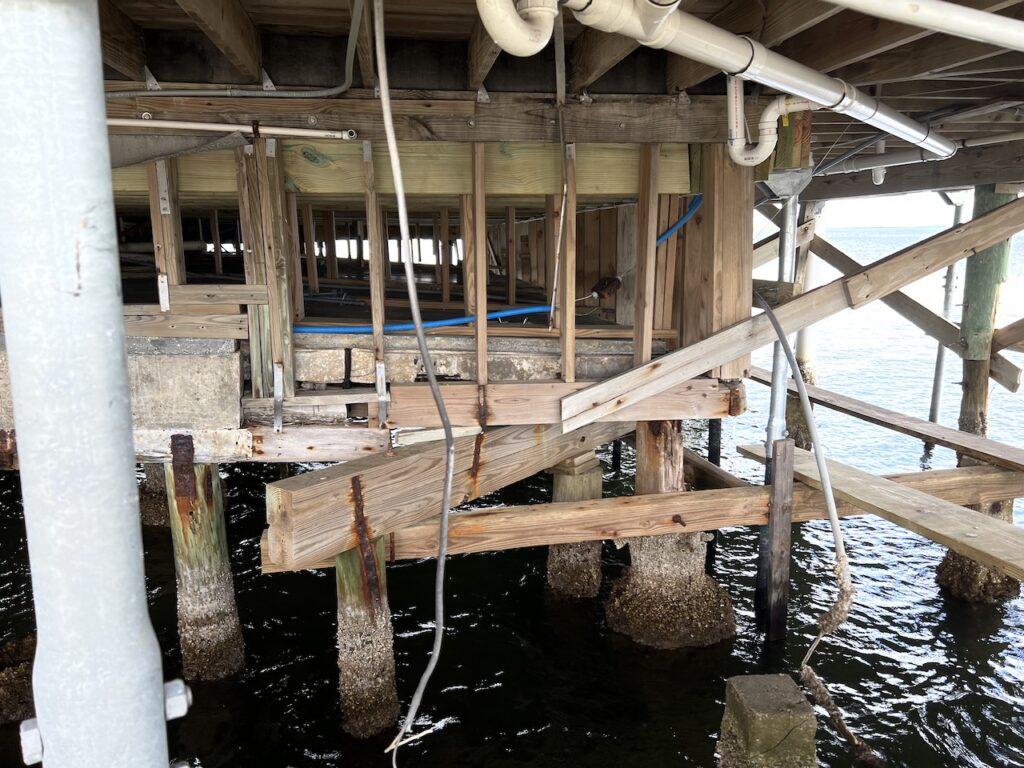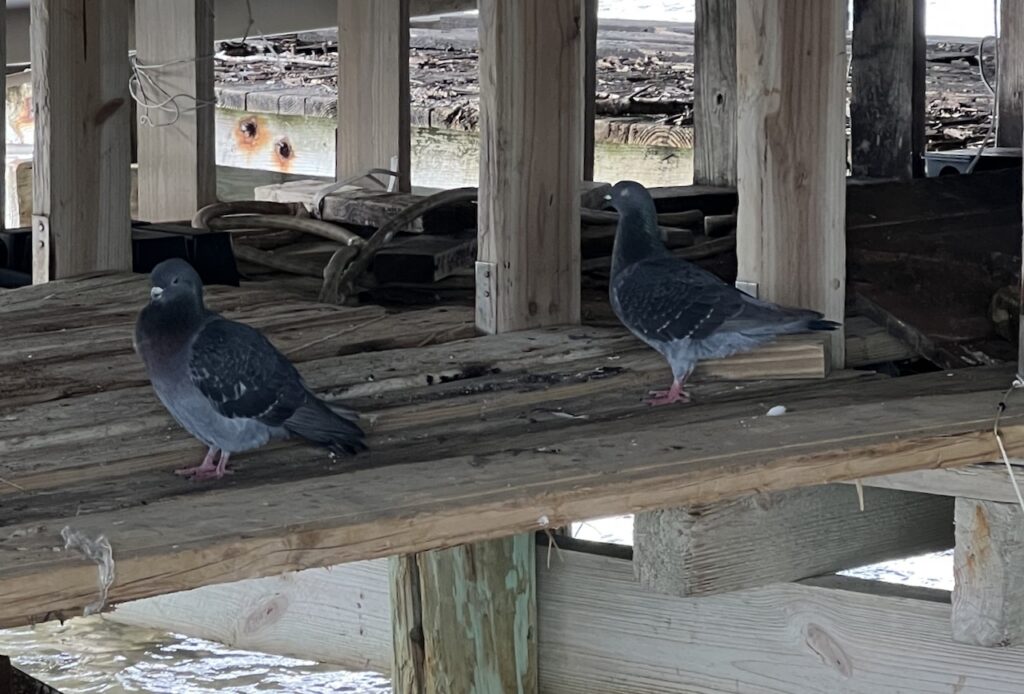 We had to wait about 15 minutes to get a table, which gave me plenty of time to photograph underneath the restaurant, because I wondered what held up a restaurant on the ocean and what critters might benefit from such a structure.
Even though the food and drinks were good, I was still distracted by what was outside Squid Lips, including what I think is a first winter laughing gull. What bothered me was that it was not laughing. I think it was interested in a rogue french fry or other food item that a Squid Lips patron might share.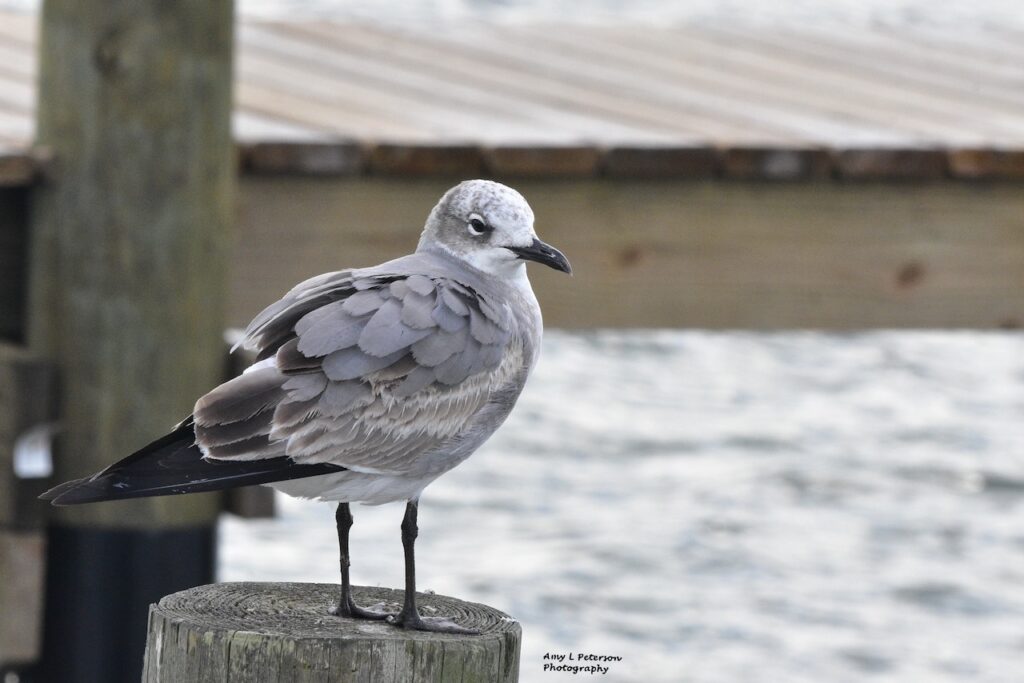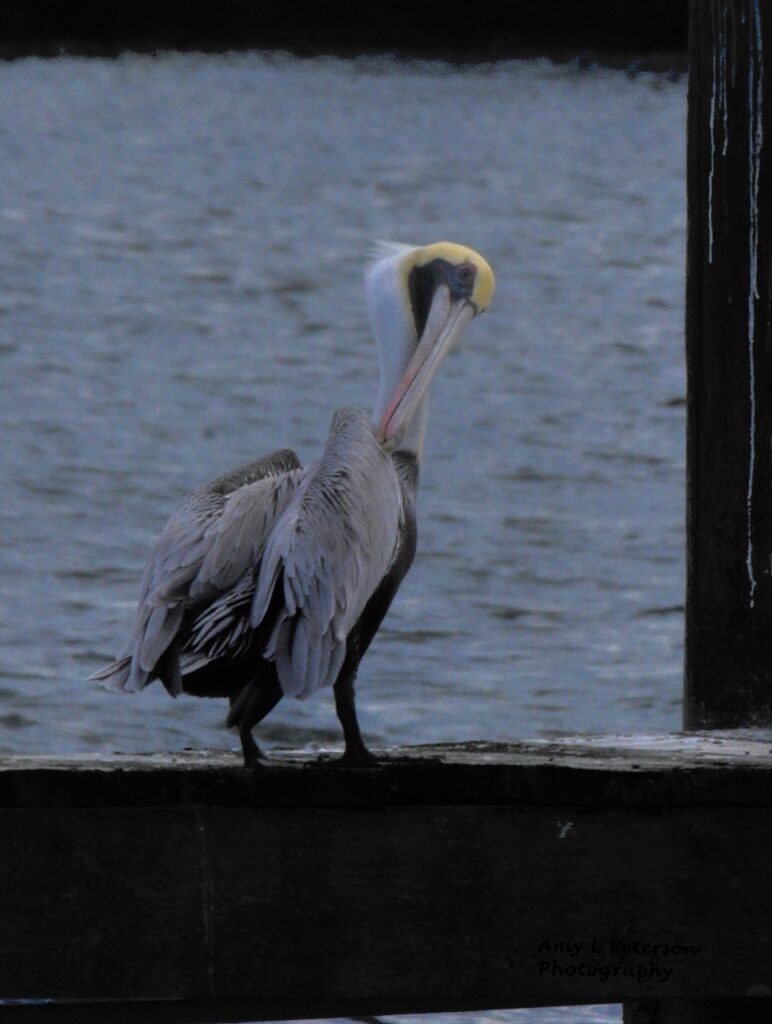 Nearby were pelicans, including this fella.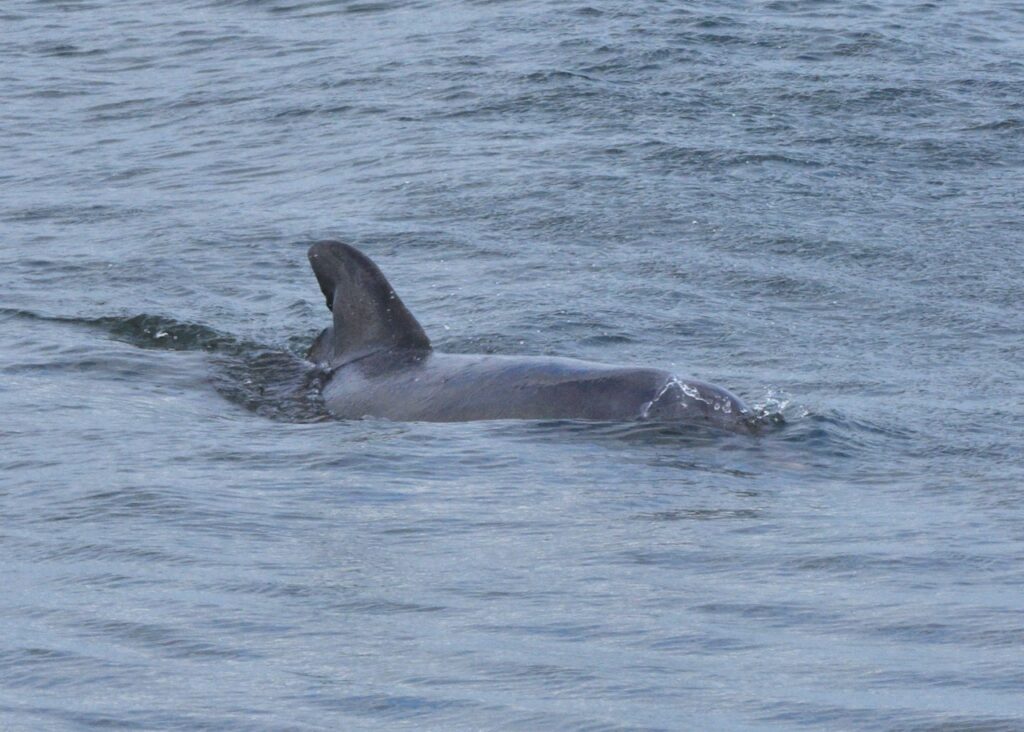 I was also distracted when I heard people say that a dolphin was hunting in the shallow waters right off the restaurant. So I left Mark and my food, went out and photographed this dolphin. She actually has a face and nose, but given a long lens and not knowing where she was going to come up for air, this is the best I got. It's always fun to see dolphins.
We wrapped up our pre-bass fishing time walking in the ocean and listening to the waves crashing on the shore. Mark also tested his quick-dry pants to see if they really dried quickly. They did.
Seeing the ocean is a big deal for northerners, especially in the winter, so we made this video, entitled "We Made it to the Ocean!"
With that, we felt relaxed and ready for our first day bass fishing in Florida.
I'll note here that the temps were around 86 degrees. It only got colder after this.