While cleaning out my mom's condominium recently, my stepson, Arthur, stopped by to see if there were any items that would be of use to him in his new apartment.  Now, I was thinking he'd go for things like cooking utensils, and sure enough, he grabbed a colander. But what really intrigued me was when he disappeared under the basement stairs and came out with a roll of leftover linoleum.  "What," I asked, "is that for?"  He said, "For the bunny I'm going to adopt."
Well, Mark and I happen to like rabbits, so we invited ourselves on the journey from the Lansing area towards Ann Arbor and into the middle of absolutely nowhere to the Great Lakes Rabbit Sanctuary.  We were intrigued to see the Sanctuary because Arthur had worked there on weekends for a year or so a year up until a few months ago, and my friend Brenda had volunteered there in the past.  So I was excited when we saw this sign.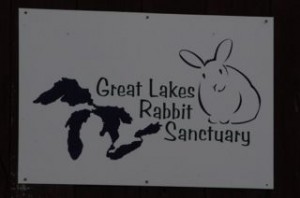 Before we got too far walking around, we were met by one of the workers at the Sanctuary whom Arthur had worked with.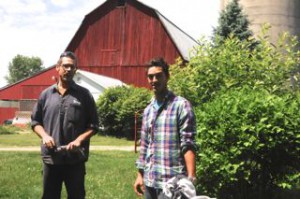 Nearby, on the side of one of the barns was this sign.
Inside the barn were a bunch of metal partitions that make up the cages for the rabbits.  In one far corner was a rabbit Arthur had seen online named Ferbie.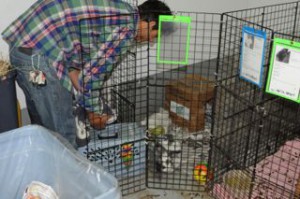 Ferbie had no idea that Arthur had come to see her to take her home.  In response, she ran off into her poop box.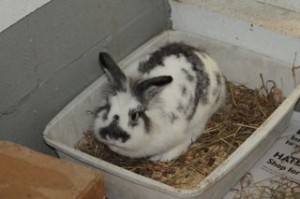 Arthur squatted down and after a minute or two, Ferbie came up for some scratches between her ears.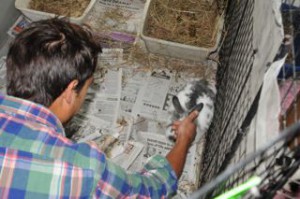 And that's all Arthur and Ferbie seemed to need.  Arthur stood up, went to the office, purchased his bunny and returned with a small animal carrying cage we happened to have had in our garage.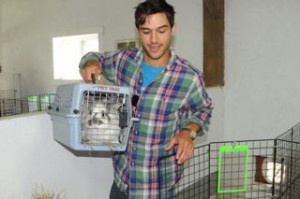 On the way to the car, we stopped to check out another barn that contained smaller bunnies and bunnies that hadn't been neutered yet.  See, one of the benefits of getting a bunny from the Great Lakes Rabbit Sanctuary is that the rabbit comes neutered, and that's important to keep a boy rabbit from spraying and to keep a girl rabbit from developing ovarian cancer, and to keep both parties from reproducing, like, well, rabbits.  One of the smaller buns was this cutie.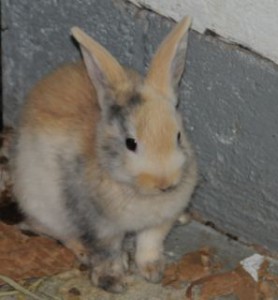 After we said farewell to the rabbits and rabbit workers, Arthur carried Ferbie out to our car and sat with her all the way home.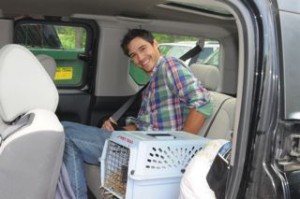 As we drove, Arthur announced that he'd changed Ferbie's name to Hodor, which is a Game of Thrones character.  Of course, I can't get used to unusual names very well, so called her Fer-dor and Herbie and everything else.  Later, at home, Mark took the bunny out of the back of our car and held him while Arthur went into our house to get some timothy grass I'd purchased for our outdoor rabbits, and while I picked some fresh dandelions we happened to have in our yard.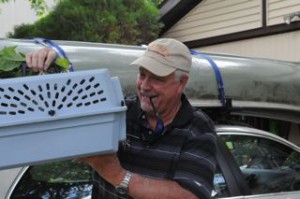 Then Arthur took Fodor out to his car.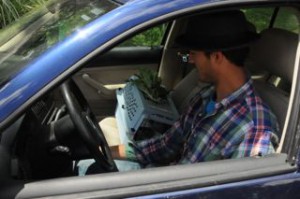 And then Hodor was gone.  Thanks to Facebook, though, we know that Hodor is doing well in his new home.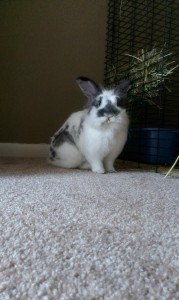 We are proud of Arthur for rescuing a rabbit.  And we are proud that when he posted his photo of Hodor on Facebook, he wrote:  "No home is complete without a furry friend!"  Mark and I completely  agree.  In fact, we think no backyard is complete without a furry friend, either.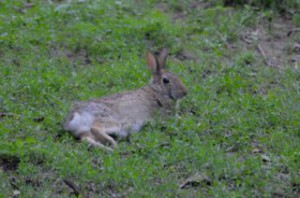 Congratulations to Arthur and Fodor..I mean Hodor.  May you have many great years together.