It turns out our nine-month-old puppies, Winston and Snickers are big-time chewers.  And after the pups chewed a door frame, we decided we should try to find an indestructible dog toy before our house started falling down.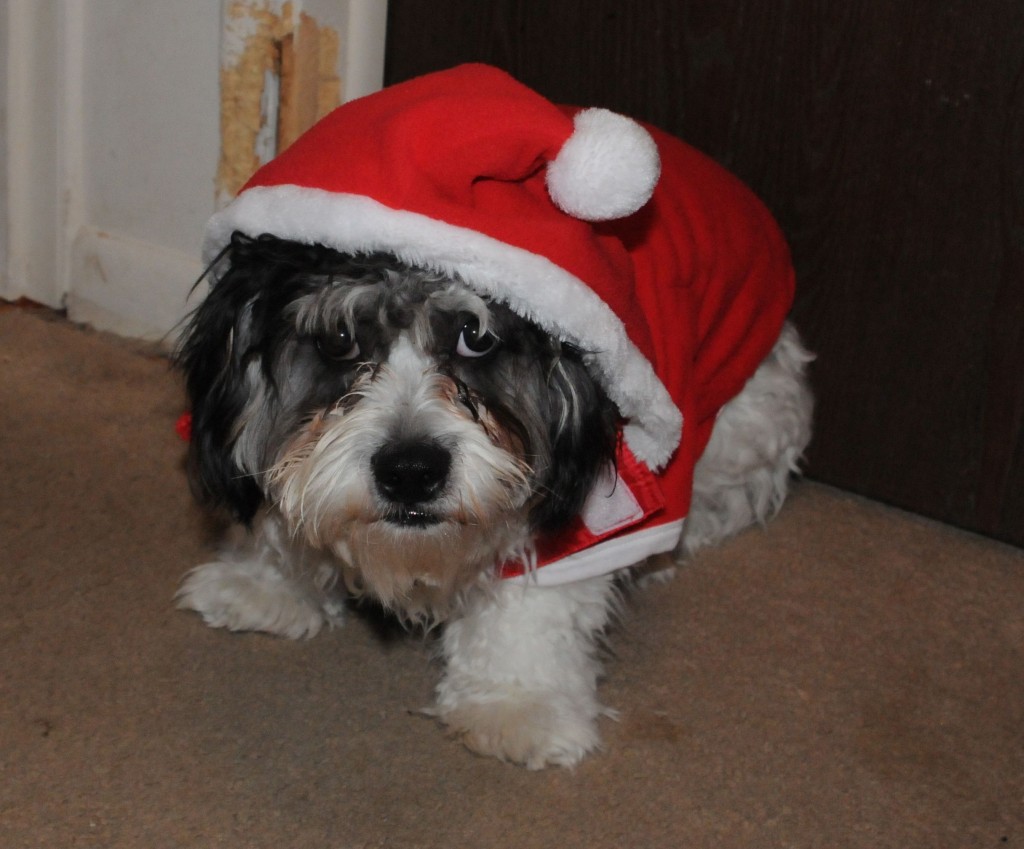 Here are some potentially indestructible dog toys.
So, let's start with the  one at the top left, the chicken with the rope on it.  In action, that toy looks like this.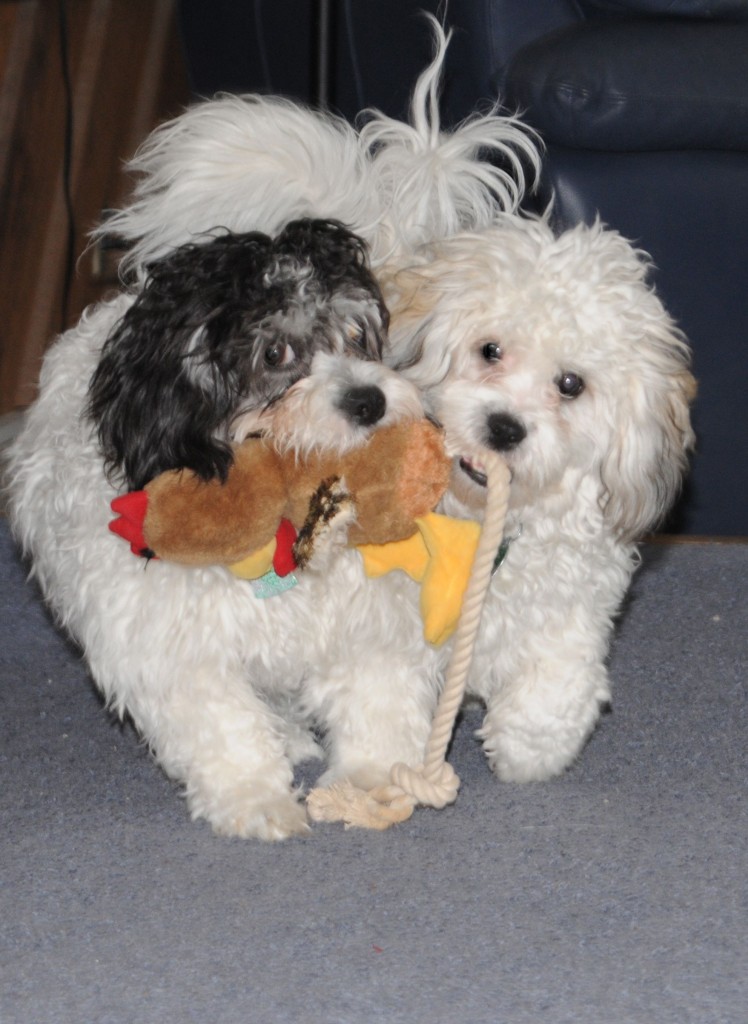 This particular toy was a leftover from the "Dusty and Little Dipper Days," being the days we had our two previous lhasa-bichon mixes (which, by the way, did not chew at all in comparison to Winston and Snickers).   This toy is probably 10 years old.  Its new projected life span is about two days, because after the dogs retrieve the toy, they play tug-o-war.  The good thing about this toy is that while the rope part of the chicken is a few stitches from coming off, the body of the chicken is actually doing quite well.
Next, we explore the multi-celled, super squeaky uh, dinosaur-looking thingy?  Mark had great hopes for this toy, but within hours of its arrival, Winston chewed the head off.  I pondered sewing the head back on, but instead, I repaired  the opening in the body and threw the head away.  The body lasted another day or so before the plastic insides start coming out and I back to was sewing again.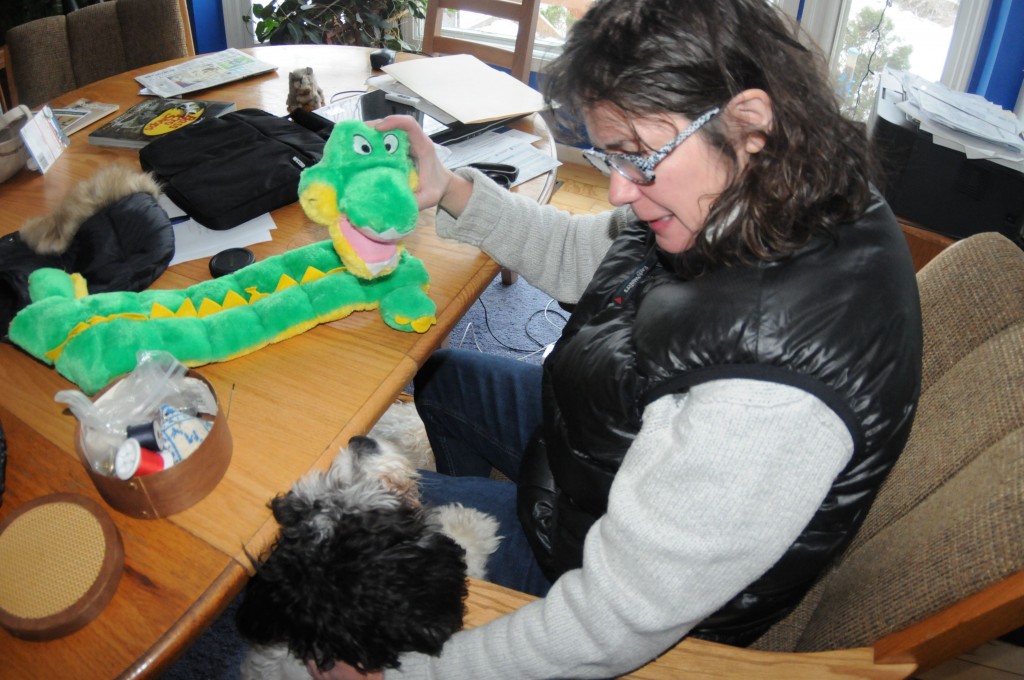 Next, we consider what Mark was hoping would be a super long-lasting dog toy.  It's called the Tubba Wubba, made by KONG.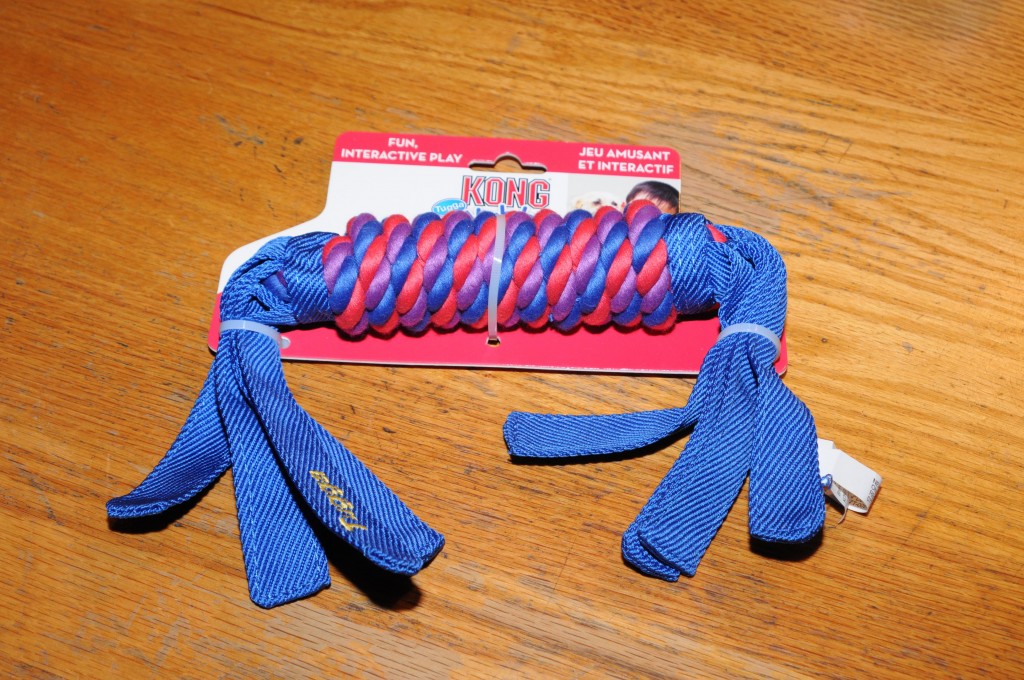 This toy lasted exactly 20 minutes before the dogs tugged off four of the strands from one end.
Of the other toys, I can only say that none were able to withstand the maws of my puppies for long.  An old sock lasted just as long as a twisted piece of rope we paid $8 for at the store.  It turns out the toy that has lasted the longest is the one that has the most prongs on it. It's a jack-shaped plush.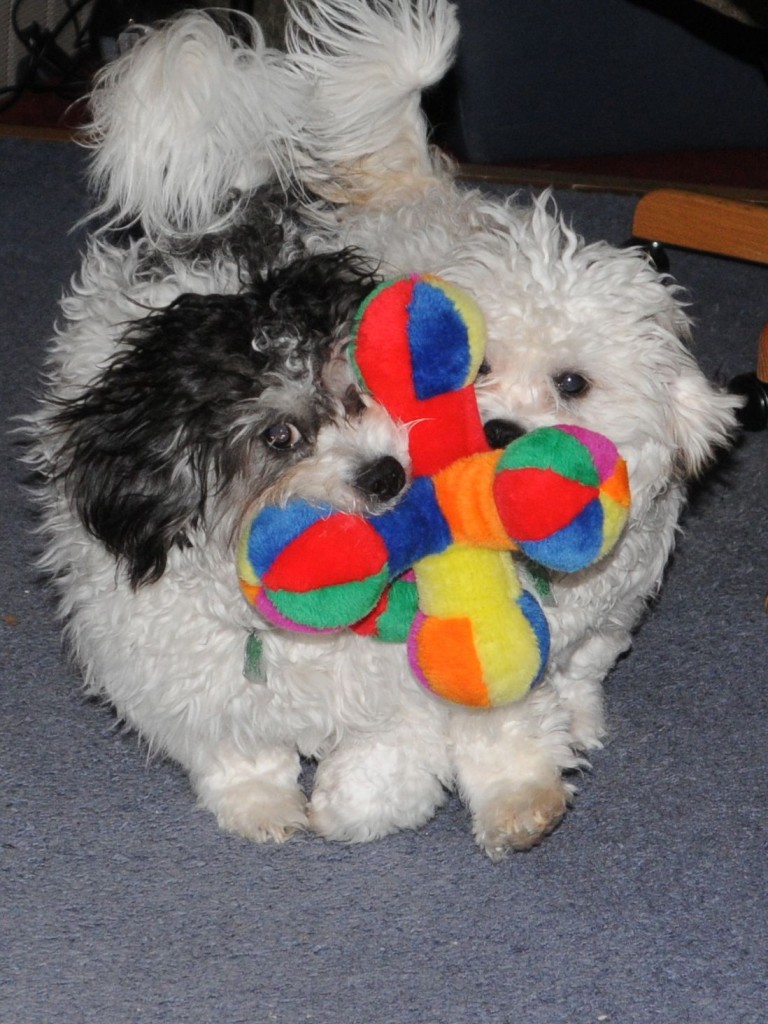 Now, for those of you thinking, "They're plush toys, they're not going to be indestructible," I say, "How wise you are!"  See, we had some old toys of Dusty's to offer our new pups, and after we gave our new pups those, we felt bad about giving them only old ones, so had to try that dinosaur-like thingy, and then Mark saw the KONG pull toy, and so it went.  The fact is, we now take stuffed toys away from the puppies when they are done playing and simply want something to chew–we then give them a dog bone.
Winston and Snickers have also proven that not even dog bones are indestructible.  We bought a Healthy Edibles bone made by Nylabone, busted it in half and found nary a trace of it  when we returned home from dinner an hour later.  And while rawhides do last a while in comparison, we limit the time pups chew on rawhides to reduce the potential for small pieces to cause blockages in their wee tummies.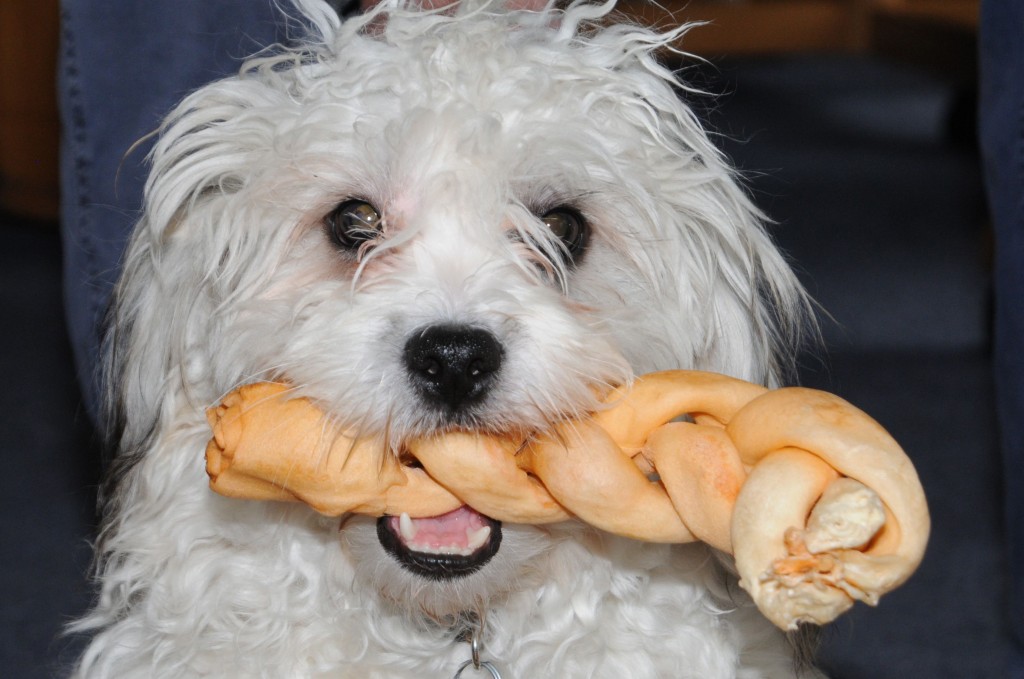 The bones that last the longest in our house are Nylabone DuraChews and the Busy Buddy Bouncy Dog Toy. Even they are not indestructible, and we have to watch to make sure the pups don't eat any large pieces.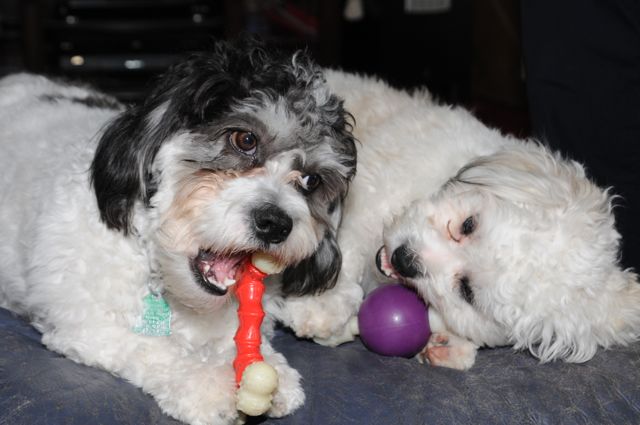 Now, there is one toy missing in our discussion, and that's the KONG classic dog toy.  We've had it for months and stuff it with treats when we leave the house for an hour or so.  There's not even a knick out of it, making it truly indestructible.  But I struggle with calling this a "toy" because I watched the pups a few times and it seems when the treat is gone, the pups stop playing with the KONG classic dog toy.  So it's really–at least in our house–more of a temporary treat holder, than a toy.
Indeed, it's hard to keep one's house from being chewed by puppies.  But we're feeling pup to the task.  I mean up to the task, of course.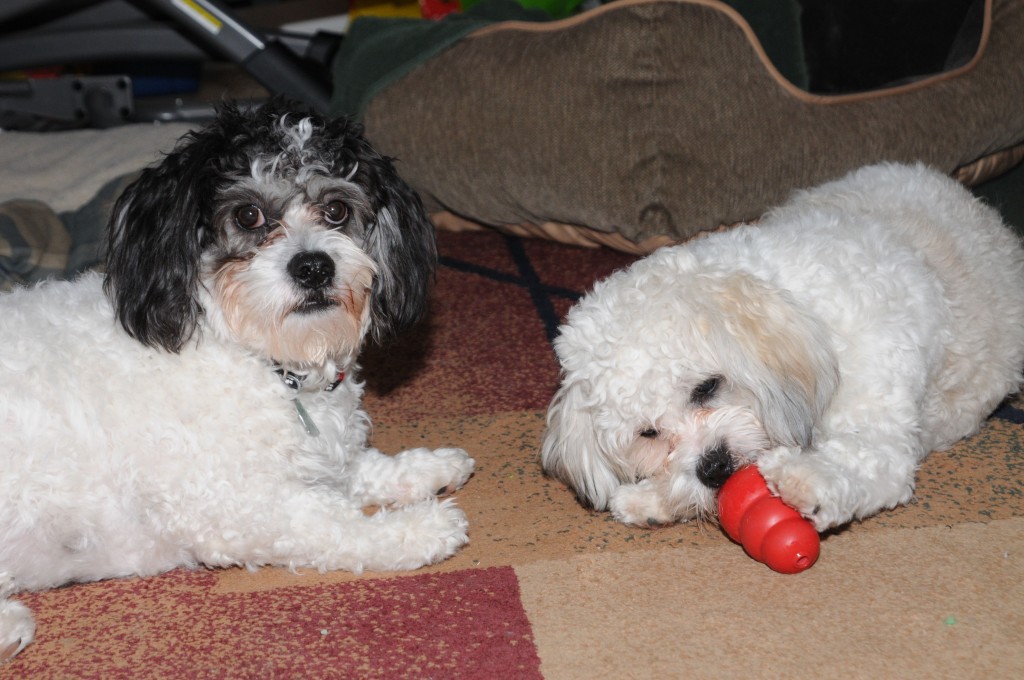 For more stories about pets, check out my book, Something Furry Underfoot.  A p-awesome review of my book was posted Feb. 1 on GoneBookserk.    Also, the Pen and Muse posted an interview of me on Feb. 2.  AND, Megan Cyrulreski posted another fun interview of me Feb. 3.