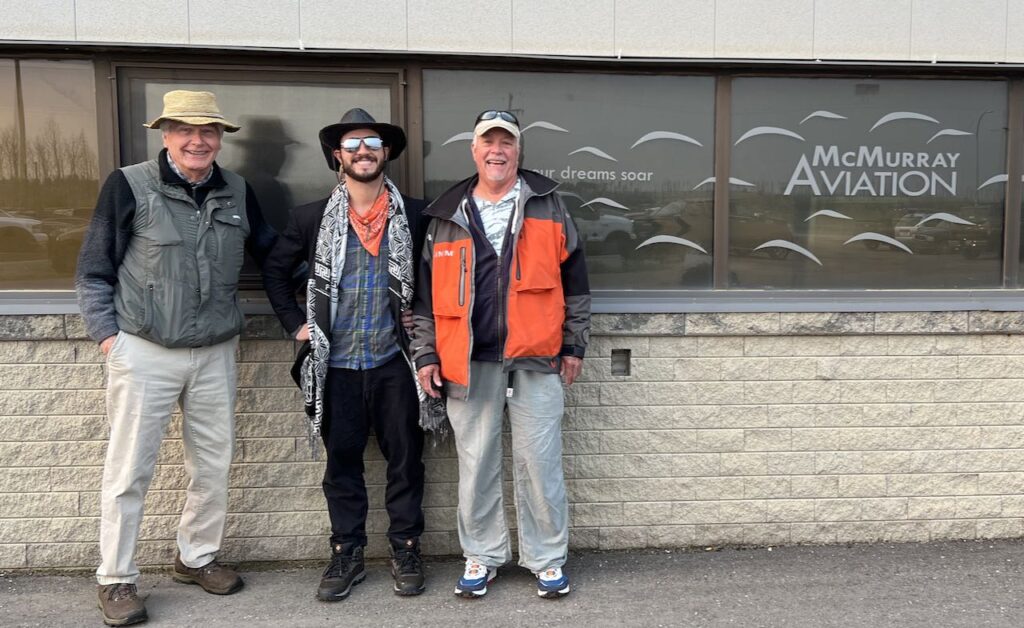 Saturday, August 5, 2023. Fort McMurray, Alberta to Cree Lake Lodge, Saskatchewan. We were up early and at the Fort McMurray Aviation hangar by 7:30 a.m. as instructed. Nobody else was there, though, so we hung out and took photos.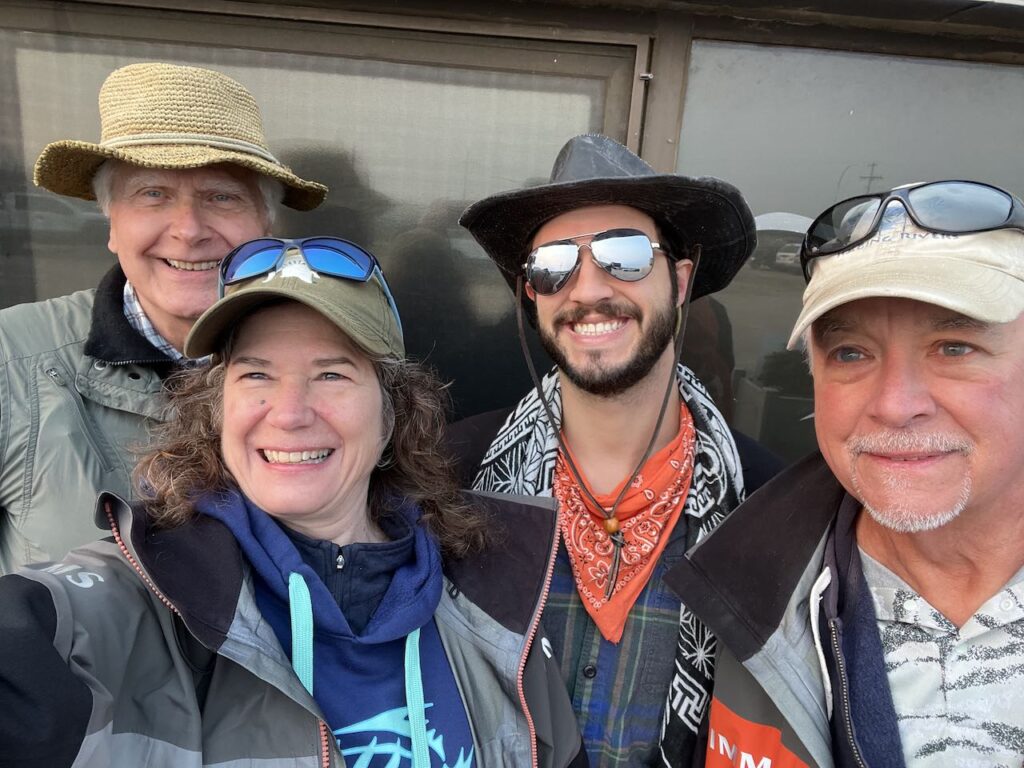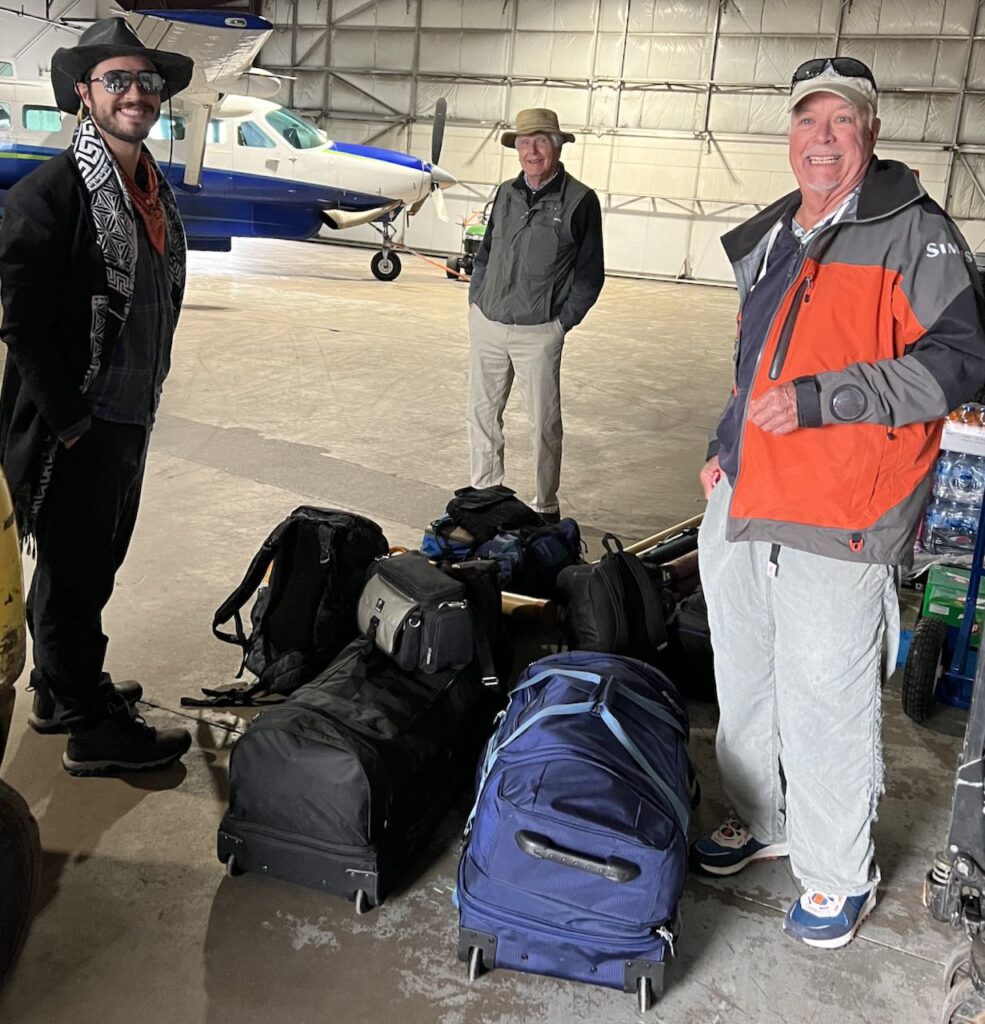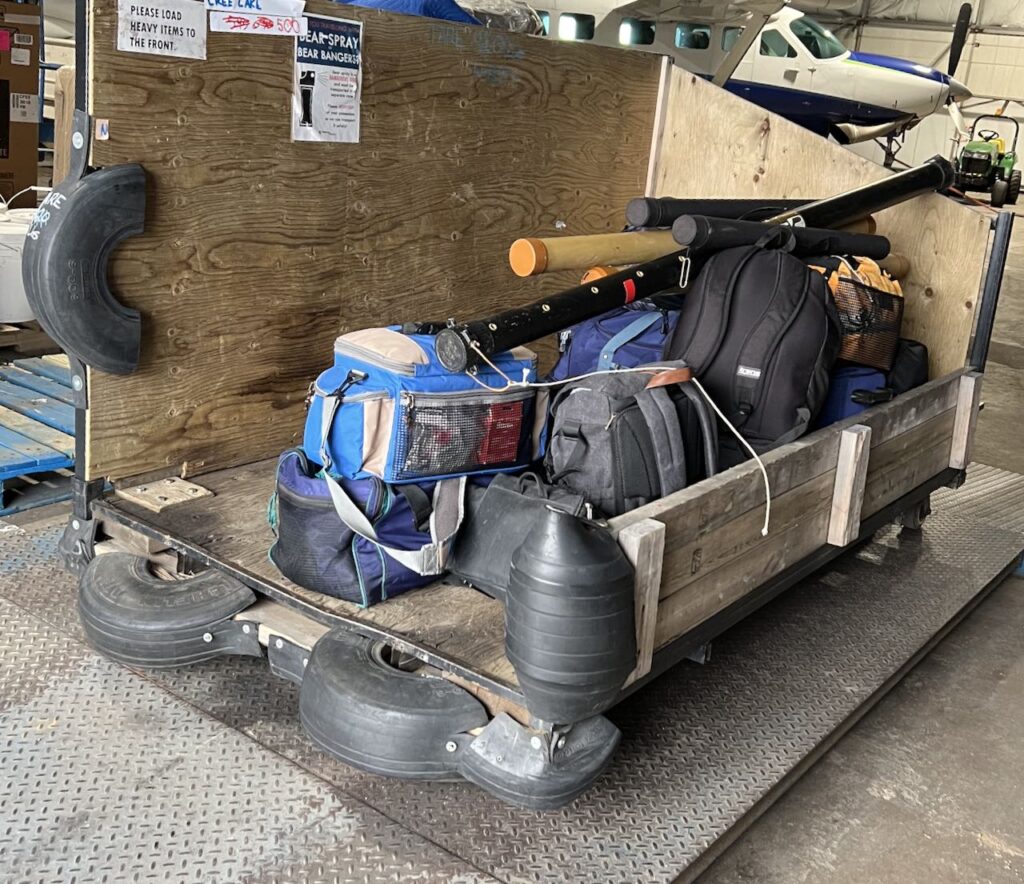 Shortly after 7:30, a guy named Wade appeared and asked us to bring our luggage into the hangar and onto a scale. Wade noted how much our luggage weighed, then he and a co-worker added bottled water, V8, marshmallows, and other items. Wade added the combined weight on his phone. Then Wade asked us to jump on the scale…and he added our weight to his phone. As he and his coworker added more food, we went to find the lobby.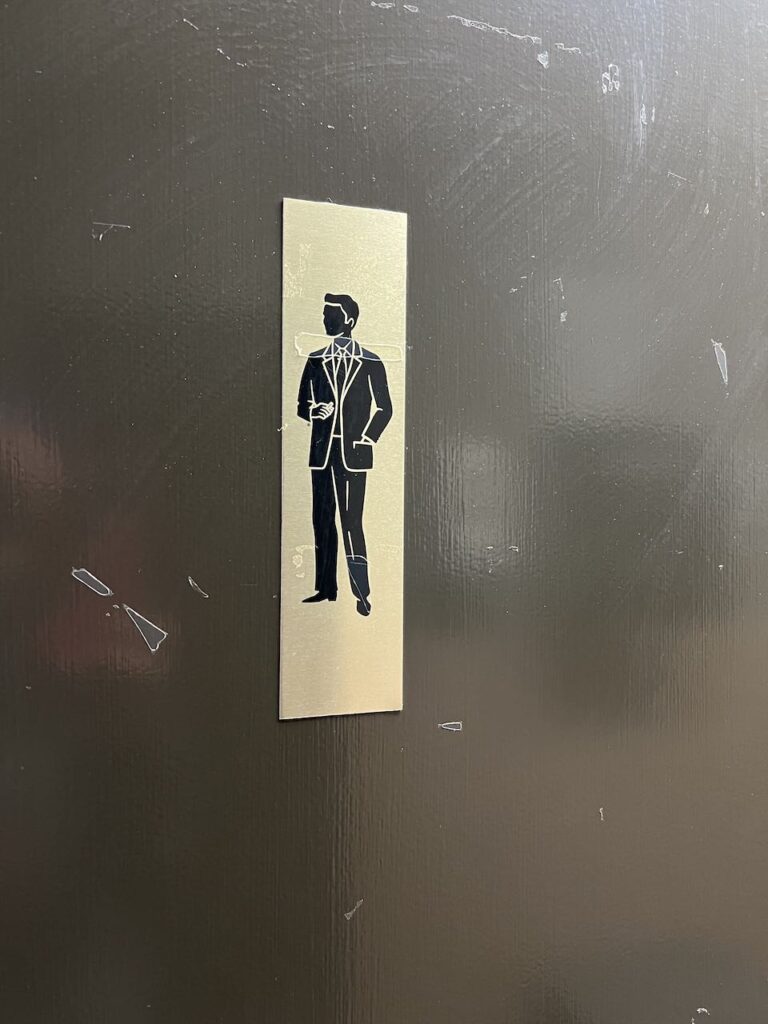 The lobby at Fort McMurray Aviation is a small area with about 20 chairs, a small coffee pot that was simmering up some coffee for the guys, and an enclosed area behind which ladies take money for parking at certain times of the day.
When I used the restroom I noticed the graphic of the guy on the door looked a lot like Arthur. Or, conversely, that Arthur looked like the graphic on the door.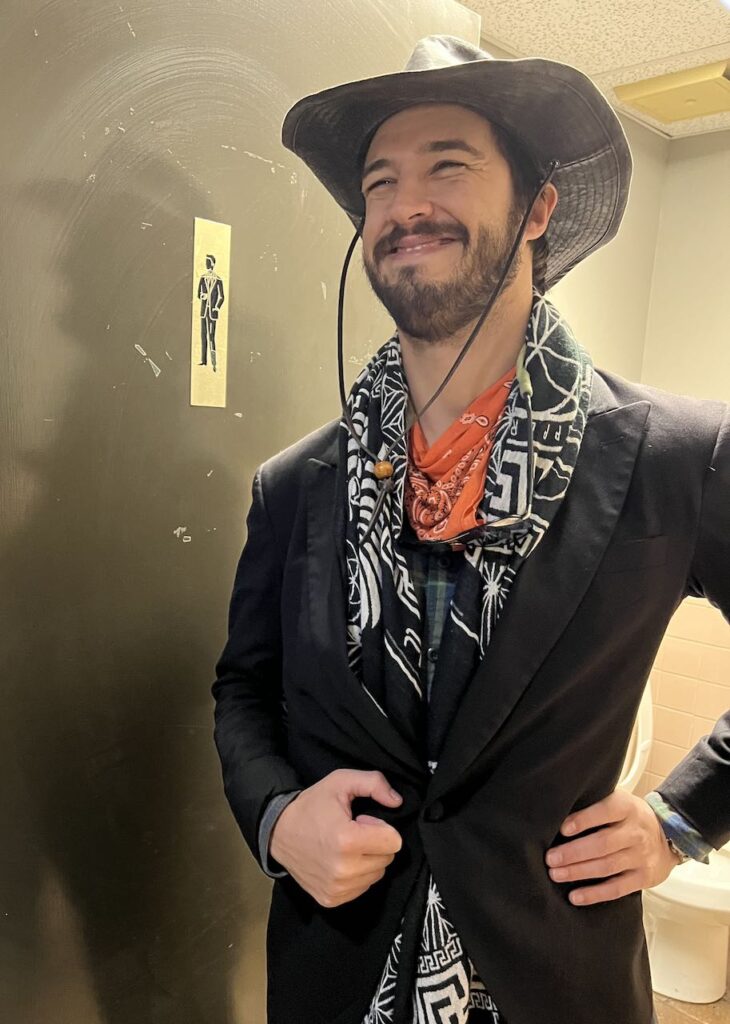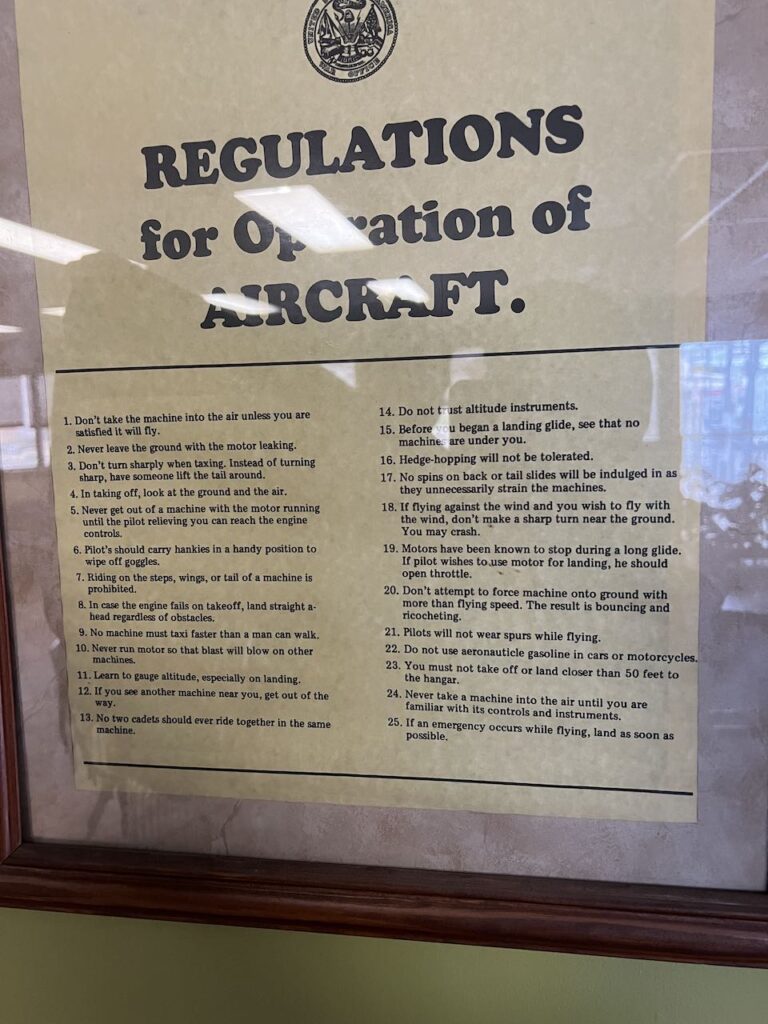 It's fair to assume I did not look like the female graphic on the women's bathroom.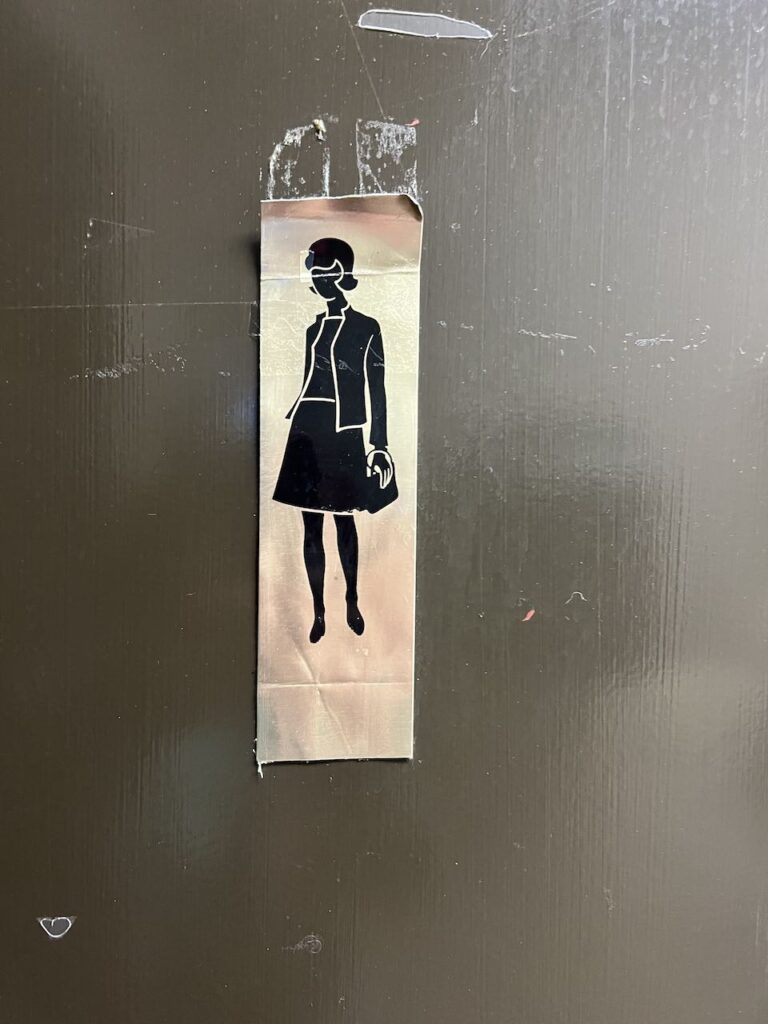 Arthur noticed the Regulations hanging on the wall. Our favorite was rule 21: Pilots will not wear spurs while flying.
When all of our luggage and the supplies were loaded onto the float plane, Wade–who turned out to be the CEO of the aviation facility and our pilot–took our group photo in front of the plane.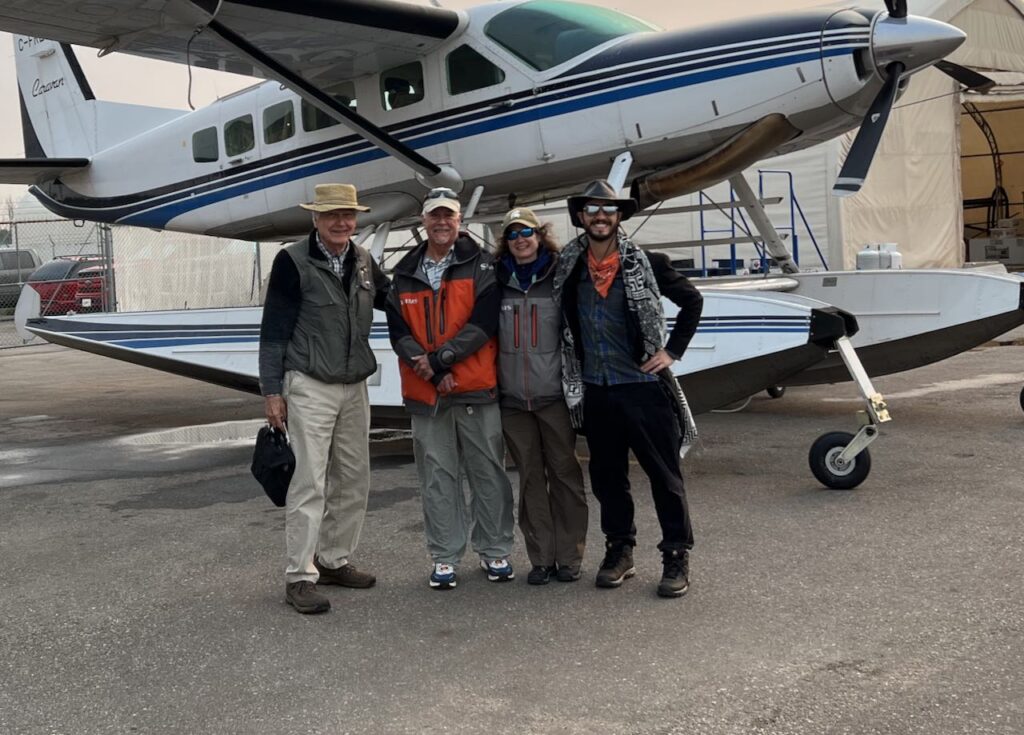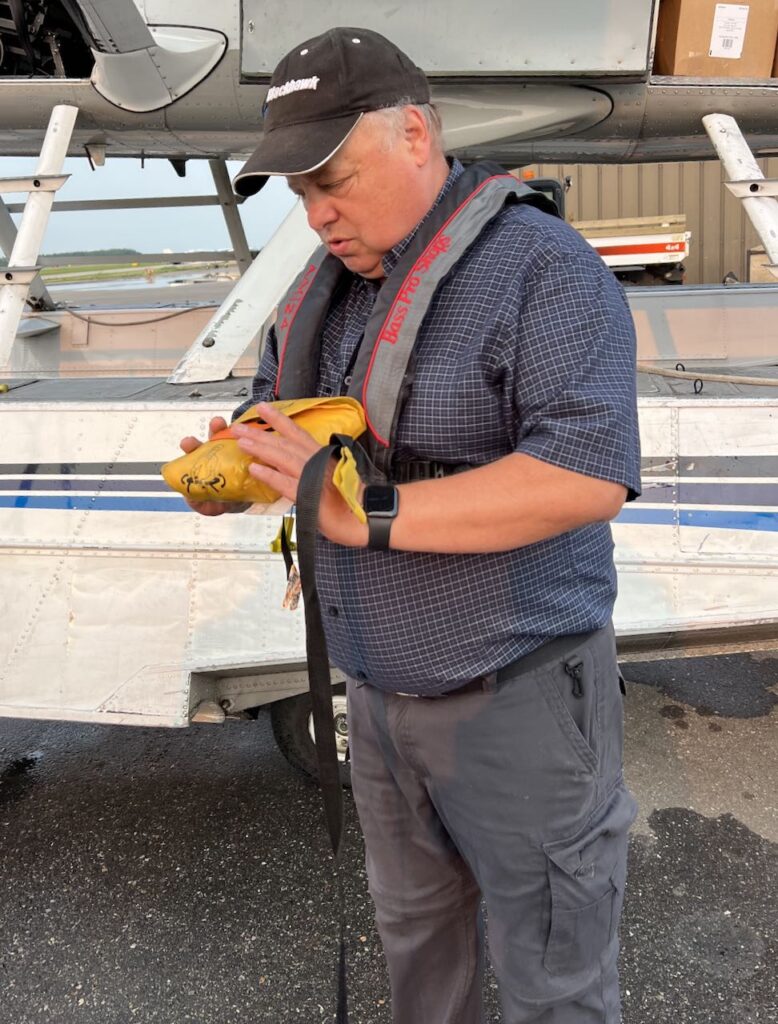 Before we could get onto the plane Wade handed us what looked like a neatly packed rain poncho with a strap attached. It was a life jacket, which we were to wear around our waste and inflate "in the event of a water landing." I'm not sure what made me more nervous–the idea that we might land on water…but wait, it's a float plane, and weren't we going to land on the water that is Cree Lake?–or what seemed like a confused look on Wade's face as he navigated putting on his life jacket.
Here's Mark sporting his life jacket.
It was a smooth takeoff and by 8:35 we were up in the air and the world below tiny. We passed many lakes speckled amongst many patches of land.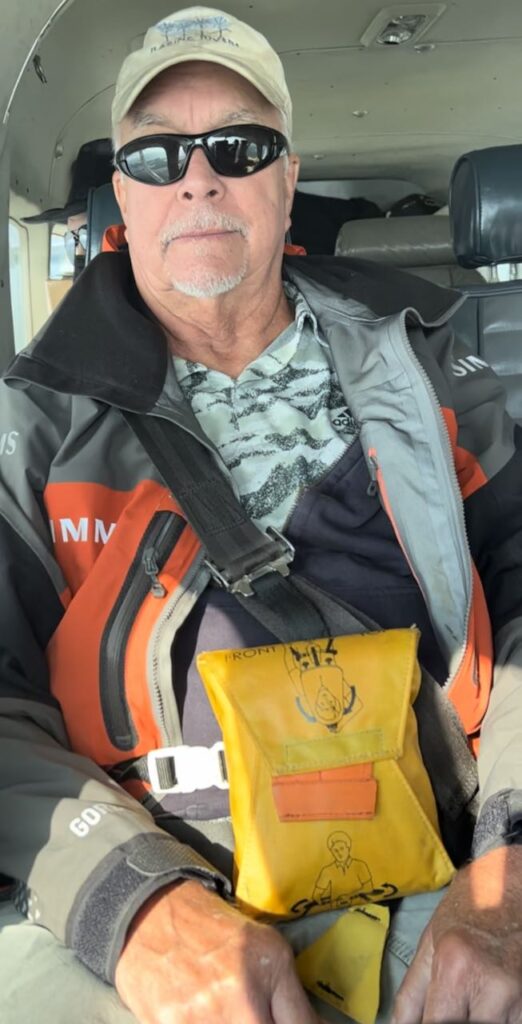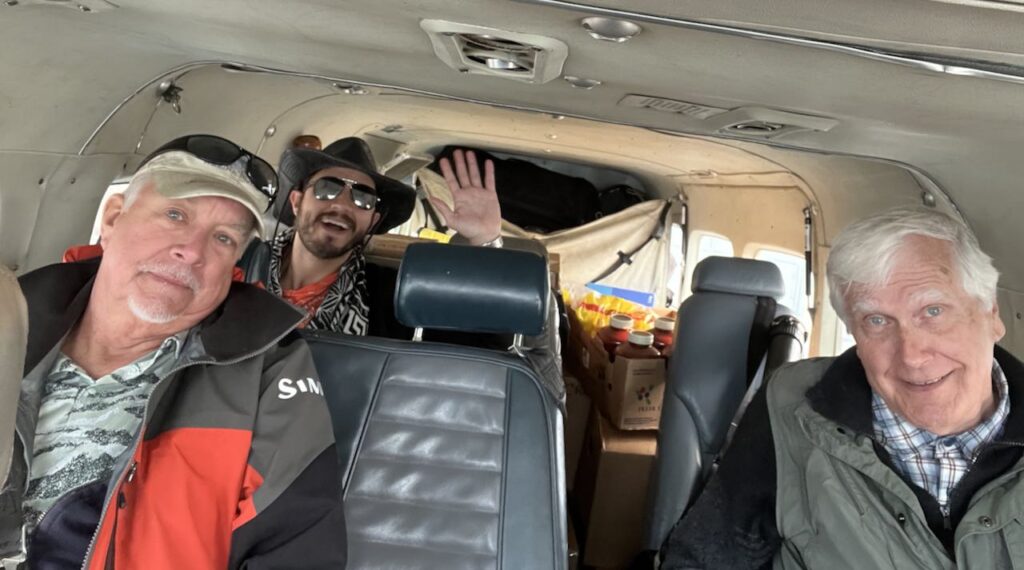 The plane was comfortable because we weren't packed in like sardines. Or like bottled water, for that matter.
I'll note here that at home a week later, Facebook shared that about 7 years earlier, while flying from an outpost cabin at Tabani Lake en route to Kasbah Lake Lodge, we (Mark, Arthur, Jack, Mark's nephew, Terry, and I) saw flames shoot from the engine of the float plane, the windshield got instantly dark, and the engine sputteedr. The pilot calmly asked for Mark's sock to wipe off the windshield, and motioned to Jack to open the co-pilot seat's window. The pilot reached out the moving plane and wiped off the windshield best he could (which wasn't well), and over the course of the next 20 minutes flew by instrument and mostly by looking out the side windows, slowly bringing the plane closer to the water. When we were about ten feet from the water, the engine stopped working altogether and the pilot glided us to a safe landing. Only after we'd landed and the pilot had radioed the lodge to send a boat to tow us, did the pilot explain that we had blown a jug (cylinder). He'd thought the engine had started roughly, had had such happen one other time and guessed he had about 20 minutes before the engine would quit completely. We were towed the rest of the way to the lodge suddenly desiring a stiff drink.
It was quite the thing to be reminded about as we took off in a float plane to Cree Lake Lodge.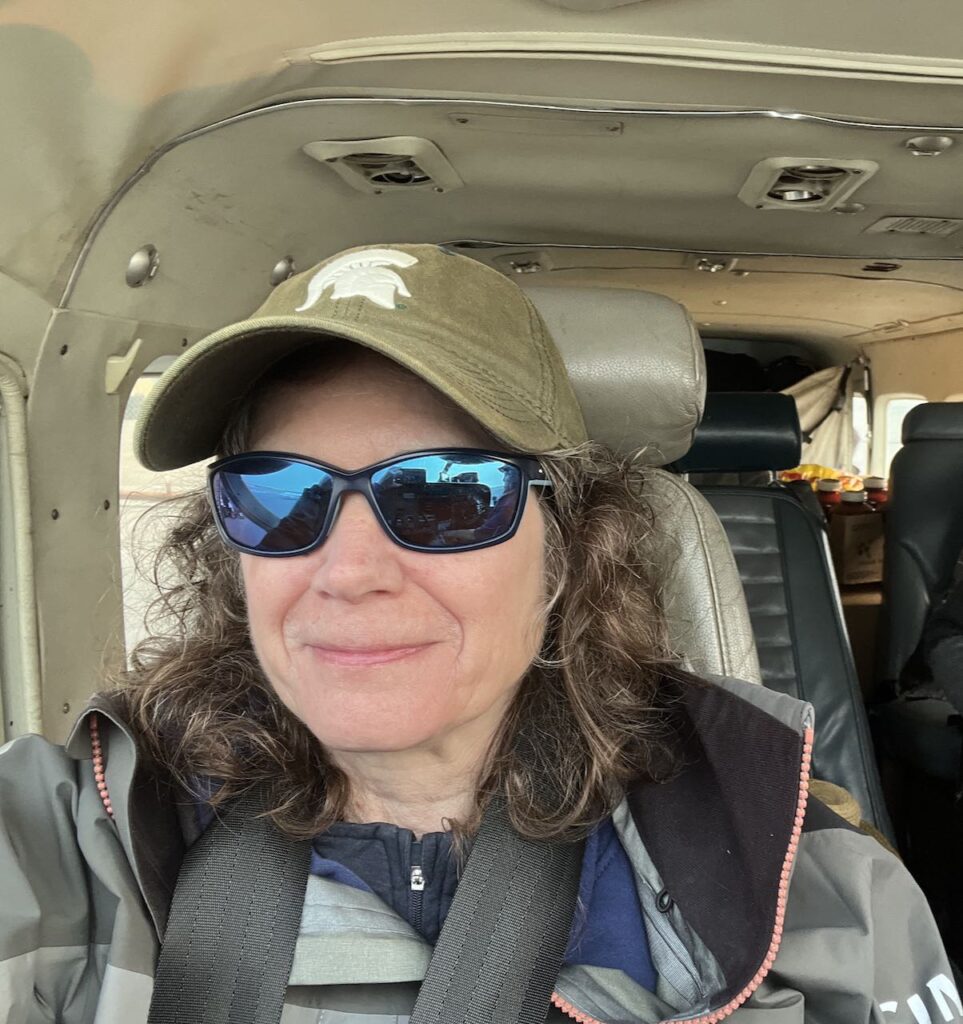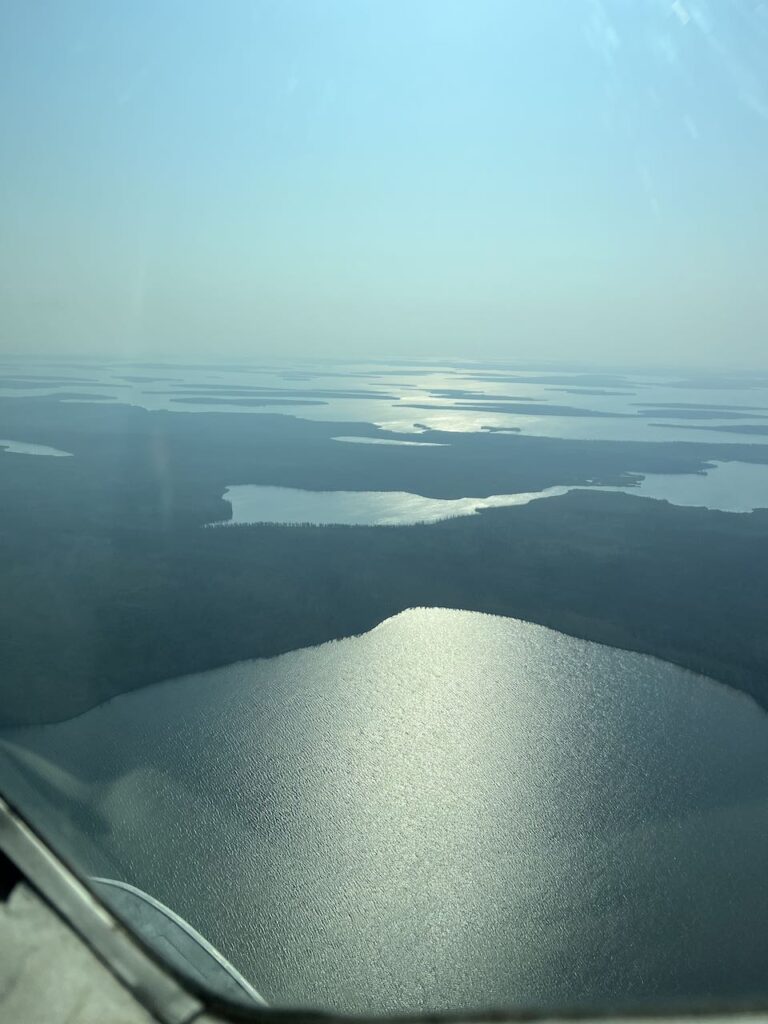 Looking out the plane I was encouraged that at least some of the water bodies seemed to be big enough to land a float plane on.
I'll also share here that the flight was only an hour long and that I might have been relaxed enough at one point to nod off, because Wade had given me no cause for concern other than being as old as me. I nodded off for maybe a couple of minutes, and when I awoke, jerked awake, saw clouds and lakes below me, had a sensation of falling, thought I'd died and was en route to heaven, I hoped, took a deep breath and decided to stay awake the rest of the flight.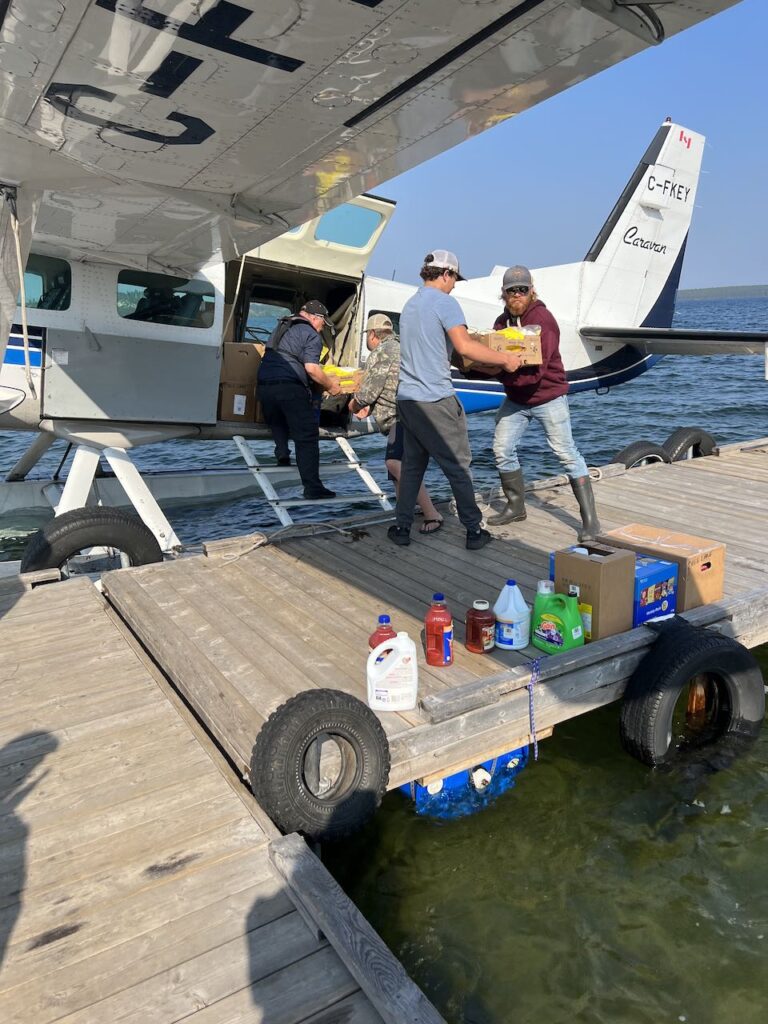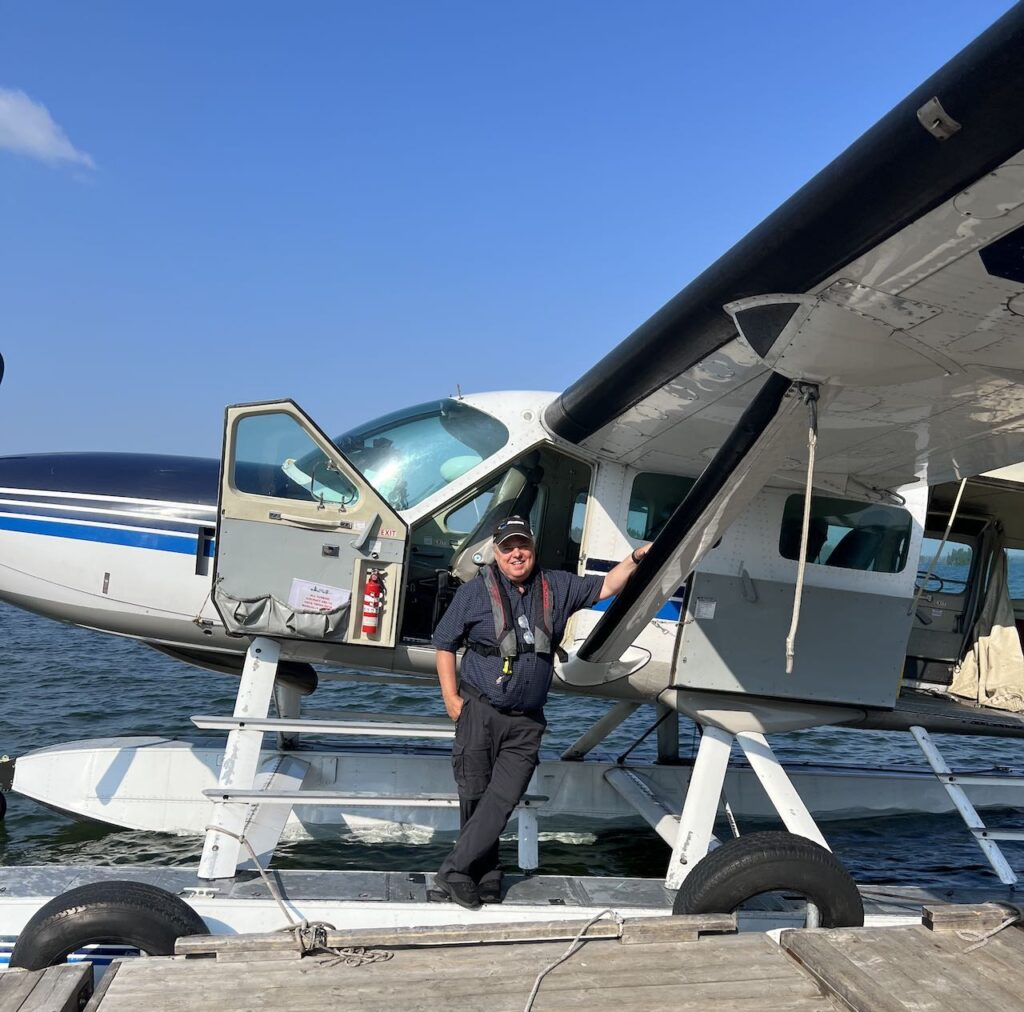 At 9:52 Wade (shown above) landed us on Cree Lake smoother than any float plane ride we'd been on. He taxied up to the dock ,and once the plane was tied up and we were on the dock, he and several young men unloaded the luggage and supplies. One of the young men was the son of one of the owners, another a kid was at the lake to fish with his dad, and the guy on the far right is a guide named Aedan.
The dock led to shore, and to the left was the lodge, which was an unassuming building from the outside.
To the right were all the cabins. We headed to the right, where the son of one of the owners dropped my luggage next door to our cabin, such that I had to drag my 50-pound bag to our cabin….as he watched…and didn't offer to help. I can only imagine that I looked…determined?
And with that, we took over cabin #6 for the next five days.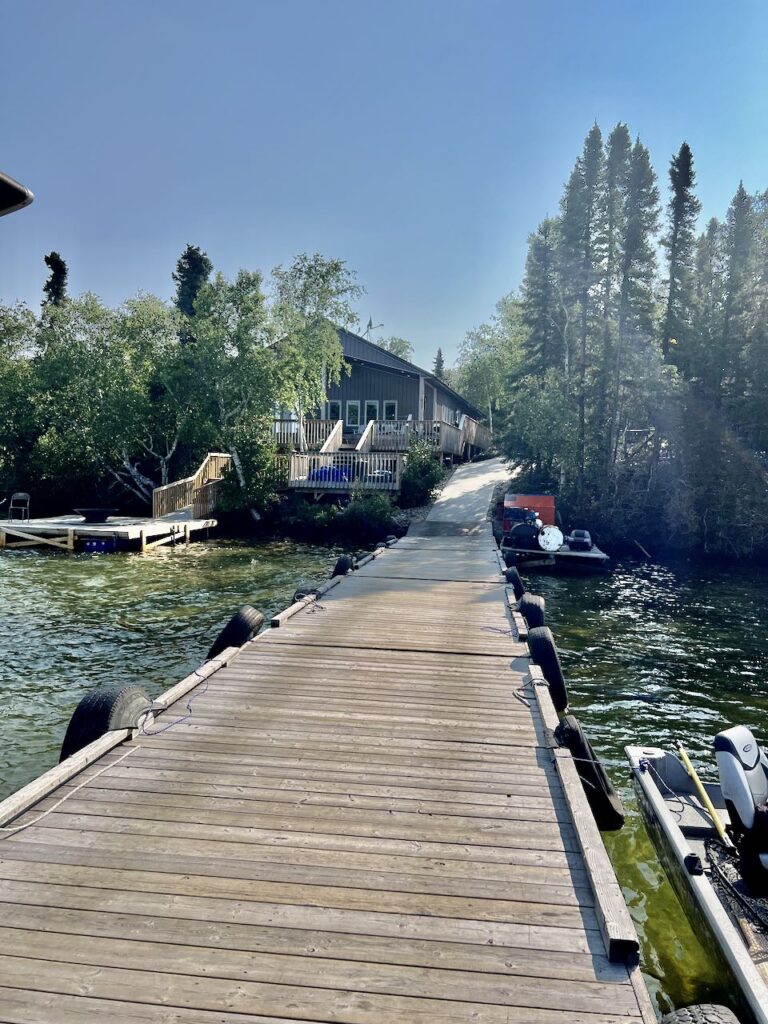 Mark in front of our home-sweet-home for the next five days. The cabins were super cute and well cared for.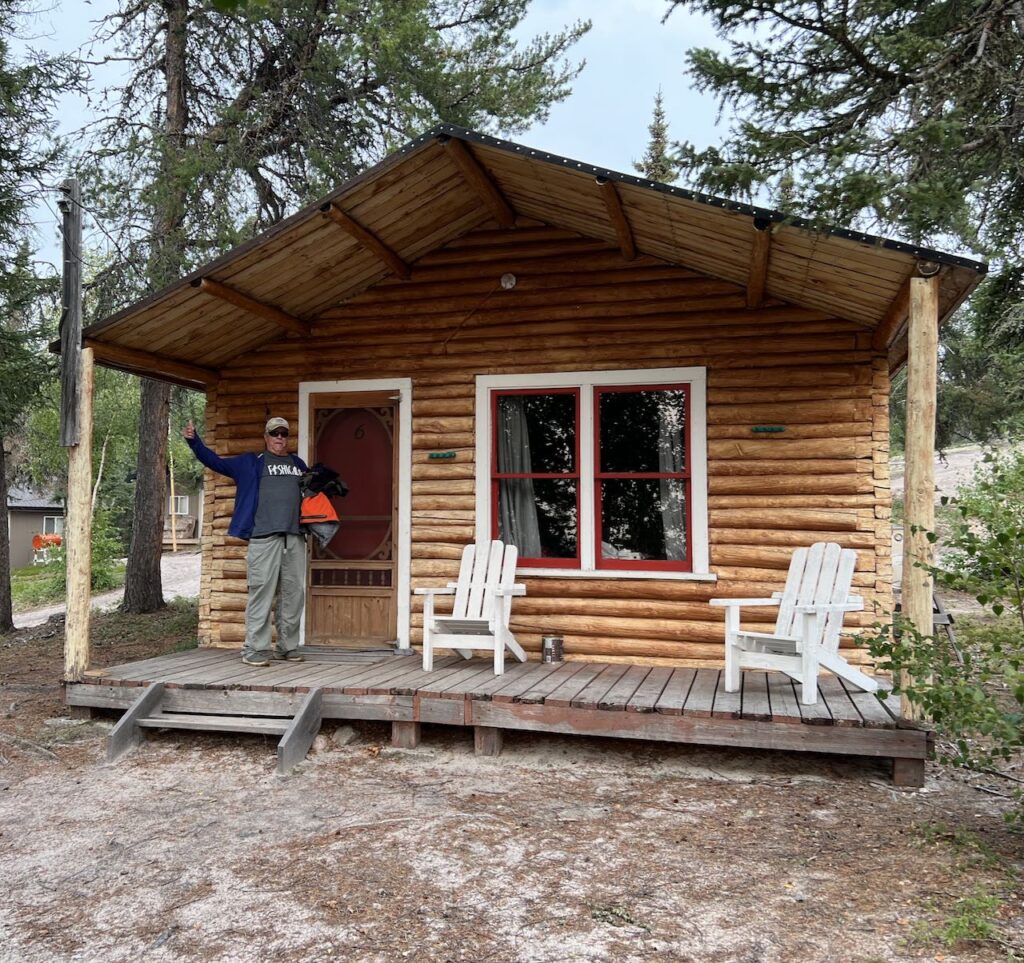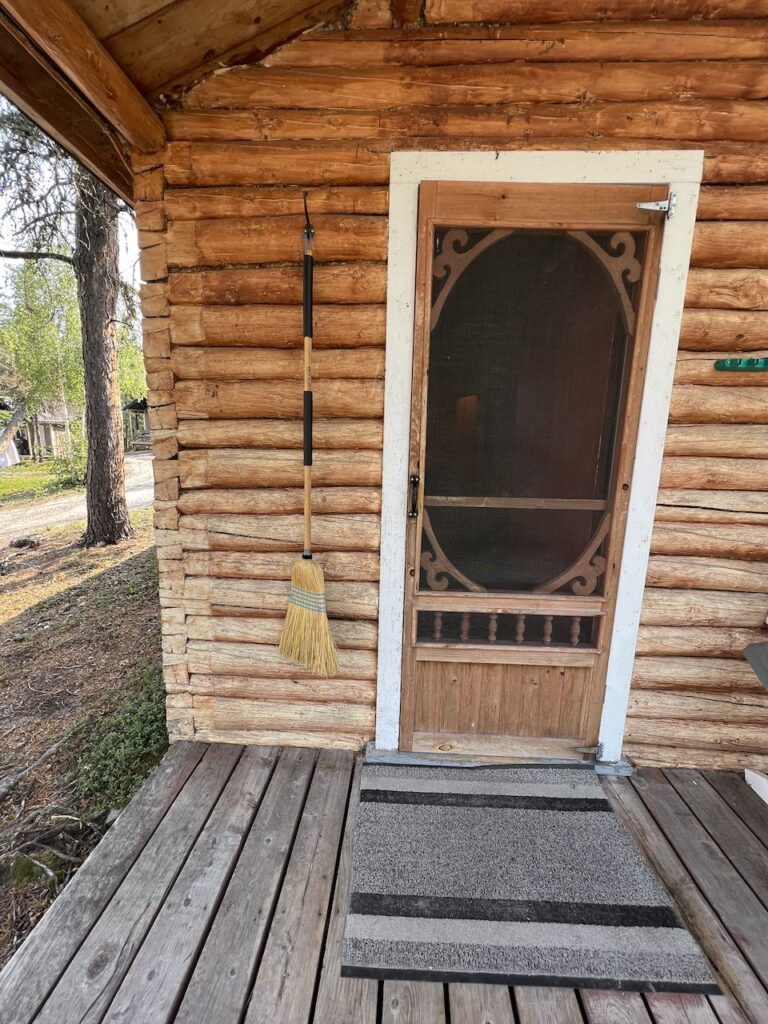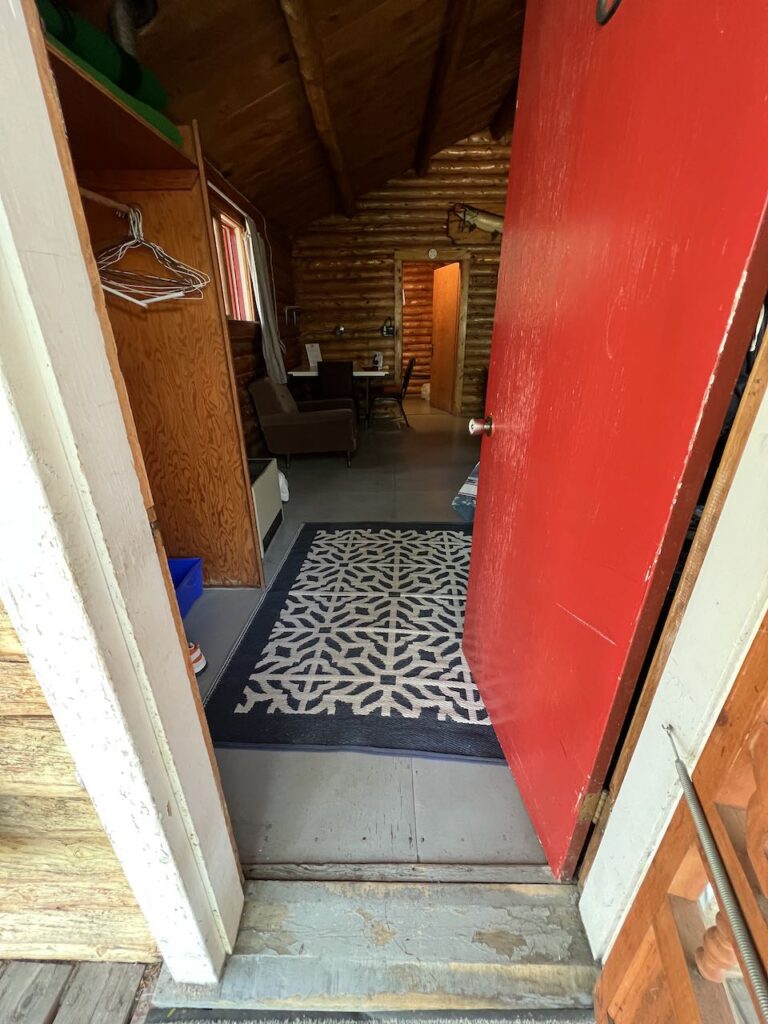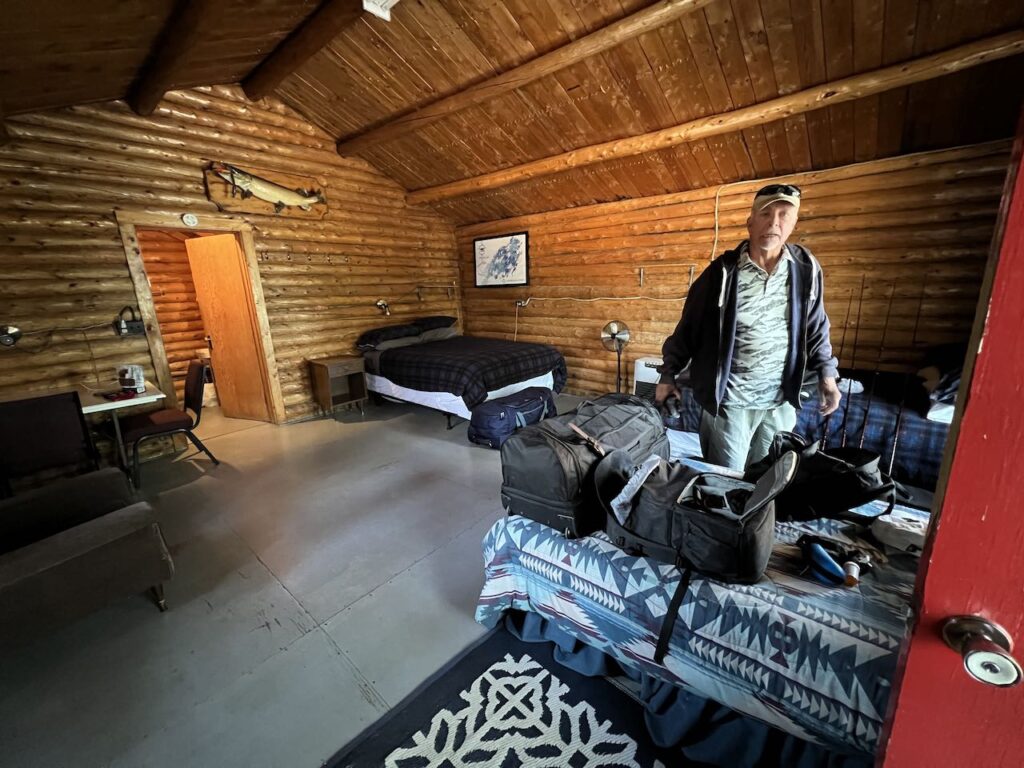 Now a maximum of 50 pounds per person may seem like a generous amount of weight unless you're Mark, who can never have enough tackle. In fact, it had been a difficult few weeks leading up to the trip, eliminating tackle that–he worried–might have caught the biggest fish.
One thing we liked about the room was the giant fish over the bathroom door reminding us what we were here for.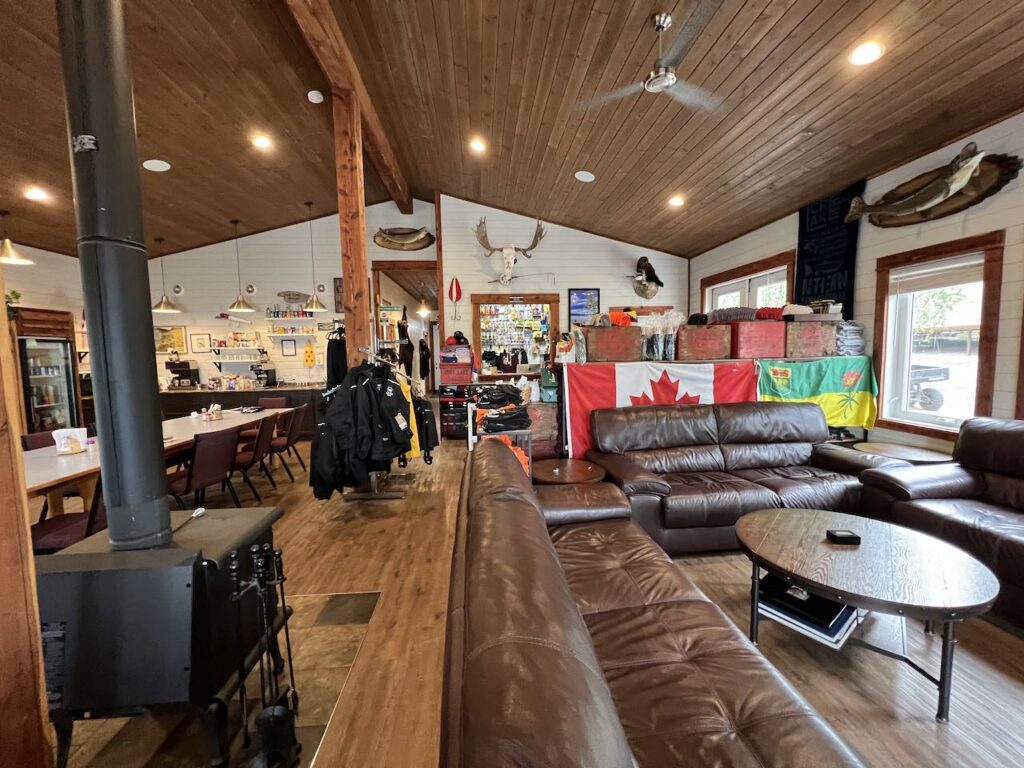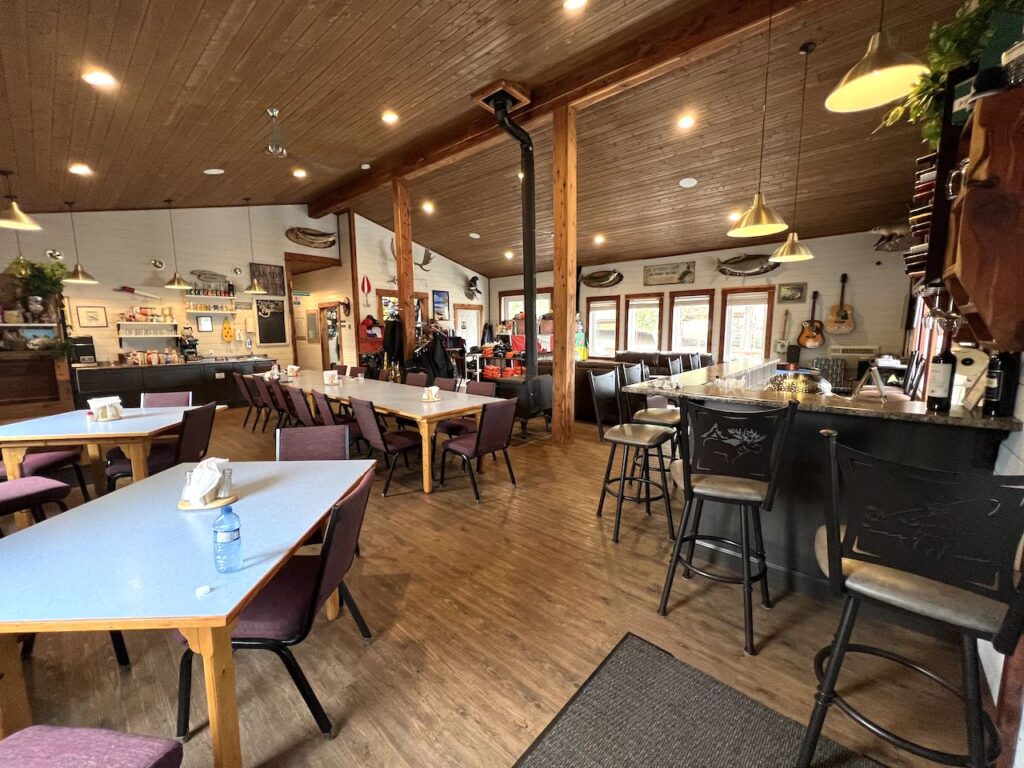 The lodge was an open, inviting atmosphere, with a small shop inside the door, a long line of tables where we met for our briefing and had breakfast. It also had a large, comfy couch and a bar. We were introduced to Darrelle, who referred to a notebook and told us how things were to work, including that breakfast was a 7 a.m. every morning, boats left at 8:00, we were paired up with a guide, alcohol in the evening was free this year but won't be next year should we return, and any alcohol we take out in the boat during the day was $5 each. We could ask for coffee or hot chocolate (which, along with pop and water was free) and we needed to tell her what days we wanted bagged lunches versus shore lunches. For our first day we ordered a bag lunch, which, for me, consisted of cheese, onion, tomato and mustard, per my request.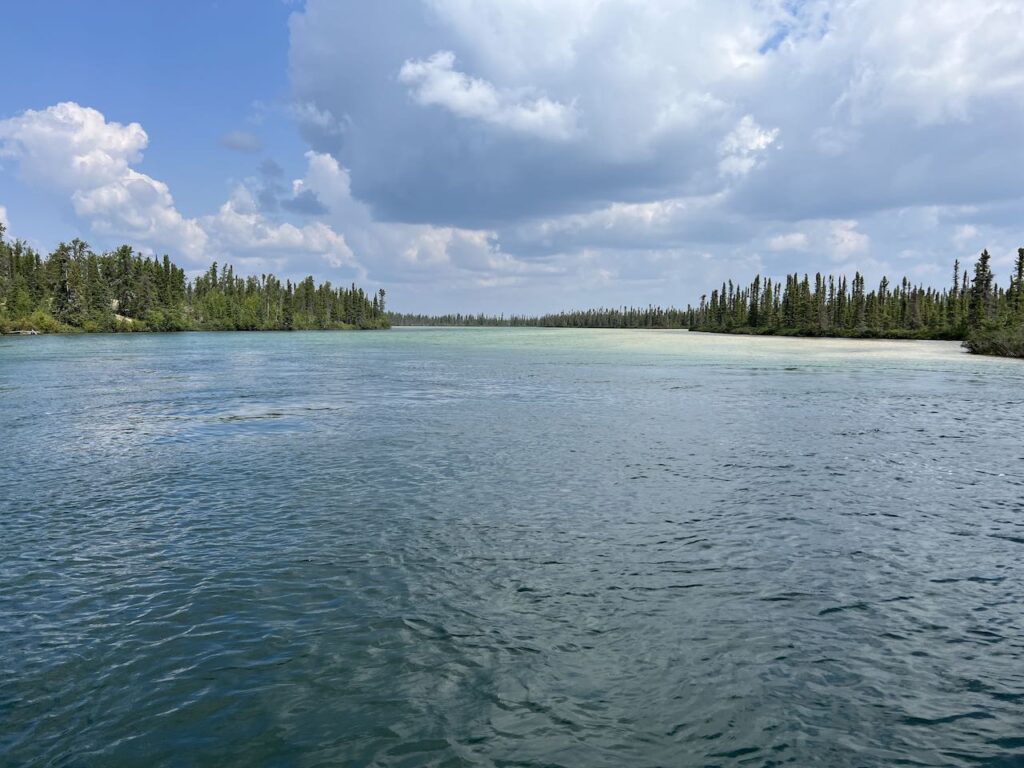 While Mark and I jumped in the boat with a guide named Curtis, Jack and Arthur jumped in with Aedan. Both boats headed to the Cree River, which had beautiful shades of blues. The fishing, however, was very slow.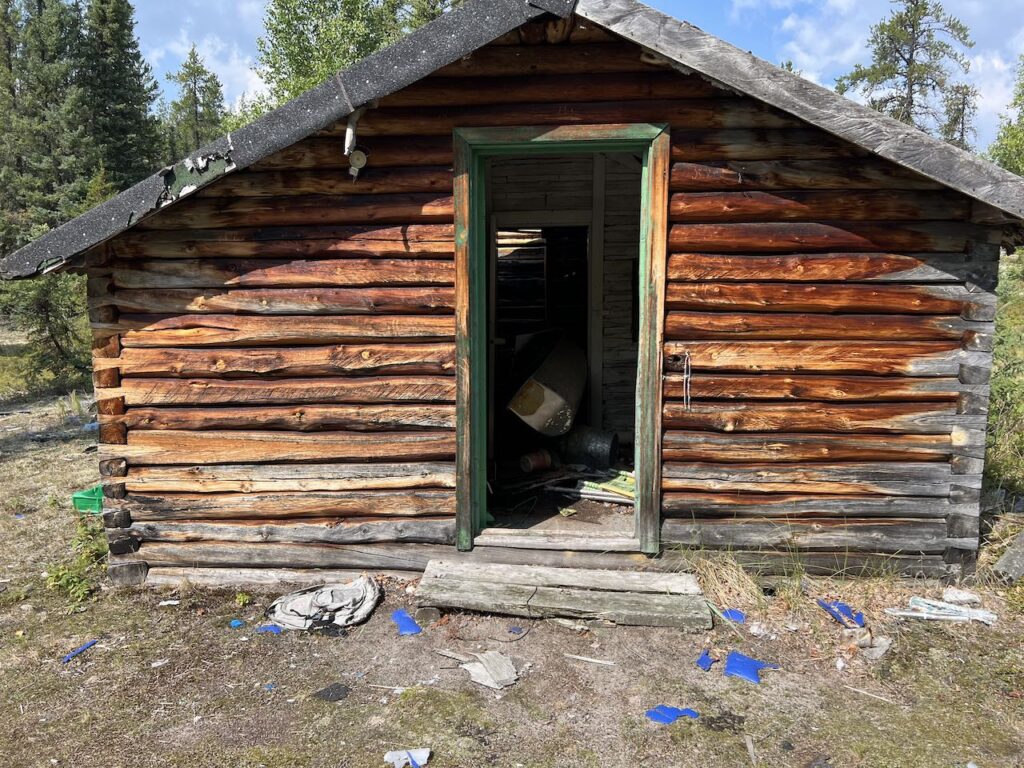 We stopped for lunch and explored two cabins, both of which had seen better days. Both, though, also had the potential for being fixed up and loved again.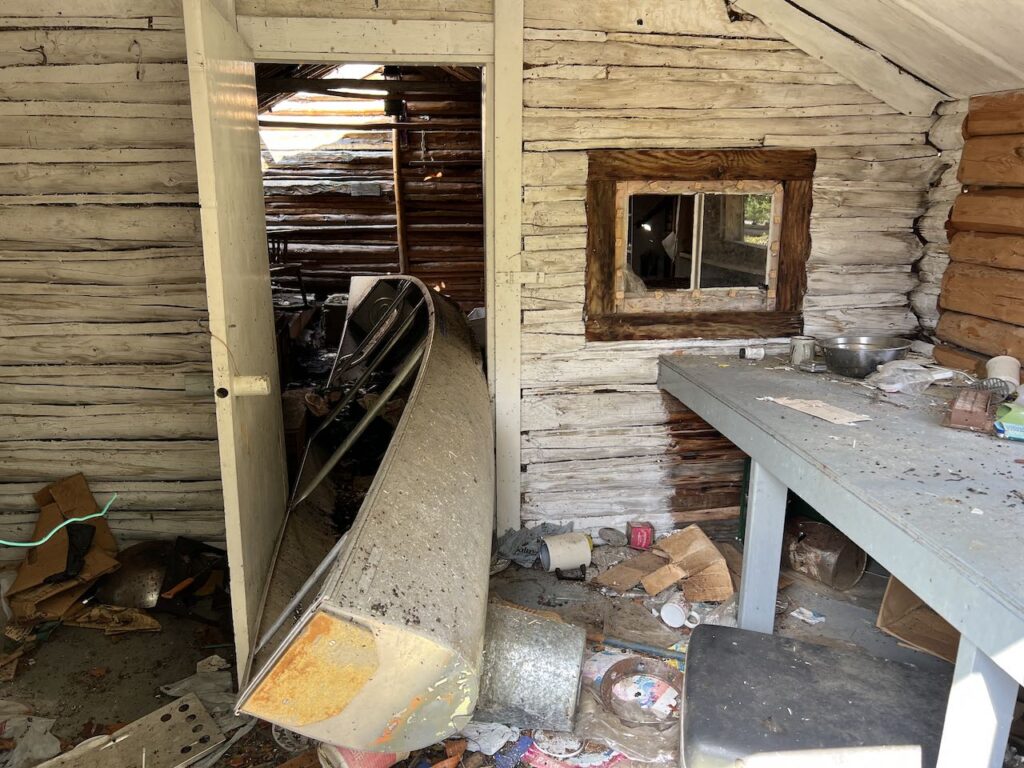 I would love to have known the history of the cabins, including why someone left a perfectly good square-back canoe inside one cabin and a fly rod inside the other. In fact, Curtis wondered if someone was maybe using the other cabin.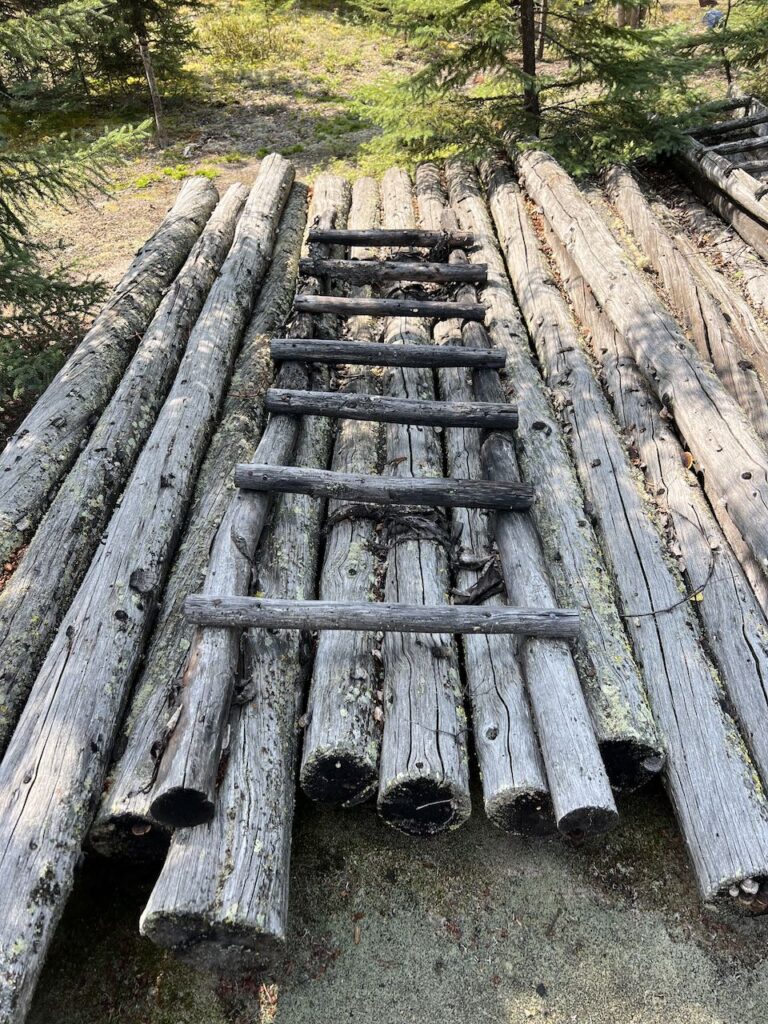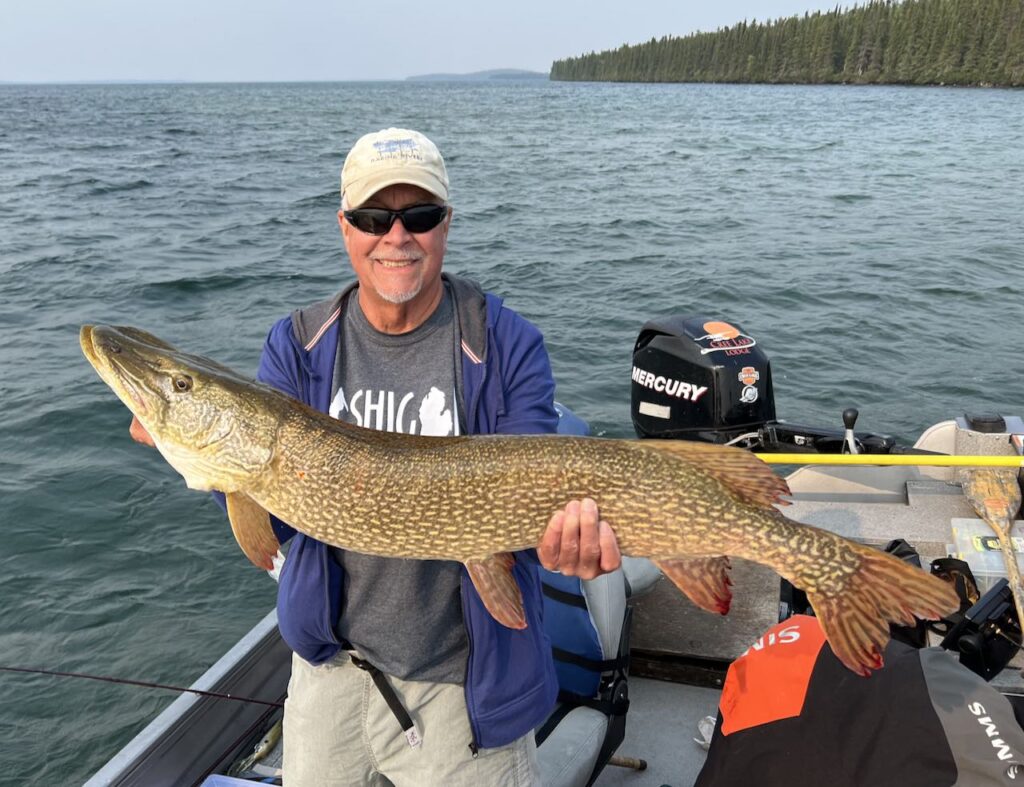 We flogged the water the rest of the afternoon, trying a variety of lures to entice a large pike our way. This was the big fish of the day and one of the few caught on our first day. It was close to 40 inches.
I took the above photo at 4:49, and we headed back to the lodge afterwards. I was disappointed in the fishing thus far, but reminded myself that on most every trip I've gone on, I have to wait for my big fish. It never comes the first couple of days.
We returned to the lodge and Arthur mixed up some tasty drinks. Dinner was served, and in spite of my saying I was a pescatarian or vegetarian, I was served meat, which I mostly gave to Arthur. It would come to pass that the cook didn't cook fish, and while some of the appetizers were vegetarian, no meal I was served was. So I ate sides, though confess to a few bites of some meat because no other protein was offered. And it was fine, really, because the sides were good, and I had plenty to eat. Just a strange thing to be asked for preferences and discover a cook at a fishing camp that didn't cook fish.
With that, the first day at Cree Lake Lodge was over. Plied with some food and a few drinks, we all slept soundly.