There were basically two ways for us to get from the Lansing area in Michigan to Fort McMurray, Alberta in August 2023: drive to Detroit and fly to Fort McMurray, or drive from the Lansing area to Fort McMurray. Mark and I did a quick comparison of costs and determined that with four people in a vehicle, it would be cheaper to drive. And at $4,750 per person for five days at the lodge, we were all about saving a few bucks.
August 2, 2023: Lansing area to Souix City, Iowa. First thing in the morning, Mark and I dropped our two dogs at the Taj Mahal of dog kennels in Grandledge called Nana N Paws. We returned home, grabbed Arthur and got to Jack's around 8:30. Arthur, also known as kid #3, had flown in from Los Angles, CA the day before just for the pleasure of spending three days in the truck with me, Mark and Jack, a family friend.
As Arthur and Jack reunited, Mark loaded up Jack's stuff into the back of our Ford F-150. I just stood around and took photos.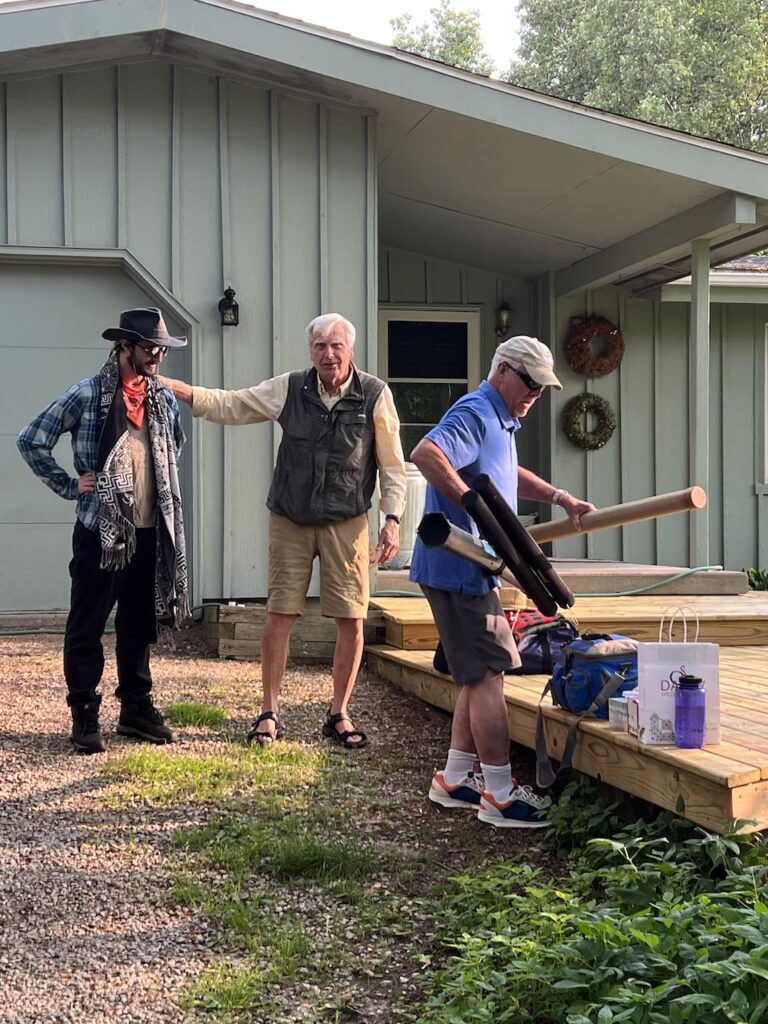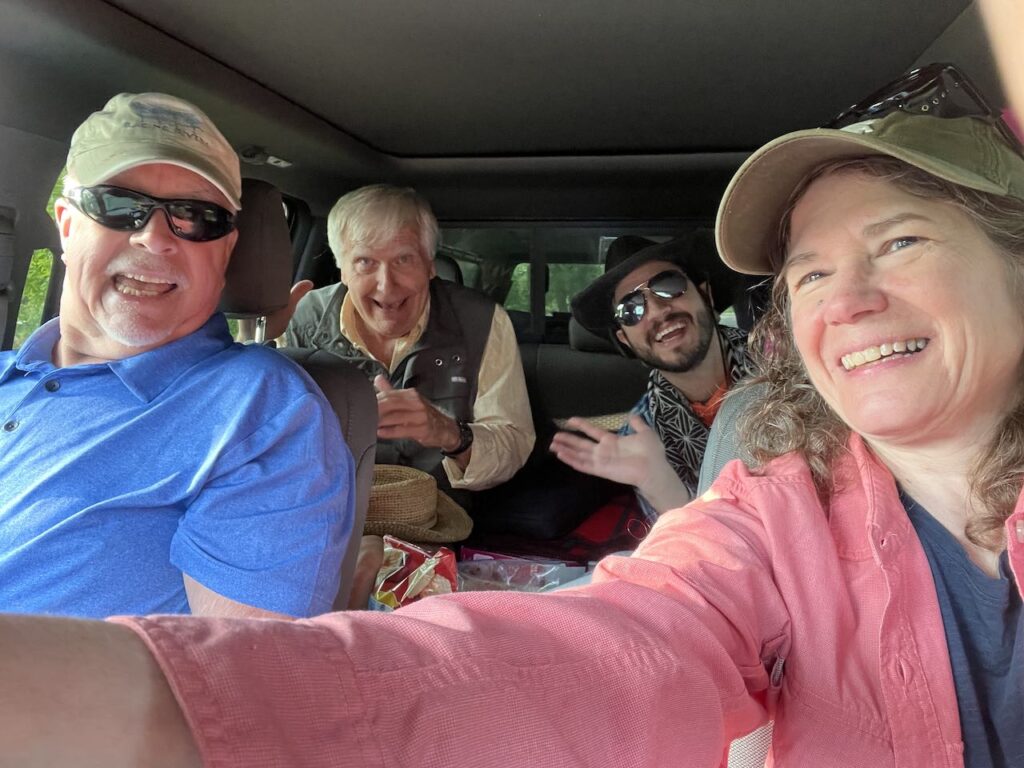 Before we left, a selfie was in order. We did, after all, have a long drive to Fort McMurray. Mapquest said the drive was do-able in 31 hours and was only 2,060 miles.
We would prove Mapquest wrong. Very wrong.
We took 127 south to I-94 to 80/90 and stopped in Tinley Park, Illinois at a place called Pop's, which, by its description, was attractive to three male meat eaters. It also happened to have an amazing vegetarian sandwich with lots of fresh veggies. Everyone was satisfied with lunch, especially since we'd stumbled upon Pop's as we were working our way to a fast-food joint.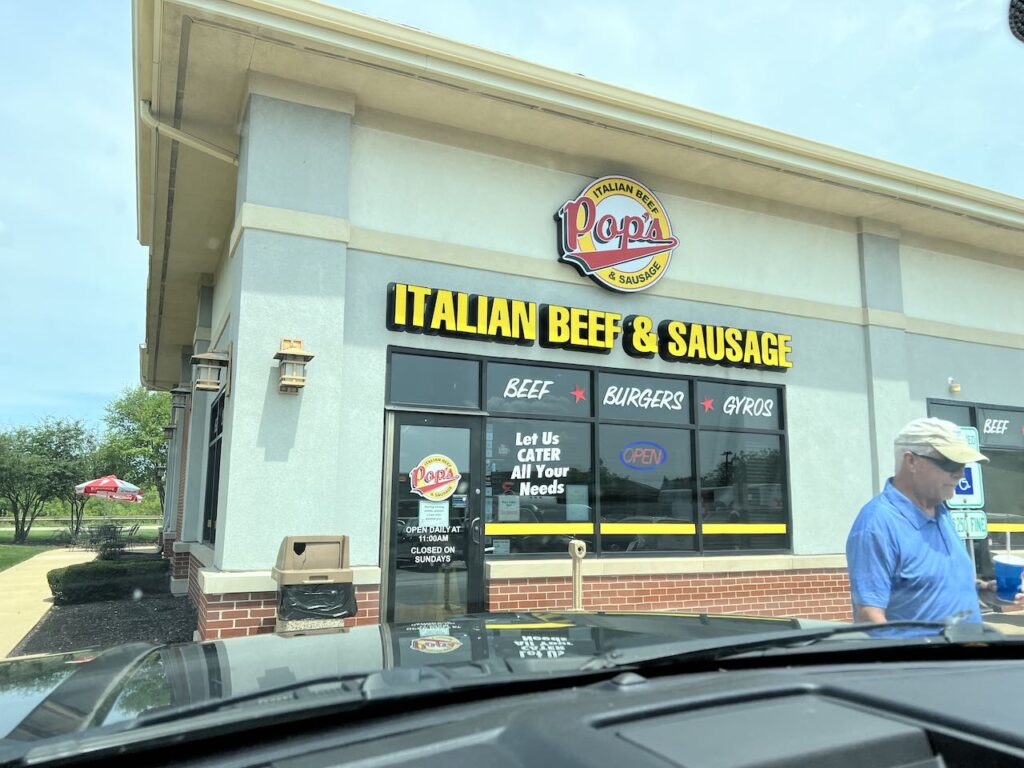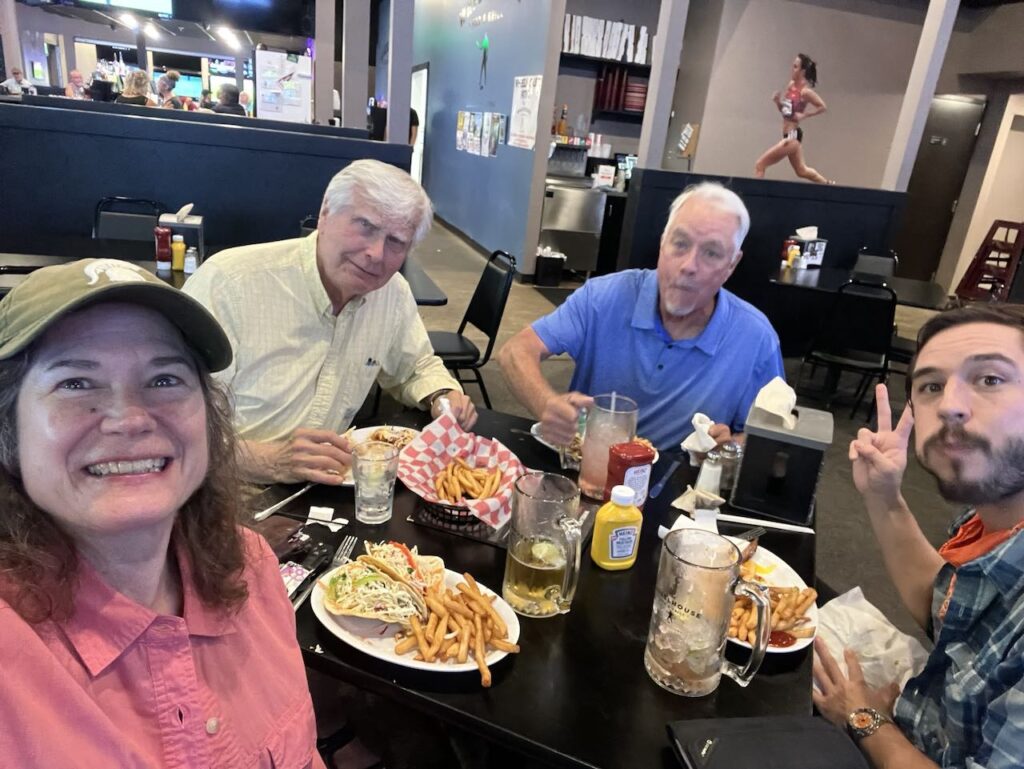 I drove to Souix City, Iowa and we stayed at a Comfort Inn, which Mark had made reservations for from the road. After dropping our small overnight bags in our room, I drove 1/2 mile to the Wheelhouse Inn, a sports bar that had good fish tacos and nice, cold beer. I like this french fry-laden photo with the inspirational wall photo of a runner in the background.
August 3: Souix City, Iowa to Russell, Manitoba. A small debate ensued first thing in the morning as to the best route to take to Fort McMurray, Alberta. As the guys discussed paths, I drove off into dense fog that lasted for about 45 minutes. At some points we had zero visibility, but I didn't mind too much because the fog hid many miles of farm fields. Indeed, after only one day on the road, I was already kind of sick of corn fields, hay fields, and wheat fields.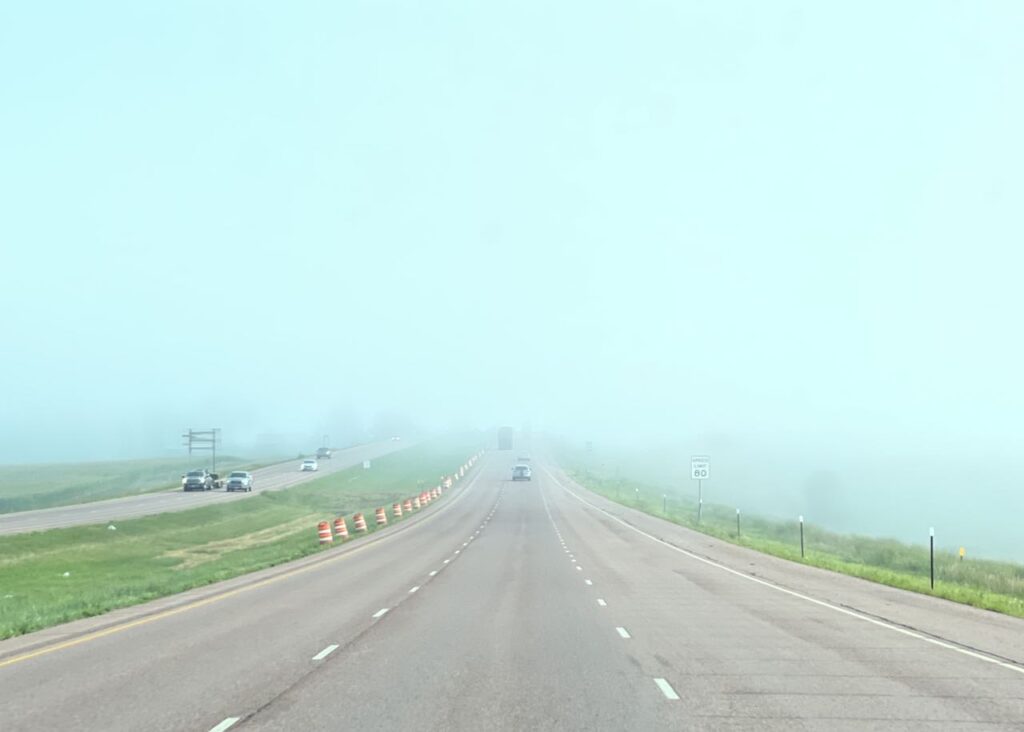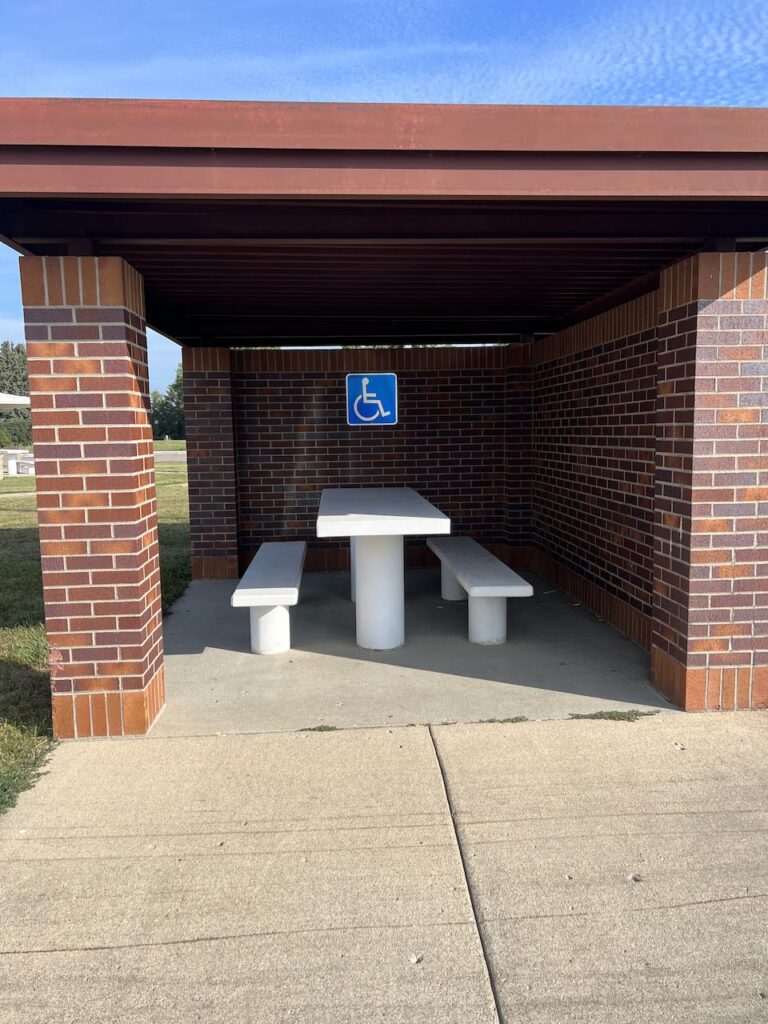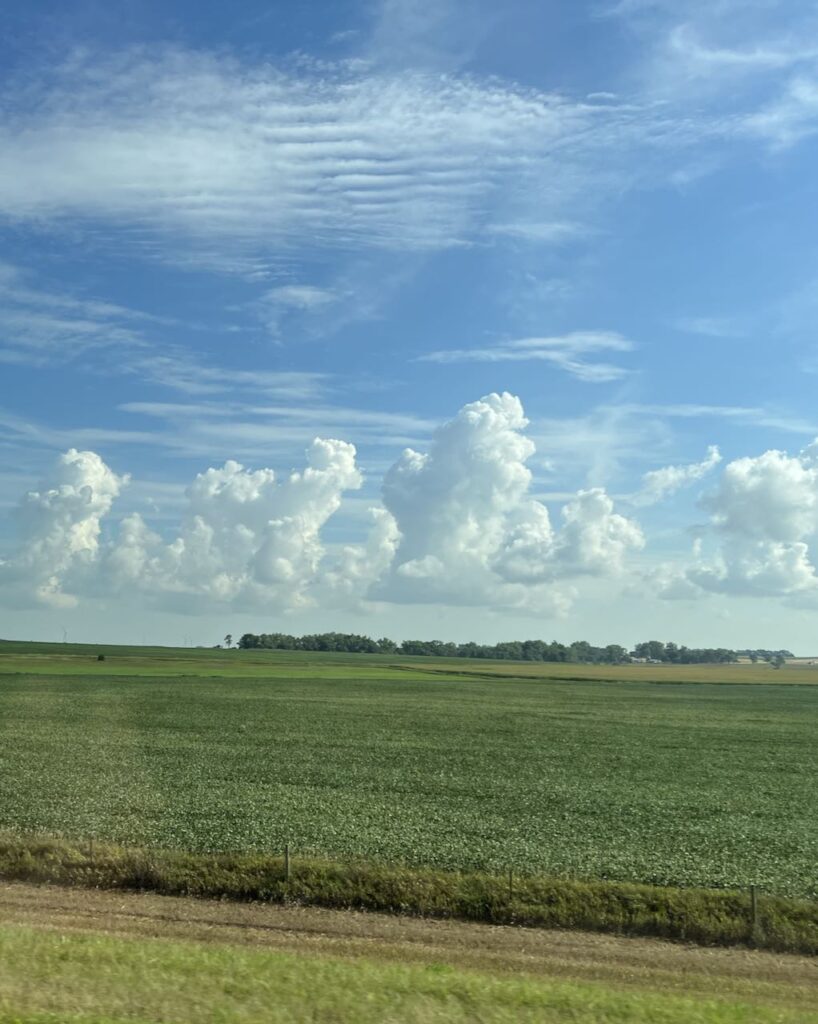 At 9 a.m. we stopped at a rest area in Brookings, Couteau des Prairie, SD, where I found humor in a picnic area that is obviously handicap-accessible but required a sign nonetheless. Above, another of thousands of acres of farm fields…but topped with blue skies and puffy clouds. We'd driven out of the fog.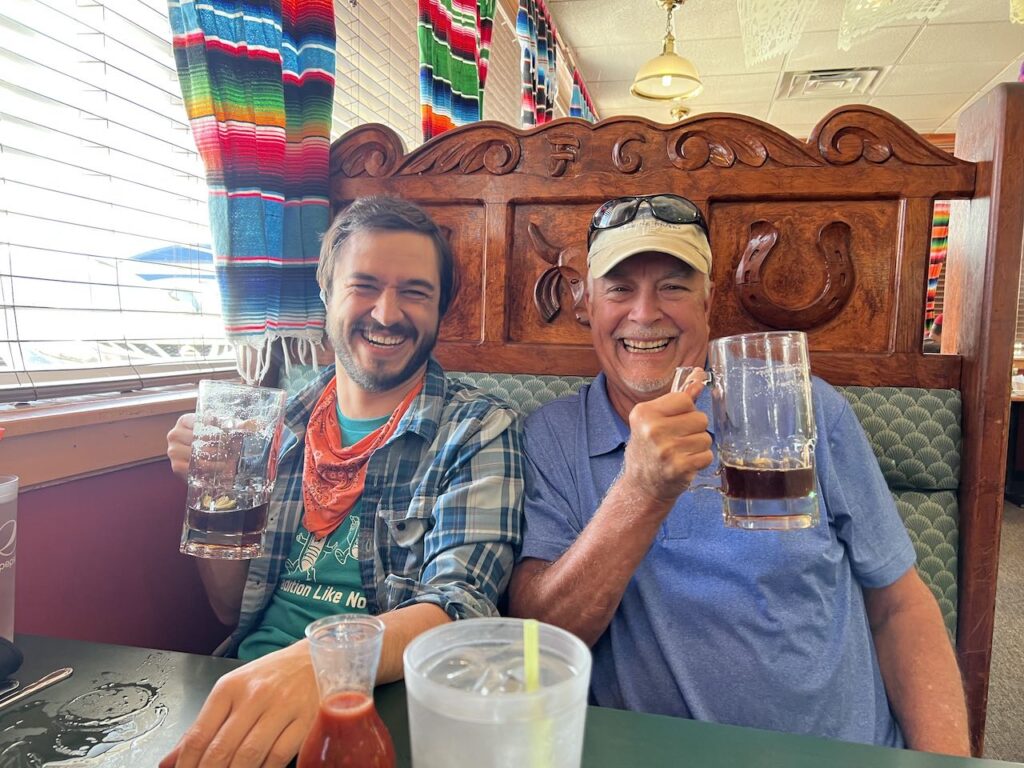 By lunch we had made it to Fargo, ND. We wandered around town and found gas, and while I filled up, Mark and Arthur found a table at a place called Mango's Mexican and American Grill right next to the gas station. By the time I parked the truck, Mark and Arthur had ordered Dos Equis. I identified myself as the designated driver. Jack also abstained from alcohol. One might say that Mark and Arthur entertained us during lunch.
At Frago we headed north, and shortly afterwards, all three guys fell asleep. An hour later at Lakota, Arthur's route took us north on highway 1 to Langdon, west onto 5 for maybe 15 miles, and north onto highway 242 into Canada at Snowflake. It was around 3:00. There were so few people entering at Snowflake that an American guarding the re-entry back into the US greeted us and asked us a few friendly questions unofficially as if he hadn't talked to Americans in quite some time. He told us where he was from and that it was nice seeing us. I had crossed into Canada a few times in my life and this was by far the most pleasant.
We drove about 1/4 mile to a small building where a guard came out and asked us our intentions. He took our passports, and five minutes later, told us we had a long drive ahead of us to Fort McMurray and wished us luck. He also let us use the bathroom. As in singular.
This photo shows the building at Snow Flake.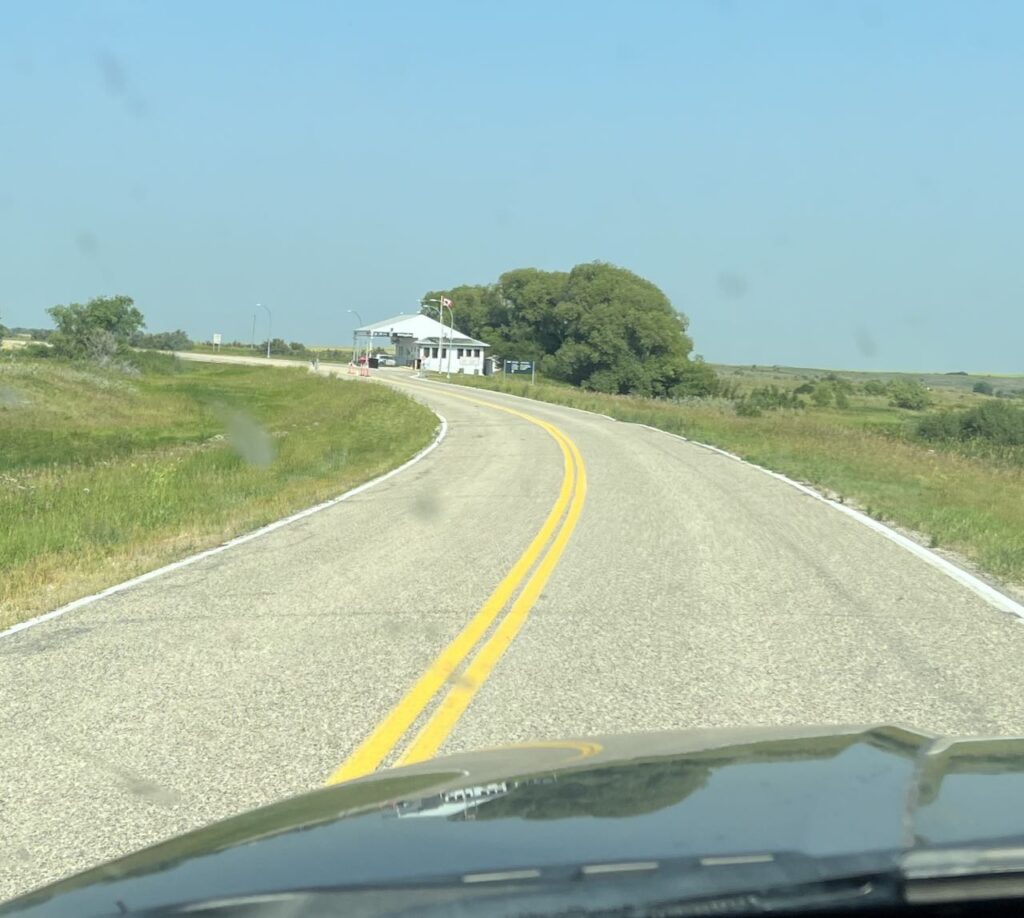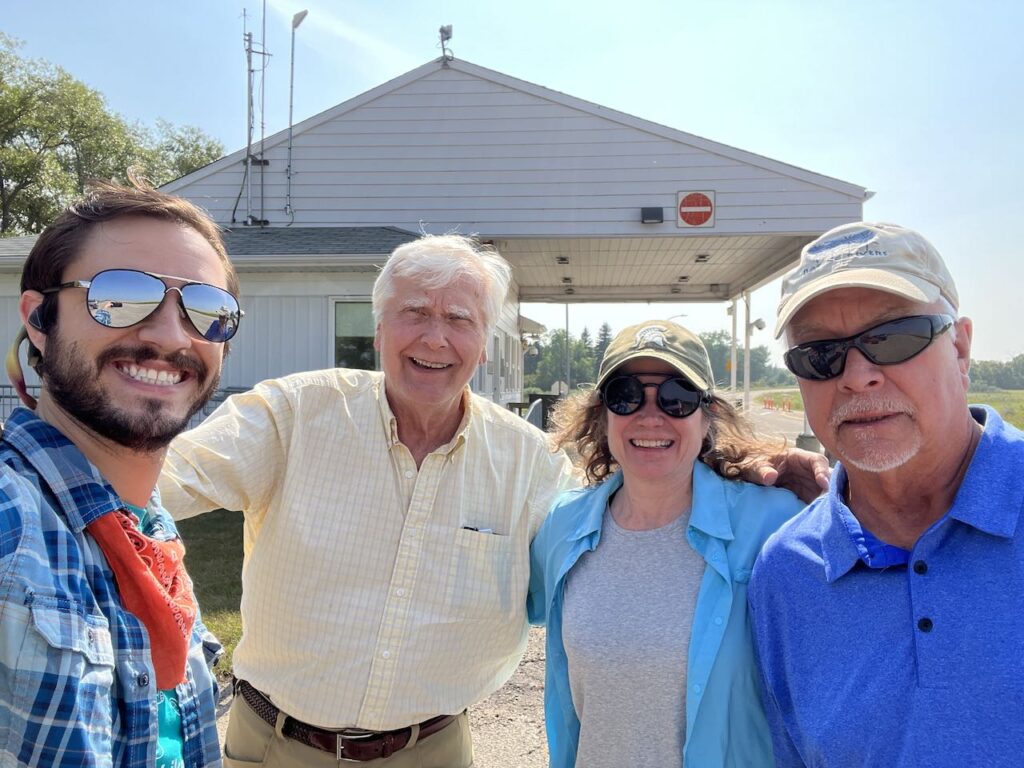 We took a selfie before heading down the road…having no idea the road was going to deteriorate to mimic conditions like the pothole-ridden roads of Michigan.
Less than a mile from the thriving metropolis of Snow Flake, the road deteriorated into a minefield of holes and bumps that I swerved around while Mark took this video. I captured the image of Jack from the video, which showed the feeling of all of us after a long day and a half on the road.
Video link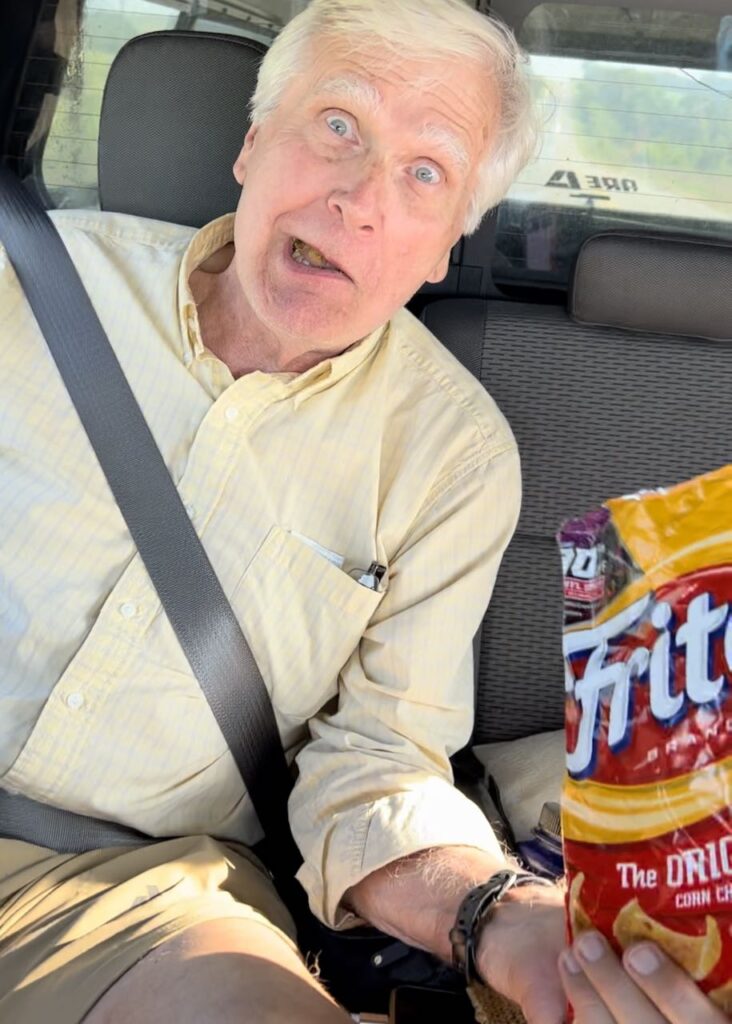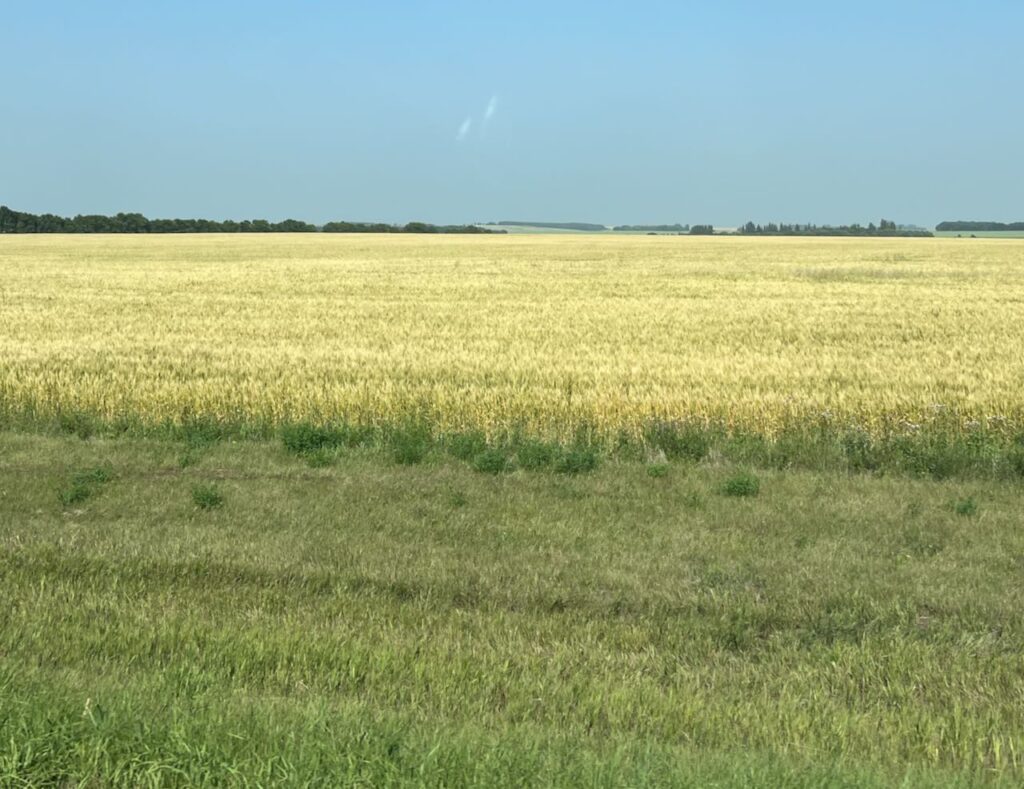 While bouncing around the bumpy two-lane roads, we passed lots and lots of farm fields. Some looked like this. Some fields were wheat, some were canola fields. Some canola fields were yellowish and some were a deep shade of green.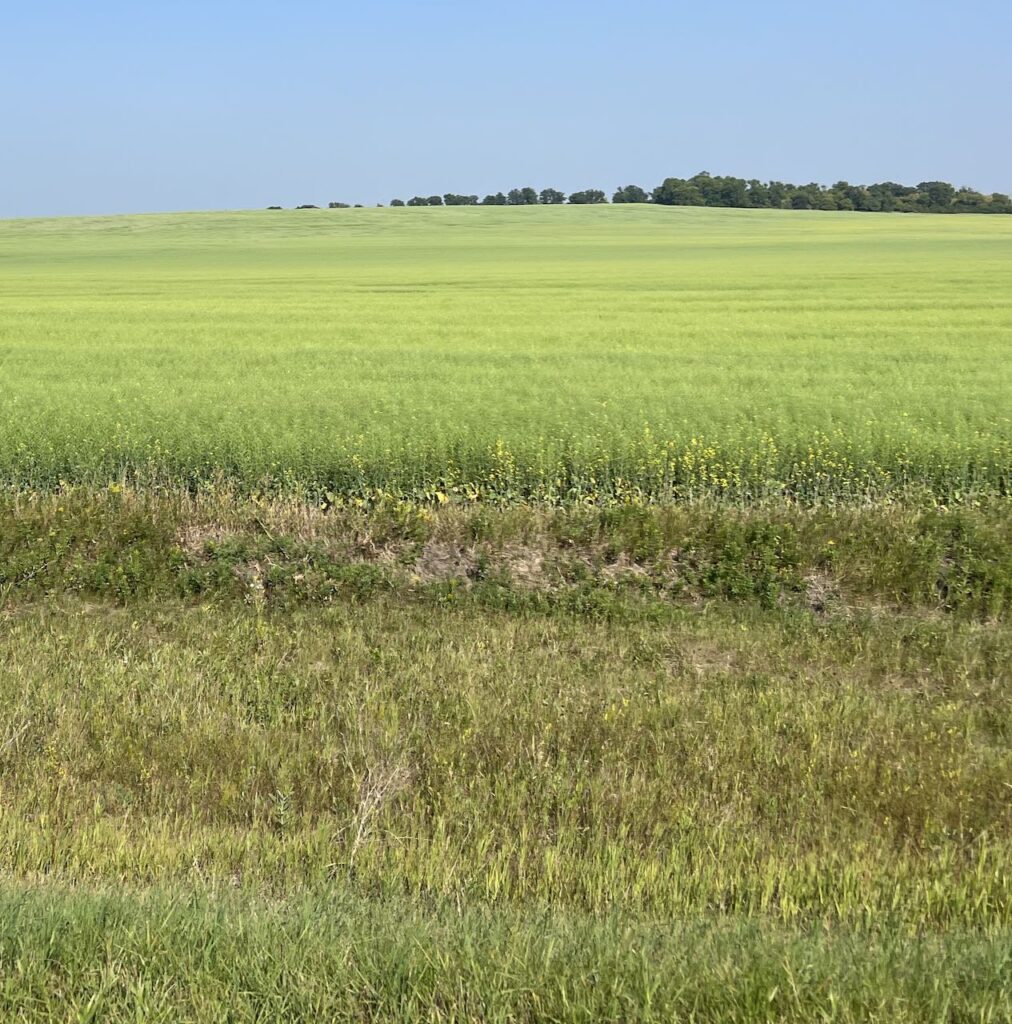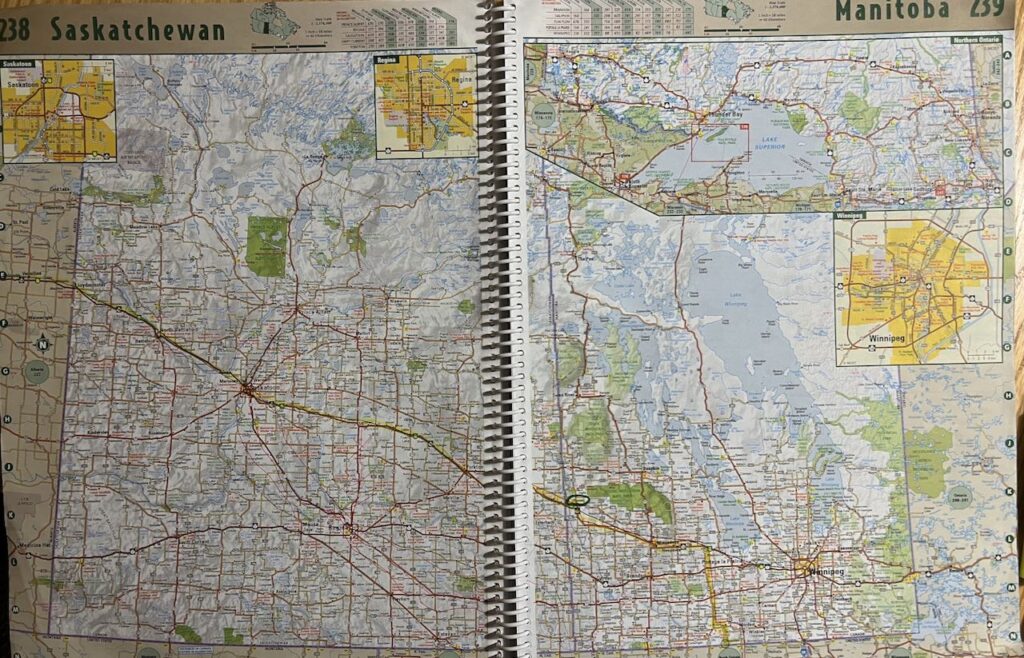 We took 242 north for about 20 miles, and at La Riviere, we turned left onto highway 3 for about 10 miles, then north to 34. About 100 miles later, we turned left at Gladstone onto highway 16, which is a four lane divided highway, the trans-Canada Highway, which Mark would have bet would have had super smooth roads. He'd have lost that bet.
We stayed on highway 16 that until 8 p.m., passing countless acres of farm fields, broken up by a really cool Ukranian church west of Neeawa and Minnedosa that nobody wanted to stop to photograph because we wanted dinner and a bed. Finally, where the road gods revealed a tiny town called Russell that had Spartanesque rooms and a restaurant. While my veggie stirfry was tasty, Jack got a 10% discount on our dinners due to his inability to find fish in his fish tacos. We walked to our rooms in the dim light of evening and I fell fast asleep.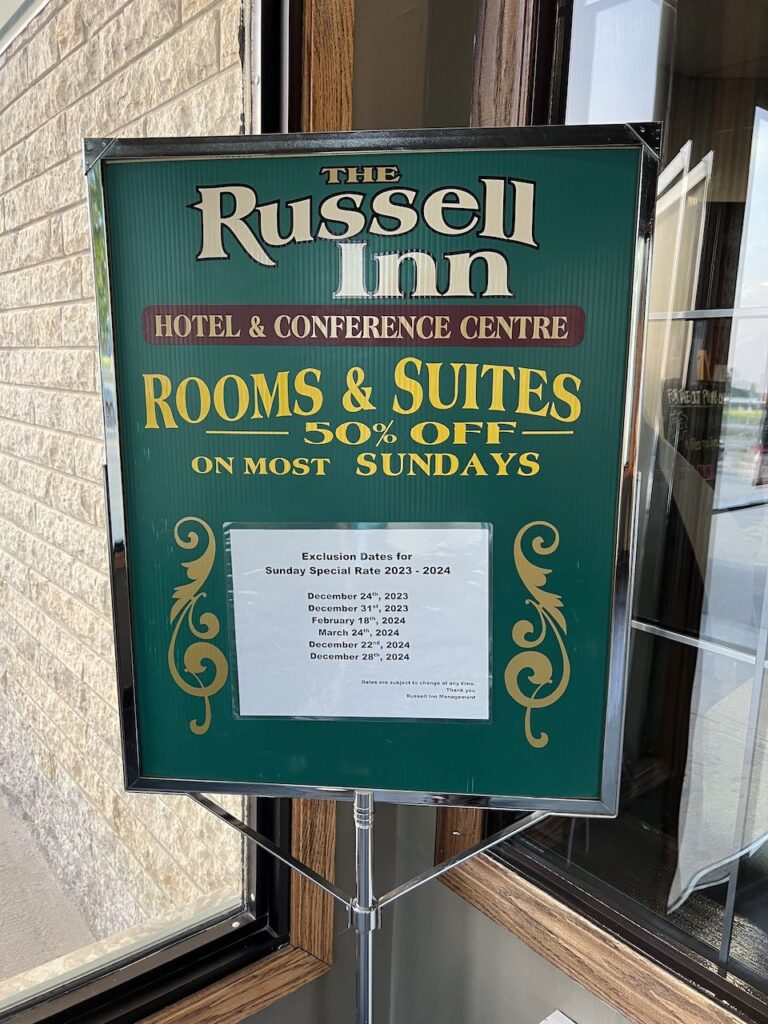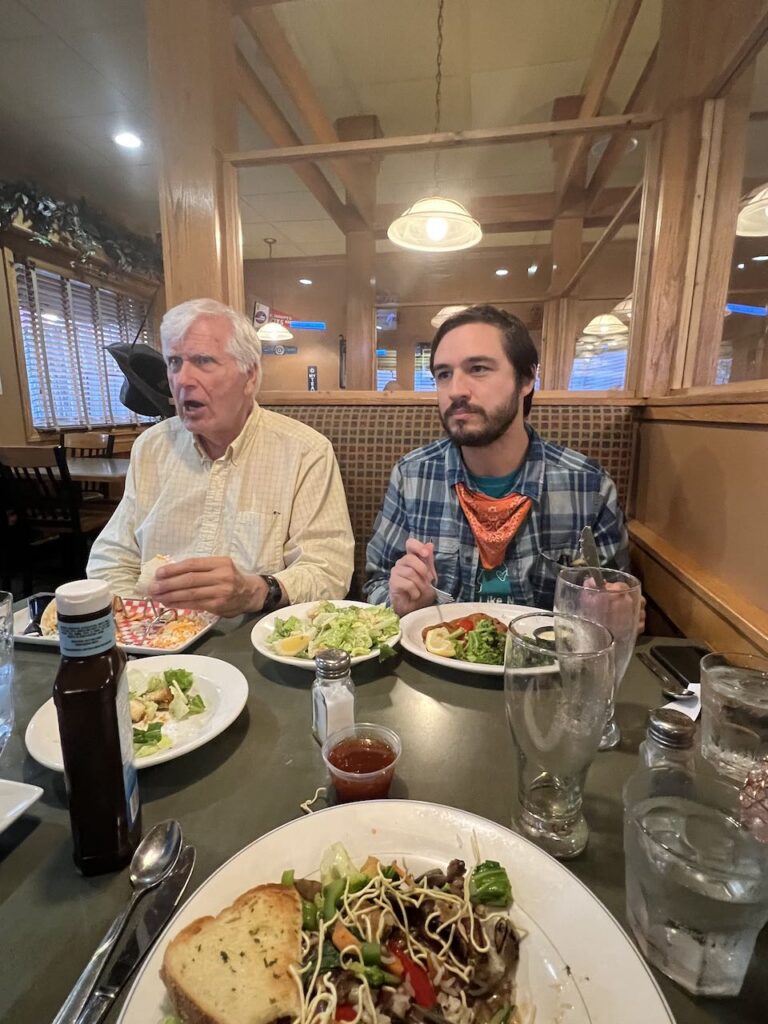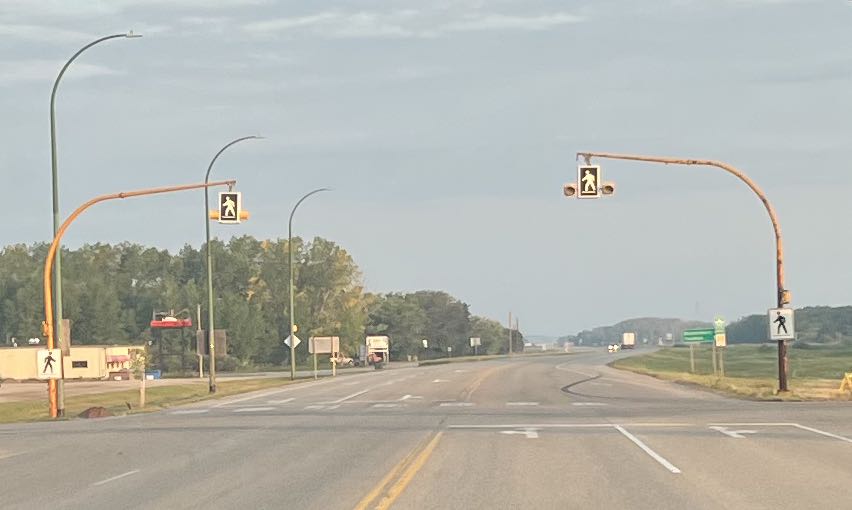 August 4: Russell, Manitoba to Fort McMurray, Alberta. We were up early, got gas at the gas station next to the motel (and cleaned the windshield, which I couldn't see through), got breakfast sandwiches at the Subway next door and were off. By 5:56 a.m. we had reached Churchbridge and I shot this photo through the truck windshield. In the US every pedestrian crossing I've seen only showed guys walked from right to left. This photo shows (bottom left) one guy actually might occasionally walk from left to right.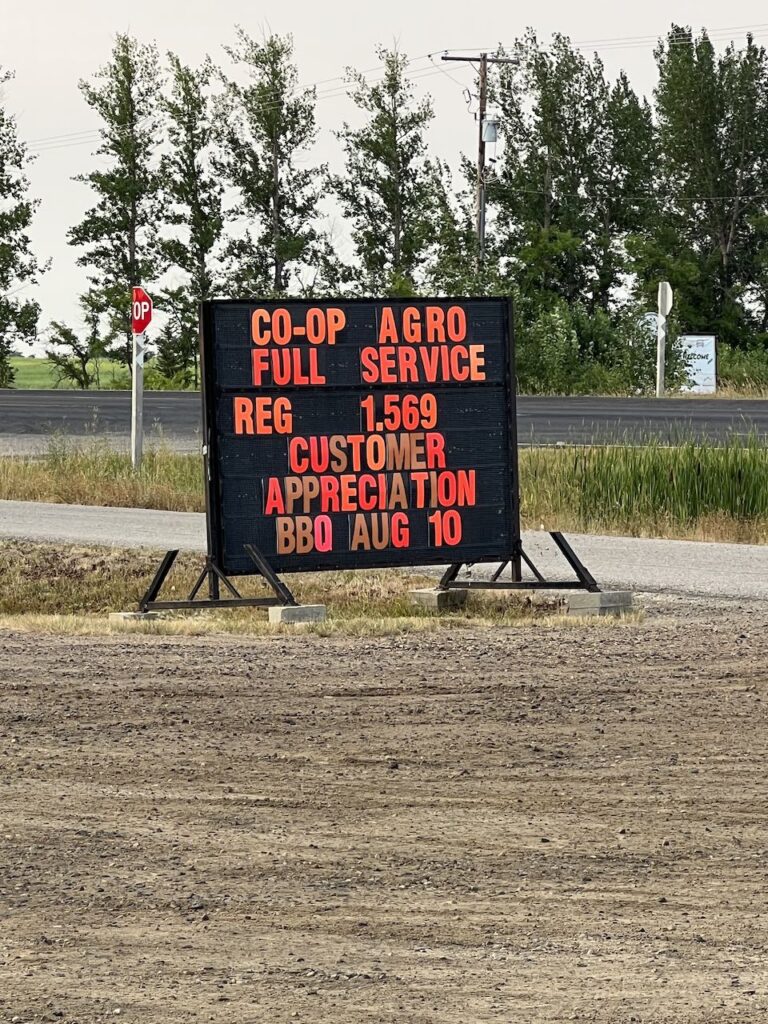 By 7 a.m., one of the members of our party was in need of a restroom, so we pulled into an Agro gas station in Theodore, Saskatchewan. While I waited, I watched a worker putting gas into someone's gas tank. I hadn't seen this in the Lansing area since the mid 2000s. I learned later that in my brother's hometown in NJ, this service still lives on.
In Viscount, about 60 miles east of Saskatoon in the heart of Saskatchewan, we saw in the distance giant piles of potash, which is used primarily in fertilizers. Saskatchewan is the world's largest producer of potash and the sole producer in Canada.
It was about here that we received a call from Cree Lake Lodge saying that the flight we had been told was to be tomorrow early evening was in fact leaving at 7:30 a.m., and could we make it to Fort McMurray by then? Luckily, we had left in plenty of time, the original intent being to get there to unwind for most of a day and sort through and organize numerous boxes of tackle Mark had pulled together. Had we left a day later, we'd had had to drive all night to catch our flight. Phew!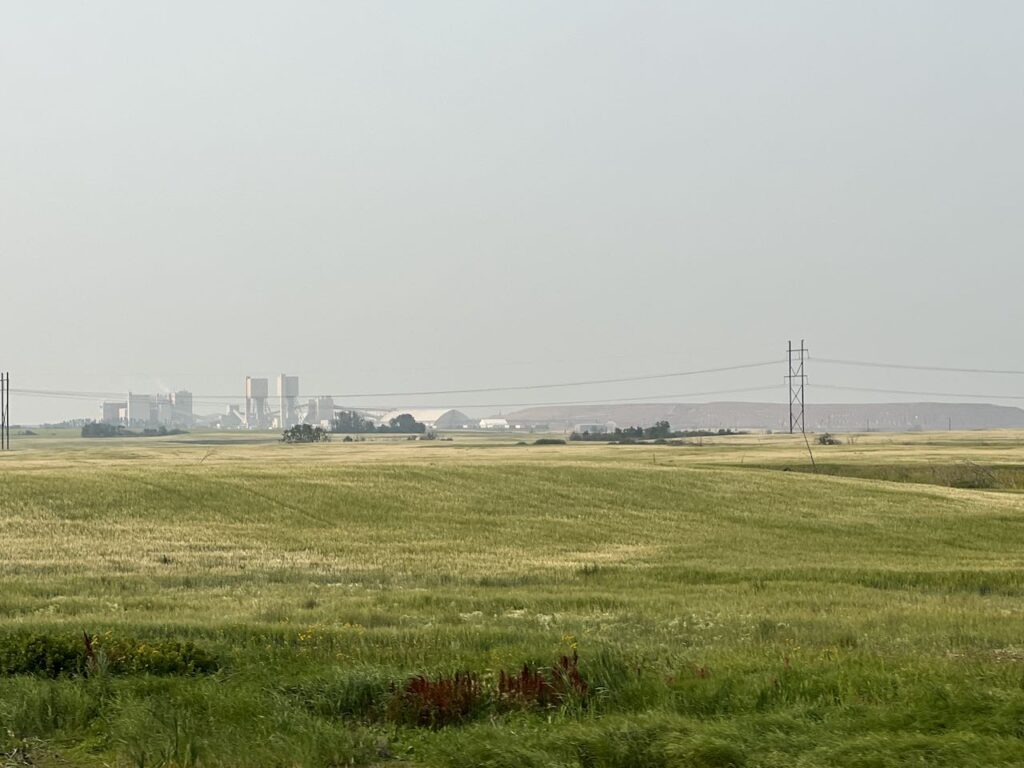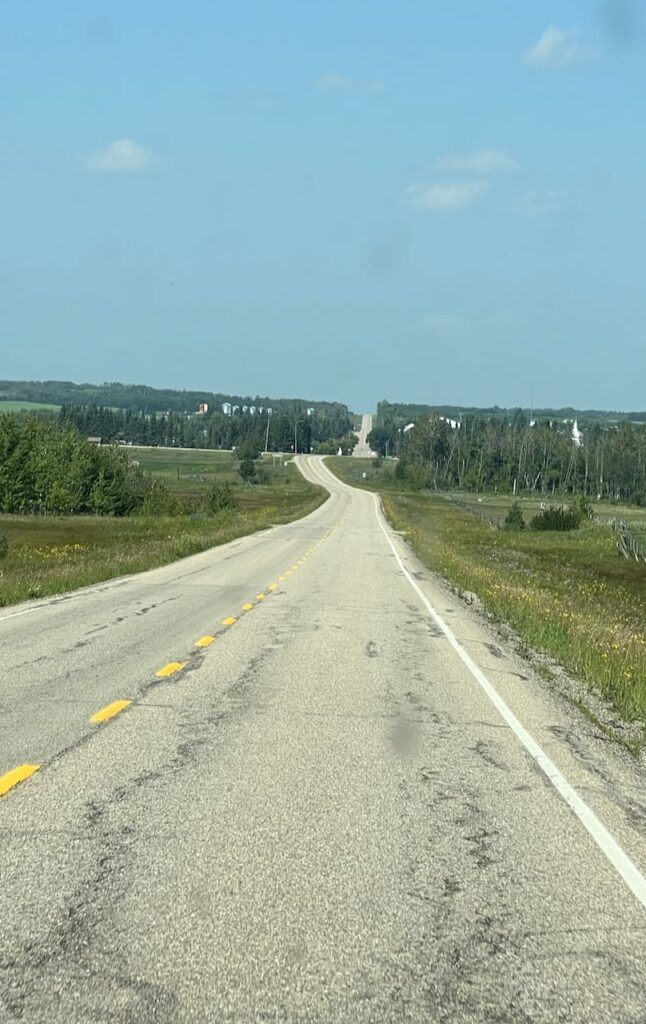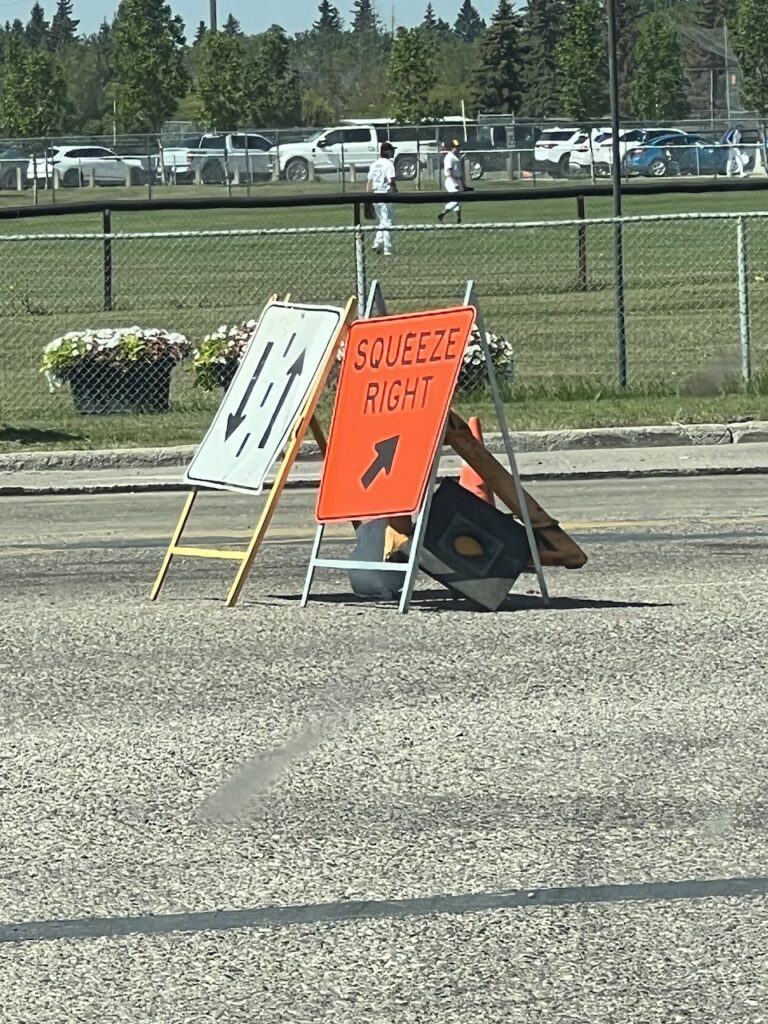 In Lloydminster—on the border of Manitoba and Saskatchewan–we go through a wee bit of construction and I saw a SQEEUZE RIGHT sign, which I'd not seen before. West of Vermillion in Manville, we took 881 to Myrum where we were greeted by rolling hills and a second Ukranian style church, the first of which we didn't stop to photograph. We went west on 45, north on 36, west on 28, north on 36, and at Lac LaBiche, go west onto 55. A few miles later, we turned north onto 63 which we took to Fort McMurray.
We make it to Fort McMurray after many more miles of bumpy roads and arrived in the evening at the Radisson completely fried and wanting desperately to pupate into a different life form as we emerged from the truck. Attached to the Radisson is the Urban Kitchen Table, which had excellent food at 8:00 p.m. I can vouch for the fact that the pasta primavera was yummy, with perfectly cooked veggies and noodles.
It would turn out to be the last vegetarian meal I would have for almost a week.