On day 8 I took the last of my aspirin with breakfast to try to reduce my puffy hands, elbows and feet.  Mark was also out of aspirin.  We weren't concerned, though, because we'd be in Manaus in a few hours and could get some more. If only that had turned out to be true.
We loaded our luggage into our guide's boat and rode a half hour to a wide stretch of river.  The float plane arrived shortly and we were soon loaded up and heading down the river.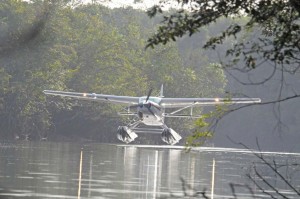 I noticed that the pilot of our plane had braces and looked to be about 20, and then I noticed that he and the co-pilot were both pumping the main controls–the yoke–on the airplane up and down as we headed down the river.  It was as if they were trying to get air under the plane to help get us off the water.  Their efforts created waves, and for a moment we were rocking up and down as we accelerated down the river.  I watched as the yoke went up and down and the airplane bounced up and down and suddenly I felt my butt pucker when we ran out of straight river and the plane seemed to slide sideways as we went around a bend in the river.  My heart lurched in my chest as the pilot pulled up on the yoke . . . and took us over the trees and into the air.  Phew!
A half hour later, we landed on a narrow landing strip in the small, well, not exactly town, of Santa Maria.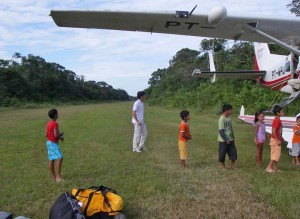 Our camp host, Bibi, had told us that Curt, Bobby and the four French guys were booked on the first plane to Manaus, and Mark and I would be on the next plane to Manaus about an hour later.  We said good-bye to Curt and Bobby and followed two Brazilians down a two-track to an outdoor pavilion of sorts, attached to a couple of apartments.  On the way, we passed a group of black vultures.  Seeing them gave me this really weird feeling.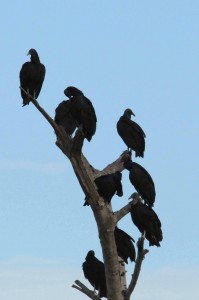 A guy named Andre from River Plate Anglers introduced himself, offered us a seat, and soon we were roasting in the shade and surrounded by school kids who happened to have the day off.  Mark enjoyed showing the kids some of our photos.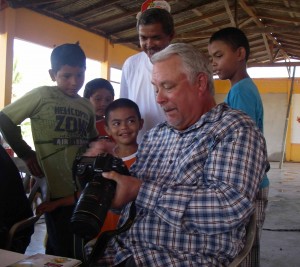 At around 9:30 we were joined by several Russians who had just gotten to Brazil and were not yet used to the heat.  One Russian pulled out a bottle of run and needed a glass to drink it with.  He asked one of the English-speaking Russians to talk to Mark in English, who asked a local person in Portuguese if she would get a glass.  While the one Russian was getting a glass, another Russian kept putting ice cubes on his head, and a  third walked up to us with a DVD to share information about world class salmon fishing in Russia that only costs $25,000.  We politely told him that we could catch big salmon in Michigan and for a lot less money, but thanks.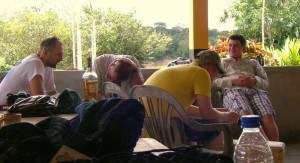 We hadn't been sitting around long before a guy from River Plate Anglers came riding up with a cooler full of water and beer.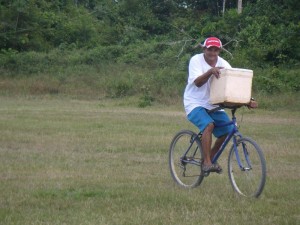 I took a bottle of water and wandered around town to find birds.  In one hour I added a groove-billed ani,  Great kiskadee, and this tropical kingbird to my list of new birds.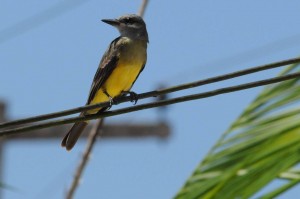 I also had time to see a blue-gray tanager, swallow-tail kite and this bird, a hooked-bill kite.  One of the local guys pointed out the hooked-bill kite way up in a tree and I followed him across someone's yard to see it.  Indeed, the highlight of my day was going off with a stranger and trespassing!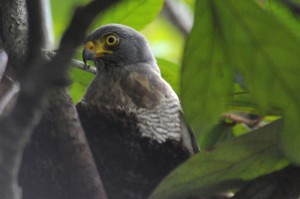 An hour passed and then two, and at first we were told there was "No problemo," but when the pilot of our plane showed up under the pavilion to hang out with us, we knew there was indeed a problemo.  The Russians asked Mark what the trouble was and Mark tried to ask the pilot in Portuguse and relay what he knew–which wasn't anything–back to the Russians.  The morning faded into early afternoon, and the local people cooked up a fish and rice for us for lunch.  One of the women also loaned me the key to a tiny apartment so I could a bathroom where flushing the toilet resulted in a small frog doing a lap around the bowl.  The men, meanwhile, wandered off down the road somewhere whenever Nature called.
It was noon at this point, and there was no way we'd catch our flight from Manaus to Miami. But that was okay, there was a later flight out of Manaus to Miami at 11:55 p.m.   Surely we'd catch that plane.  And no worries, we had plenty of water.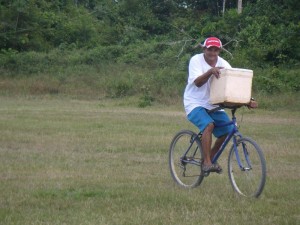 By about 1:15, we were told our plane had arrived, so we wandered back to the landing field.  Sure enough, our plane was there, but we had to wait for the rest of the passengers.  Only three of the 9  passengers we were waiting for had arrived.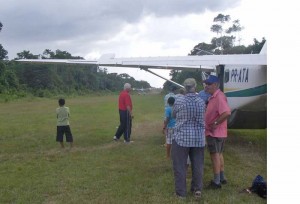 One of the three passengers told us that the plane that dropped us off at the air field that morning–the plane flown by the 21-year-old–had flown off to another camp to pick up 9 guys from California, and upon taking off, didn't quite clear the trees and trimmed a 4-foot chunk off one of the wings.  Here's what that might have looked like.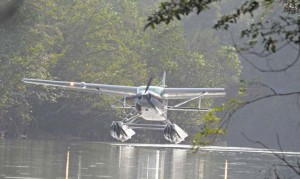 Nobody was hurt when the wing got trimmed, but the 21-year-old pilot wisely called in a new plane and new pilots and those pilots were taking the Americans off the river in batches of 3.  With only three of the 9 guys present, that meant we got to spend another 1.5 hours standing on the landing field waiting for the other plane to arrive two more times.  My puffy feet and ankles did not appreciate this too much, but it was really okay because we had an endless supply of water, thanks to this guy.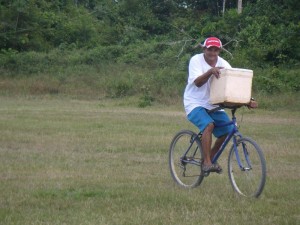 And I  discovered that if I walked down the road 1/4 mile, I could take a leak just about anywhere.
At 3:30 we finally got onto our airplane with all 9 of the Californians.   Andre had arranged for me to be co-pilot which was nifty until I realized that on our other flights, there was always a real co-pilot.  I knew nothing about flying, which caused me to sweat even more.  And speaking of sweating, the pilot's nose was dripping beads of sweat like a leaky faucet as he went through his checklist and got the plane turned around.  I watched everything he did, and took mental notes as he turned around, checked his checklist again, punched this button, adjusted that, pushed up on the yoke and got us into the air. 
I continued to pay attention to everything the pilot did and after about a half hour I noticed that he was filling out his log and other paperwork!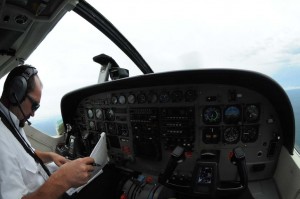 To his credit, the pilot was mostly attentive to what was going on, kept the plane level, talked to his pals on the radio now, used his checklist before he landed and got us safely into Manuas around 5:30.  There, we were met by John who guided us to a van and told us he had secured tickets for us on the 11:55 p.m. flight.  We headed by van to the Tropical Manaus motel but soon came to a complete standstill because of the Brazilian festival.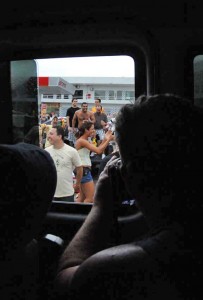 We sat for 20 minutes going nowhere before we turned around in the 3-lane street and drove another, longer way to the motel.  It was 7 p.m. when we checked in, meaning the usual 25-minute ride from the airport to motel had taken 1.5 hours.  We showered, ate a burger and fries with a few of the guys who'd been in the damaged plane, and met John at 10:00 p.m. for the ride back to the airport.  There, Curt gave me a dozen more aspirin.  So, let's take a moment to summarize:  during this trip two guys from Texas we'd never met before had given us Imodium, duct tape, fishing lures, aspirin, and $500, and they'd escorted us back to our cabin several nights because we seldom remembered to bring our flashlights to dinner.  Those are great people.
As Curt and Bobby headed to the line with the other lucky people who had airplane tickets, John, Mark and I went to the American Airlines line to learn that we did not have tickets after all.  Then we were told the plane was full.  A half hour went by and Curt came back from the gate just to say good-bye.  His plane–which Bobby was also on–left at 11:55 p.m.. 
The American Airlines counter closed at 11 p.m., so we stood in line at TAM to try to get plane tickets on TAM, to no avail.  We returned to the motel at 2 a.m. empty handed and checked into another room . . . with two twin beds.  John wrote his name and phone number on a piece of paper and suggested we call him in the morning.  The name he wrote down: Dion.  Not John.  In fact, Dion is his real name, he just never corrected us because he's just that kind of guy.
Mark and I woke at 7:30 the next morning, had breakfast and called Dion.  He was back in line at the airport trying to get us tickets but had nothing just yet.  He called back an hour later and said we were on the 11:55 p.m. flight.  That meant Mark and I had to suffer the day at the motel, walking the grounds taking photos, and swimming in the pool.  I looked classy with my bathing suit top, zip-off shorts, and two pieces of black duct tape on my puffy, blistered feet.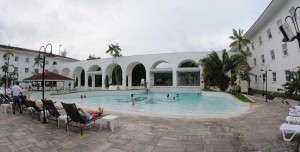 Admittedly, though, the hardest part of the day was deciding exactly how many tiny desserts to have for dinner.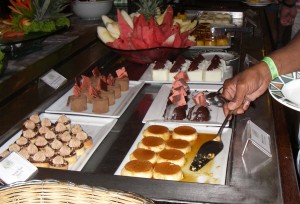 Our room and meals were courtesy of River Plate Anglers, and for that we are very grateful. 
At 10 p.m. we met Dion in the lobby, rode back to the airport, and got on the 11:55 p.m. flight.  Mark and I arrived in Miami at 5:35 in the morning on some day.  We were so unsure what day it was, we had to check our passports.  It was Monday, February 11, one full day behind schedule.  We had an 11:35 a.m. flight to Detroit and were back in Lansing by 5 p.m.  After I made a few phone calls–includng one to my boss to ask for another day off–I wrote an email to Curt and Bobby:
 Still stuck in Manaus.  Could use some more Band-Aids, duct tape, aspirin, Imodium, and cash if it's not too much bother?  Oh, and a flashlight we might actually use? 
Seriously, Mark and I got home about an hour ago.  We wanted to tell you how much you guys made our trip and how much we appreciate everything you did for us. Thank you for keeping us afloat in so many ways. 
We hope you guys had a good trip home. We'll follow-up when I get some of my photos online.
Amy
We exchanged a few emails with Curt and Bobby and in one Curt said that the flight we didn't get tickets for–the flight he and Bobby were on–had a few empty seats.  Go figure.
Within days of our return, Mark had a fishing pole ordered to replace the one I broke on the river.  Within a week the first of many lures like the ones the French guys used showed up in our mail box.  Within 10 days the puffiness in my hands, elbow and feet were gone.  Within three weeks Mark was recovered from a cold he picked up on the airplane ride home.  And within a year we are hopeful we will get to return to the Amazon to tangle with peacock bass once again, because it was an amazing experience. 
Of course, Mark is seeking a new fishing partner now because I've caught bigger fish than him 2 of the last 3 trips.  Poor thing.