Day 8 started out sunny and clear, which made for a hot day on the river.  I took covering up to a new level.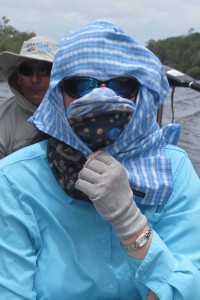 After a good breakfast with two aspirin on the side for my puffy hands and feet, we went upstream and started fishing.  Prato pointed to a tight spot between two logs and I cast the red and black ripper lure in that direction.  We were in a 25-foot wide stretch of water and the fish hit like a freight train.  The fish headed right for a log and suddenly stopped moving.  Prato moved the boat closer to the log, and, oddly, the line wiggled.  It felt to me like the fish was on the line.  Prato put on his scuba mask, took the Bogagrip in his hand, slid into the water, and dove down.  He came back up for another breath, went back down and came back up with the fish secured in the Bogagrip and the lure still attached to the fish.  I was in such awe I took a lousy photo.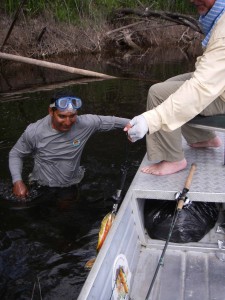 Prato got back into the boat, used the trolling motor to take us to a nearby sandbar and we all got into the water to get the fish off the hook.  Mark said it was an old fish–its rear fin was all chewed up.  I was quite happy to put the old, 12-pounder back in the water.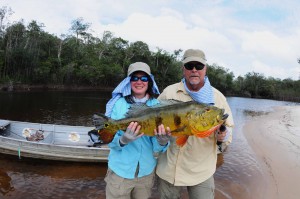 Just before lunch, we watched a big peacock chasing smaller fish near the bank of the river.  Mark and I both tossed our lures in the big fish's general direction at the same time, about 10 feet apart.  The fish struck at Mark's lure–which was the blue and white lure I'd been using the last few days–but the fish didn't bite and left Mark with a tangled mess of lure and line.  So I cast again and Wham! the fish hit my lure.  I set the hook and heard Snap! as the special peacock bass rod Mark bought me for Christmas broke a few inches above the handle.  I kept on reeling anyway, holding the stub of a rod in one hand and watching with intrigue as the rest of the rod floated on the surface of the water while the fish got closer and closer.  Prato took the boat to shore and I pulled in an 8-pound fish.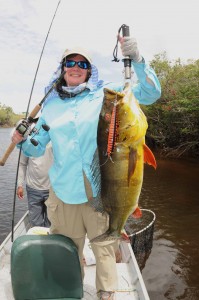 The afternoon was really hot and we drank more bottled water than on any other day.  We returned to camp, reported the day's catch–20 peacock bass–to Bibi.  As we cooled off in the air conditioned dining cabin Bibi asked us to fill out a form that verified to the Brazilian government that we really existed and that Bibi hadn't been feeding Martians all week.  Bibi also gave us a survey and two envelopes for tips, one for the guide and one for the camp staff. 
And that's when Mark and I both went "uh oh."
As we headed back to our cabin, Mark said that he knew about needing to give Prato a $400 tip but did not realize we needed $400 for the camp staff.  We searched our luggage thinking perhaps we'd tucked money away in something for a case like this (indeed, Mark had done that before), but came up empty.  I did a final look in my purse, and for some reason I had my checkbook.  Mark went off to find Curt to see if he had any extra cash and if he'd take a check in exchange for some cash.  Curt showed up moments later with $500 in cash.  I wrote a check to Curt and thanked him profusely.
After getting our cash tips together, Mark and I created a special box of fishing lures, and took it, Mark's Rapala pliers, Mark's Kevlar glove, and the gloves I'd borrowed from Prato and gave them all to Prato.  Mark said something really nice to Prato in Portuguese, because in response Prato looked shy-like and embarrassed.  Prato shook Mark's hand and then hugged him.  Then Prato hugged me. 
Afterwards, Bibi took photos of everyone. In the photo below, I'm crouched down by the four guys from France.  In the back is Mark, one of the guides, Prato, another guide, three camp staff and another guide.  Kurt is in the orange shirt at top;  Bobby is to his right.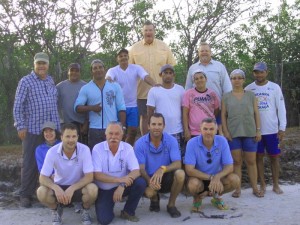 Dinner consisted of shish-ka-bobs on an open fire with rice and veggies on the side.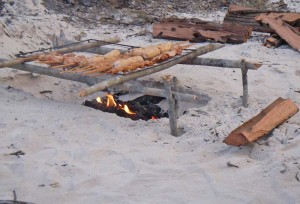 After dinner, we finished packing, something we had mixed feelings about doing.  Physically, I couldn't look any better to apply for an old folks' home.  Mentally, though, I hadn't thought about anything but fishing while we were here.  That intensity, having a few good photos of peacock bass and having been guided by, served by, catered to and bailed out by so many nice people exceeded any expectations I might have had for this trip. 
And unbeknownst to us, the Texans and Brazilians were not done helping us on this trip.