Monday, August 7, 2023. We awoke to temperatures so cold that I ended up wearing 8 layers of clothes a looked like the Michelin Man. The sky was gray and remained gray all day, though we did see the sun peak out once in a while.
This photo is dark and unaltered, giving a real sense for what we were facing. And yes, to add to the fun, it was raining and visibility was not so good either.
Jack and I fished together, and Mark and Arthur fished together.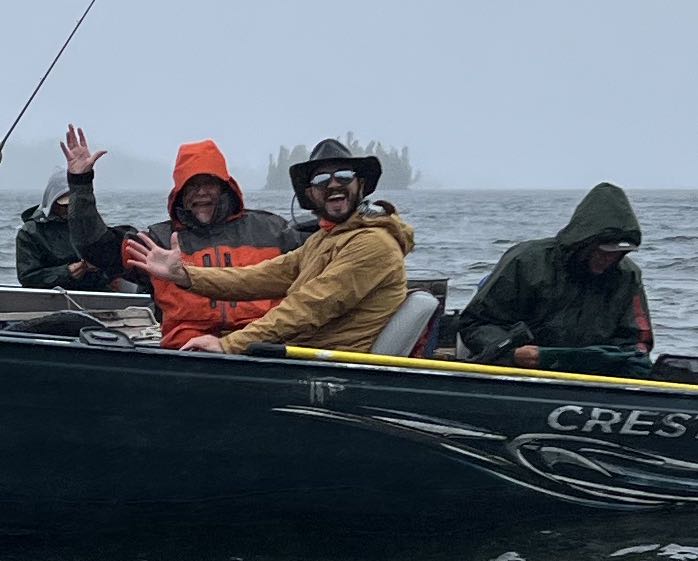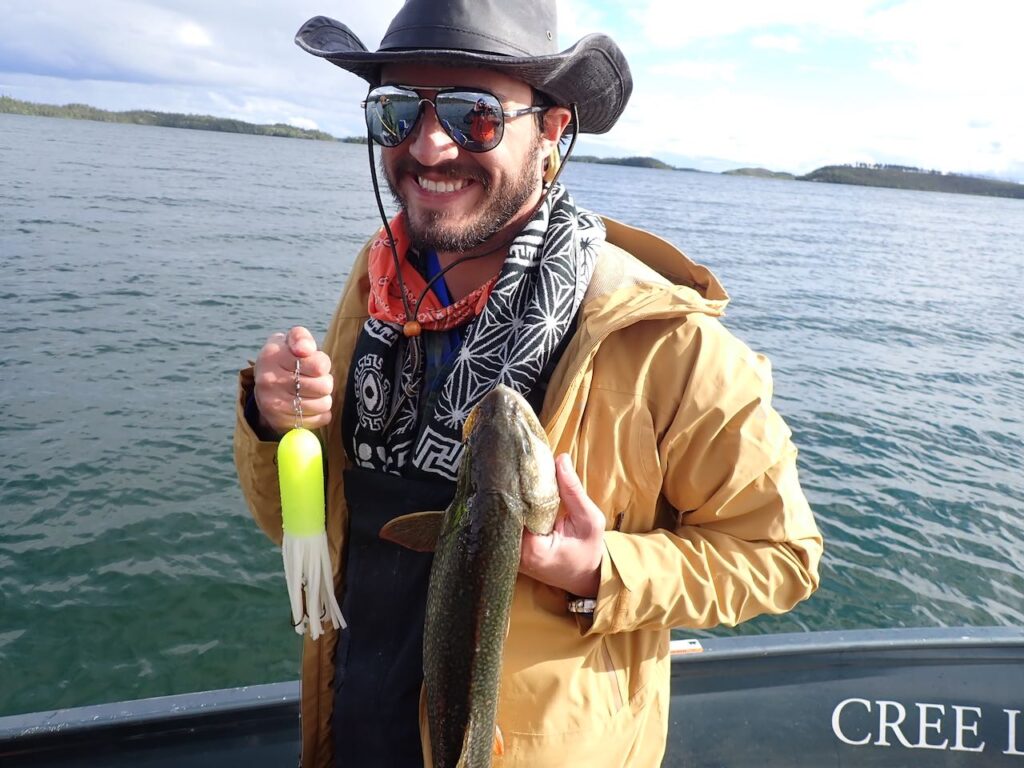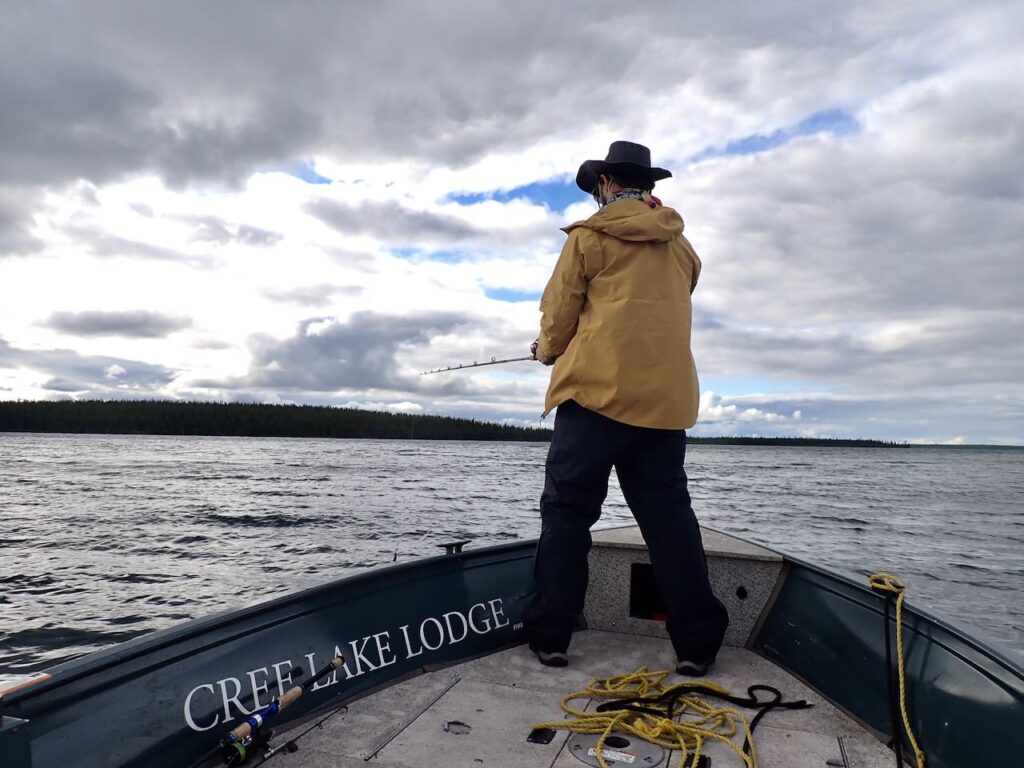 By 7:12 a.m. Arthur had caught a small lake trout using this lure–a giant lake trout tube–which he trolled behind the boat. He had a knack for using tubes on this trip, and on a previous trip to northern Nunavut.
Jack and I got off to a slow start, but shortly after 9:00 I caught this beautiful lake trout trolling a chartreuse spoon. Aedan, our guide, was perhaps thinking we were into the fish and was about to release this fish. I asked him to take a photo, because I wasn't yet convinced. We did not measure this fish.
It turned out to be a good thing that Aedan shot this photo, because for our team of four, no other lake trout on this trip would be bigger than this one. Well, at least we didn't think anyone caught one bigger than this. See, Jack did not like to measure his fish or photograph them. He liked them released next to the boat. But even by eyeballing his by the boat–and absent any actual proof via a photo–I declared victory for the largest lake trout of the trip. For our group of four. Other anglers at the lodge caught much bigger lakers.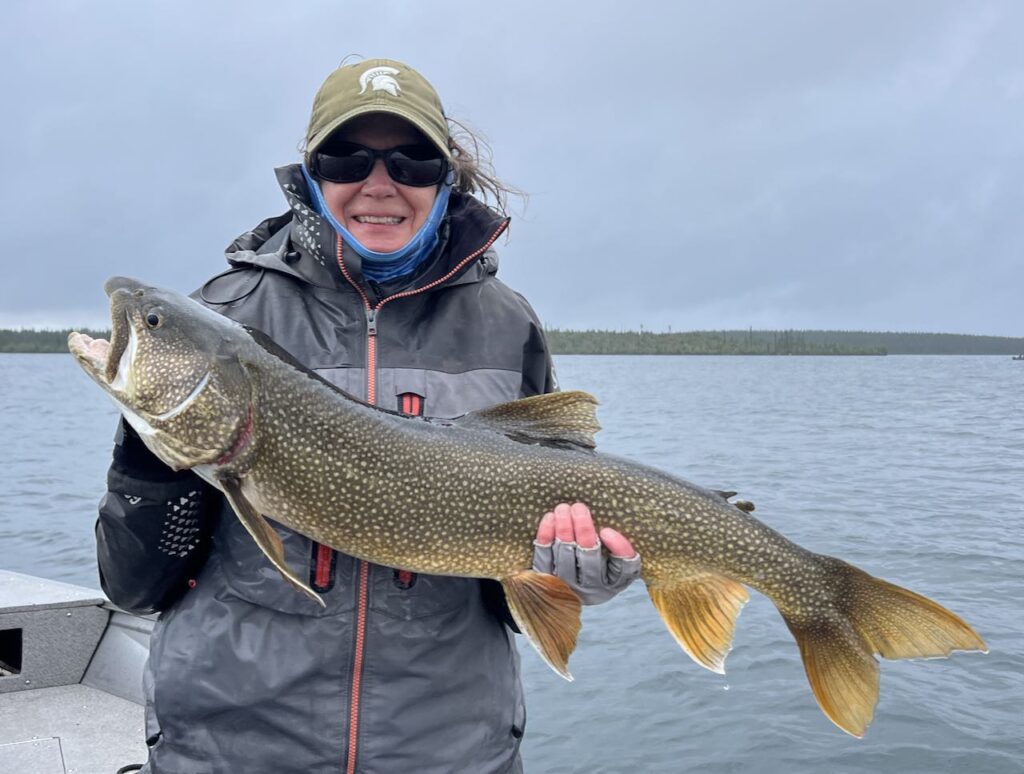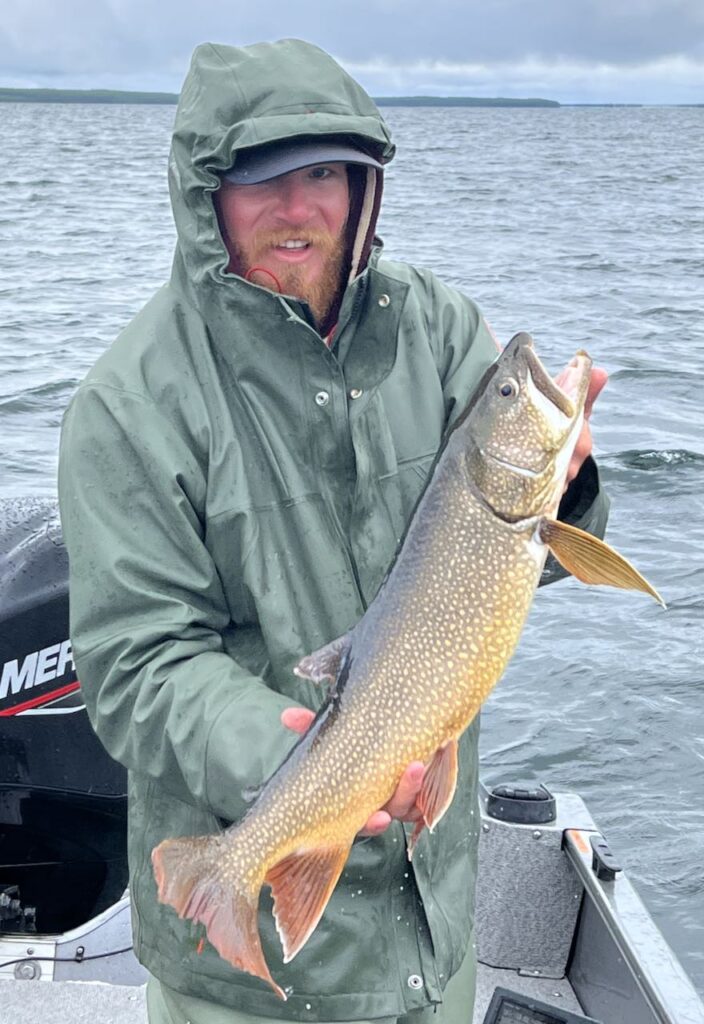 This was a fish Jack caught using a yellow spoon with an orange stripe down the middle.
For those who might venture to Cree Lake Lodge, I will share that I noticed that Aedan's tackle box had nothing but flatfish in it, mostly green, orange, and silver, with various stripes, spots, etc. Even inspired by his tackle box (which we weren't allowed to use without paying the lodge for renting equipment), we caught nothing but puny fish all afternoon.
While the lake trout fishing wasn't fantastic, we were grateful to Aedan for taking this photo of Jack and me fishing together. We had a good time in spite of the chilly weather and slow fishing.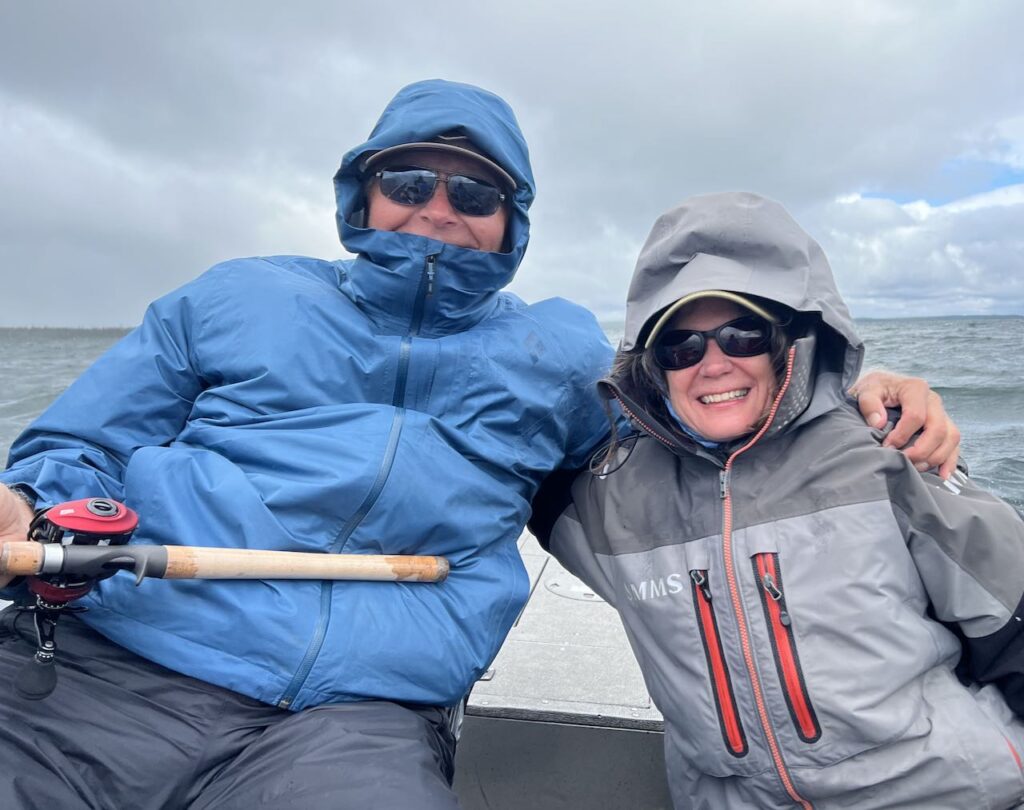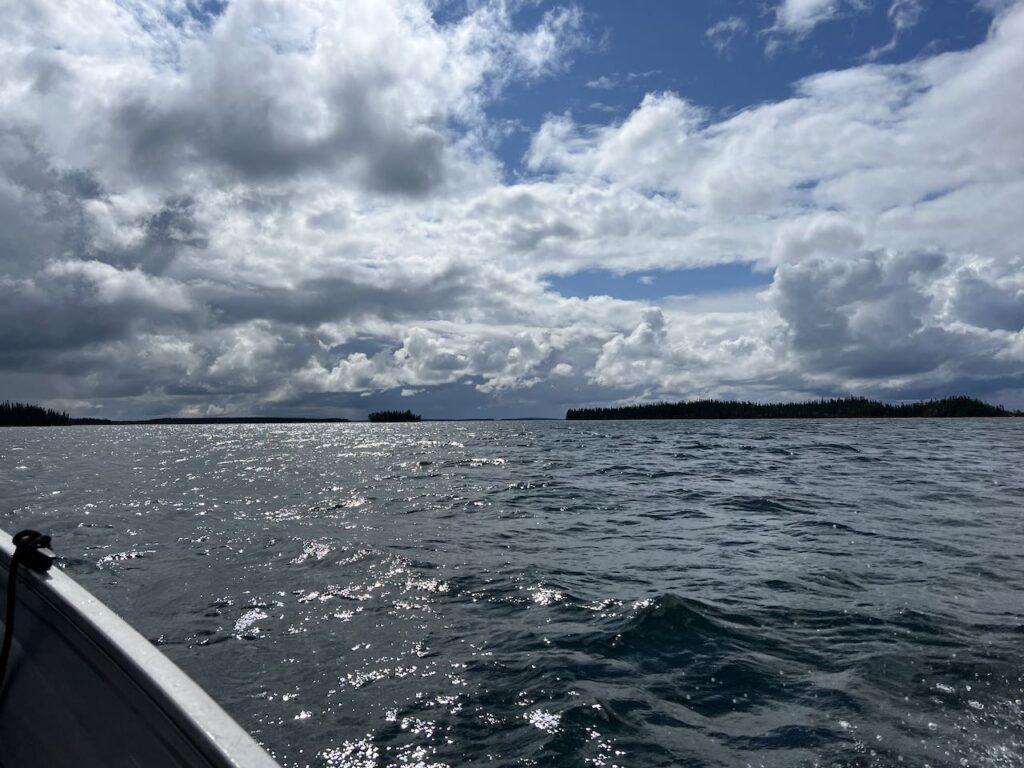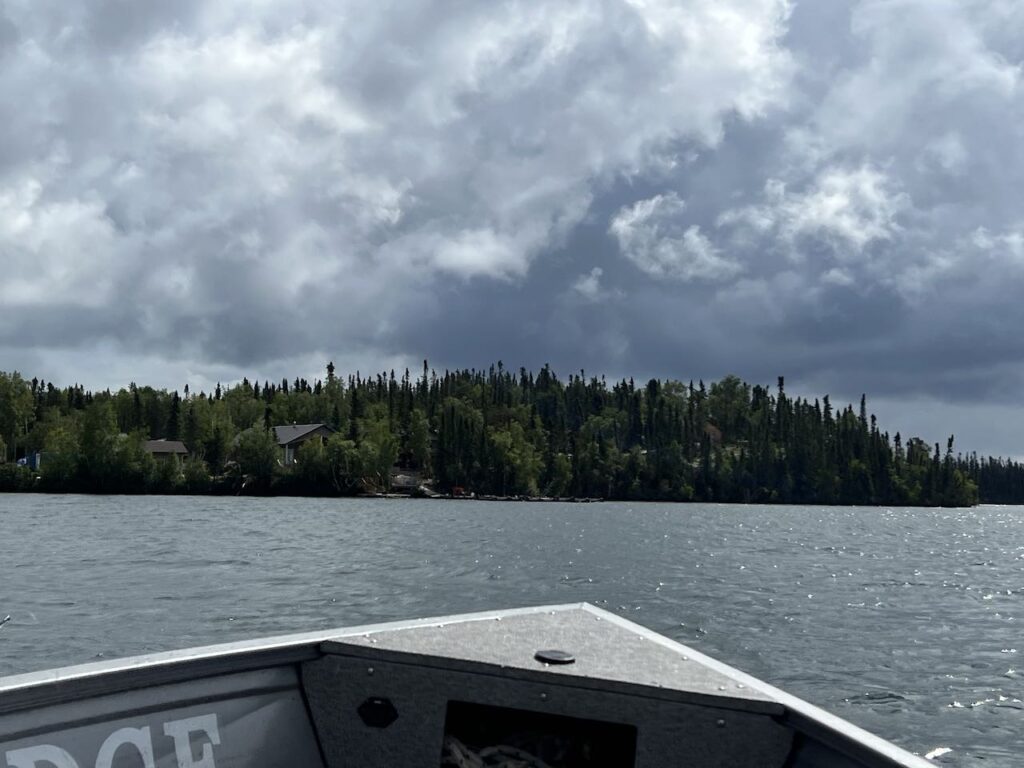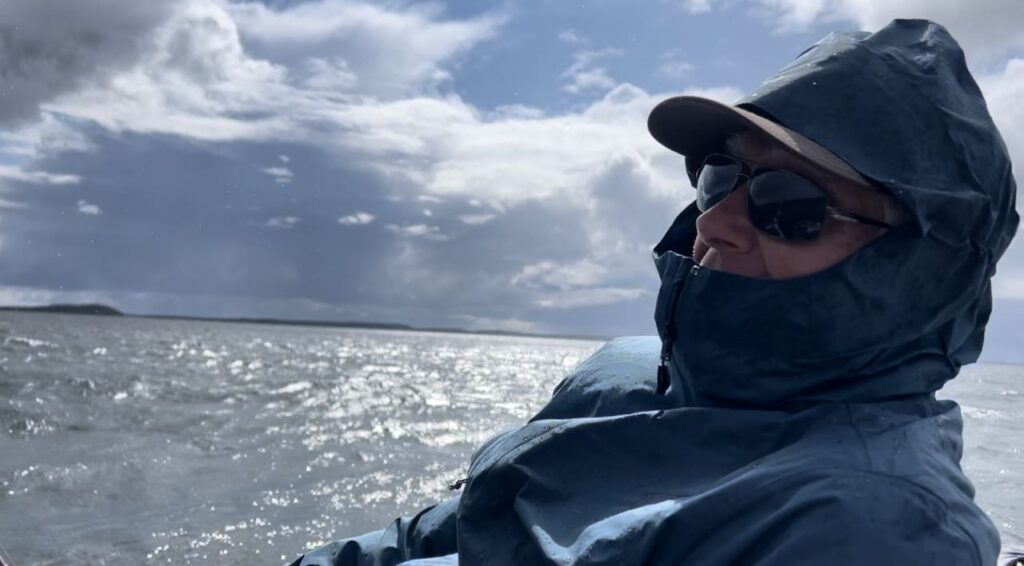 Trolling in choppy weather is fun, especially if you've had a lot to eat or drink, or if have a bad back. This video gives a sense for what it was like trolling in choppy water. https://youtu.be/TSf7HHcv6Ag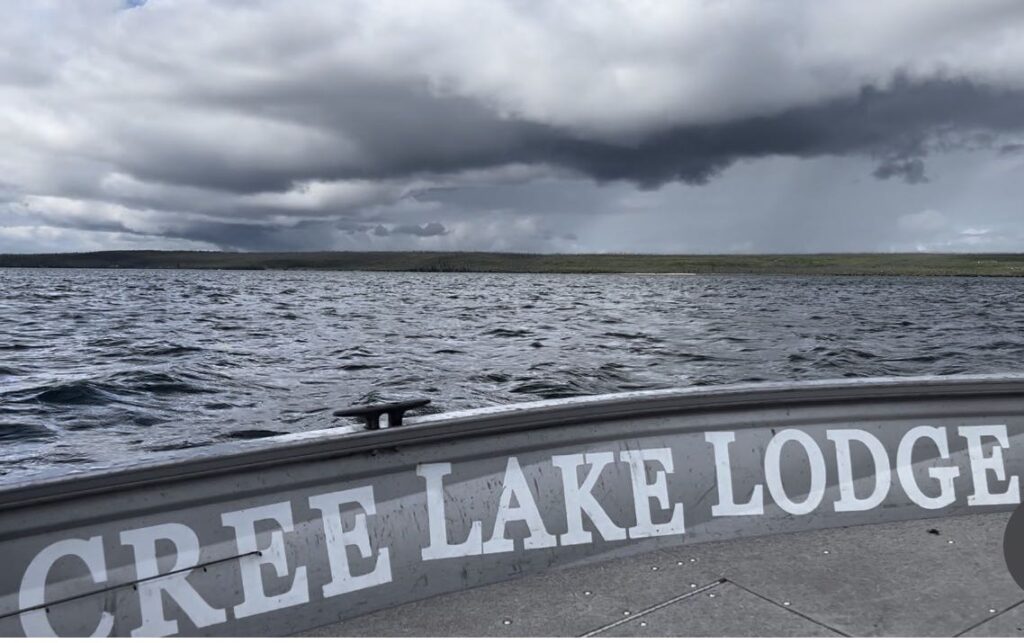 This video gives you an idea what it was like heading back to the lodge for lunch in choppy waters. https://youtu.be/ert3-asDP_o
We opted to have our bagged lunch back at the lodge for several reasons: 1) Aedan said he was chilled and could use more layers; 2) the lodge offered us soup and hot chocolate in addition to letting us eat inside; and 3) I got to use a real bathroom instead of the woods. It was a nice break.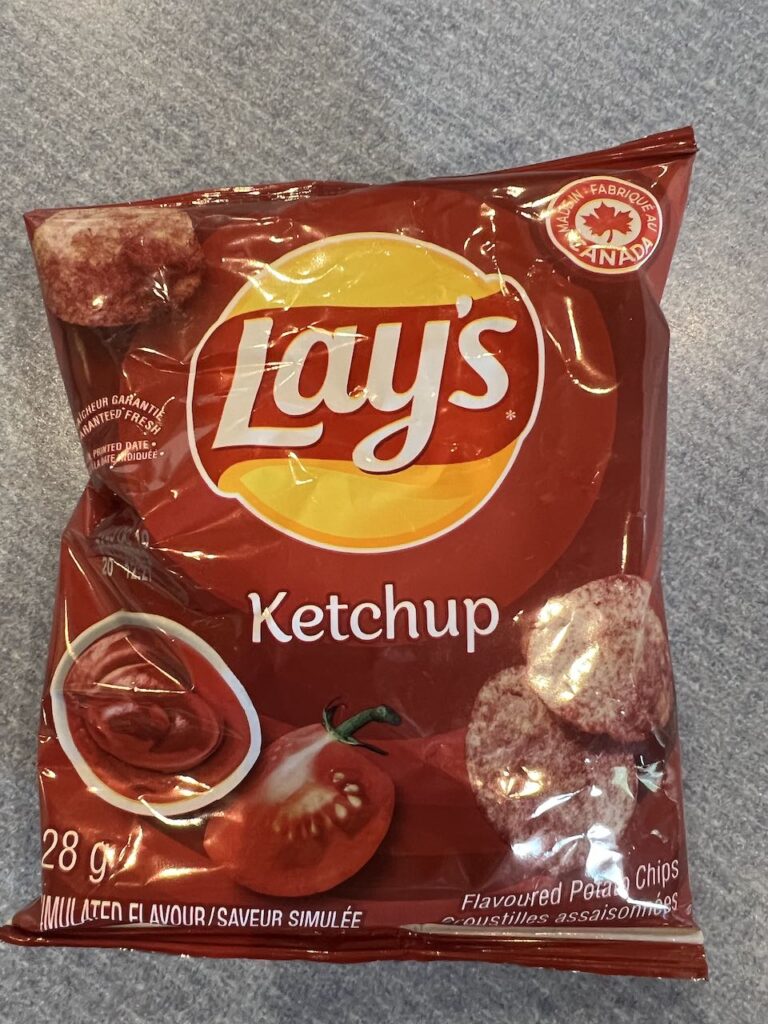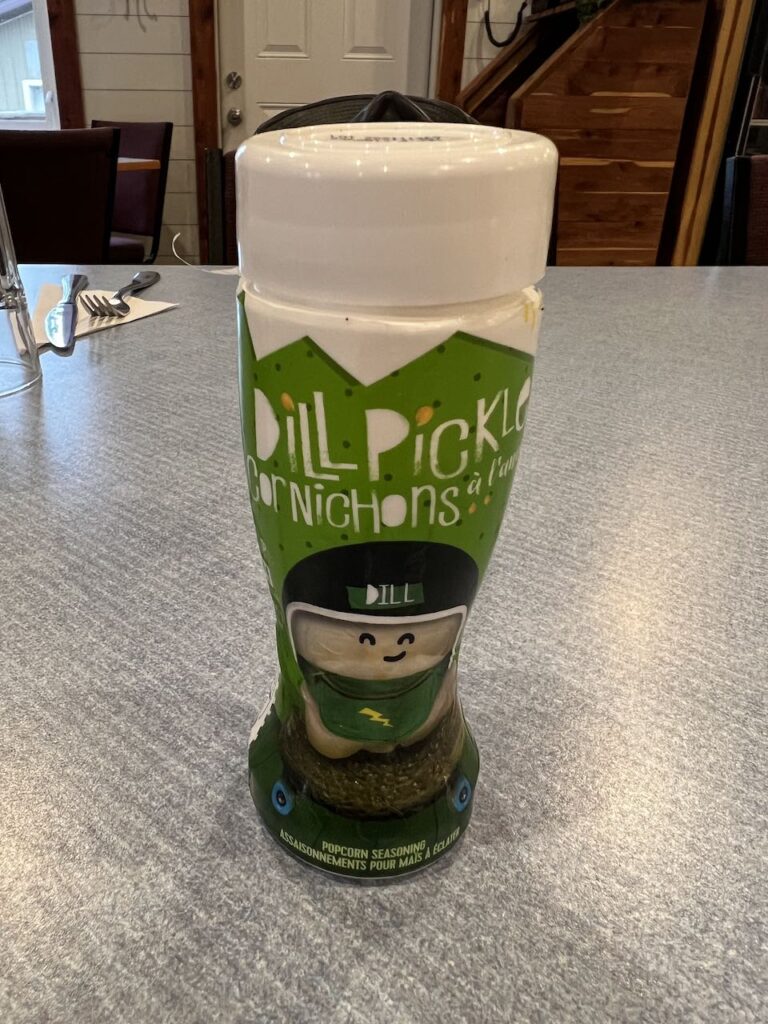 Part of what's fun about traveling is stumbling upon foods that the natives eat, which in Canada is ketchup potato chips and dill pickle popcorn flavoring. I like the packaging of the popcorn flavoring, but wasn't a fan of either flavor.
As I was sipping soup and eating my bagged lunch, the five-year-old son of the co-owner came and told me there was a porcupine in a tree near cabin #6…which was my cabin! I had seen two porcupines in my entire life and they'd both been on the move. So I thanked the kiddo, walked to my cabin, and sure enough, there was this porcupine sitting in pine tree right outside my cabin. I raised my zoom lens and shot away. And as I did so, the porcupine sat up with its little front feet in front of it, as if posing for me. I was in love.
I also shot this video of the porcupine looking down at me and sniffing the air: https://youtube.com/shorts/CdYSDQTgX2
I took several photos and hung out with the young boy and his younger sister. They told me they liked the porcupine but that it made it hard to have three dogs around. I told them I agreed and that I loved both the dogs and the porcupine.
As I walked back to the dock, I hoped the porcupine wouldn't get "relocated' due to the dogs while I was gone.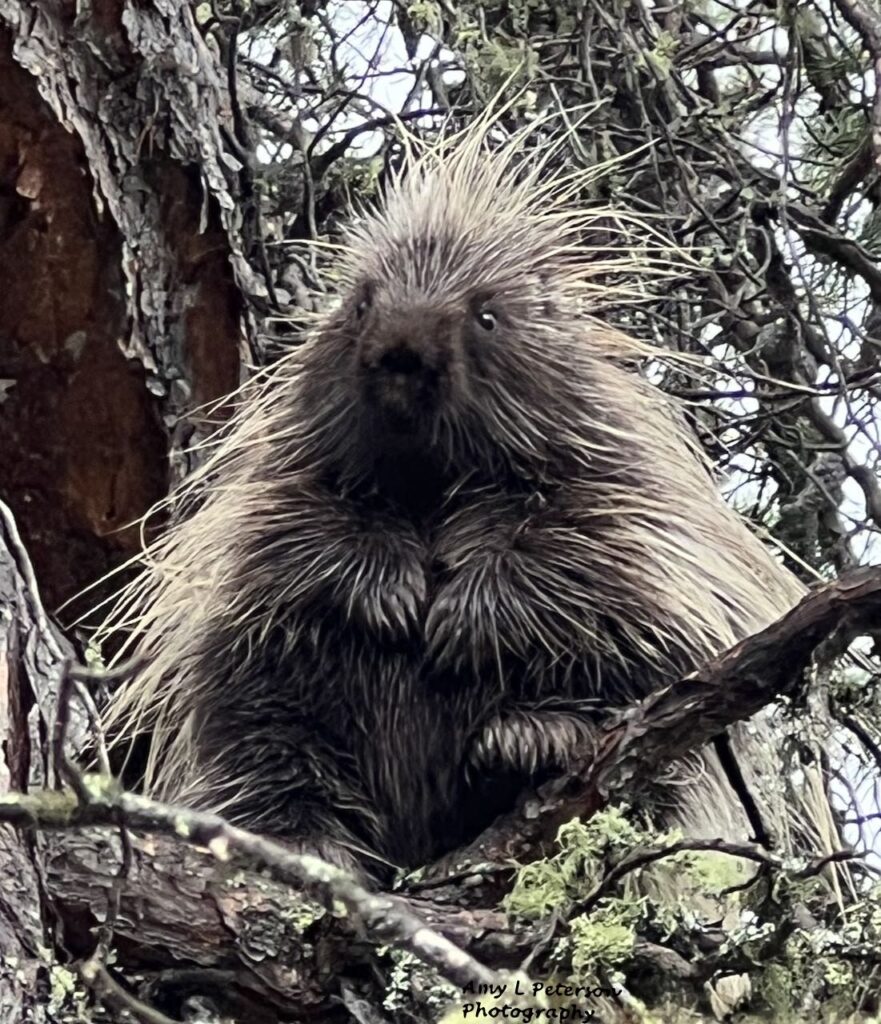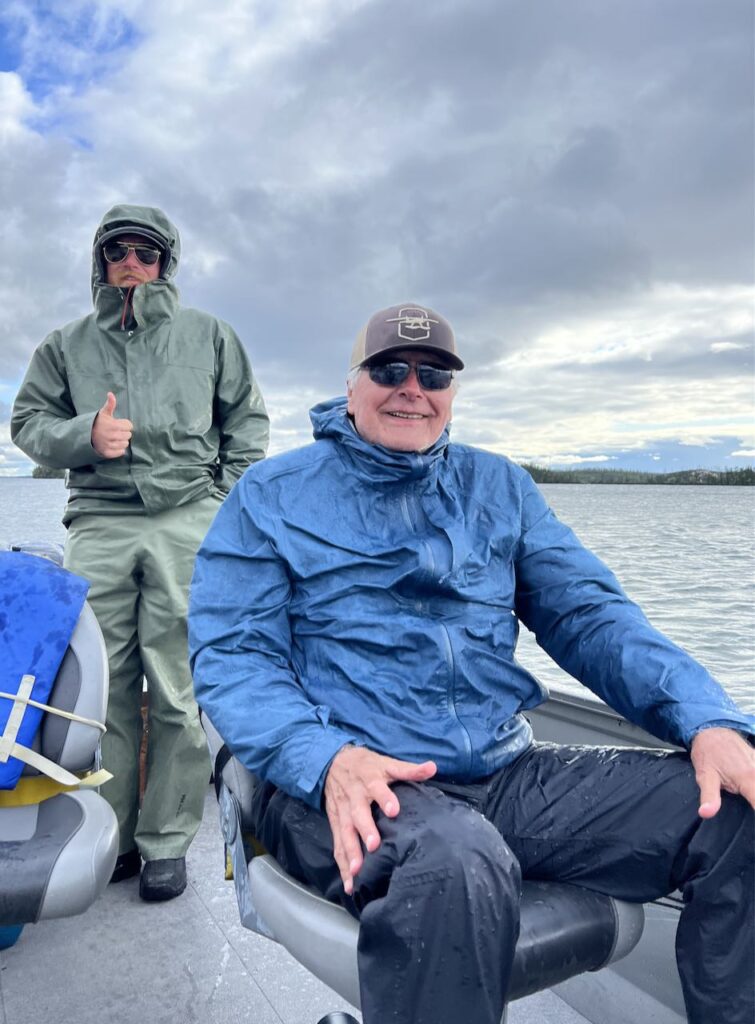 Fishing the rest of the afternoon was not memorable. I had plenty of time to take photos of chilly people not catching fish.
After we were done fishing we headed back to our cabins. I was super happy to see that my porcupine pal was still up in the tree right outside the cabin. Mark showed up a few minutes later, telling me fishing for him wasn't very exciting either. I showed him the porcupine, and he stepped onto the porch of the cabin and watched it shimmy down the tree-backwards, while I shot a video of its decent from inside the cabin.
It had never occurred to me that a porcupine would go down a tree backwards…until I saw one do it.
Once on the ground, I took several more photos and ran a video of the porcupine walking off, showing its well armed rear end.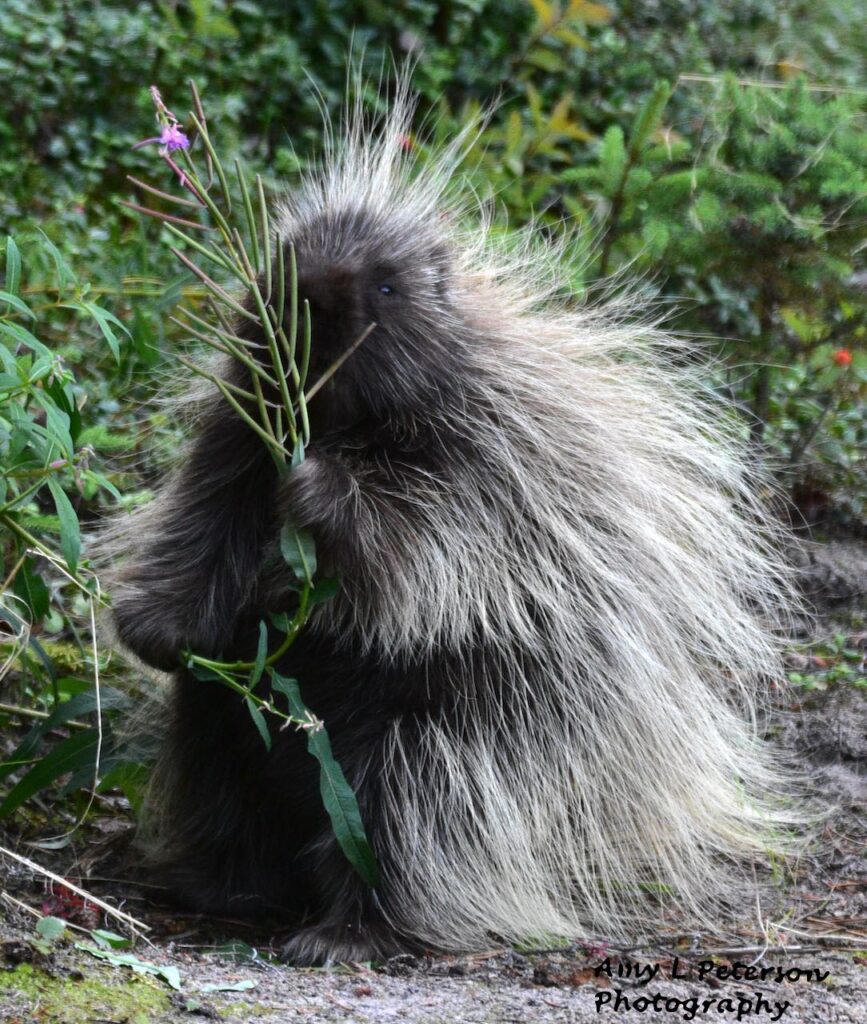 This is my favorite photo of the porcupine near another cabin, checking out a flowering plant.
I watched the porcupine for about twenty more minutes before it wandered off away from the cabins, through some thick grass and out of sight. I wandered off to join the guys at the lodge for a beverage.