August 31, 2022. We awoke to another beautiful morning in Bolivia. The air was chilly again, but the shower warm.
I had just sat down to breakfast when I saw this small brown creature walking across the grounds of the resort. I had never seen whatever it was, so vaulted out of my chair, and in the dim light of the morning, ran out of the dining room and across the grounds to snap this photo. Such a creature was not in Memo's book of Bolivian mammals, but Mark said it's an agouti, which is related to guinea pigs.
I read later that agouti can get as large as almost 30 inches and that they are normally shy of humans. I was amazed this one didn't run away from me as I ran to the edge of clearing and clicked away. This is certainly not a great photo but it was 5:45 a.m. pre-caffiene, and I had been running, and the light was terrible, and it was moving, and well, I'm now out of excuses.
Agoutis use their amazing molars to crack open Brazilian nuts, which is quite a thing, because the Brazilian nut shell we brought home was 1/4″ thick and hard as a rock.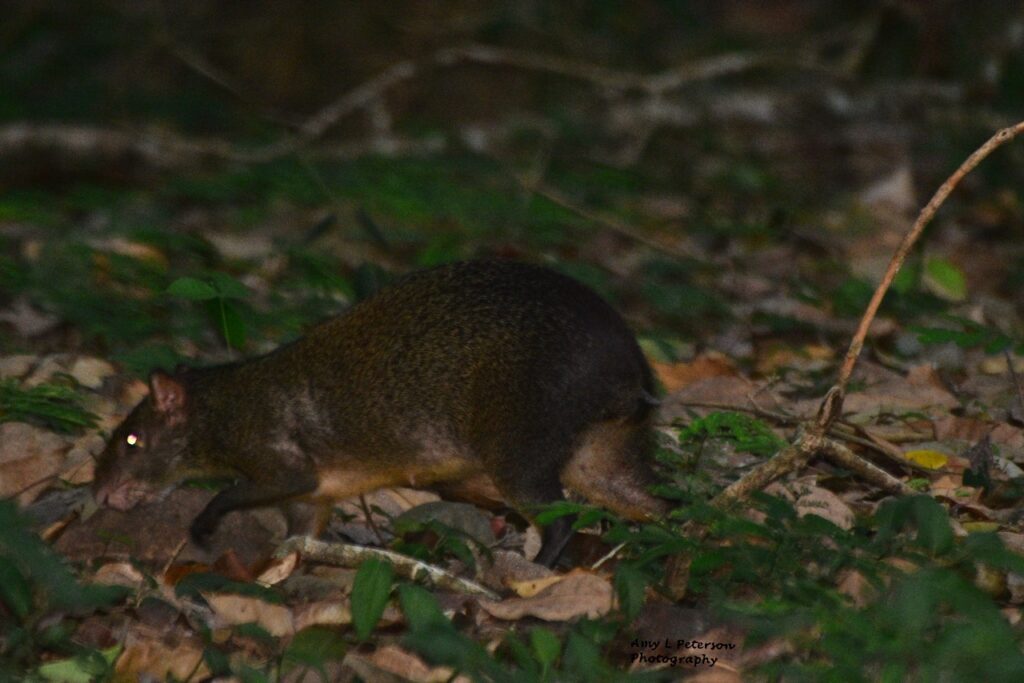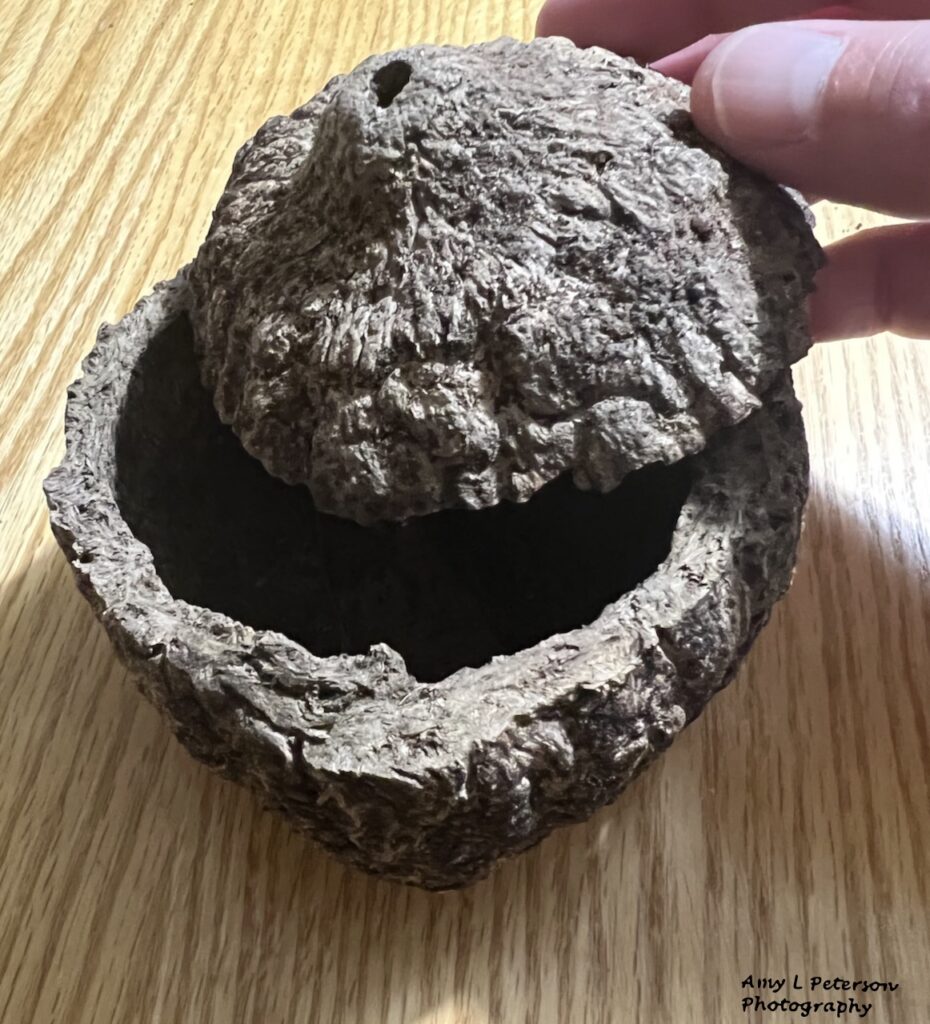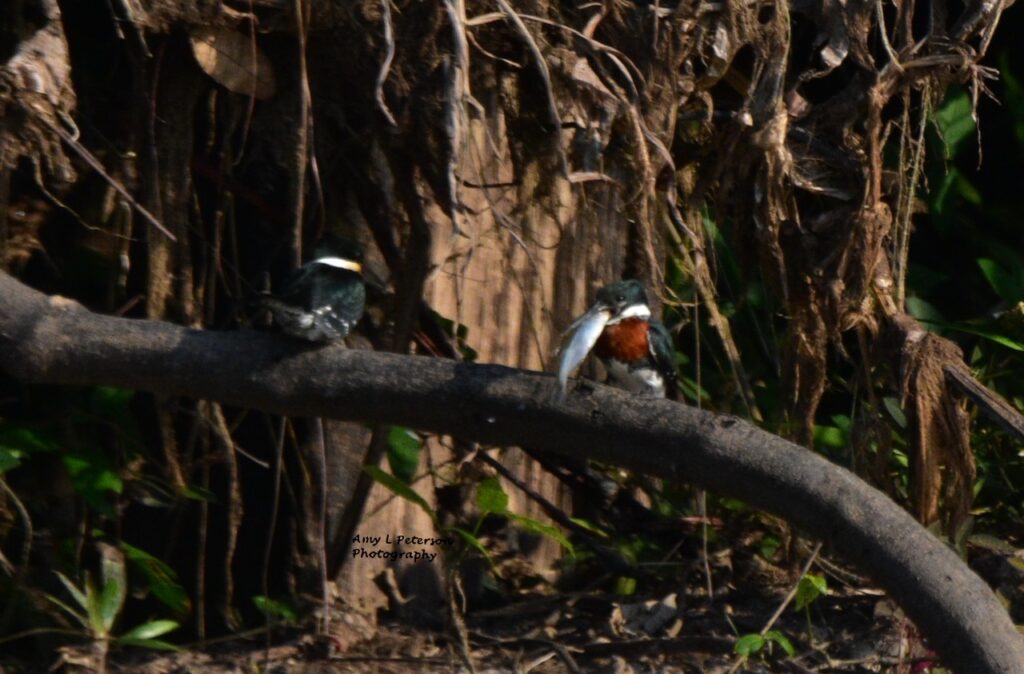 We headed out at 6:30 and captured our boat ride in this video.
The first place we fished had a tiny male green kingfisher nearby trying to woo a female kingfisher with a fish. This shot was at the max of my zoom lens and cropped, but you might be able to see how large the fish is compared to the male kingfisher. He won her over enough to mate briefly, and afterwards, he still had the fish in his mouth. So, I'm not sure what she got out of it, except maybe pregnant.
While we'd seen several southern lapwings, this one seemed to be posing. And only after I reviewed all my photos did I see the other one lying on the ground in background to the right.
I'll note here that photographers likely drive some people nuts, because one photo of a bird isn't good enough–we'll take several until we get one that we're reasonably happy with. And then we'll keep looking for better shots.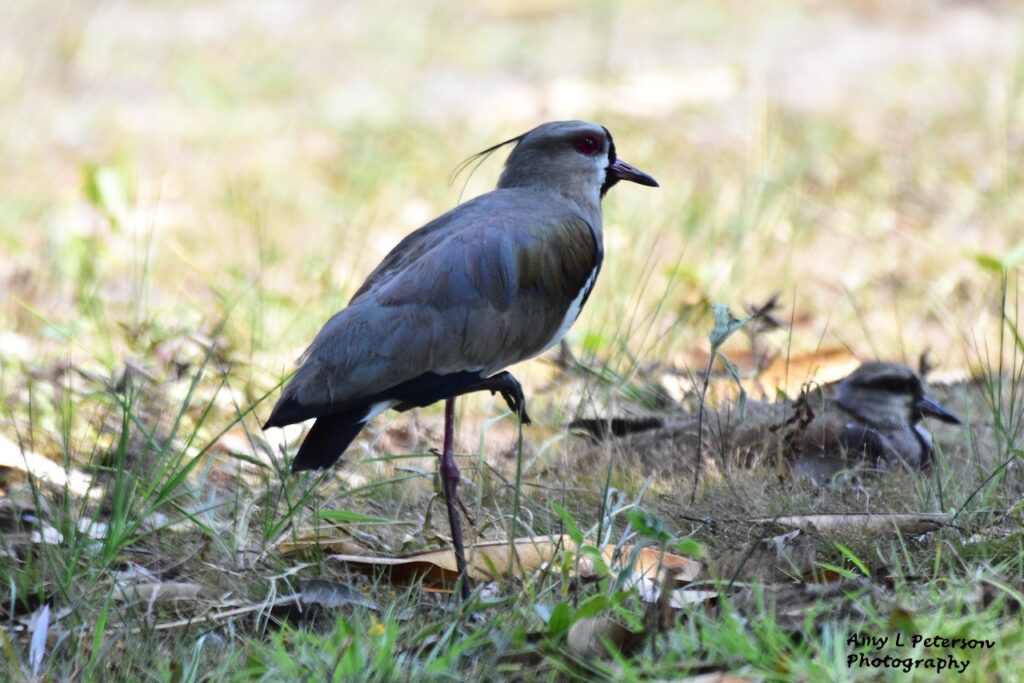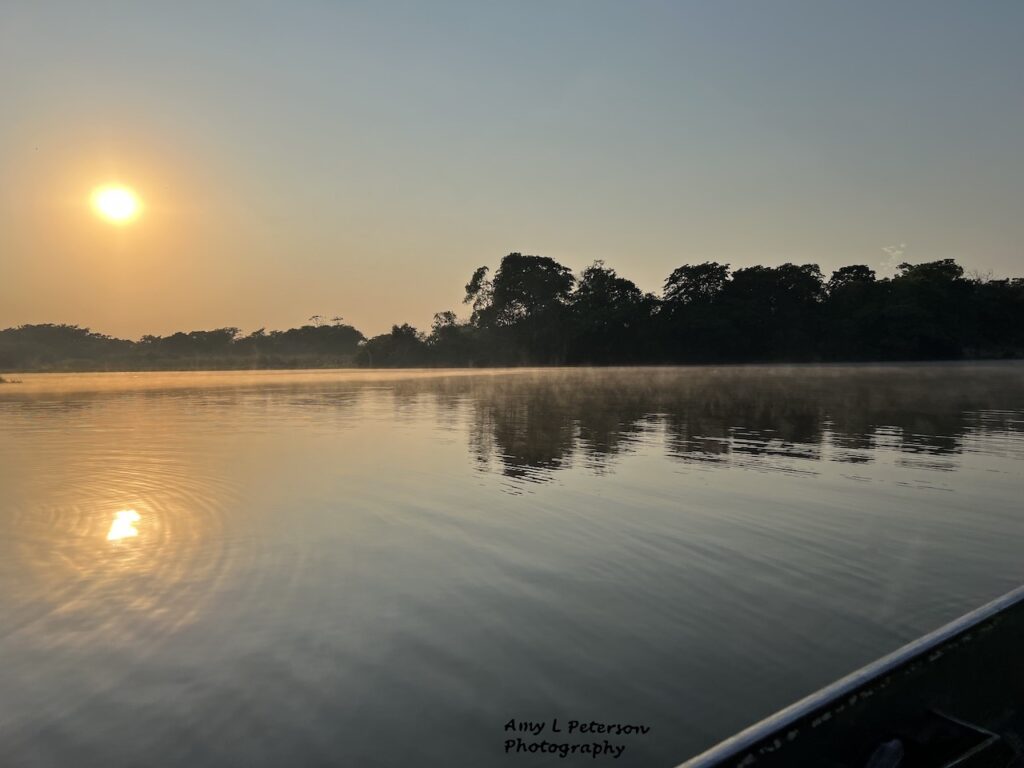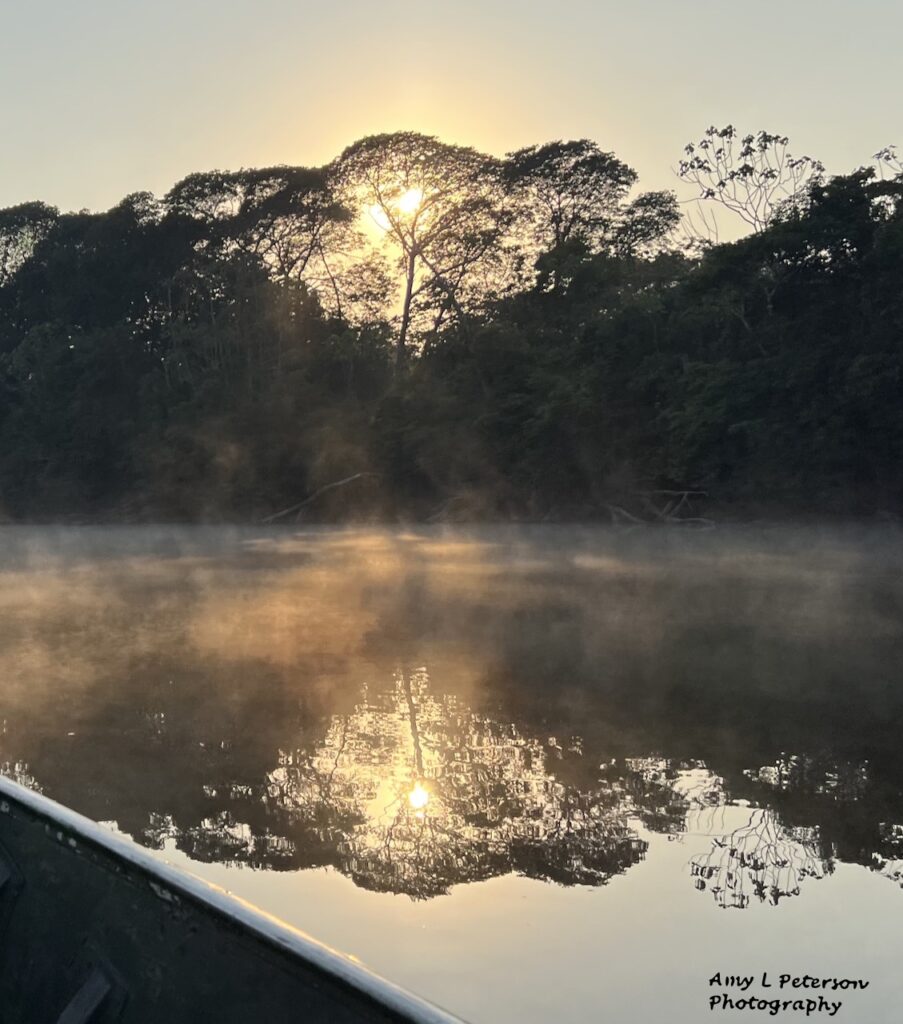 .
By 7:40 yellow-spotted river turtles were already getting settled onto logs to catch the sun. The log here looked like it held a two-headed turtle, but was actually two turtles on top of each other.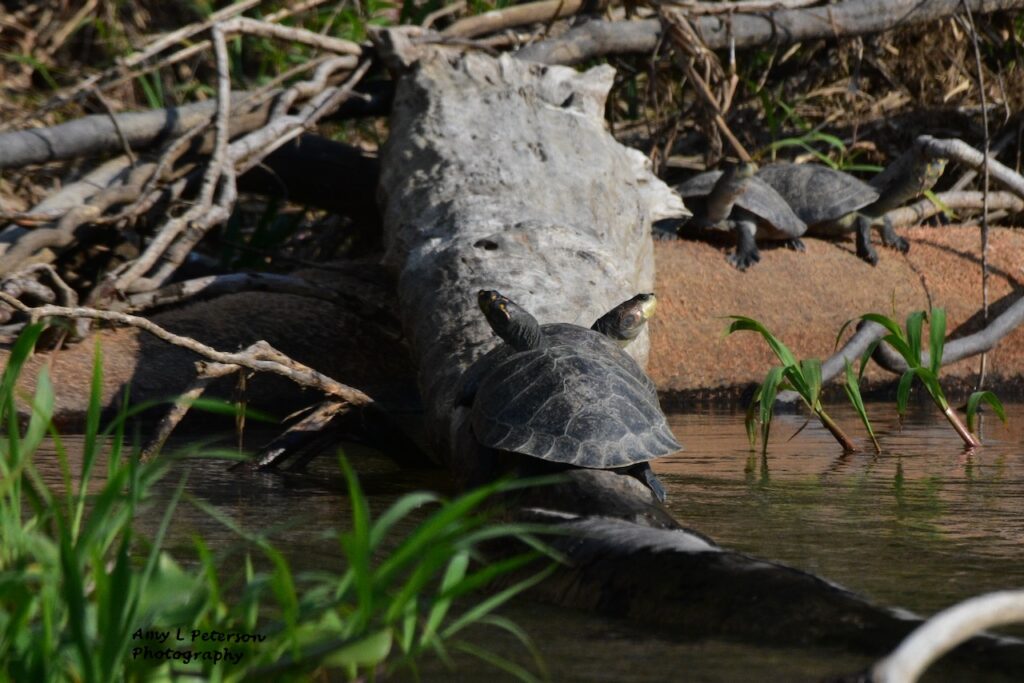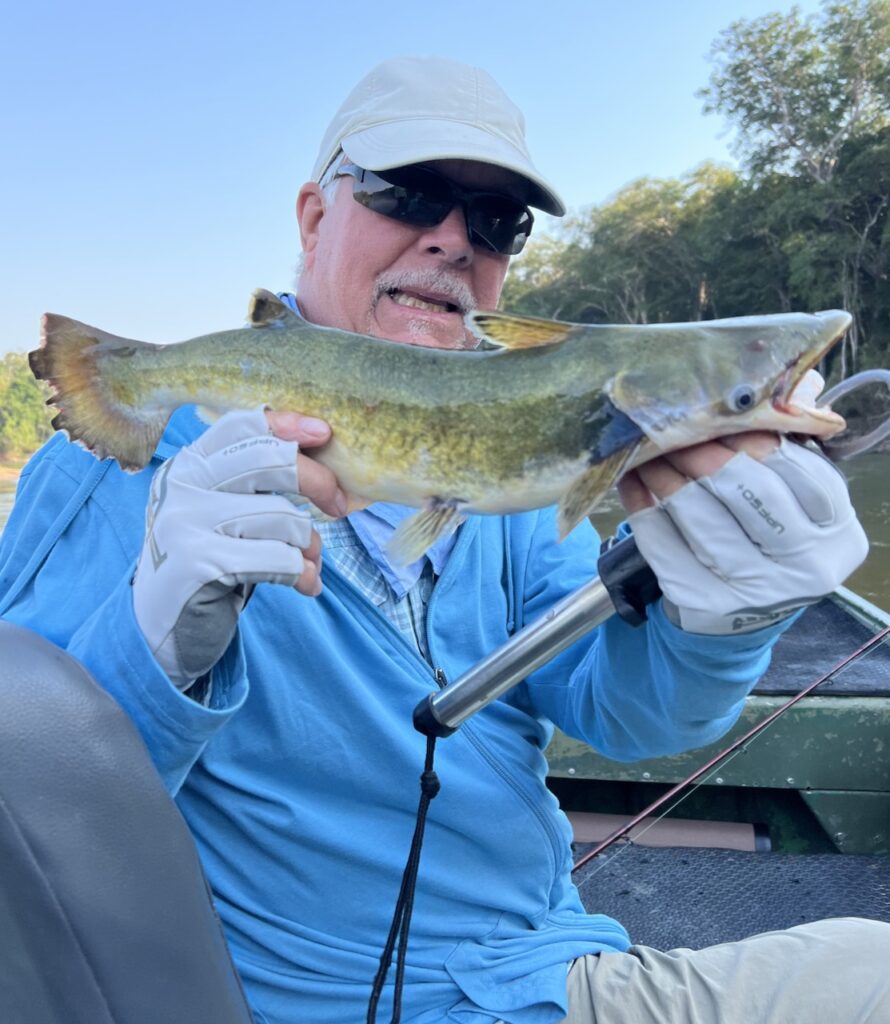 Shortly after 8:00, Mark caught this fish, which looked like a catfish but didn't have any visible whiskers. The guides told us what it was, but it didn't stick, so it wasn't until we got home that we learned it is an Ageniosus inermis, which, broken down in Greek means "without beard" (likely in reference to not having visible whiskers). It is more commonly called a manduba (pronounced "man-doo-ba" with the accent on the "doo"). It's a member of the driftwood catfish. I liked the little fella for being different than any other catfish I'd ever seen. Check out how low its eyes are on its body.
Shortly after Mark got his manduba, I got one and got to hold the little fella and release it. There's not a lot online about these fish but we do know that they eat other fish.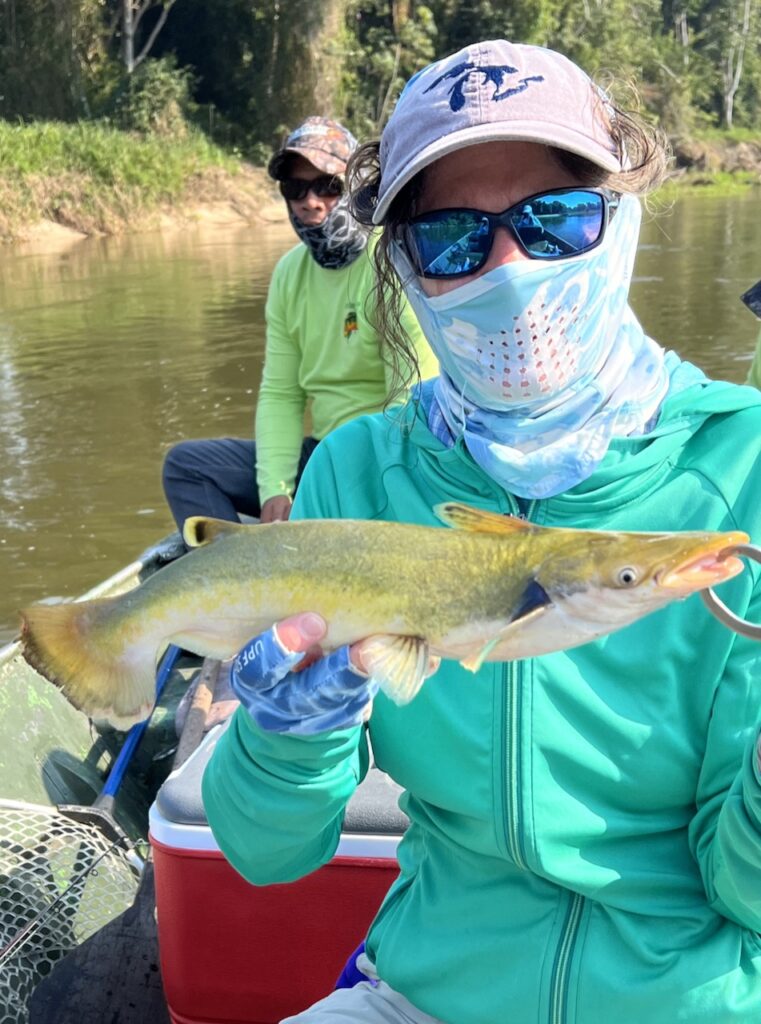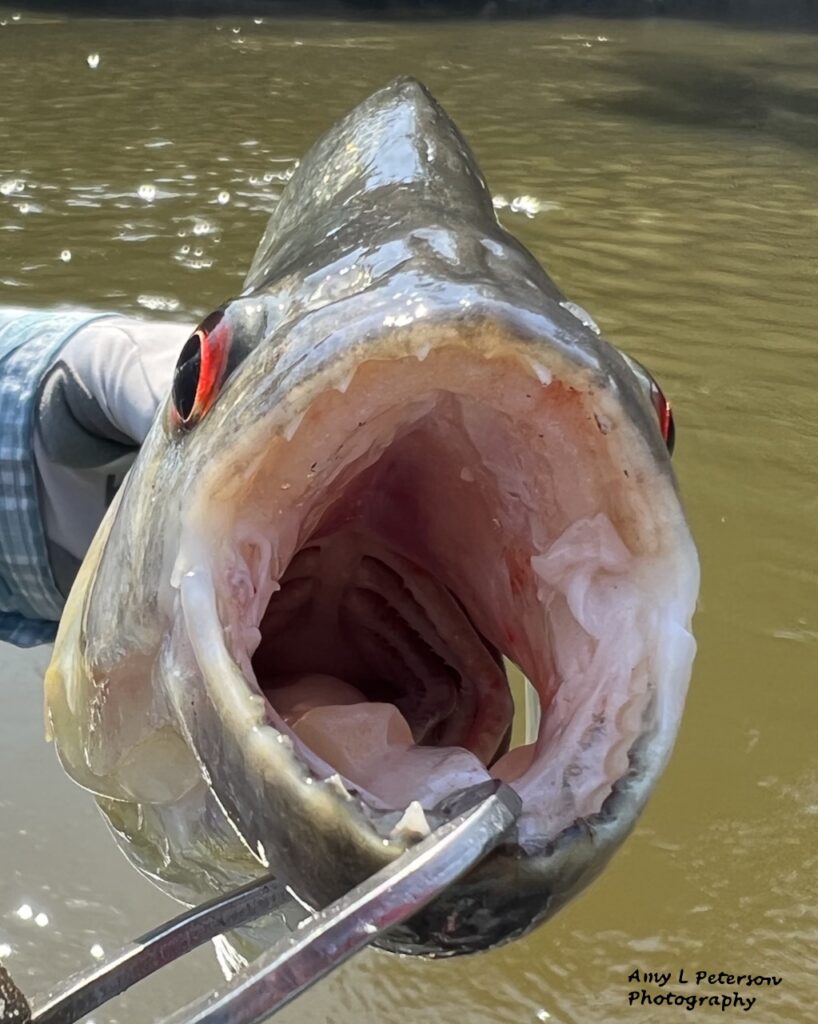 Later, Mark caught this piranha, which had some lovely teeth.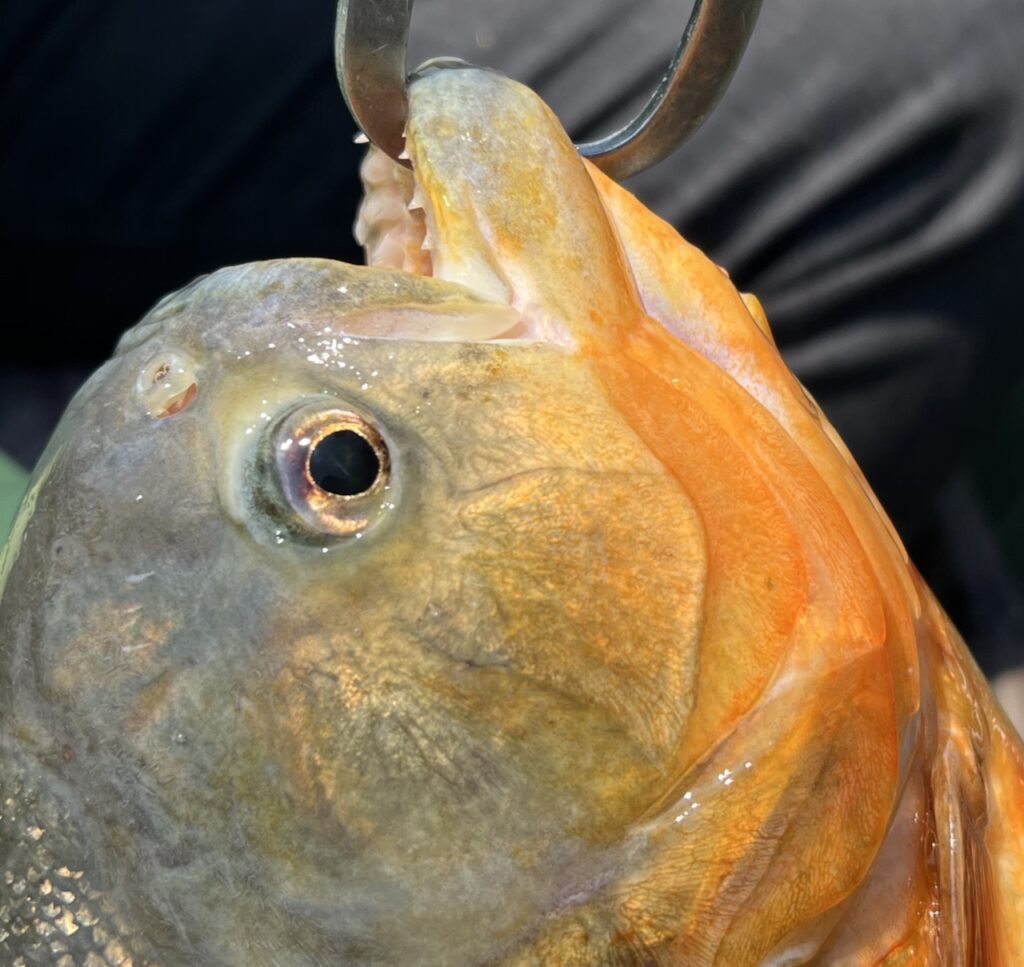 This was my toothy piranha pal.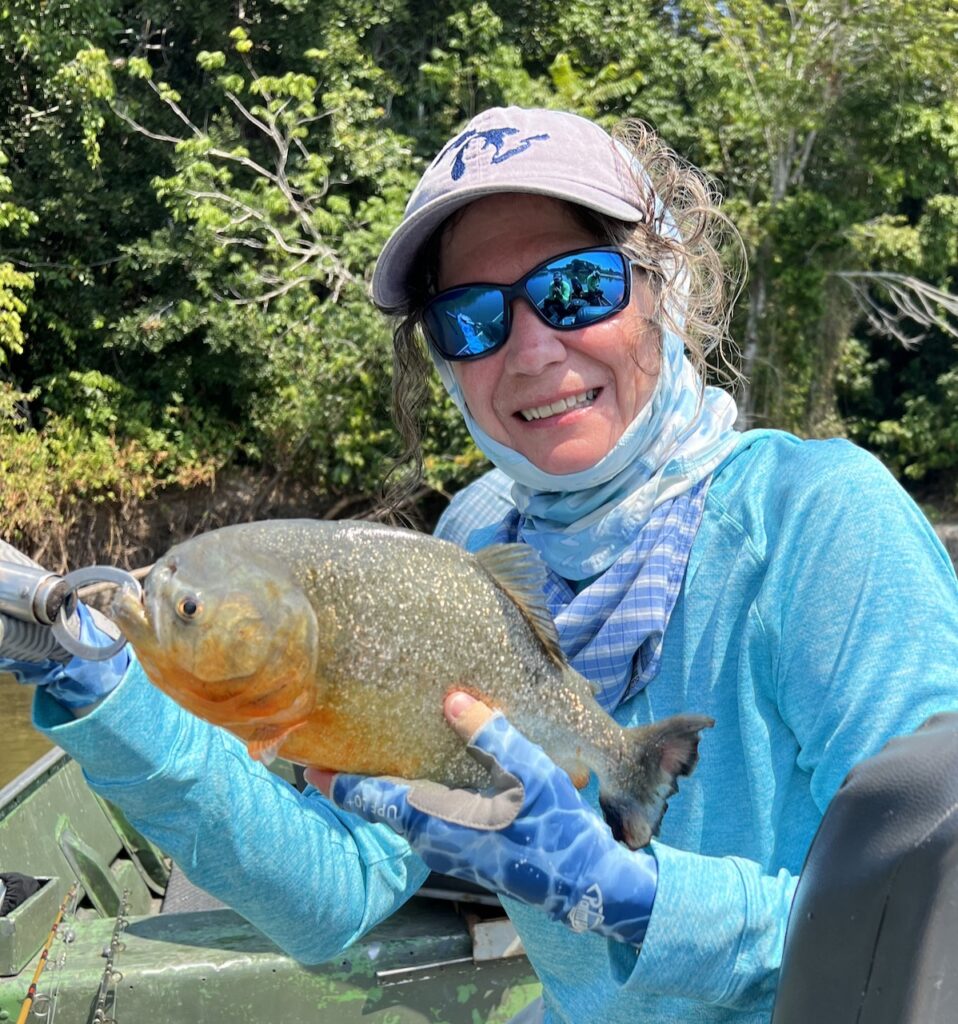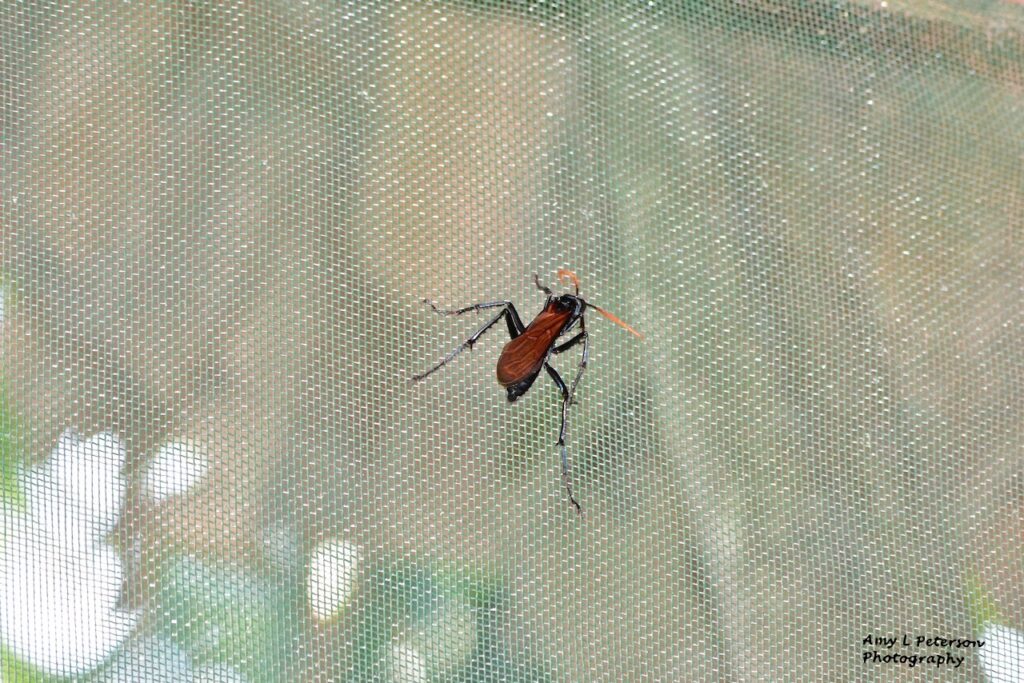 I took two lenses with my Nikon camera–a fish-eye lens I didn't use very often, and the 200-500 mm which was the one I used 90% of the time. And we had our cell phones. But now and again I wished I had my 105 macro, and this was one of those times. This is a spider wasp. It stings and paralyzes spiders. This was on the screen at the lodge and shot during our lunch break.
But back to fishing. At this point in our story, you might be tired of seeing piranhas. So were we, especially since the hours were ticking away and I was really trying to catch a vampire fish.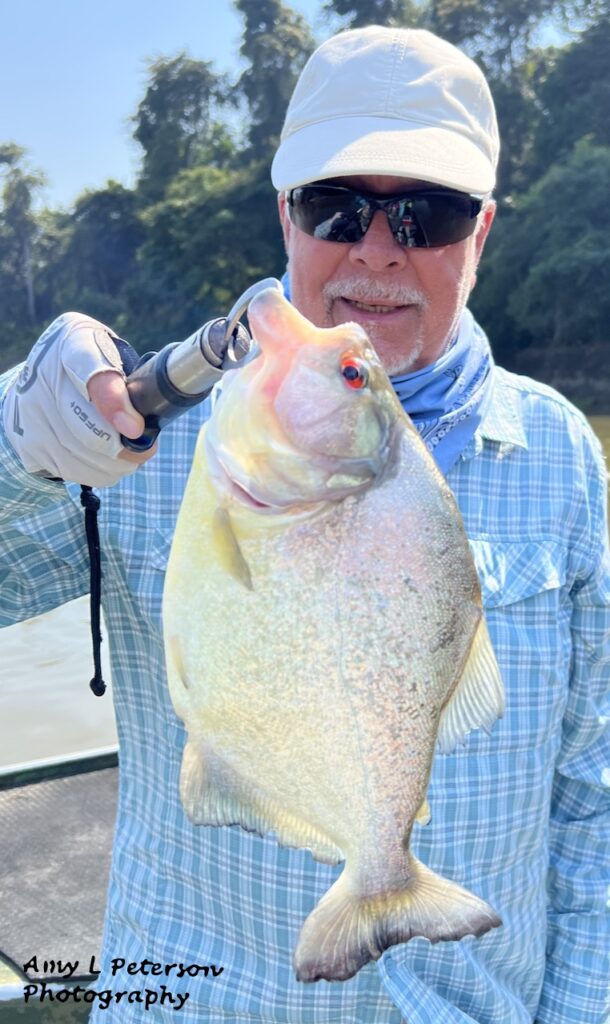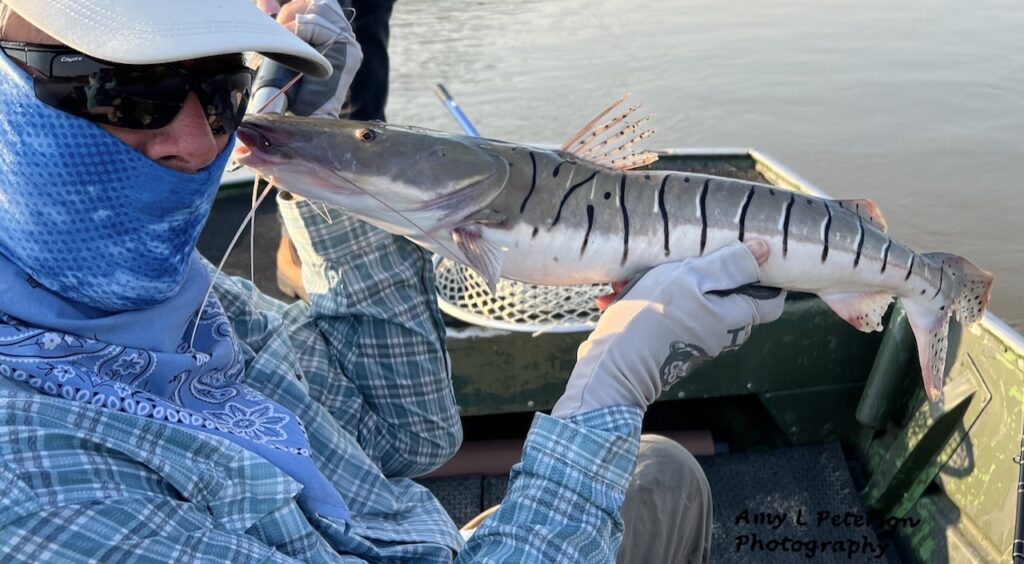 We'd also caught enough tiger shovel nose catfish, or surubi, that Mark was having conversations with them. This fish told Mark it wanted to be released, so Mark did.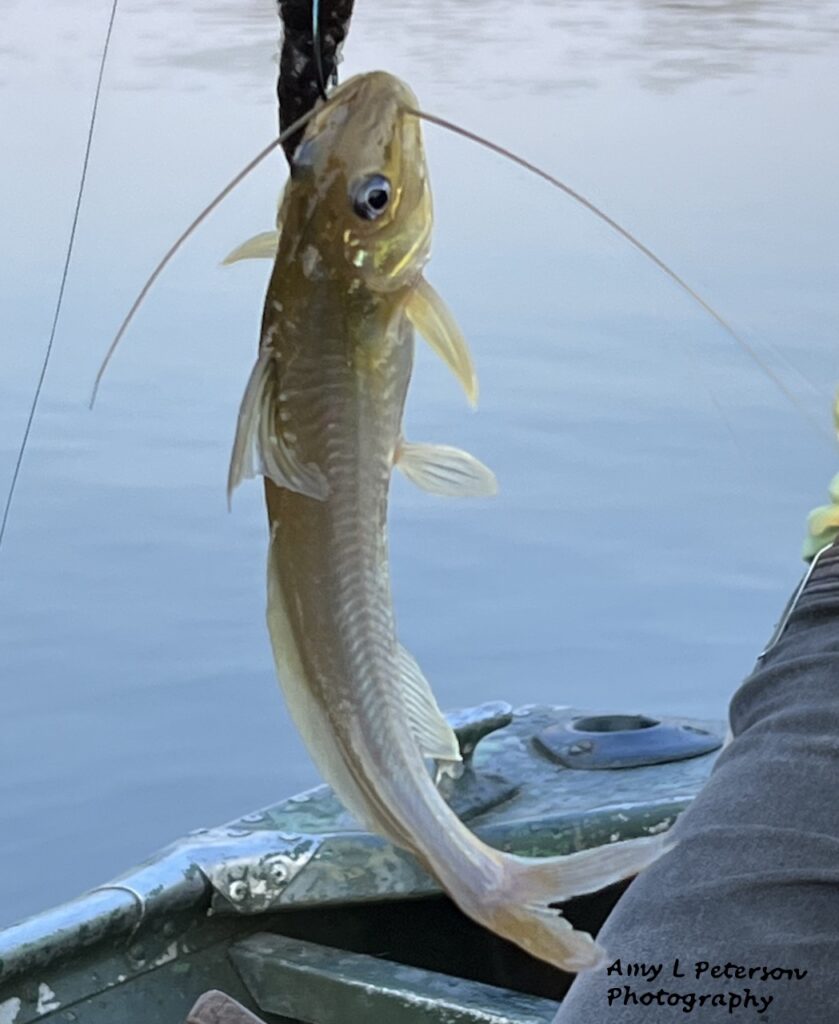 This is a fish the guides called blanquillo (pronounced "blank-kee-yaw," with the accent on the "key").
We caught a couple of these, none very large. We loved their super long barbels (whiskers) compared to their body length.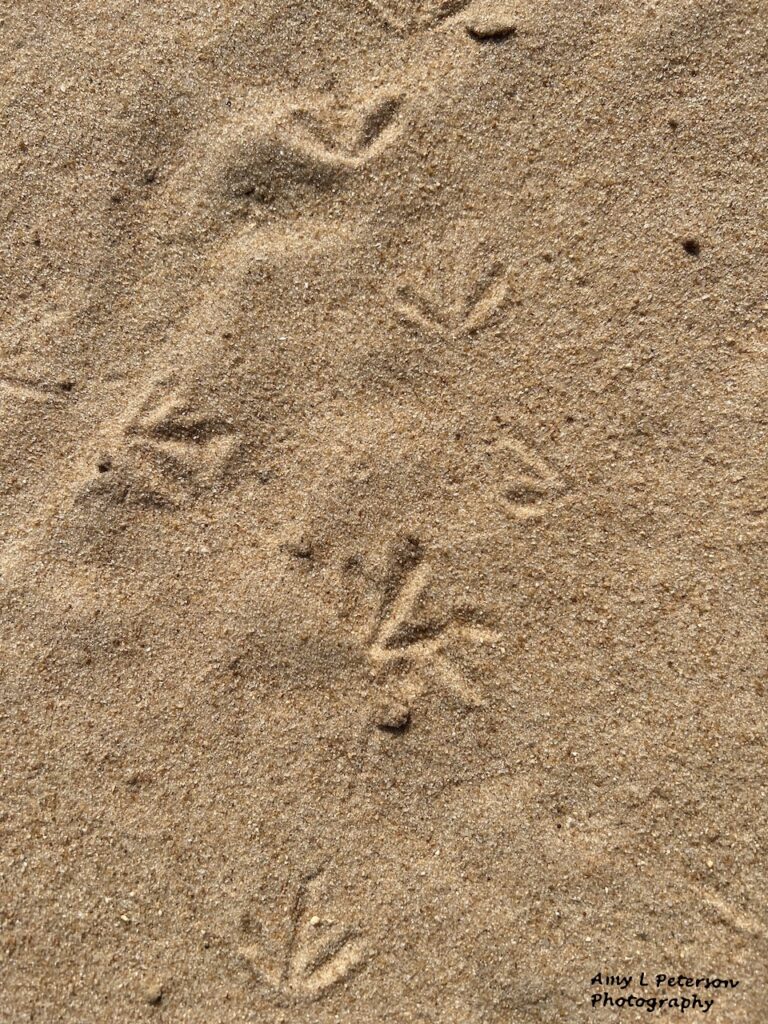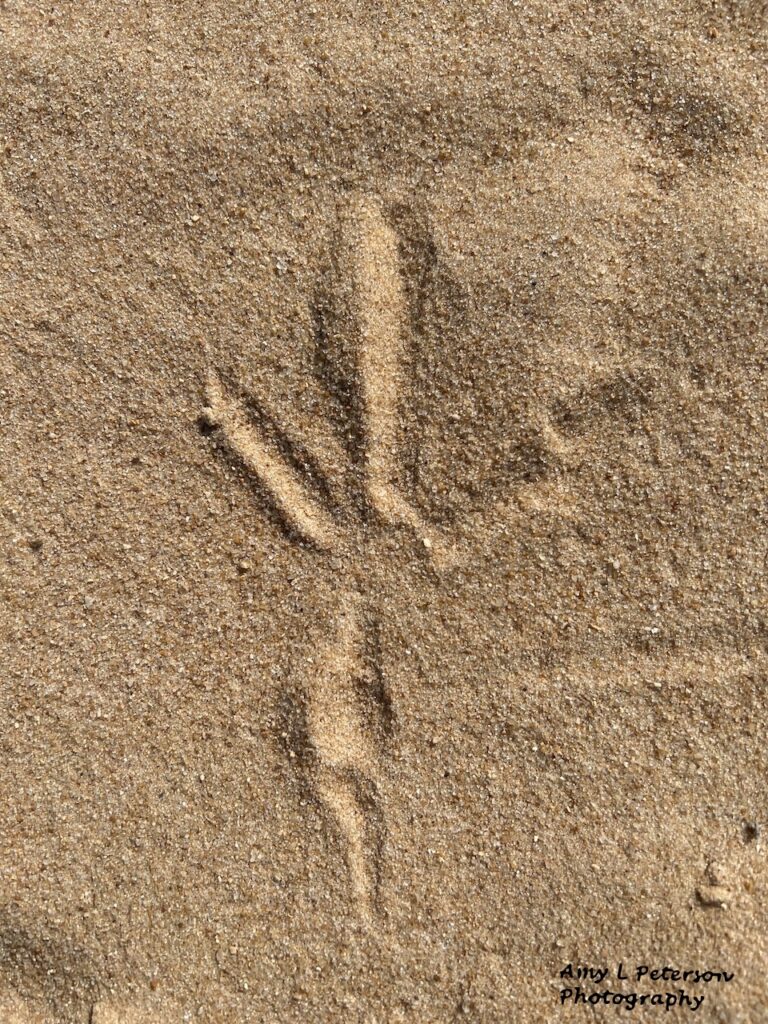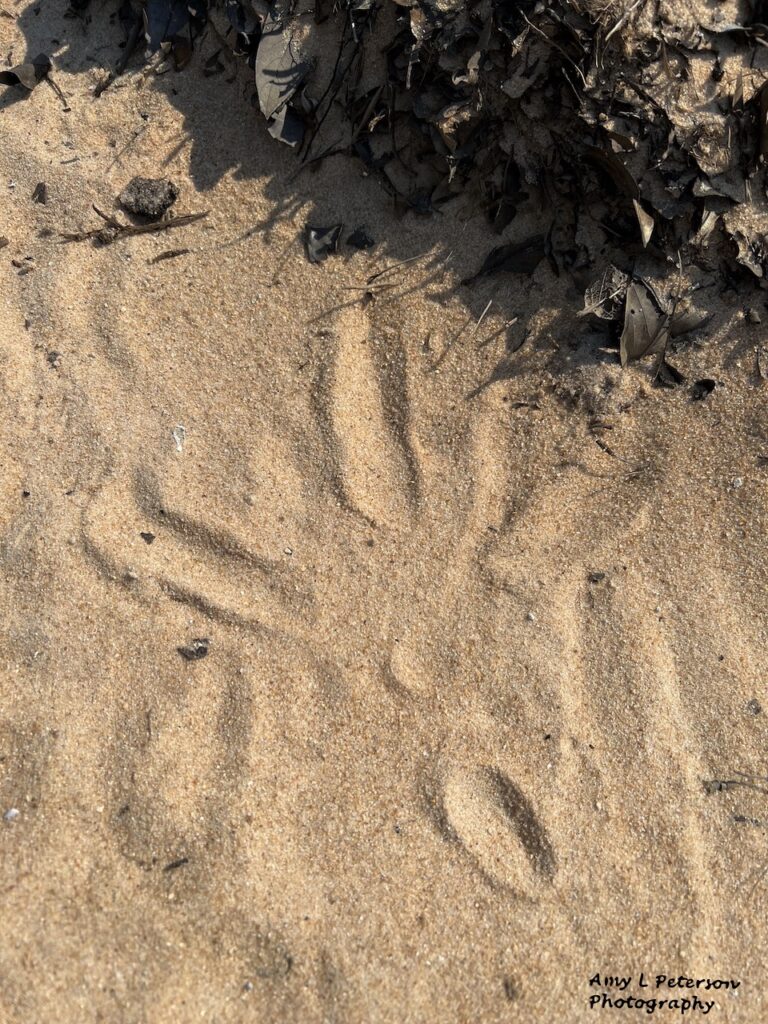 Every time we stopped on a sand bar, we always saw something different. Here are several different footprints.
Evening came, we fished for catfish and I got this beauty, which tickled me with one of its barbels. I got to release this one in the water, and it was a handful for me. I was all the more appreciative of the guides doing most of the heavy lifting…and lowering…of these big cats.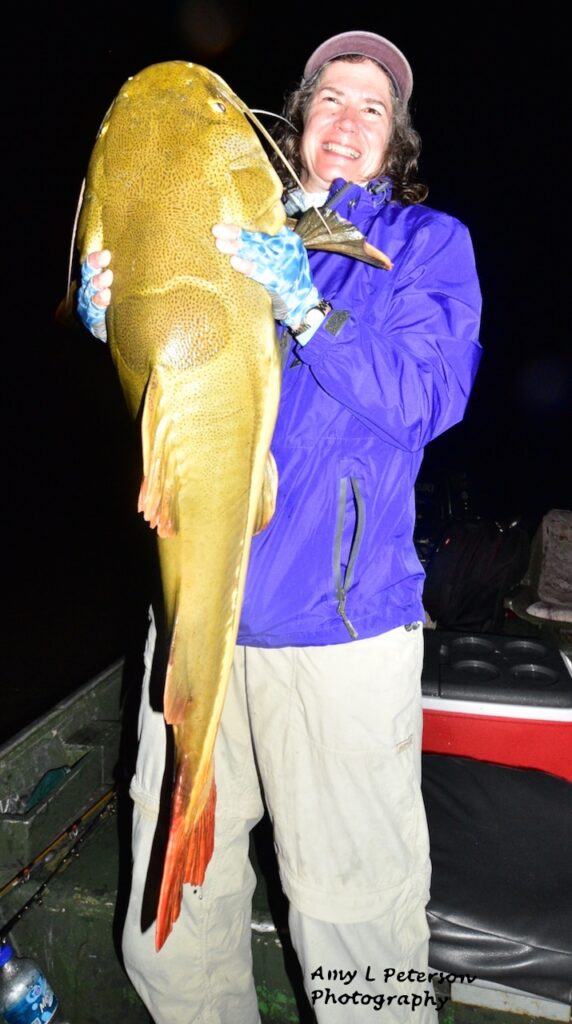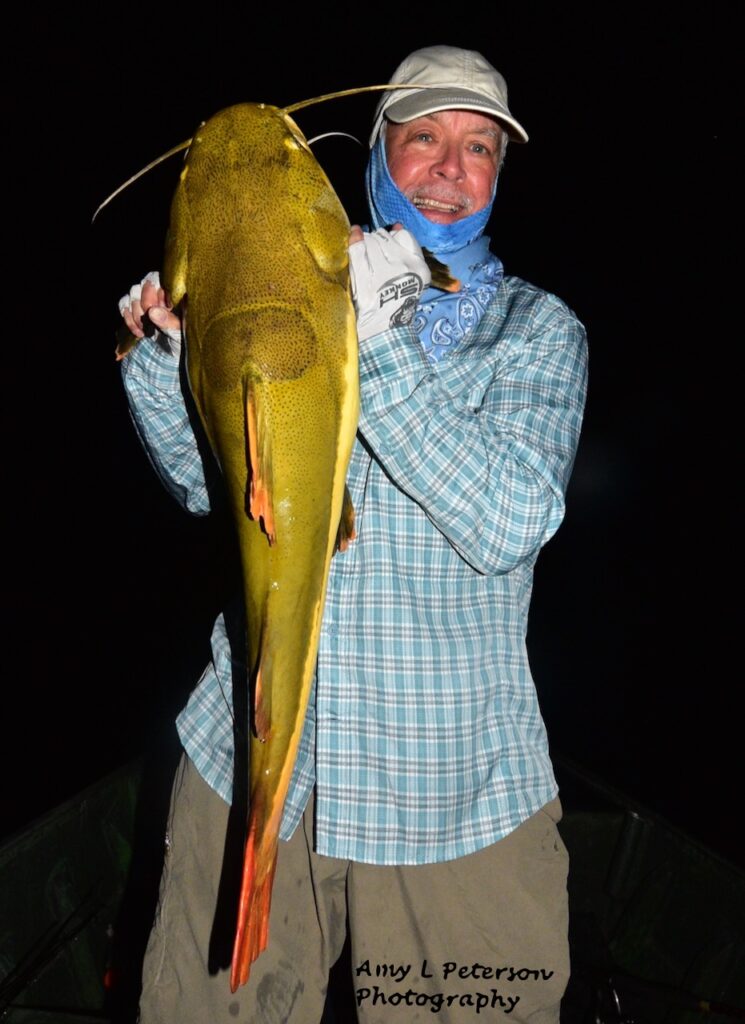 Mark got this redtail catfish. After I shot a couple of photos of him with his catfish, it occurred to me that we'd caught three different kinds of catfish, two different kinds of piranhas, and a blanquillo in the same day.