Saturday, August 27, 2022. I underestimated the power of a rooster–one not bound and gagged and prepped for a cockfight–because one of the lodge's rooster called at 5 a.m in the morning…over and over again, waking us up an hour early. In fact, by the time our alarm went off at 6 a.m., I had half a thought to go find that rooster and have a little chat.
Instead, I took camera in hand, checked out the trees near our bungalow and came face to butt with this giant black and white bird, which I later identified as a blue-throated guan. The only photos I got were ones like this. It had the body size of a turkey but with short legs. It eats the flowers or fruits of trees.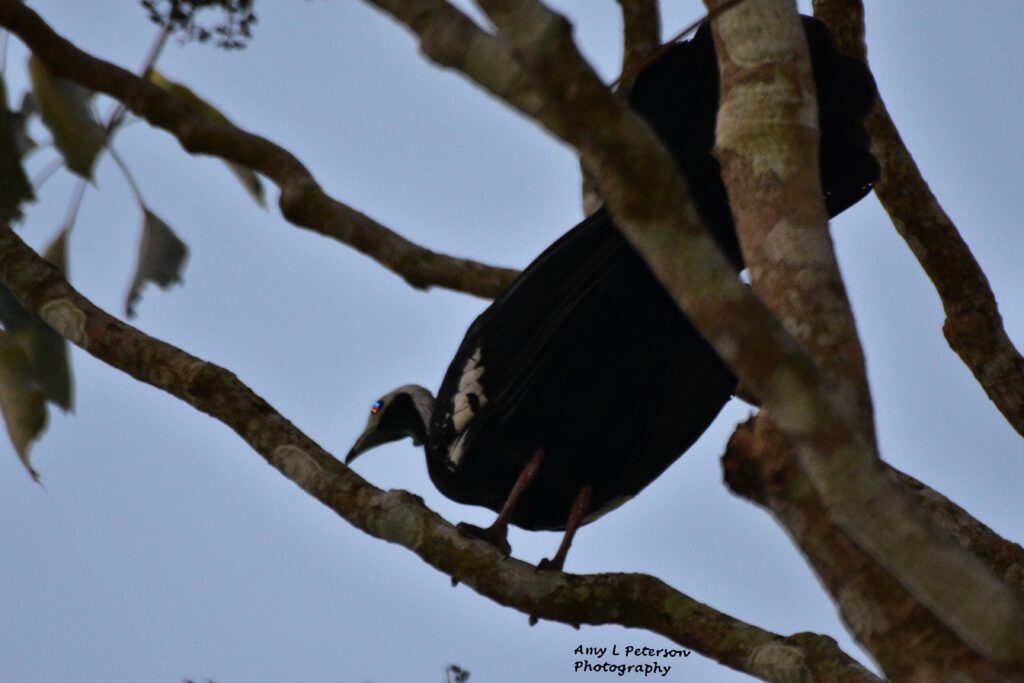 Nearby, in another tree was a black and yellow bird with a bunch of pals just like it. This is a golden-winged cicaque and it makes a whole variety of sounds and calls. I heard several of these in a particular tree each morning. Cicaques eat insects and fruit.
After breakfast, we headed down the river towards the rising sun, passing several birds: a juvenile wattled jacana, black skimmers, a limpkin and several other birds I didn't get good photos of until later in the trip. It was fun trying to relax, take in everything around me, take photos and go birding and fishing all at the same time. I was loving it.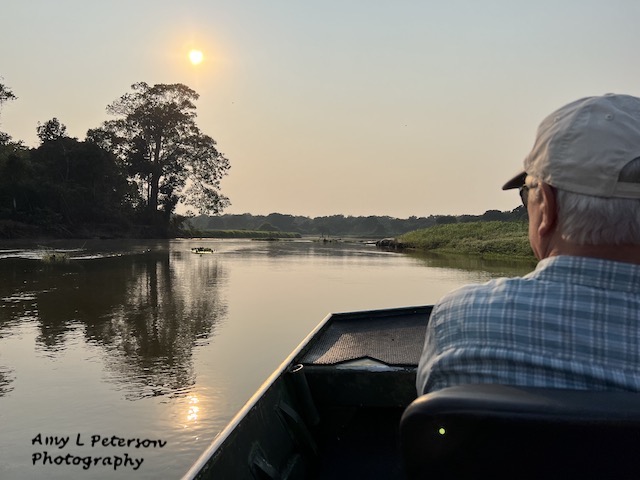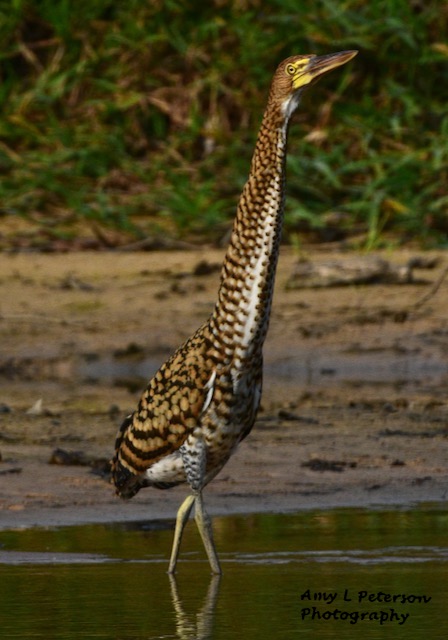 After passing by several birds and getting lousy shots, I developed an understanding with Raul that when I waved my hand up and down it meant to please slow down so I could take a photo. When I saw this bird, I did just that and got a photo of my first pinnated bittern. This bird is amazingly camouflaged, and one website I found said it's rarely in the open.
Raul also slowed down so I could capture this rufescent tiger heron. This is a medium-sized heron, as opposed to the pinnated, which was large. I have seen these birds in Florida.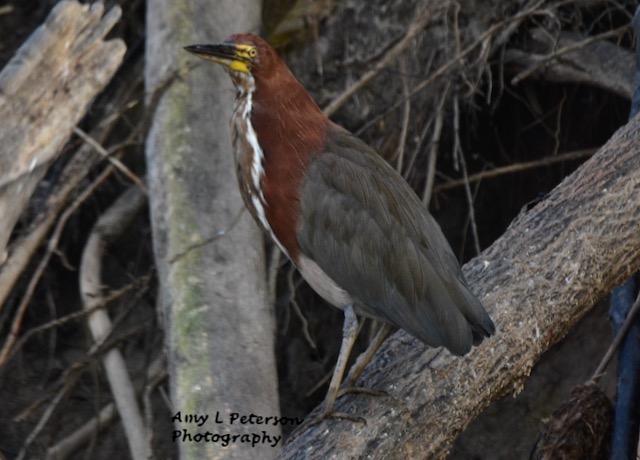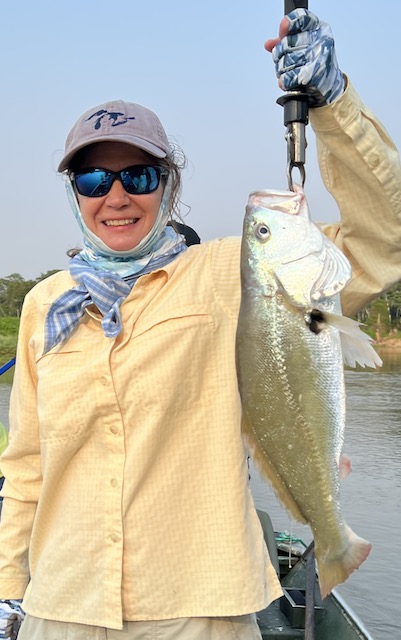 Raul stopped at a wide stretch of river with a bend where the water moved rapidly. We began flogging the water with six-inch plastic baits of various colors. Within a half hour, I had a pescada, or locally, a corvina, which is a silvery fish with a big black spot on its pectoral fin and a pale to very dark black line along the top of its back (dorsal). When it came out of the water it grunted like a pig, which is the same kind of noise the big catfish made when it came out of the water. In fact, these fish are also called silver croakers. As with the catfish, the grunting made me want to release it quickly, because it sounded like it was gasping for air…which is probably was.
Mark, meanwhile, had nabbed a piranha. We asked the guides what kind it was, and one said yellow piranha, the other white. It turns out that it was both of those and more, because when I typed in red-eye piranha in a search engine, I learned it is otherwise known as a black piranha, white piranha, spotted piranha, or yellow piranha. So, call it what you want, but note the red eye.
Note also the size of the lure this feisty fish was willing to go after in relation to the size of its body.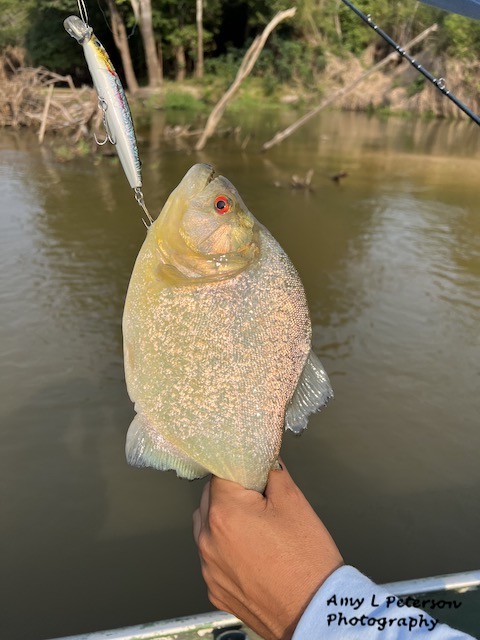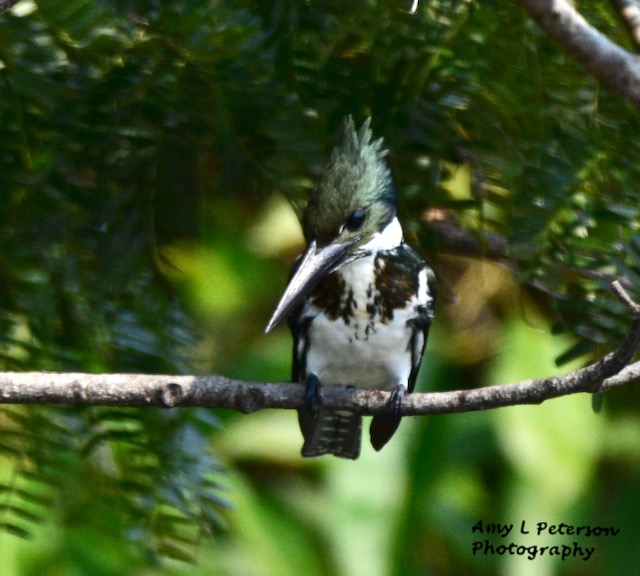 We saw this female Amazon kingfisher sitting near a male Amazon kingfisher. I like her lil webbed feet.
This is a ringed kingfisher. We saw several pairs of these kingfishers, always near the water.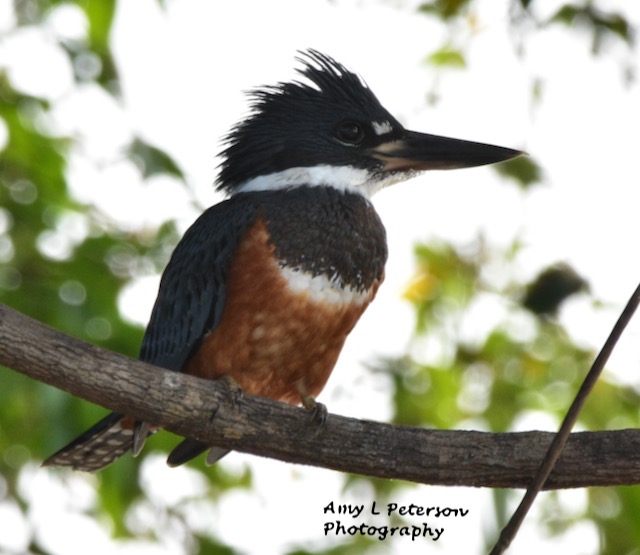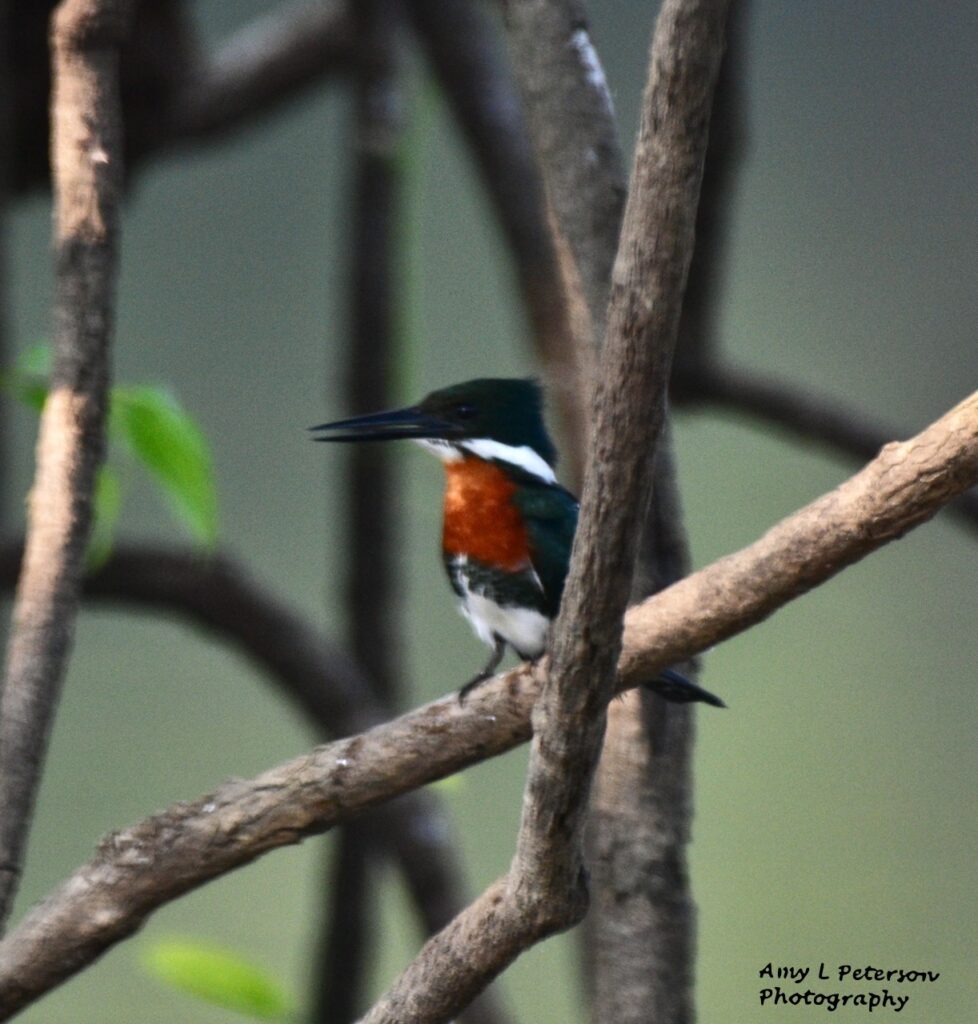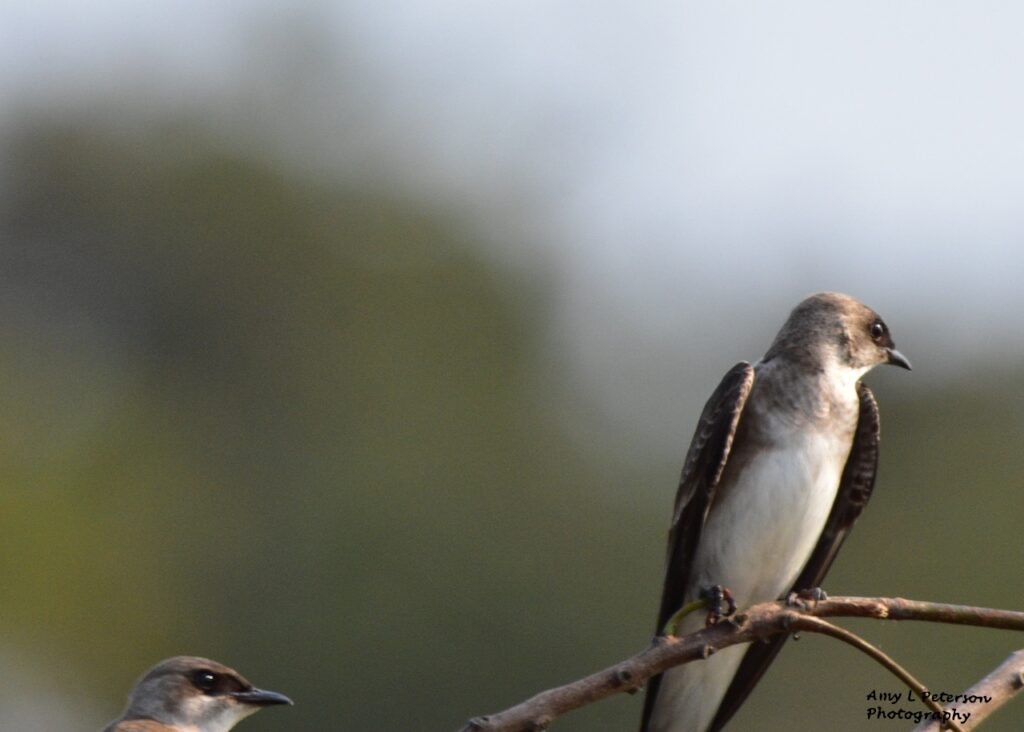 We also saw a male green kingfisher (top left), a brown-chested martin (bottom left) and a cocoi heron. Two of these were new species for me.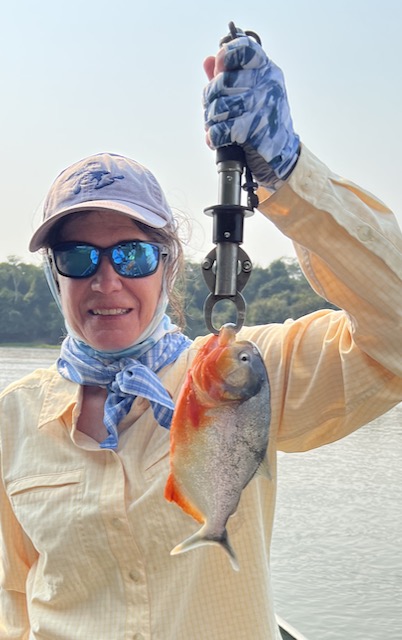 But back to the fishing. While Mark was catching numerous red-eyed piranhas, I developed a knack for the red-bellied piranhas.
We moved to another stretch of river to fish and stopped near a tree this bird was sitting on. It's an immature great black hawk. It let me take several photos, and when I'd taken a half dozen, it stood by and watched us fish.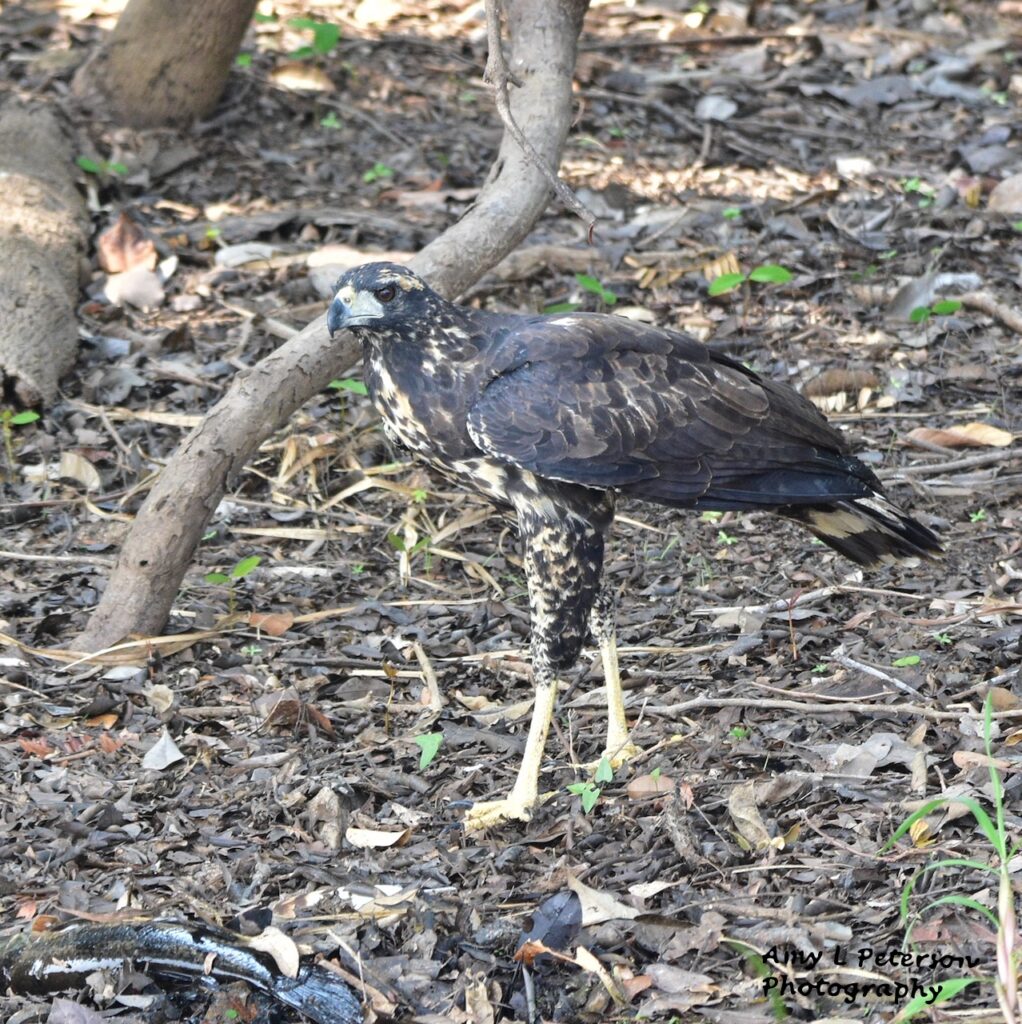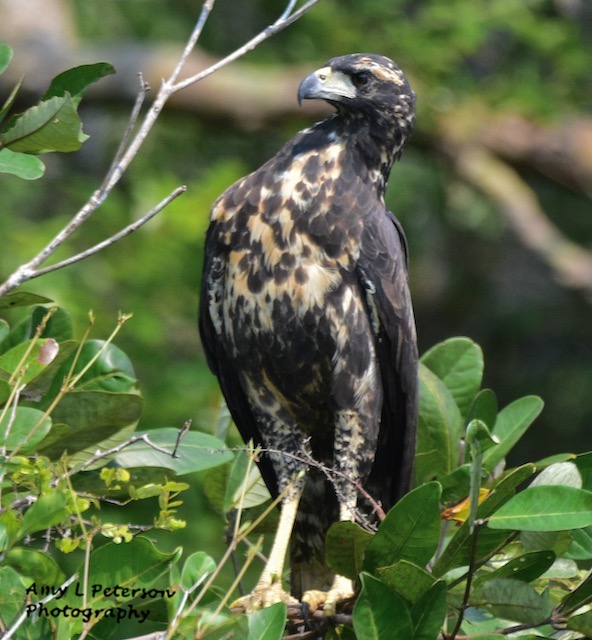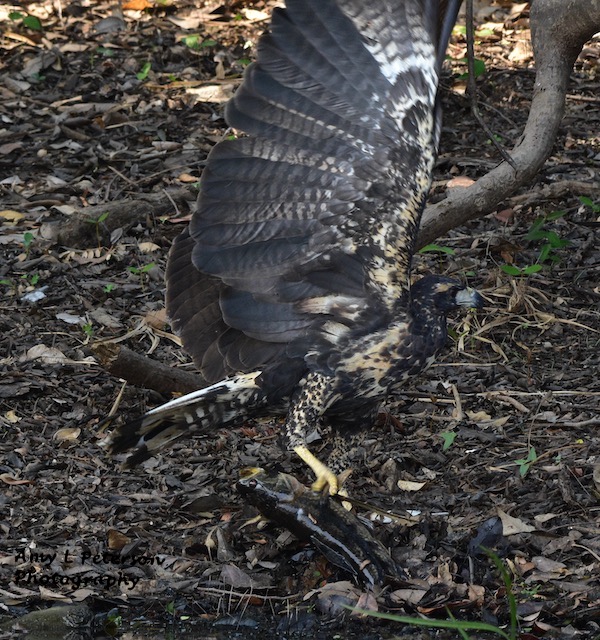 Because the hawk was watching everything we were doing, when we caught a wolf fish (see below), one of the guides rewarded the hawk by tossing the fish tossed on the shore. It was probably the easiest catch ever for the young hawk.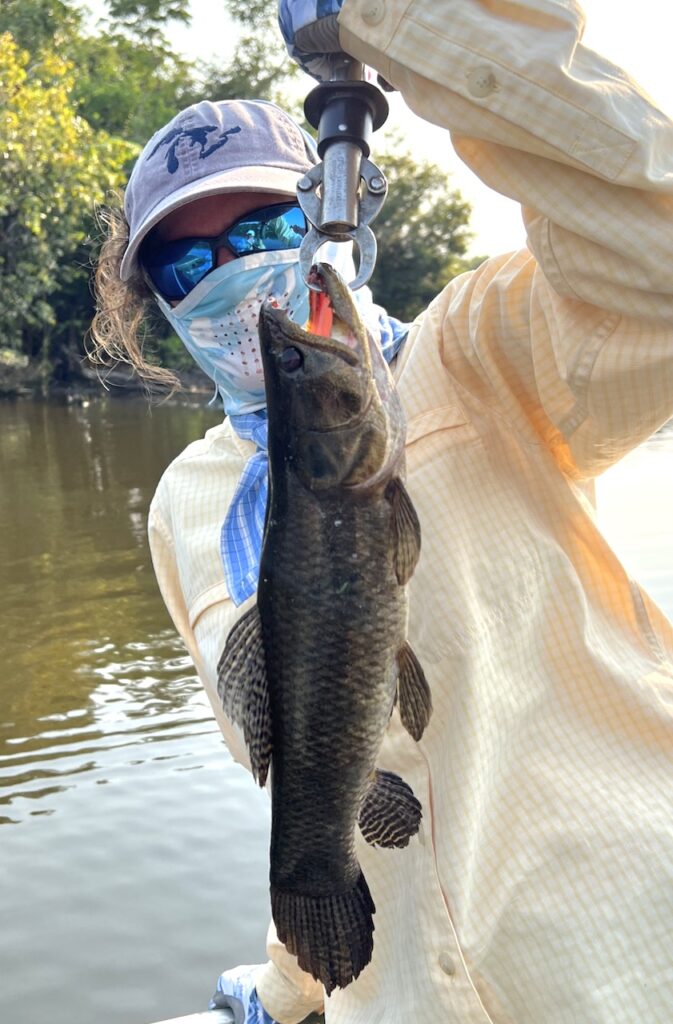 Shortly after we fed the hawk , we stopped at the shore to take a break. Now, as a woman, I'm kind of picky about where I drop my pants in the jungle. I look for a tree to hide behind or, if on a sand bar, walk to the far side of a sand bar out of view of all men. The thing about forested land in the jungle, though, is the leaves are thick and break down slowly, so the piled up leaves make the ground really springy. So, finding a proper tree to hide behind meant walking across springy ground that I imagined had wiggles and squigglies underneath ready to nab me. But on I went until I found a suitable tree to duck behind…and then I carefully made my way back across the springy ground to the boat…and went "Yay!" again.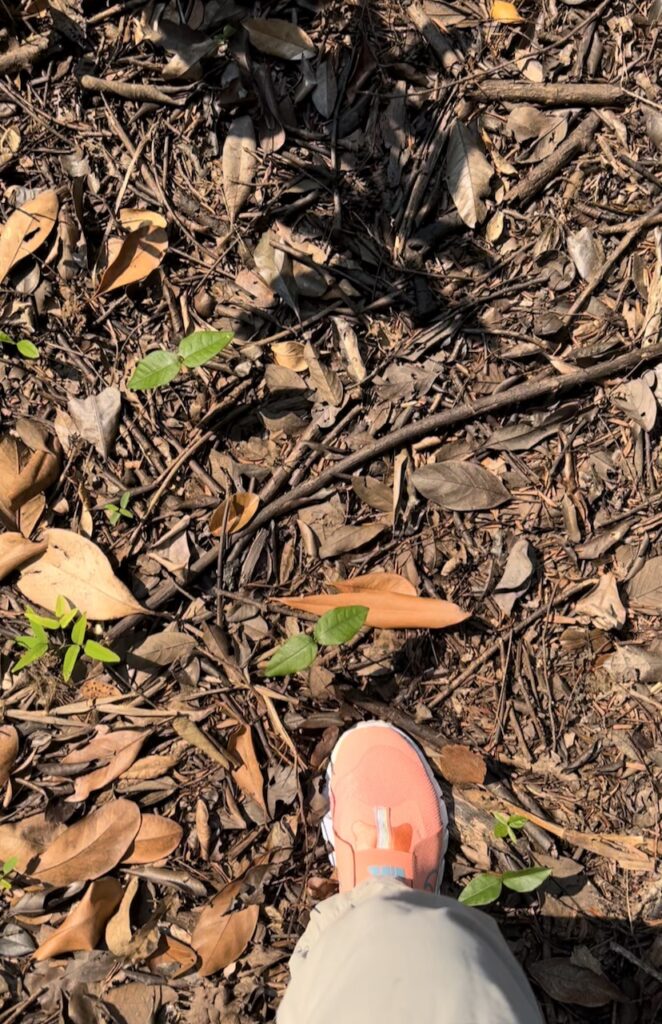 We fished for a while longer, and en route to the lodge for lunch, saw these birds in flight. They are Andean ibis. Another first for me.
In the afternoon we saw a southern lapwing, which is the only wading bird with a crest on its head. Please ignore the fact that this wading bird is not wading and focus on the crest instead.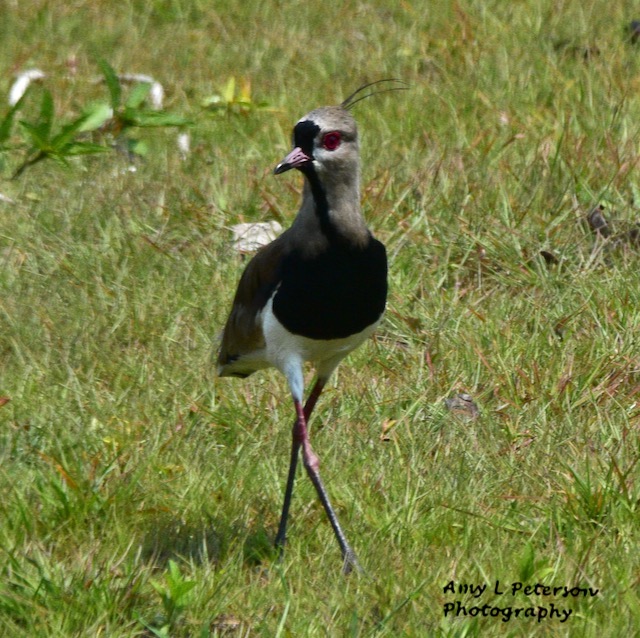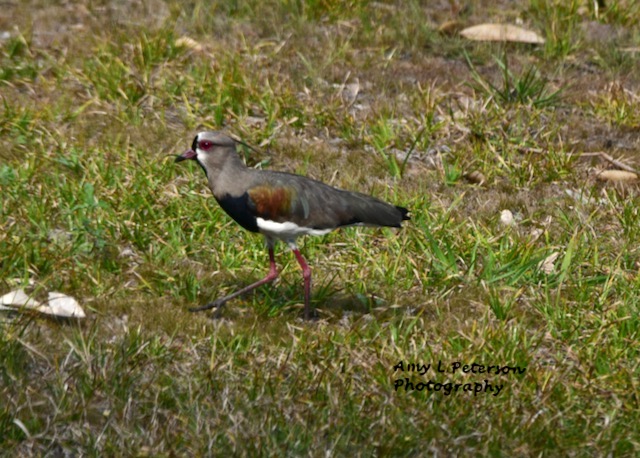 Later, we saw a black-collared hawk. It was very far away. But beyond the fact it's not my best photo, I'm thinking a different name might be more appropriate, because its black collar is not super visible. I'll need to take that up with the bird namer people.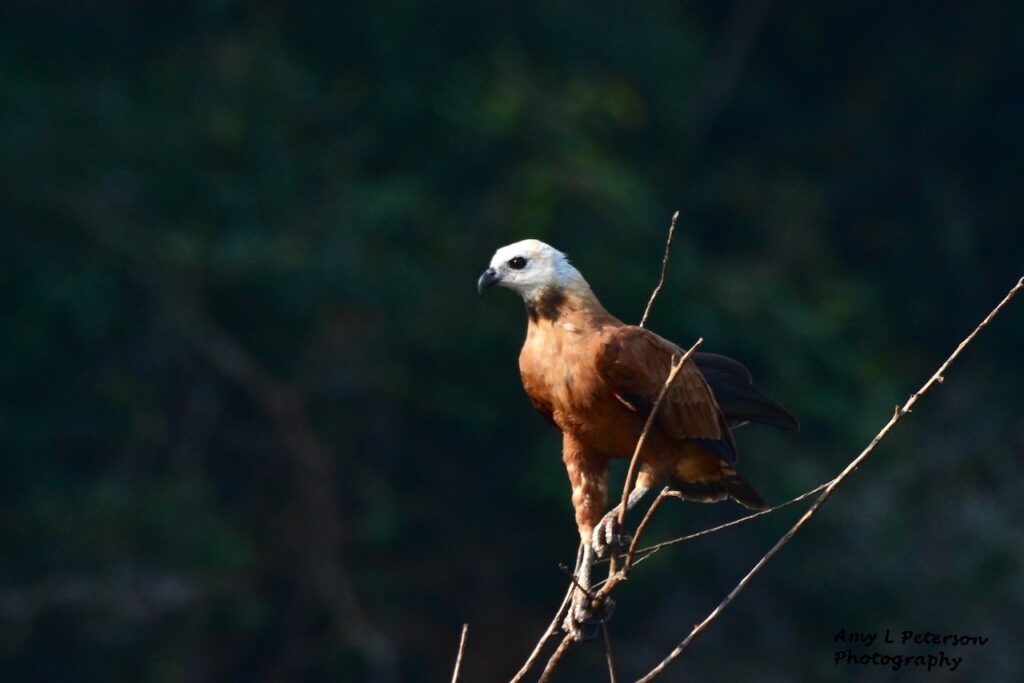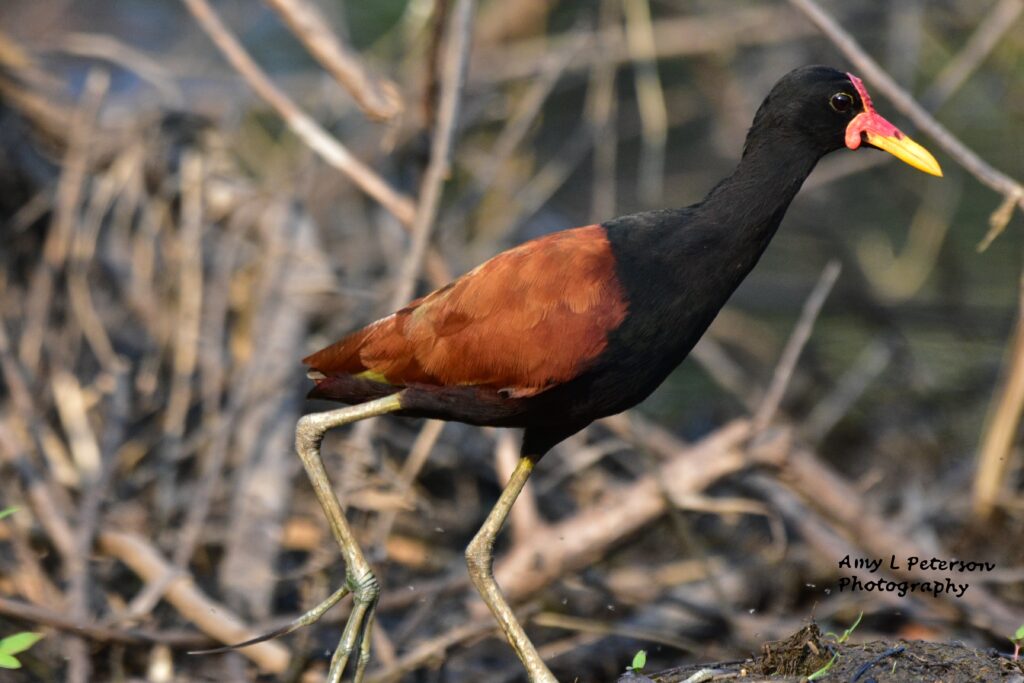 We also got a closer shot of an adult wattled jacana. You can see the wattle beneath its eye, at the base of its bill. These colorful marsh birds can be all black or mixed like this one, but they always have the yellow beak and red wattle.
This is a striated heron. According to WhatBird it hangs around marshes, rivers and lakes and is usually solitary. This one was by the river and all by itself, so WhatBird was spot on.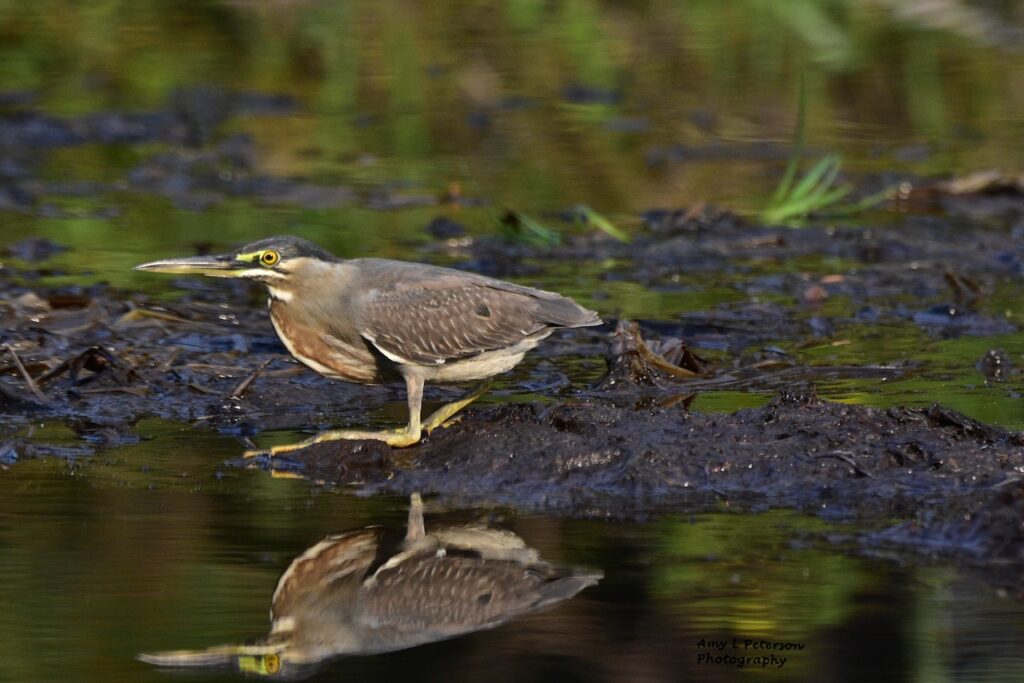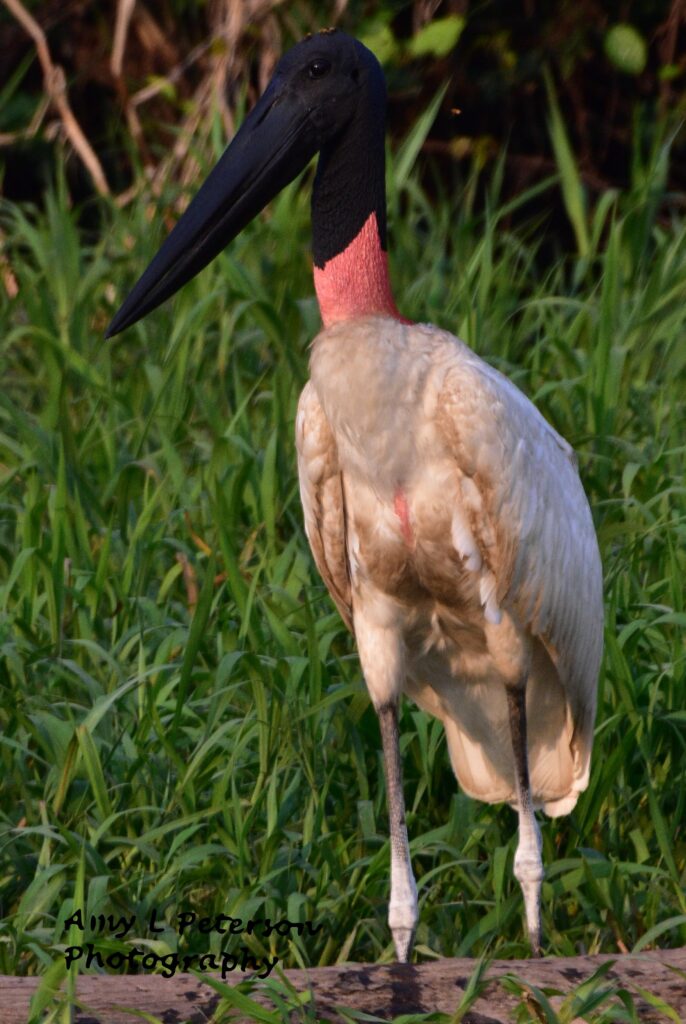 This is a jabiru, a type of stork. It's huge compared to every other bird we saw except the wood stork. Its beak and head are unmistakable. These birds hang out in fields and marshes and build their nests way up in trees. This one had what looked like flies on its head.
Even when the jabiru flew off, the flies on its head went with.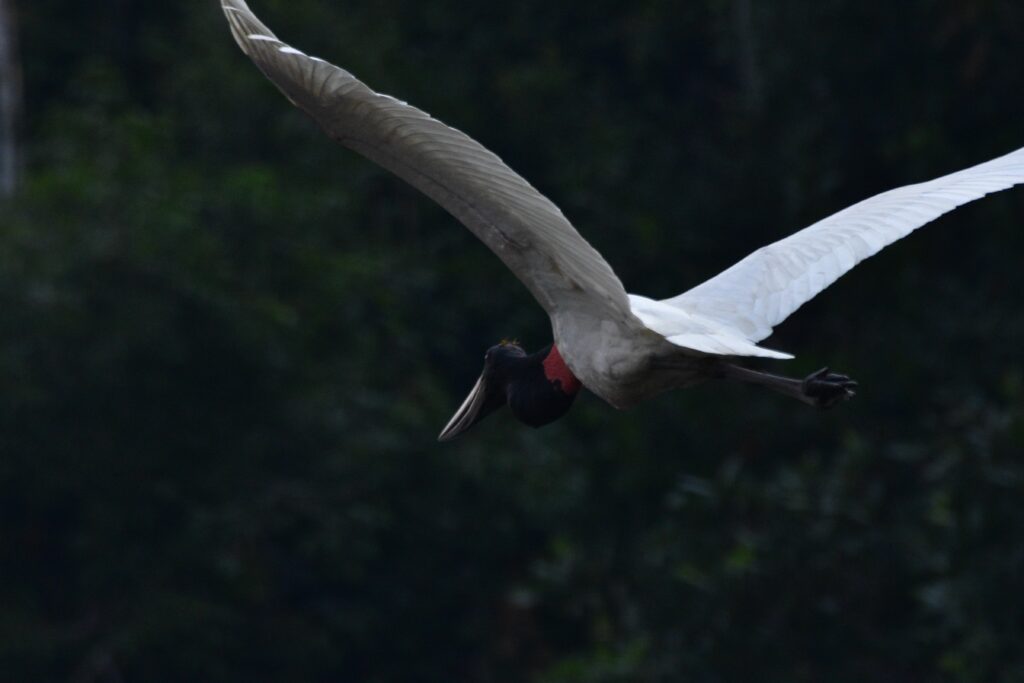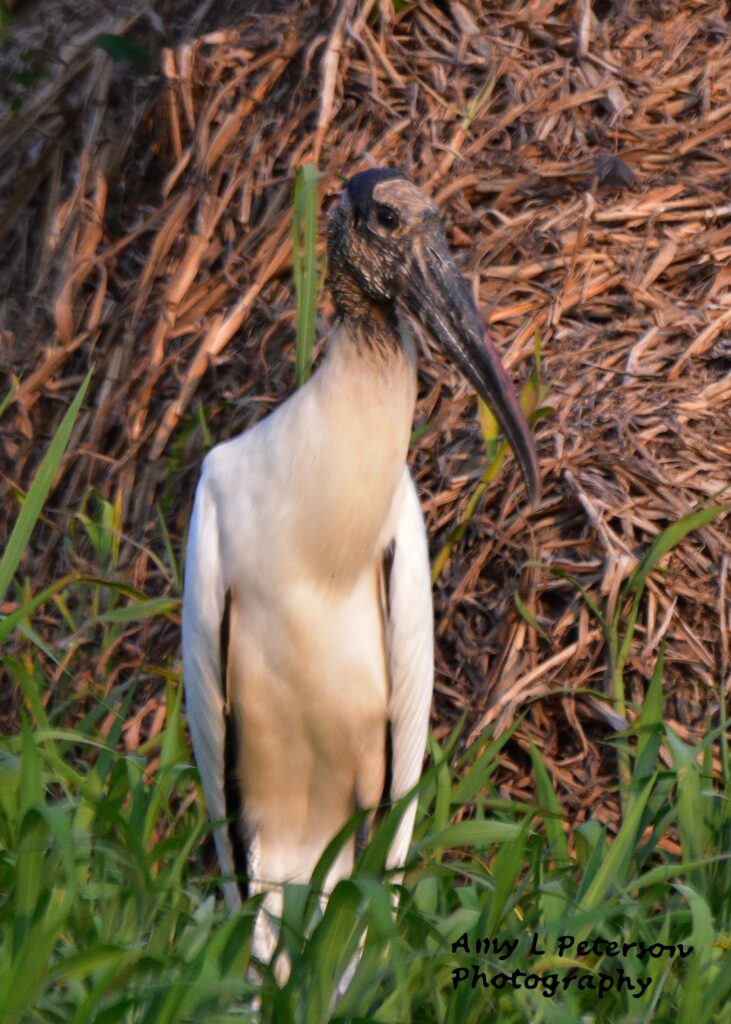 This is a wood stork, which can also be seen in Florida. This wood stork was hanging out near the Jabiru. This bird has black flight feathers, and its head is bare and scaly.
Late afternoon also brought a few more fish, including this piranha. I think Mark liked every single fish he caught on this trip.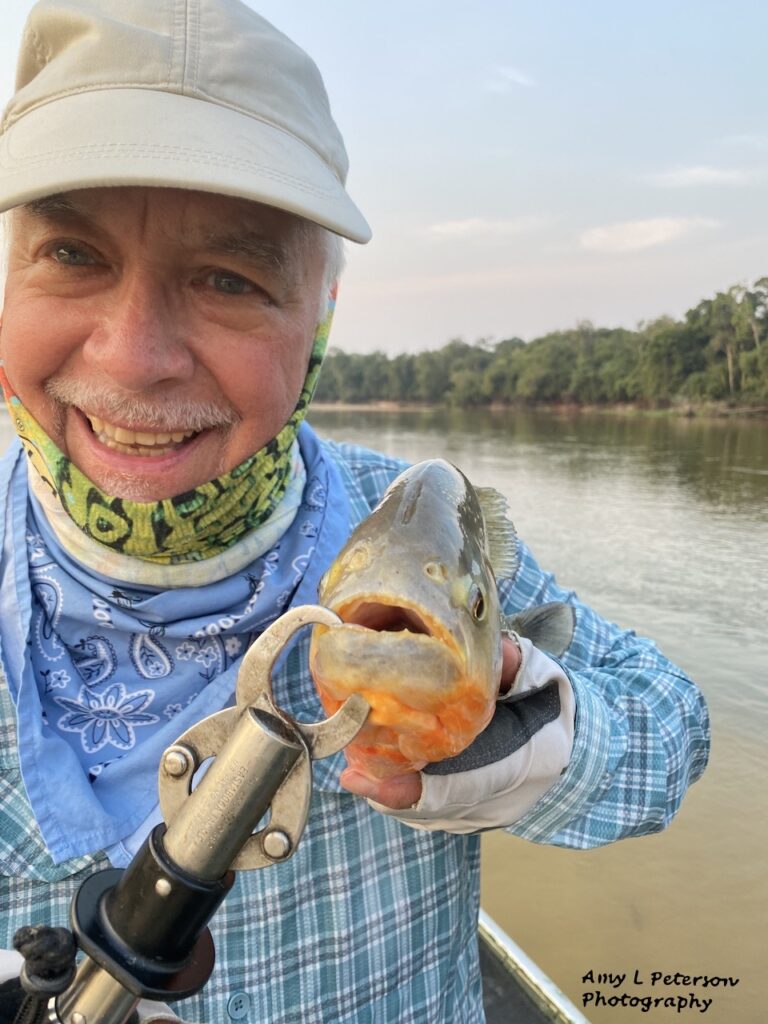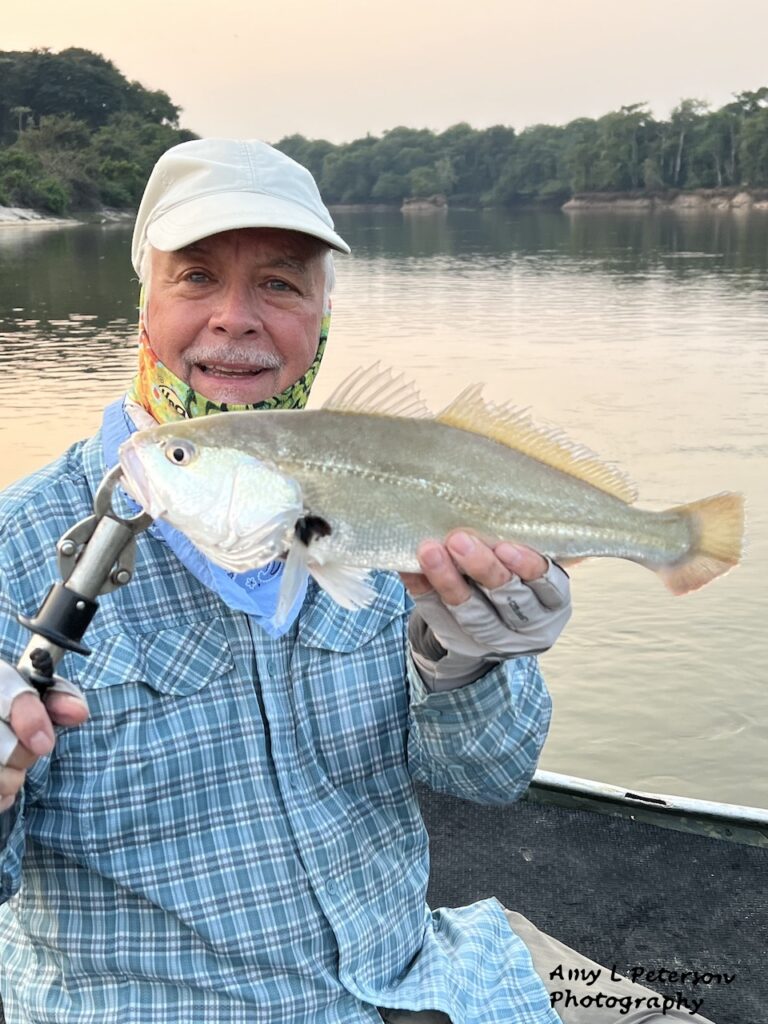 Mark also caught this pescada (or corvina). He liked its grunting so much he grunted back.
We also spotted these yellow-spotted river turtles. Some days, on certain stretches of river, there were dozens of these turtles soaking in the sun.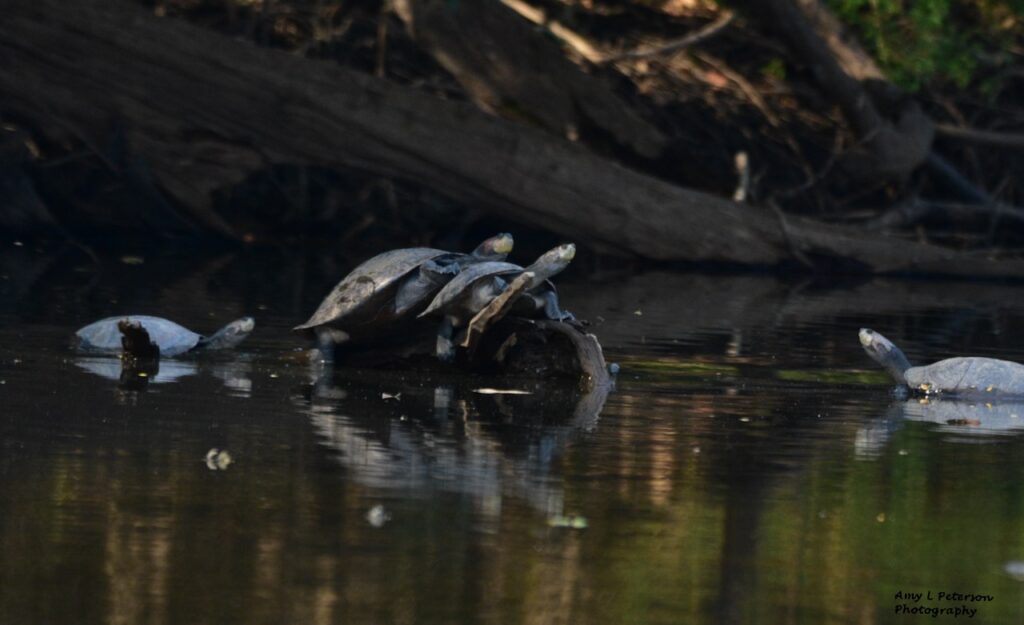 We used a sand spit as an el bano before the sun set, and by 6:30 I had pulled in a small redtail catfish and got to release it back to the water myself. Then Mark landed a nice redtail catfish. A half hour later, he had another catfish on.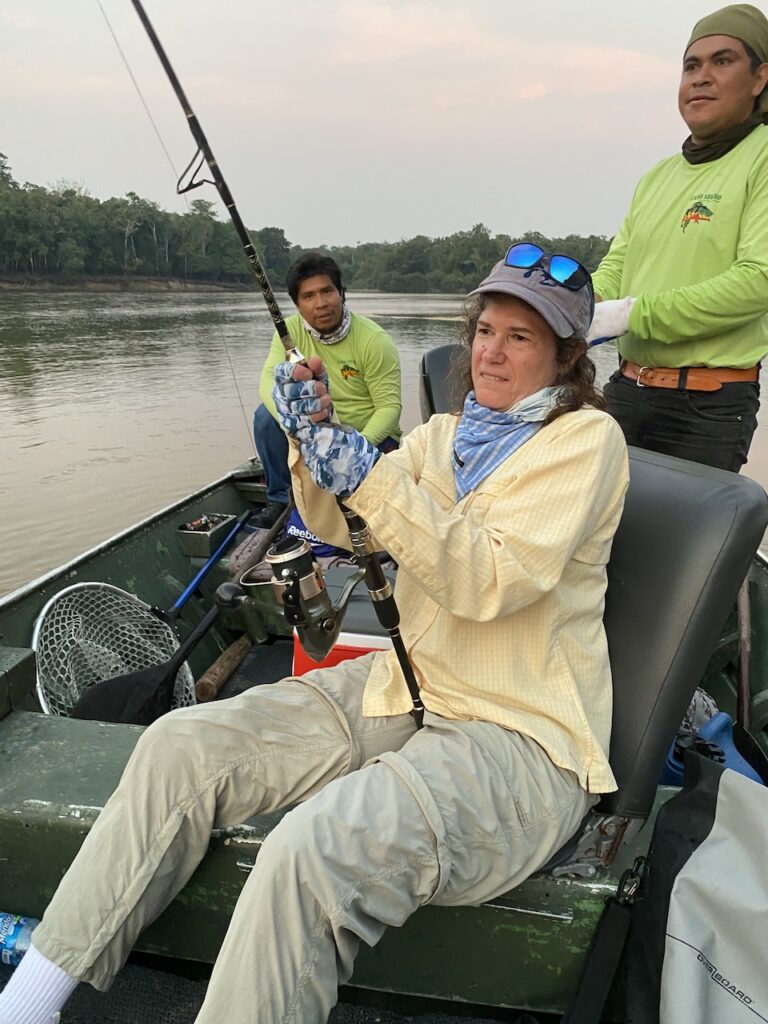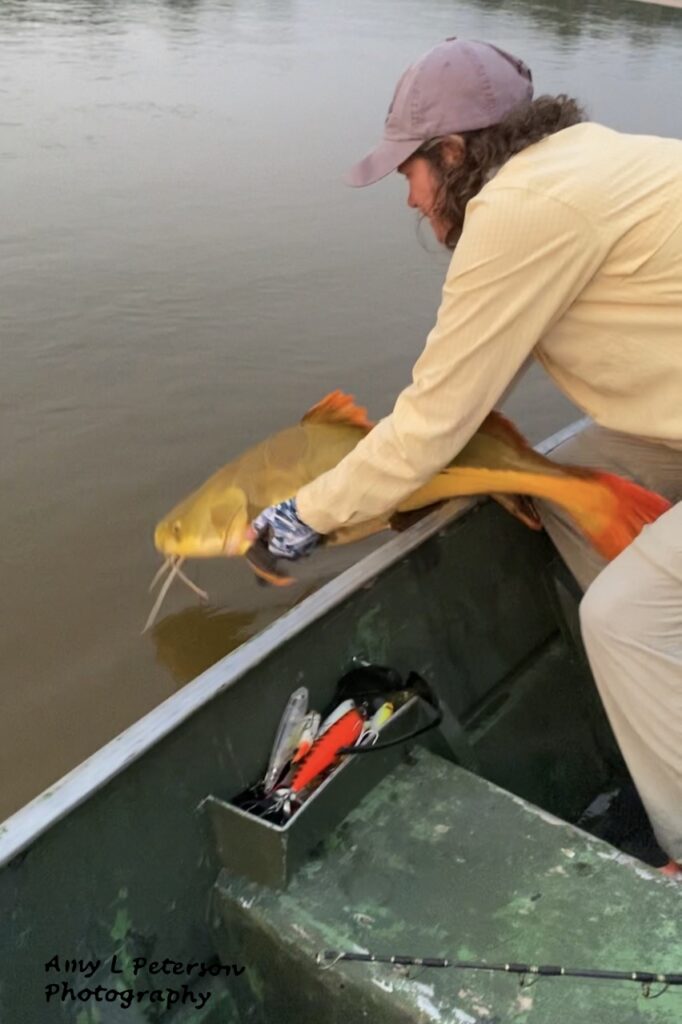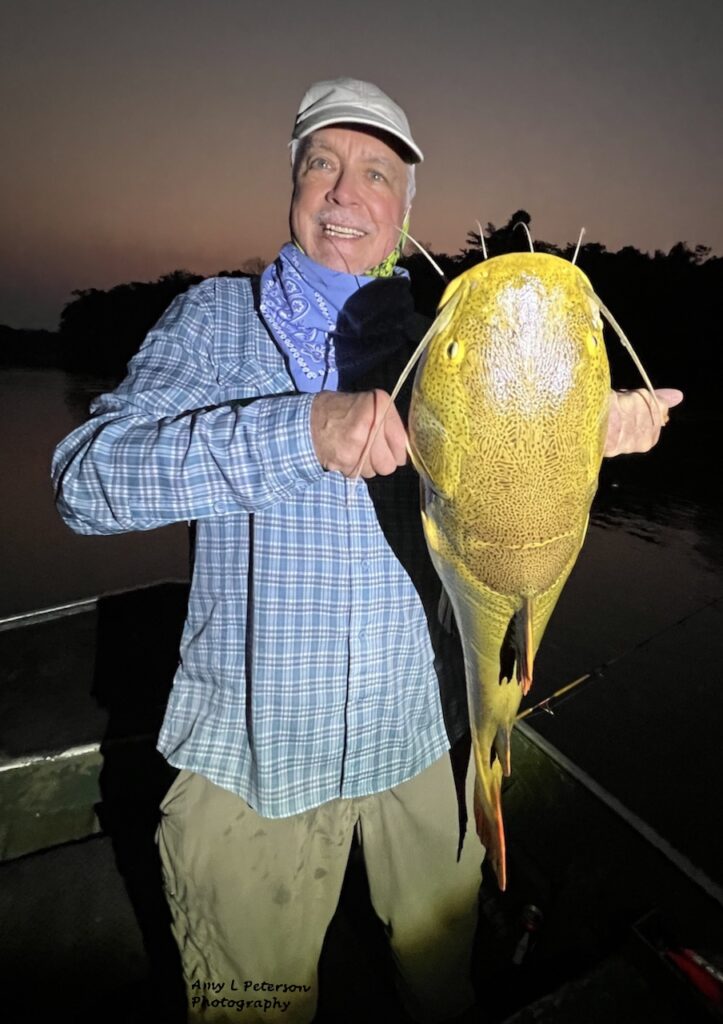 We'd caught enough catfish at this point to know that catfish sometimes take line suddenly– the line goes zzzzzz, we set the hook and fight the fish. But other times the line goes zzzzz and then stops. We wait. Usually, a few minutes later, the catfish takes line and it goes zzzzzz and we set the hook. Once in a while, the line goes zzzzz, stops. We wait. And eventually we reel in the line and there's no bait on the hook. But with every hit by a catfish, we never see the fish come out of the water until it's pulled out of the water by the guide.
This video shows Mark enjoying the tug on the line that resulted in the fish, above. This video shows Mark releasing his fish into the night, and fist-bumping our two guides, Bismark and Raul.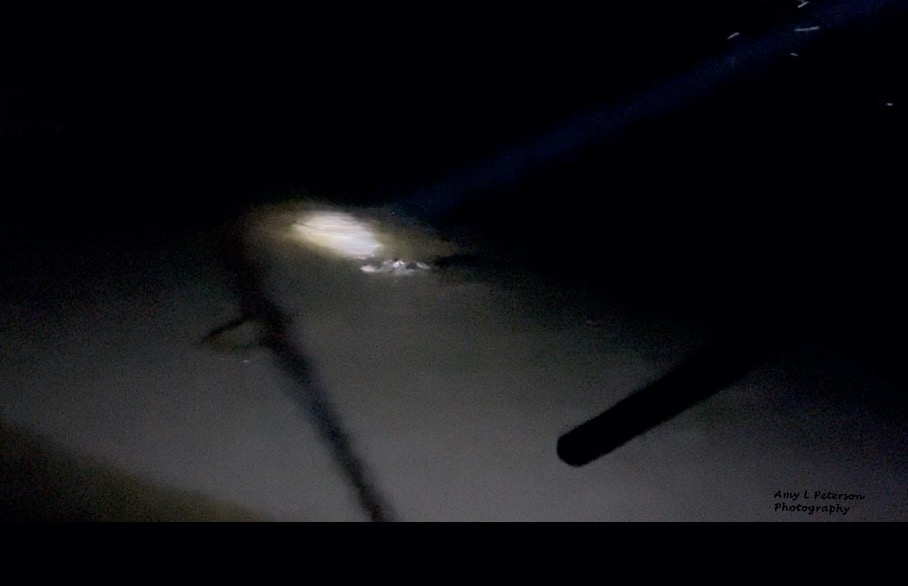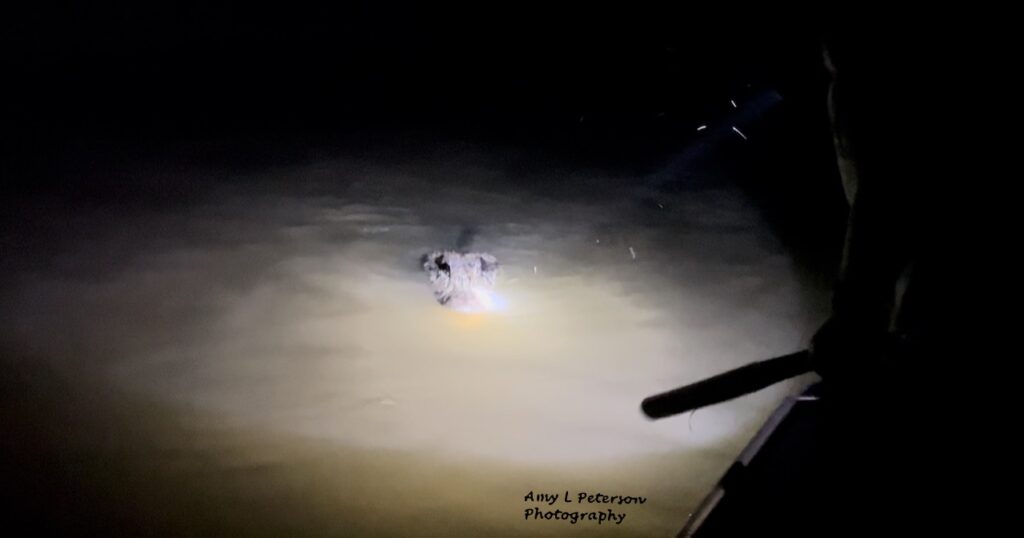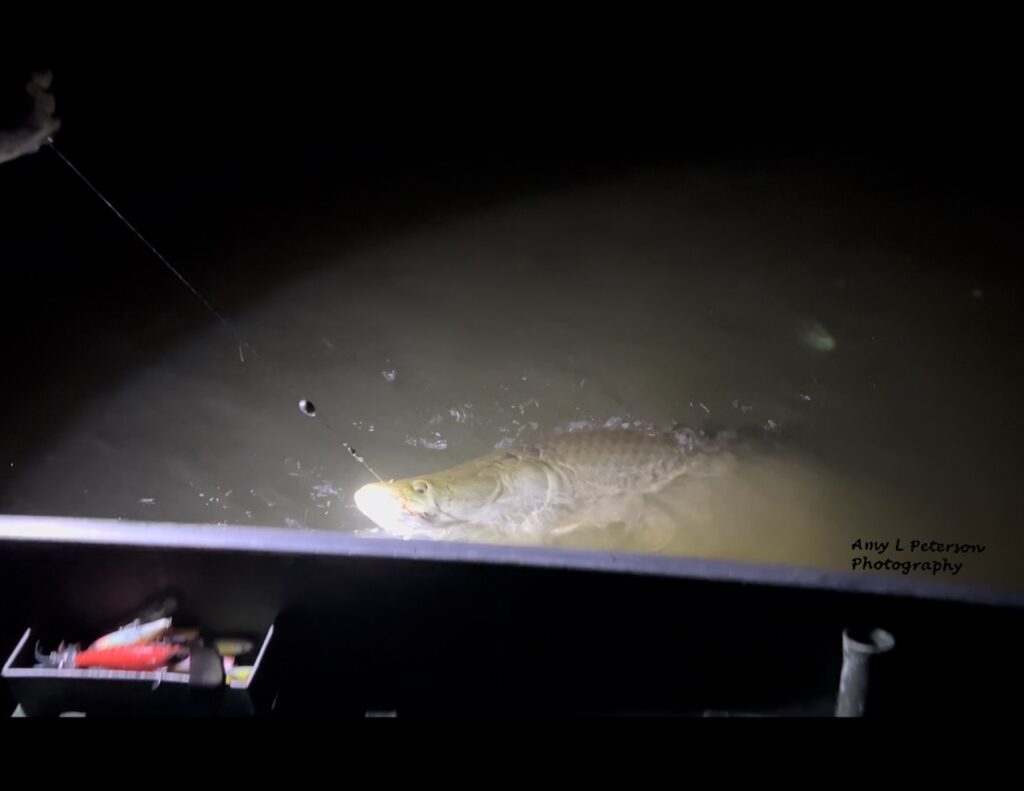 At 7:00 Mark's line went zzzzzzzzz like no other time–there was no hesitation, just an all-out run. He set the hook three times, tightened the drag, and after a minute, perhaps, we heard a splash–as if the fish came out of the water in the dark- and we knew it was not a catfish. Raul said, "Arapaima." Mark said, "We need a bigger net!"
Arapaima are prehistoric fish that are heavily armored and can get over six feet long. We had heard they were in this river, but never expected to catch one. Mark reeled and reeled like he did catfish.
The guides shined their flashlight over the side a couple of times and all we could see was swirling in the water. Mark reeled, the swirl and the fish got closer.
When the fish was about 15 feet from the boat, though, Raul shined his light onto the water and the beam landed on the fish, but in front of the fish was a caiman. Suddenly, there was a splash like a V8 engine had been dropped into the water as the caiman attacked the arapaima! Mark kept reeling, the fish stayed on, the caiman let go, and suddenly the caiman's head appeared out of the murky water 10 feet from the boat and it came straight at us! Raul raised a thick wooden club, aimed the light at the caiman's eyes, and the caiman turned around and disappeared in the water with a splash.
In the seconds that followed, Mark reeled the arapaima to the boat, and Raul used the club to whack the old fish over the head before pulling it into the boat.
Click on the blue text above to see the three disjointed videos I took. It was awesome!
After we got the arapaima into the boat, we moved to another spot on the river. Bismark cast his flashlight to the shore and revealed the true size of the caiman that had bitten Mark's fish. I think it was moping because it's dinner plans didn't work out.
As the big fish lay motionless on the bottom of the boat, I was re-living the caiman attack on the arapaima and how Raul had whacked the big fish on the head before pulling it out of the water (whereas redtail catfish are brought in gently and released). Only when we got back to camp did we learn from Memo that Bolivians consider arapaima to be a threat to native fish species and want the giant fish removed from the river. Brazilians meanwhile–and remember the boundary with Brazil was not very far away–consider arapaima to be threatened due to over fishing and gently release them. If you look online, several places charge $7K just to try to catch–and release–an arapaima in Brazil.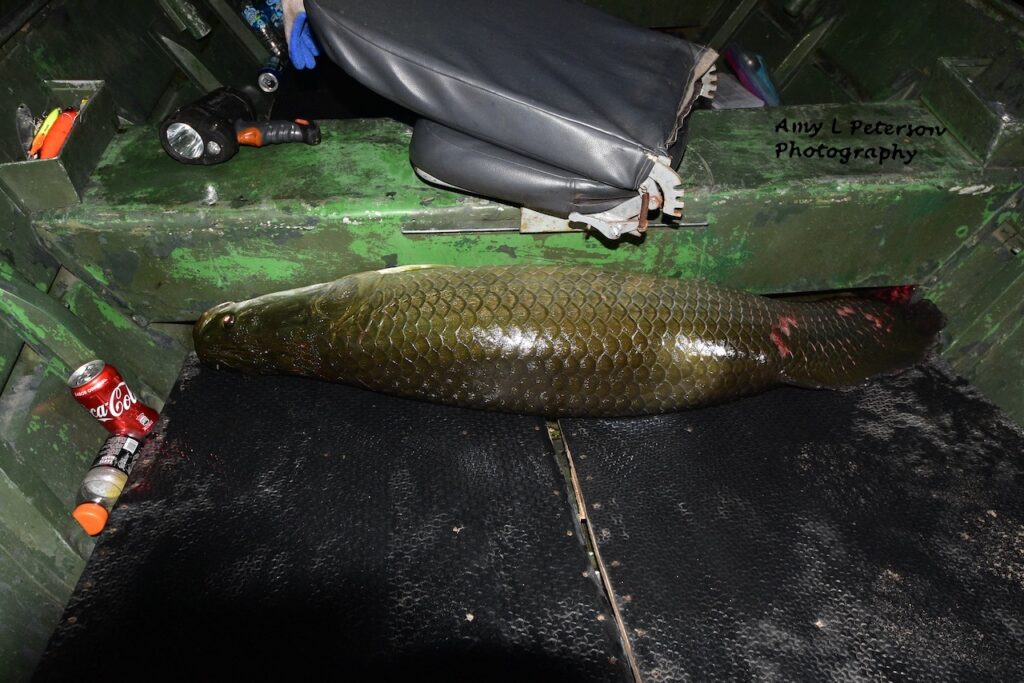 Note the red marks on the tail where the caiman got hold of the arapaima. Arapaima are also called pirarucu or pacha.
Mark's fish measured 54 inches and had a thick girth we didn't think to measure. Since it was the first arapaima caught, it was brought back to camp–as is the tradition for the first ones in any given week–and strung up on a tree. If during the week more arapaima are caught than what the guests and workers can eat, they are left on the shore.
Mark was thrilled–he was not expecting to catch this species of fish. And it was the second largest he'd caught, after a marlin.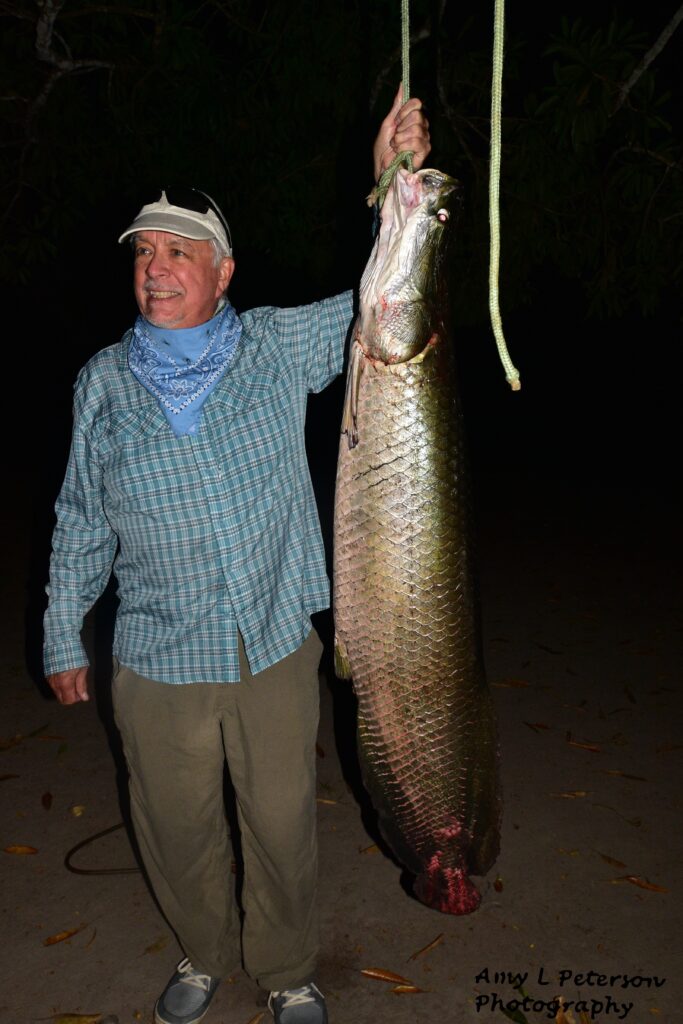 The photo to the right is zoomed in on the tail to show the bite marks on the arapaima's tail.
This is a close-up of the arapaima's head. Its plating is impressive. Some of arapaima's scales on its body are apparently layered like plywood.
Arapaima are air-breathers which means they can survive in areas with low oxygen levels.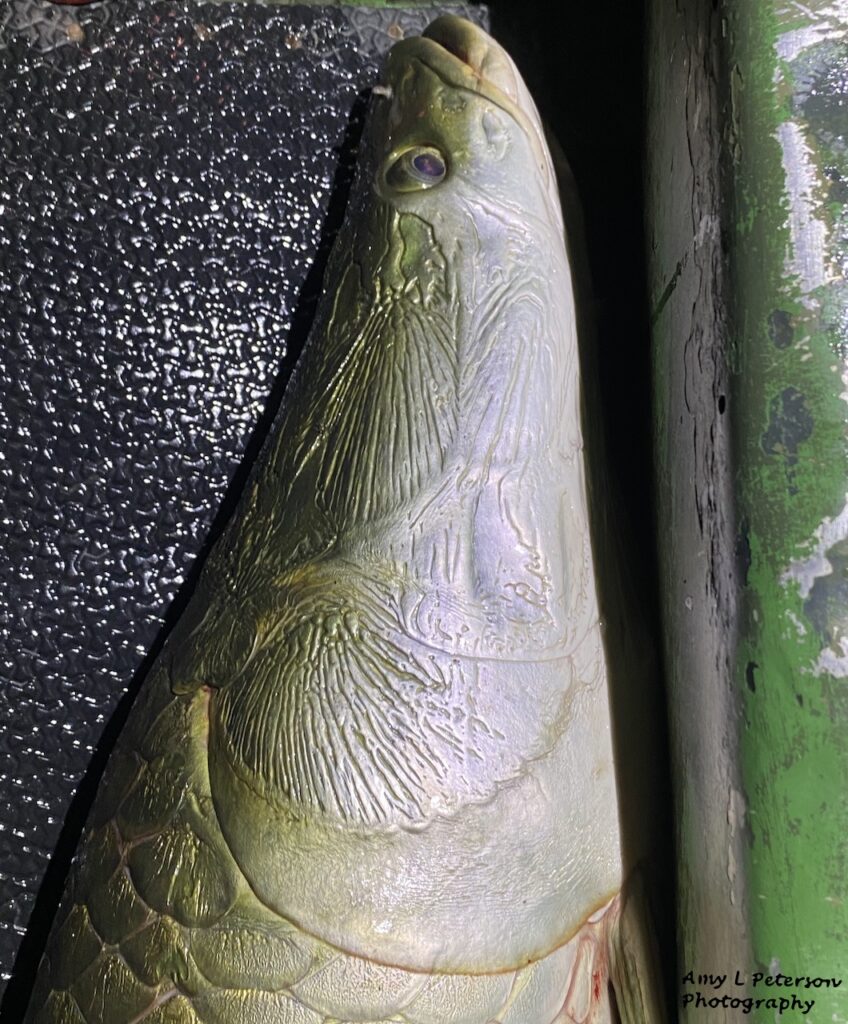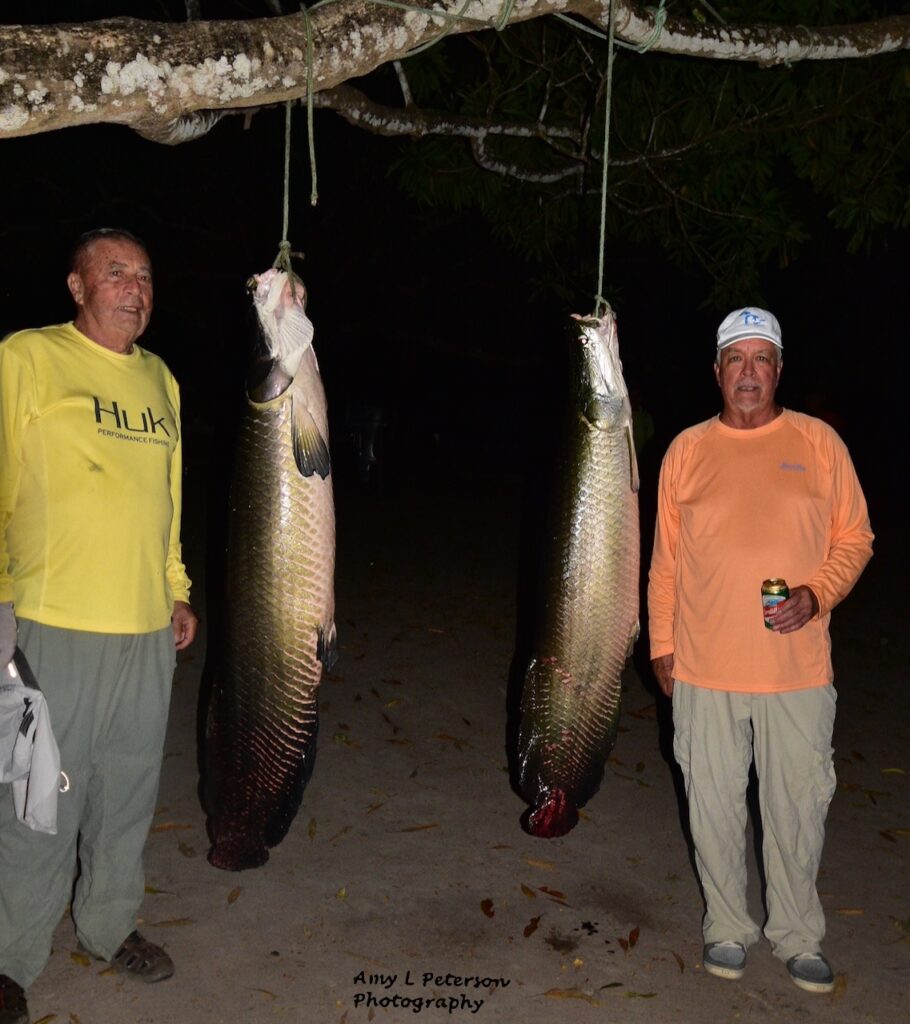 With every large fish, though, there's always someone trying to catch an even larger fish, and in this case, 83-year-old John Morris, Sr., caught a fish larger than Mark's. As shown in the photo below, John Jr. and Drew maxed out the measuring tape for John Sr's fish. But, Mark contended, he had a much better story, because he had to fight a caiman to get his fish into the boat.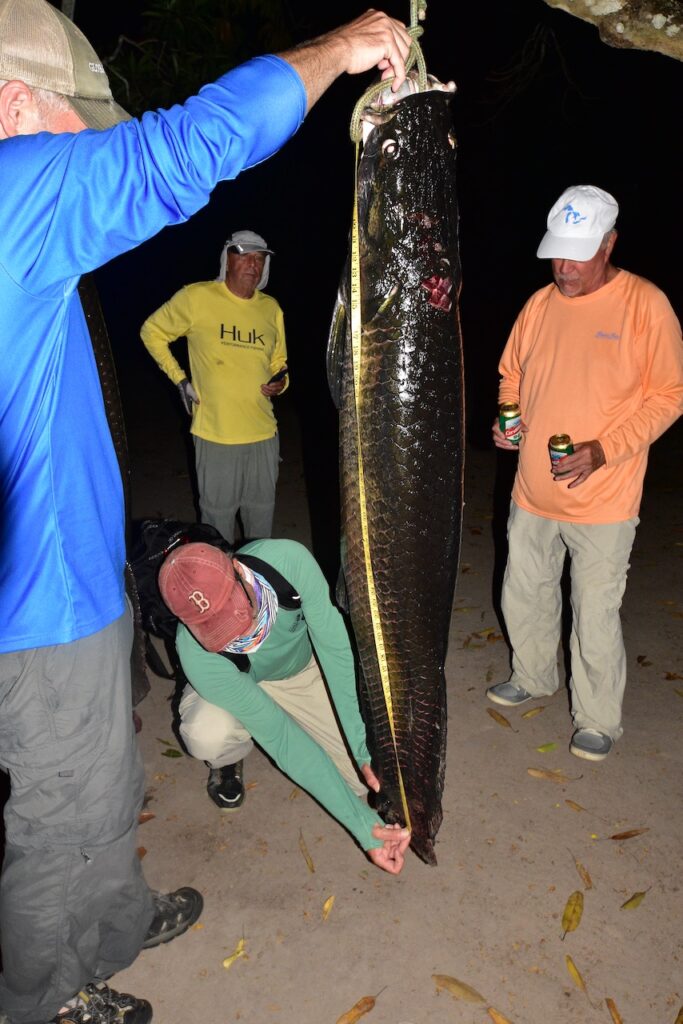 We raised our beers to the two oldest guys in camp, and walked up to the lodge for another beer and dinner. It was a great ending to another amazing day.