After 25 years working in an environmental program, I have to say that one of the best things I get to see is the annual celebration of Earth Day at my place of work in downtown Lansing.  For one day a year, we open the doors and allow kids to come inside to learn about what they can do for the environment.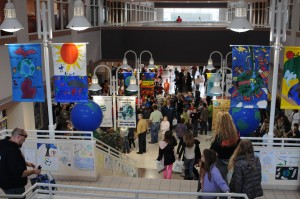 Around the atrium were posters kids made for Earth Day.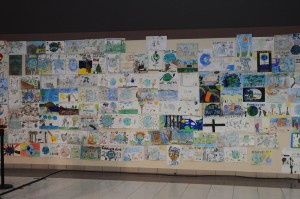 Inside the building were dozens of booths where kids could interact with turtles, frogs, snakes, and other critters.  Most of the critters were live except this one.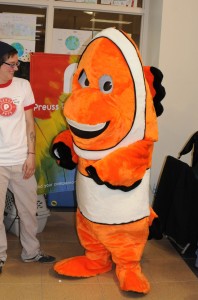 In one of the conference rooms, kids got to touch a sea lamprey.  Some were more excited about this than others.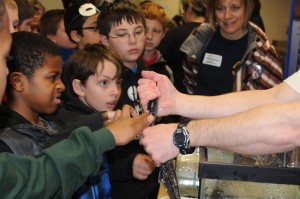 In another room, kids got to hold a parrot or two.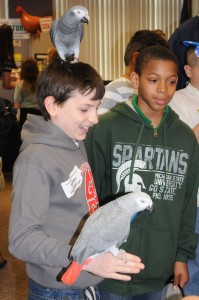 Docents from the Potter Park Zoo brought in a variety of critters, including a large snake that spent most of its time coiled around itself, and a tarantula that seemed content just to hang out on a lady's hand.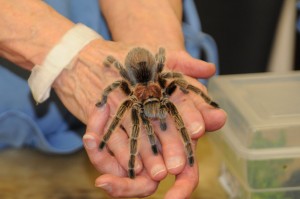 The Potter Park people also brought a blue-tongued skink. I got to touch the skink.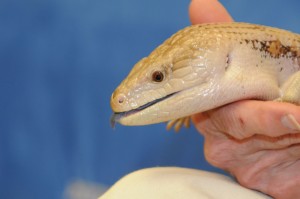 Another nifty creature from Potter Park Zoo was a European eagle owl, which, the nice lady said, is the species of owl seen in Harry Potter movies.  Now, I spent 10 minutes trying to photograph this owl, and most of the time he avoided looking at me.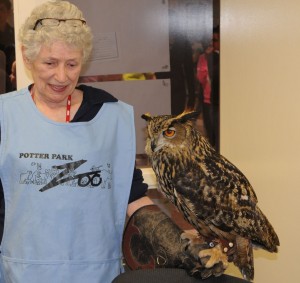 Mostly, the owl looked out the window in the opposite direction.  This is the only moment he actually looked right at me.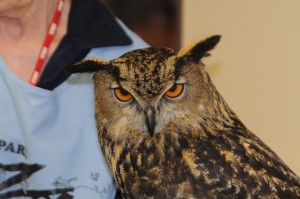 The Zoo folks also brought a black chinchilla.  He had really soft fur. I wanted to take him home but the lady said no.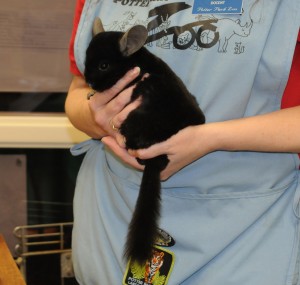 Okay, so I'm just like all the other kids that like to interact with critters.  But clearly, it's one of the best things we do each year.  I mean, just look at the smiles.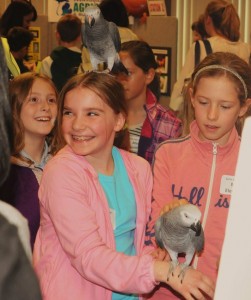 Happy Earth Day everyone!