On Day 6 Bobby noticed I had blisters on my puffy left hand.  Curt offered me some of his duct tape because Band-Aids were surely not going to stay on in the heat.  I added duct tape to the list of things borrowed from the kindly Texans. 
As I left the dining cabin with the duct tape, I told Mark that I'd be ready in a few minutes.  He told Curt and Bobby I had the peacock bug.  It was true:  I couldn't wait to get on the water.  It was all because of the 12- pounder yesterday and seeing the monster fish hit at the lure several times.  And the fact that I'm a wee competitive.
While en route downriver, we stopped at a narrow notch to feed a caiman that we'd seen before.  Here's what he looks like coming straight at us.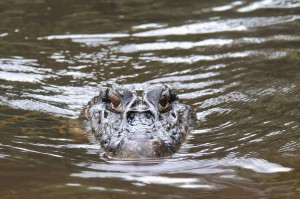 And here's what the caiman is attracted to.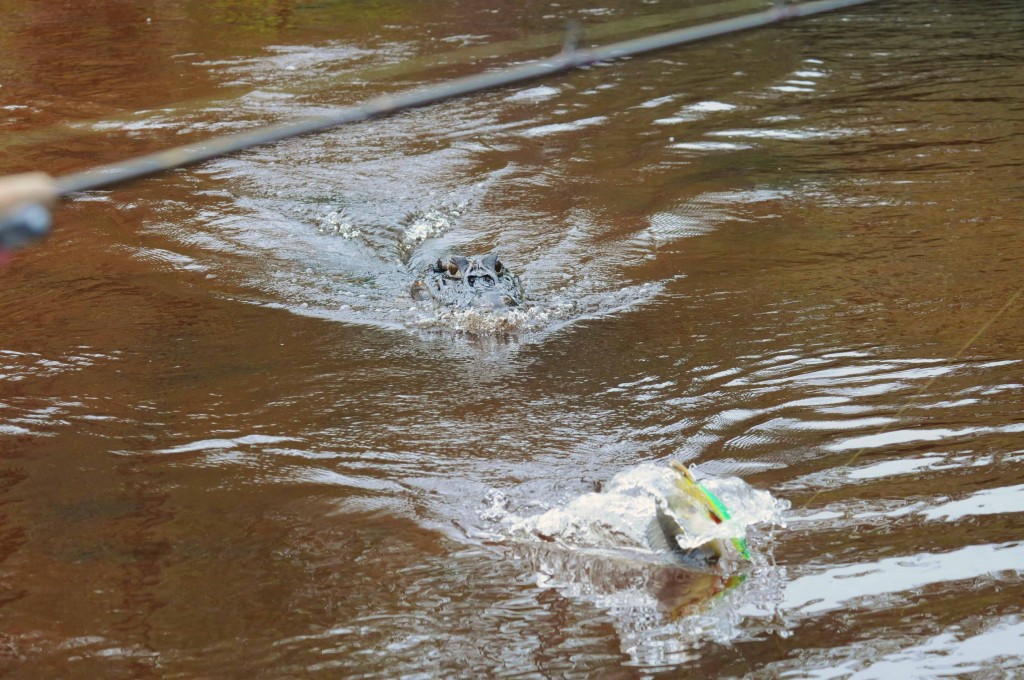 Mark used his Yo-zuri in the narrow notch of river and pulled out a small bass that we threw at the caiman.  The caiman missed the fish. While Mark was working to catch another fish, the caiman stood nearby in the water waiting patiently.   There's something weird about a caiman standing in the water.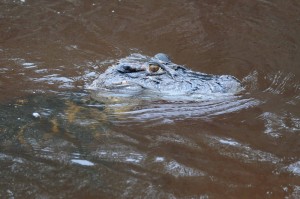 Mark caught and released four fish before we finally saw the big splash of a fish being nabbed by the caiman.  He took his fish down stream a few feet to eat.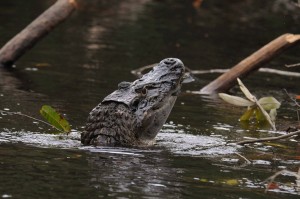 We happened to be heading right through the notch in the photo above, so after the caiman was done eating–which consisted of a couple of flaps of his jaw and a gulp–we headed towards him in the boat and he moved out of the way.   Good caiman.
We headed downstream and focused on fishing.  In fact, I was so focused I didn't see any new birds until we were on our way back home.  Being focused led to the most productive day of the week, which was a total of 43 peacock bass, including two 8-pounders and four 9-pounders.  If you've been keeping score, 43 fish is more than the total we caught the first 3 days.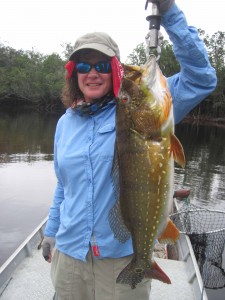 Mark topped my biggest fish of the trip–which was 12 pounds–by getting a 12.5 pounder.   Oh, yes, I was happy for him, but he suddenly had the largest fish!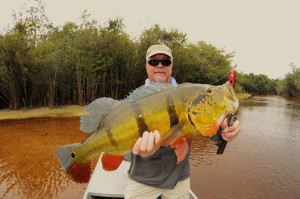 It rained a bit on and off all day and since it started early in the morning and was cloudy most of the day, I actually wore my rain coat on and off.  Thing is, I was soggy in the rain coat, and I was soggy without my rain coat.  Hm.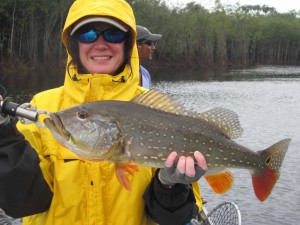 At one point during the day, a fish hit the blue and white lure, ran a ways and rubbed the lure off on a sunken tree.  I said, "We must save the lure at all costs!" because that lure had caught more fish for me than any other.  I was really only kidding and therefore quite surprised to see Prato don a scuba mask and lower himself into the water.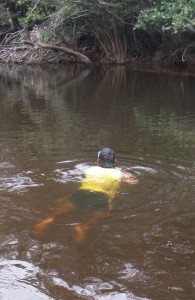 Prato went down to the sunken log the lure was stuck on and came up with the lure in his hand.  Back in the boat, Prato fixed the lure's bent propeller and I was soon off and flogging the water again. Later, when Mark was fishing, the same lure was yanked off by a big dogfish that munched the line.  We thought the lure was gone again, until about a half hour later when Prato found it floating in a little bay.  Prato had to replace one of the hooks by sacrificing a hook from another lure, but once again, we were off and fishing with it again.
Somewhere along the line, our boat developed a leak.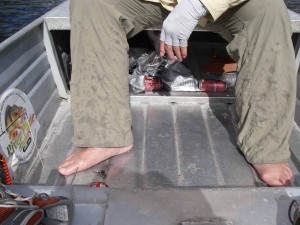 Prato's solution to the leaking boat was to place a piece of cloth on the bottom of the boat with a spare boat propeller on it.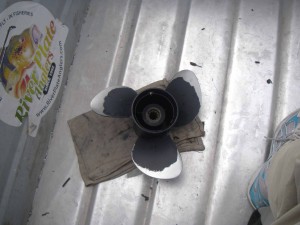 On the way back from fishing, we saw a yellow-ish white heron with a blue bill and a fringy bit of feathers on its back, which I later identified as a capped heron.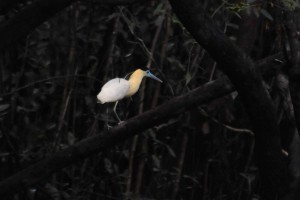 Prato also grabbed a river turtle and allowed us a moment to take a couple of photos before releasing the turtle back in the water.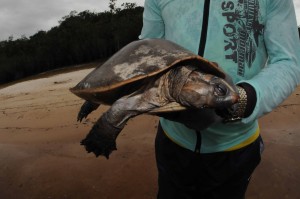 We were back to camp by 5:00.  Dinner was grilled peacock bass with peas, rice and beans, and chicken with  blobs of other good stuff.  My description of the menu is amazing, isn't it? 
After being escorted back to our cabin by one of the flashlight-bearing Texans, I noticed my feet were puffy and spotted with blisters.  I had socks on all day to protect my feet from the sun, but alas, I think socks inside wet shoes was the cause of the blisters.  My ankles were also puffy, perhaps because of standing in a boat 8 hours a day for several days.  I went to bed with my feet propped up with a few towels.  Feeling sexy for sure.